Honda has made significant progress in practically every aspect of automobile manufacturing. It has become highly competitive in producing specialty and ordinary cars. The Honda Ridgeline represents the brand in the pickup segment, the Honda NSX in the supercar segment, and various sports cars are part of the family.
Despite all the competition, we agree that Honda has done very well over the years. Honda's popularity is boosted by features such as fuel efficiency and dependability. Honda has created game-changing sports cars that have become legendary among admirers.
Here, we have compiled a list of the 14 best Honda sports cars that have proven exceptional over the years. So, without further ado, let's begin.
Honda S500
Surprisingly, the S500 was Honda's first passenger automobile and the foundation of the company's sports car legacy. The S500 was probably the first Japanese sports vehicle to gain Western acclaim, with extraordinary driving ability, an innovative suspension arrangement, and an extraordinarily lightweight form factor equal to the Lotus Elan.
The S500 series had the most technologically advanced engine of the time. Using aluminum, roller-bearing crankshafts, and hemispherical combustion chambers enabled the S500 to reach an incredible 9500 rpm redline, with 8000 rpm providing 44hp and a top speed of 80 mph.
Honda 1300
Despite Honda's struggles in the 1970s, the famous 1300 is a forgotten sports car that made headlines for its exceptional engineering. The 1300 sedan model popularized the groundbreaking Mohican structure used by numerous automobiles, while the coupe popularized the air-cooled engine concept in mass-production Hondas.
Honda engineers created a marvel with the 116-horsepower 1.3-liter inline-four engine, outperforming cars like the Toyota Corona. The Honda 1300 Coupe 9 set the standard for the iconic Civic with constant design revisions and reverse operation in auto production technology.
Honda CRX
The CRX was manufactured from 1983 until 1991. It's one of the shortest live nameplates, but it didn't go quietly. The CRX's most significant contribution to the auto industry has been its fuel efficiency at a time when buyers were looking for all feasible alternatives. Honda claims that the CRX will get 50 to 70 miles per gallon.
The 1.6-liter engine produces 108 horsepower and 100 lb-ft of torque at 5,000 rpm. With record sales of around 50,000 units in 1984, the CRX couldn't be ignored. Sales increased in the following years and stayed consistent until production was discontinued. With pricing starting at $7,900, it's one of the cheapest automobiles on the aftermarket today.
Honda S660
The S660 is the spiritual successor of the Beat, carrying Honda's trademark Kei car formula of two seats, mid-engine, and rear-wheel drive convertibles into the 21st century. The S660 was designed to provide a heart-pounding thrill and excitement. It has a low center of gravity and an ideal 45:55 front/rear balance for superb cornering capability.
The S660 has a 63-horsepower 660cc DOHC inline three-cylinder engine, a unique turbocharger, and a six-speed manual transmission in a mini-vehicle. The S660 is a cool driver's sports car that excels in everyday driving, turning, and maneuvering.
Honda CRX Si
The regular CRX was an instant worldwide hit because it was so useful and had great engineering, but the CRX Si upped its game with more powerful changes. Honda added a completely independent double-wishbone suspension, rear anti-roll bars, bigger tires, firmer shocks, and four-wheel disc brakes to the Si model.
The 1.6-liter inline four-cylinder engine in the front-wheel-drive CRX Si is connected to a five-speed manual gearbox and produces 105hp and 98 lb-ft of torque. The CRX Si's lighter curb weight and simplicity make it a potential competitor to affordable performance vehicles such as the beloved Volkswagen GTI.
Honda S800
With the S360 prototype, Honda tried to make a small 360cc car. This became the famous S sports car series, ending with the crazy S800. The S800 fastback coupe was the last model in the early S series. It differed from its predecessors because it had a live rear axle, front disc brakes, and several safety features, such as side marker lights, hazard warning lights, and dual circuit brakes.
The inline-four engine's size was increased to 791 cc, and a four-speed manual transmission was added. These changes increased power to 70hp and torque to 48lb-ft. The S800 was the first Honda to go over 100 mph, and it was also a great example of how Honda sports cars were designed to think outside the box.
Honda Prelude VTEC
At first, the Prelude VTEC competed with cars like the Toyota Celica, Mitsubishi FTO, and Nissan Silvia, which have been around for a long time. After the fourth generation update, however, it became more like the Toyota MR-2, which has been popular for a while.
Honda replaced the pop-up headlights with an electronic four-wheel steering system, a 58:42 front/rear weight distribution, a bigger front fascia, a sliding steel roof, and a roof spoiler. Compared to the base S and Si models, the VTEC version was the most powerful.
Its 2.2-liter DOHC VTEC H22A1 engine could make 182 hp and 156lb-ft of torque. Due to its speed, style, and build quality, the Prelude VTEC became a cult car. Even now, people still want sportier versions with manual transmissions.
S2000 CR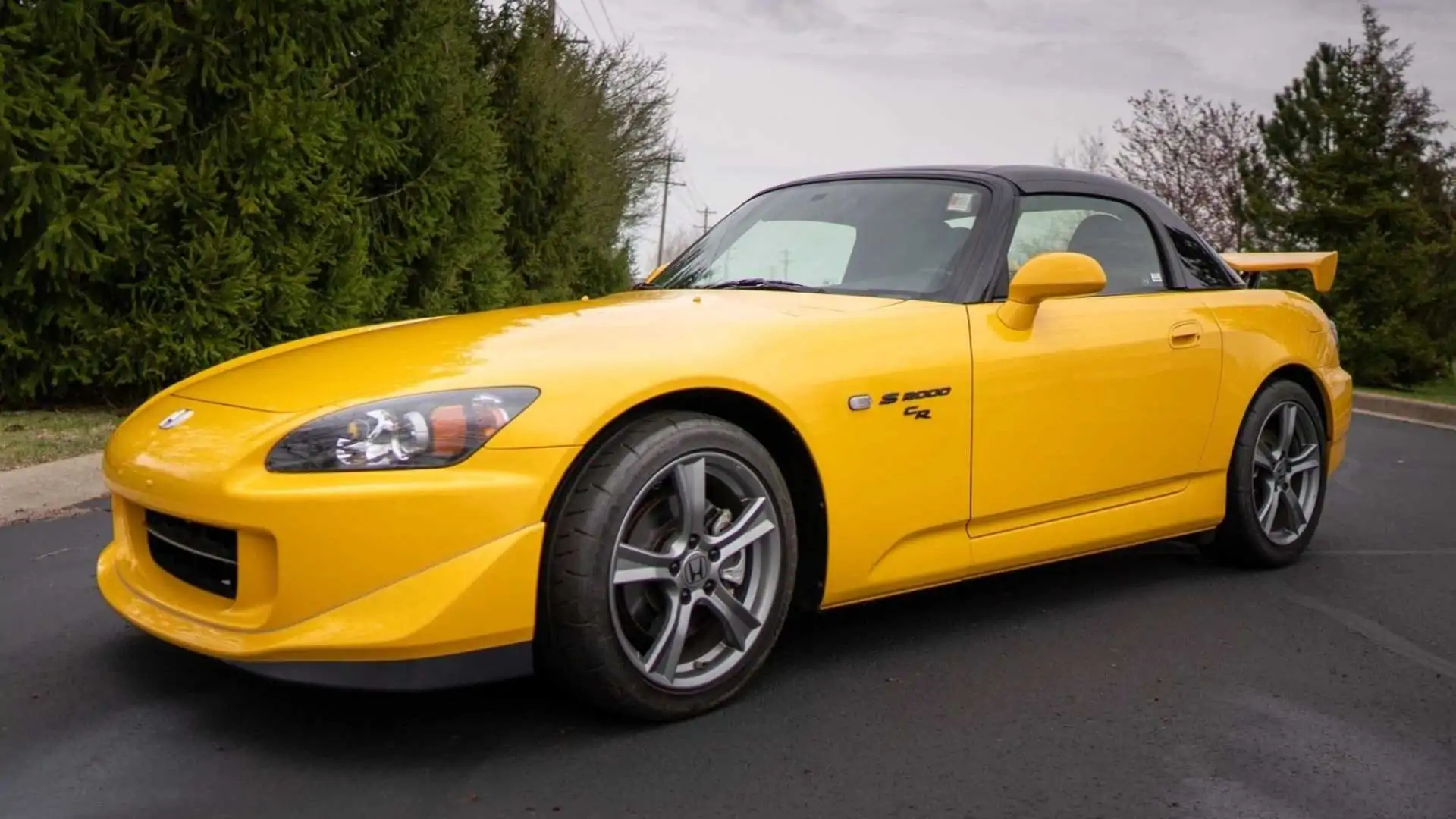 "You have to be careful when driving an S2000." In one of their reviews, Car Throttle made this point. Looking at how the S2000 performs, you find this statement true. Almost all S2000s are great cars that people all over the world love. They also come in many different versions, but all look the same. It's always challenging to choose between two things.
In the 2008-2009 production year, Honda made a limited number of cars called the S2000 CR (Club Racer). The CR version had a stiffer suspension, different wheels with wider, sportier tires, faster steering, and a hardtop that could be removed.
A 2.2L 4-cylinder engine in S2000 CR may appear small, yet it produces 237 horsepower and accelerates from zero to sixty in 5.7 seconds. A convertible option adds a fun aesthetic to an underestimated racing machine that gives a good bang for the buck.
Honda Civic Type R
The Honda Civic Type R is a high-performance version debuted in 2017 to a receptive market. This car was designed from the start to slash competitors with its quick mobility and practical technologies. It was outfitted with one of Honda's most sophisticated suspension systems and made even more performance-oriented by practical aerodynamics.
The turbocharged 2.0-liter four-cylinder engine produces approximately 315 horsepower and has a zero-to-60 time of 5.4 seconds. With rivals like the Ford Focus RS and VW Golf R, this Honda had to be extraordinary. That is still a fantastic option today.
Honda Integra Type R
The high-performance Integra Type R is a '90s JDM icon widely regarded as the best front-wheel drive sports car. Honda engineers used their racing experience from previous projects to create the hand-crafted Integra Type R, the closest thing to a road-legal race car.
The 1.8-liter DOHC VTEC B18C engine beneath the hood, rated at 195hp and 130lb-ft of torque, is one of Integra Type R's most notable features. Because of the Integra Type R's nimble performance capabilities, forgiving ride quality, razor-sharp handling, absence of torque steer, and high grip, prices have skyrocketed in recent years.
Honda Prelude SH
The Prelude existed from 1978 to 2001. History shows that a car has only existed in the market for this long time because it has garnered acceptance and reputation. In other words, the venture must be profitable for the company. The Prelude did everything right and lived for five generations, which it deserved.
It had a model called SH, or Super Handling, distinguished by a revolutionary Active Torque Transfer System (ATTS). The technology, unique to the SH model, assisted in distributing torque to the front tire while monitoring speed, steering angle, and lateral acceleration. The Prelude SH's is powered by a 2.2-liter naturally aspirated four-cylinder engine that produces 200 horsepower and 156 pound-feet of torque.
Accord EX-L V-6 Coupe
Typically, an Accord Coupe is not a high-performance vehicle. The 2017 EX-L variant, on the other hand, powers it up with an iVTEC 3.5-liter V-6 engine producing 278 horsepower and is available with either a six-speed automatic or manual transmission.
A manual transmission for a coupe with this remarkable engine also handles well and has excellent inside technology. It turns a regular sedan into a sports car deserving of more respect.
Honda NSX Type R
Type R takes the main concept of what makes an NSX function but eliminates some extraneous features. The 3.2L engine produces 290 horsepower, which is less than an NSX.
Nonetheless, being nearly 200 pounds lighter improves performance since it can accelerate from zero to sixty in 4.4 seconds. Sound deadening improves performance and helps the car appear even smoother in exceptional handling. Type R demonstrates that even a "lesser" NSX can be a brilliant sports car.
Honda NSX
The newest NSX debuted in 2017 and is one of the best cars Honda has ever produced. The twin-turbo 3.5-liter V-6 produces 573 horsepower with numerous motors and a nine-speed transmission. The design is more intricate, but it works, giving the NSX an exotic air and making it stand out.
The revised idea kept the two-door coupe and mid-engine configuration but added all-wheel drive. Adopting a high-tech platform built of lightweight materials allowed for low weight. A 3.5-liter V6 engine behind the cockpit gave power to the rear wheels.
Wrap Up
Honda has a long history of delivering some of the most dependable passenger vehicles. Years of dedicated craftsmanship and top-tier mechanical engineering have helped raise the brand from a motorcycle company to a global maker of some of the top model cars, vans, and sports cars manufactured yearly.
In addition to their spectacular performance, Honda's sports vehicles are well-liked because of other desirable qualities, such as low fuel consumption, weight, room and serviceability. According to the list we have compiled, NSX is the fastest Honda car available on the market right now, proving that the brand can produce sports cars on par with the competition.
Out these 14 best Honda sports car of all times, let us know which one you liked the most!