Motorcycles are great inventions, and they are not only designed for men but for women as well. Mostly girls like low weights and handle that they can grip easily on their bikes. A wide variety of motorcycles available in the market work perfectly for women.
But if you are a beginner looking to buy the best bike, this article will help you. Here you will find a list of motorcycles and complete detail about them. It will help you to make a wise decision.
List Of Best Motorcycle For Women
Here is a list of all motorcycles that are perfect for you; whether you are a beginner or an expert, they will provide great enjoyment.
1- Harley Davidson Softail Deluxe
It's the first heavyweight on our list of the best motorcycles for women, and among Harley Davidson's big twin models, it's the one that women pick up the most often. Harley bikes the larger 1690cc V-twin engine, sometimes called a 103 cubic-inch engine.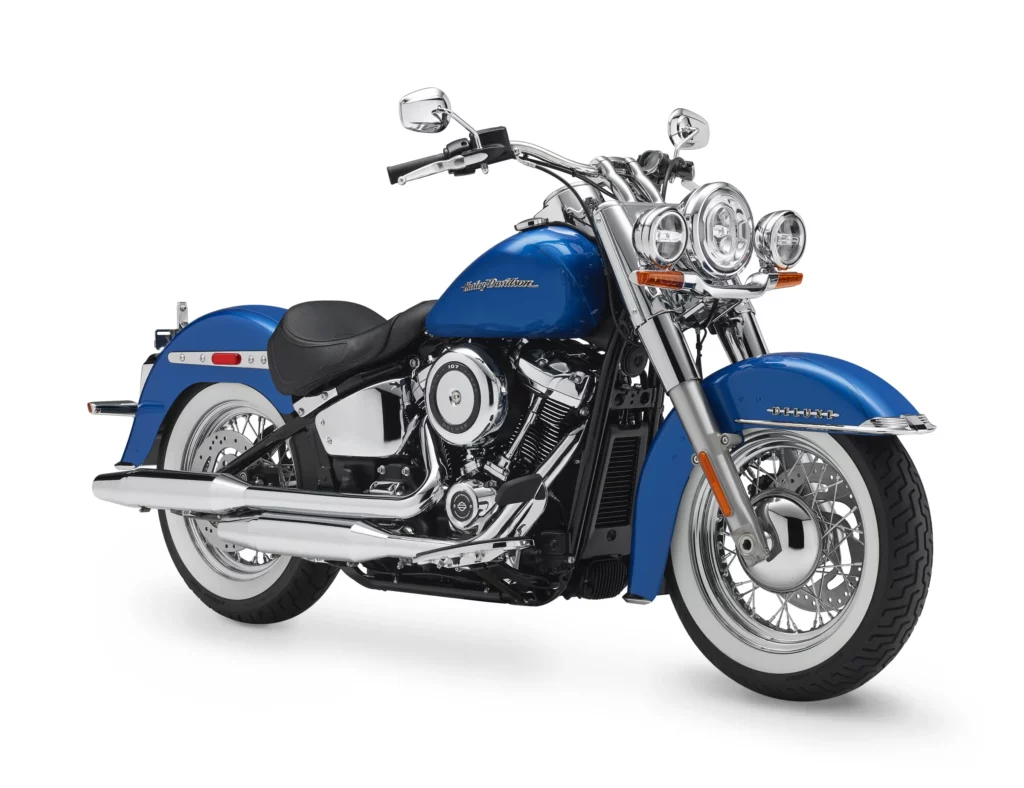 The Softail Deluxe is the most sought-after "larger" bike on our list, and for a good reason: its low seat height of 24.5 inches and low center of gravity allow experienced women riders to confidently pilot a more powerful motorbike that can quickly and comfortably withstand long days of traveling.
2- Harley Davidson Sportster 883 SuperLow
There are many models of the Harley-Davidson Sportster, with 883cc and 1200cc engines being the most common. Perhaps the most versatile choice for women, they can be used in various situations.
Harley Sportsters have colossal brand loyalty and are widely available, inexpensive, durable, and comfortable for riders of a wide range of sizes and shapes.
The Sportster has excellent weight distribution, is easy to maintain with a wide variety of affordable replacement components, and has sufficient power to get you out of difficulty but not enough to get you into actual danger. The "peanut" sized gas tank is the biggest drawback of Sportsters.
You can get spare parts for these motorcycles online quickly.
3- Harley Davidson Street Glide
Although most female motorcyclists ride lightweight bikes, it shouldn't come as a surprise that the best-selling motorbike of the previous five years is among our top list.
Since its release in 2006, the Harley-Davidson Street Glide has been universally hailed as the best motorbike in the world. Its low, slim design sparked the custom bagger trend. Thus every writer wanted a style that would also provide comfort to it.
4- Kawasaki Vulcan 900
It's great to see Kawasaki in the middleweight category. While riders didn't indicate which model they rode, the Custom, Classic, or Classic LT are all essentially the same motorbike with little differences in appearance and comfort.
After all, it has the same engine displacement as the V Star 950 and the Sportster 883 SuperLow, two of its main competitors.
Is there a common thread among the motorbikes that women are choosing? We remarked that this motorbike is surprisingly manageable despite its size.
5- Kawasaki Ninja 250/300
This size of Japanese sportbike is widely accessible, cheap, and light enough to be lowered to accommodate riders of varying heights. They're easy to repair, have good gas mileage, and have plentiful spare parts availability.
Because of this, riding one of these motorcycles might serve as a great introduction to mechanics. Ninjas are enjoyable to ride and can get you out of sticky situations on the highway because of their lightweight construction.
Even while the riding posture on these bikes may make you nervous at first, you'll soon find that your knees and legs tuck perfectly into a groove around the tank, making for an elegant and enjoyable ride. These bicycles are excellent self-esteem boosters and may be adapted to suit every rider's taste.
6- Honda Rebel
The Honda Rebel is available with a 250cc, 300cc, or 500cc motor. This lightweight bike has a low seat height and narrow handlebars, making it simpler to ride and manoeuvre.
Eventually, most riders will want something with more "get up and go," but after a while on a Rebel, the transition to a larger cruiser will seem natural. A Honda Rebel is a great option if you'd rather spend money on a brand-new motorcycle than a used one.
Traditional cruiser appearance, loads of chrome, spoke wheels, a 5-speed gearbox, and a twin-cylinder four-stroke engine characterizes this bike, which, like other Japanese cruisers, is cheap to insure and maintain.
7- Yamaha V Star 250
The 2018 model year sees Yamaha's V Star 250 receive several updates. The acceptance of Honda's latest Rebel model probably had a role in this conclusion. The V Star 250 has been given a sleek new design, upgraded components, and a big-bike aesthetic for 2021.
It also features a sleek new "Raven" colour job that looks sleek, contemporary, and sophisticated. The Yamaha V Star 250 is designed to appeal to novice riders and those with a penchant for traditional, smaller-engined motorcycles.
Producing "enough of bottom-end torque and smooth roll-on power," as Yamaha puts it, is the 249cc air-cooled, SOHC 60° V-twin engine. The V-Star is the lightest option, coming in at just 146 kg, and it has a seat height of 685 millimetres, making it slightly less than the Honda Rebel.
8- Honda Shadow Spirit
A secondhand Shadow Spirit might be a good option if you're looking for a middleweight bike without the bulk of American V-twins. Honda's Shadow Spirit 750 C2, a mainstay of the company's offerings, was retired after the 2014 model year.
There's no need to forego the convenience of anti-lock brakes (ABS) since they were included in more recent versions. The 745cc, liquid-cooled, V-twin engine that came standard on the Shadow produced 79Nm of torque.
The 243-kilogram-wet bike may not be the lightest on the list, but its 653-millimetre seat height is even lower than that of the brand-new Rebel. This update would benefit a girl cruising on a Rebel for a while. It would be best if you didn't let the weight put you off, though, because it's the well-balanced and low center of gravity.
Last but not least, the mid-weight Honda gives the impression of being more significant than it is, so you won't feel out of place driving up to rallies and bike evenings; in fact, your Honda will fit in rather nicely among the parked V-twins.
9- Triumph Bonneville or Street Twin
Triumph's contemporary classics, the Bonneville and the Street Twin, are virtually identical. You can get these British bikes with anything from an 863cc engine up to a 1200cc engine; they all feel, look, and handle the same.
Since a Triumph Bonneville was our ideal motorcycle. Nonetheless, we think it's a great bike for a beginner. These motorcycles are agile, great for a beginner, and powerful enough to satisfy an experienced rider, with the added advantage of features like standard anti-lock brakes.
While the riding posture on these bikes is acceptable for most people, it may be too tall for ladies of average height. There is something classic about a Triumph, and these two examples are no different.
You won't be looking for a better bike soon if you're a tall, influential person who can flat-foot a Bonneville or a Street Twin. Plus, any Triumph Modern Classic will allow you to indulge in your wildest "cafe racer" fantasies.
10- Star Motorcycles V Star 950
Women choose the V Star 950 at a higher rate than any other motorbike, making Star Motorcycles the 10th most popular type of motorcycle among women.
In the middleweight class, the V Star 950 holds its own and is quite adaptable, serving as well as a city cruiser or a touring motorcycle with the right accessories. The low 26.6-inch seat height makes riding comfortable for many women.
11- Star Motorcycles V Star Custom/Classic 650
Star Motorcycles, Yamaha's cruiser brand subsidiary, has offered two models, the V Star Custom and the V Star Classic, regularly since 1997 because the V Star platform provides what most women report wanting a low seat height, low centre of gravity, a solid yet controllable engine size, and comfort.
The two are stylistically distinct from one another. While some women ride just on their first motorbike, others upgrade after a few years on their 250cc bike. After the 2011 model year, production of the Classic ceased. Even though Custom was discontinued in 2012, it came back the following year, in 2013.
But these have provided a greater rider experience for bike lovers, especially for those women who want to make competition with their pals.
12- Honda Grom
The Honda Grom 125cc dispels fears that a rider's stature precludes them from enjoying the motorcycling lifestyle. Even a shorter rider can handle the 220 pounds of this single-cylinder motorcycle with ease.
These motorcycles are best for getting your feet wet before upgrading to a faster bike. If your inseam is longer than average or you want to do a lot of bouncing on the highway, we would not suggest it. Miniature motorcycles like the Honda Grom are meant to pique curiosity, tease, and ultimately inspire riders to hit the road with their fellow motorcyclists.
Conclusion
In the end, here is an explanation of the world's best motorcycles for women. Every model is best than others in terms of its reliability, power, features, etc. These provide a great riding experience for its rider.
Now, it has become a little easy for you to select the motorcycle according to your preference. Don't waste time. Just make up your mind and enjoy your first ride on your favourite bike. You will never be disappointed by them.
FAQs
Is it possible for a little lady to operate a motorcycle?
Absolutely. Riding a motorbike requires very little physical strength unless you're doing so at high speeds on a racetrack. Take some lessons to make sure you like riding a motorbike before buying one, and make sure you can comfortably sit on the bike and reach the floor and the handlebars.
Which motorbike would be ideal for a woman?
The Harley Sportster 883 is the most popular motorbike among American women. Triumph Street Twins are the most popular "large bike" motorbike among British women.
Which motorbike for a woman is the most incredible entry-level model?
The Yamaha V Star 250 or the Yamaha V Star 125 for the UK and EU are both excellent choices.