The Duramax engine has been one of the most popular diesel engines in the US for over two decades. Duramax is a heavy-duty V8 diesel engine co-developed by GM and Isuzu. It was introduced in 2001 as an upgrade for the 6.2L and 6.5L Detroit engines.
It turned out to be a competent and powerful competitor in the light diesel market. The engine has undergone various improvements over the years to make it more efficient. Every Duramax engine version has its own set of advantages and drawbacks.
The popularity of each engine varies depending on its features. For instance, pre-emission Duramax engines produced between 2001 and 2007 had exceptional durability. On the other hand, modern engines are upgraded with Duramax performance components to produce more power and torque.
It's important to weigh the merits of each Duramax engine before picking a favorite. Moving on with the article, we will go through each model in detail and discuss some frequently asked questions. You can use this guide to choose the right Duramax engine model for you.
Duramax Years to Avoid [Worst Duramax Engines]:
To be really honest, the initial model years of Duramax had a lot of issues. These issues varied from the engine not starting at all to full engine failure.
Therefore, you must be careful when purchasing certain Duramax models. Here is a list of some of the worst years of Duramax and their related concerns:
2001 – 2004 Duramax LB7:
The LB7 Duramax was the first generation of the V8 Duramax engine, and it did quite well. It is a 6.6-liter V8 engine with four valves per cylinder. It also has an engine block made of cast iron with aluminum heads. Overall, it was a very powerful and reliable engine.
But like any new engine, it wasn't perfect and had a number of issues. Apart from engine leakage, the main concern was injector failure. This problem arose after the injectors had traveled about 100k miles.
The original owners finally had to replace them. But still, you should double-check this before purchasing one. See whether the 200k-mile warranty still applies if the injectors are changed.
Vehicles with the Duramax LB7:
Chevrolet Silverado 2500HD & 3500 Classic
GMC Sierra 2500HD & 3500 Classic
Major Issues in Duramax LB7:
Failing fuel injectors
Faulty O-rings
Water pump failure
Overheating
Leaking fuel filter
2004 – 2005 Duramax LLY:
The LLY Duramax engine was the company's second-generation engine. This engine was only manufactured for a brief period of time. It was essentially the same as the LB7 motor, with no improvements made, and the absence of emissions control components persisted.
However, GM resolved the injector issues this time. The LLY, on the other hand, experienced problems with overheating while carrying large loads or working in hot weather. But what caused the overheating? Well, the air intake is believed to be the main problem.
The engine overheated because it had been poorly constructed, and the cross-section simply did not allow enough air in. The addition of an aftermarket intake to the engine is a safety feature that should be checked before purchasing it.
Vehicles with the Duramax LLY:
Chevrolet Silverado HD
GMC Sierra HD
Hummer H1 Alpha
Major Issues in Duramax LLY:
Restrictive Components
Overheating Issue
Head gasket failure
Injector harness chafing
Water pump failure
Weak Fuel Pressure Relief Valve
2006 – 2007 Duramax LBZ:
The LBZ Duramax replaced the previous generation LLY in 2006. But if the LLY's span was short, the LBZ's was much shorter. The LBZ was largely inspired by the LLY, but it had significant variations. Its engine block was thicker, and its fuel injection pressure was greater.
The LBZ was the final Duramax not to utilize modern emission control systems, which shortened the life of more recent diesel engines. Unfortunately, the LBZ only had a two-year production run, ending in 2007, due to strict emission regulations.
In addition, its pistons tend to crack with outputs above 600 horsepower. This shouldn't be a problem for people who want to keep the stock engine. It is only a major issue for people who intend to add a mod.
Vehicles With the Duramax LBZ :
Chevrolet Silverado HD 2500/3500
Chevrolet Kodiak
GMC Sierra HD 2500/3500
GMC TopKick
Major Issues in Duramax LBZ:
Cracked piston
Lack of emissions control parts
Relatively frequent glow plug failure
Leaking transmission lines
Water Pump Failure
2007 – 2012 Duramax LMM:
After the success of the LBZ, the LMM Duramax was eagerly anticipated. Even though it was improved, there were some structural problems. If you wanted to tune the LMM, you'd have to risk the pistons cracking.
The LBZ featured seven fuel-spray holes. The LMM had six, which meant that two streams of fuel poured out in opposite directions over the piston wrist pin. Because of this, cracks can occur in the piston at its weakest points (hot spots).
Additional emissions control components on this engine have also raised questions. Due to this, many diesel engine enthusiasts have lost interest in this particular model.
Vehicles with the Duramax LMM:
Chevrolet Silverado HD
GMC Sierra HD
Chevrolet Kodiak Medium Duty
GMC TopKick Medium Duty
Chevrolet Express
GMC Savana
Major Issues in Duramax LMM:
Piston and Crankshaft Failure
Transmission lines leaking
Fuel system issues
Regeneration of Diesel Particulate Filter
Blocked DPF system
2011-2016 Duramax LML: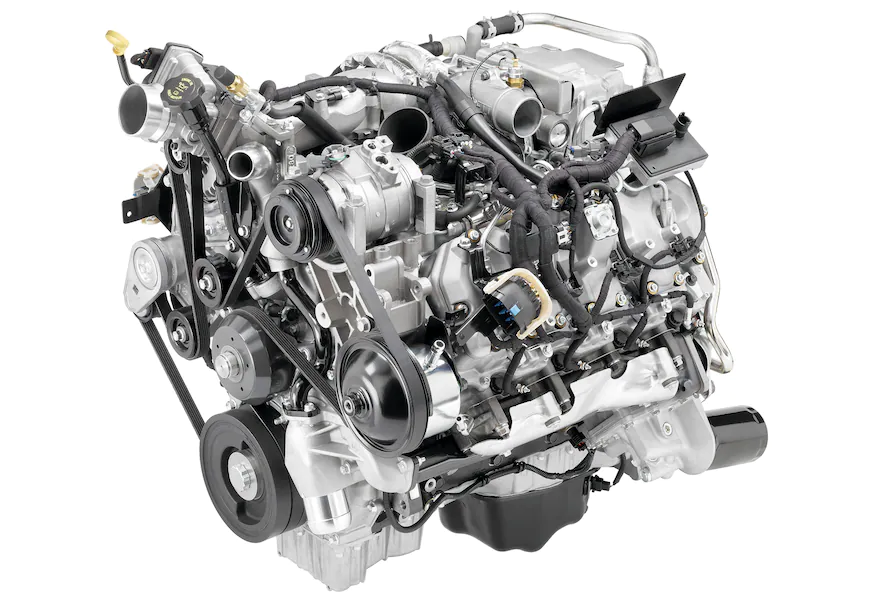 The Duramax LML was a very powerful and efficient engine. The manufacturers had put a lot of thought into making sure it performed well. Unfortunately, the LML Duramax's fuel system, and especially its fuel injection pump, were defective. This made it highly prone to failure.
Moreover, it resulted in its fragments being dispersed throughout your engine. As a result, you had to repair many components of the gasoline system and have the tank cleaned.
But what led to this chaos, exactly? Well, this engine was more powerful than the earlier ones GM had created. However, additional power came at the cost of greater fuel pressure. GM had to reduce emissions, so they had no other choice. This led to the failure of the fuel pump.
Vehicles with the Duramax LML:
Chevrolet Silverado HD
GMC Sierra HD
Major Issues in Duramax LML:
Sudden Failure of the Fuel Pump
Turbocharger failure
Injector and Injection Pump Issues
EGR valve issues
Poor Lubrication and Contamination
Best Years of Duramax:
Since 2001, Duramax has made a number of innovations to its engine sector. When it comes to performance, you can rely on any Duramax diesel engine. However, some Duramax model years provide more comfort than their previous models. With a lot of options, it's hard to choose the best Duramax diesel engine year.
Here is an overview of some of the best Duramax engine years:
2010 – 2017 Duramax LGH:
The 6.6-liter Duramax LGH turbodiesel engine is durable, powerful, and fuel-efficient. The improved casting allows for a more refined and quiet motor experience. A sturdy cast iron base ensures that it will last for years.
The lower engine cover is a die-cast aluminum crankcase, which also protects the engine block. Fuel is injected directly into the common rails of this engine. Piezo injectors provide for more accurate fuel metering, even at low injection rates.
This results in a smoother idle and less combustion noise. The Duramax 6.6L utilizes a variable-vane turbocharger. As a result, the engine produces more power while emitting less exhaust fumes and maintaining its overall fuel economy.
Vehicles with the Duramax LGH:
Chevrolet Silverado 2500/3500 chassis cab
GMC Sierra 2500/3500 chassis cab
Chevrolet Express 3500/4500
GMC Savana 3500/4500
Distinguishing Features of Duramax LGH:
The higher-capacity SCR system
Cooled Exhaust Gas Recirculation (EGR)
Diesel Particulate Filter (PDF)
Intake throttle
2017 – 2021 Duramax L5P:
The current version, L5P, is the most efficient post-emissions generation. The L5P's engine block is more robust, and there are other technological advancements as well. Furthermore, the engines are modern, making this the risk-free option.
It's no surprise that the L5P is the most potent Duramax model to date. Besides being the most fuel-efficient, it also has 445 horsepower and over 900 lb-ft of torque.
But let's say power isn't your main priority. In such a case, you should think about the L5D, which is a detuned variation of the L5P. It has 350 horsepower and is more fuel efficient and durable than its previous versions.
Vehicles with the Duramax L5P:
Chevrolet Silverado HD
GMC Sierra HD
Distinguishing Features of Duramax L5P:
ECM Tuning
Cold air intake
Intake horn & resonator pipe
Upgraded cylinder block
2019 – 2021 Duramax LM2:
The Duramax LM2 is a 3.0-liter I-6 turbodiesel engine. It can produce a maximum torque of 460 lb-ft. It has a maximum output of 277 HP, which is more than enough power for most users.
The 26 mpg combined fuel economy rating is the highest of any diesel engine currently available. The Silverado's can even approach 40 mpg, which is surreal. The LM2 engine is capable of towing up to 9000 pounds.
The engine gives the driver a great deal of speed and power. It is designed to be as reactive as it can be. Even though it's only available in the latest trucks, it's well worth the search.
Vehicles with the Duramax LM2:
2020 Chevy Silverado 1500
2020 GMC Sierra 1500
2021 Chevrolet Tahoe
2021 Chevrolet Suburban
Distinguishing Features of Duramax LM2:
2014 – 2021 Duramax LWN:
The Duramax LWN has a variable-geometry turbocharger for maximum power and economy. As far as power goes, the SAE certifies 181 hp (135 kW) at 3,400 rpm and 369 lb-ft of torque (500 Nm) at 2,000 rpm. It works well in midsize pickup vehicles and SUVs.
Additionally, it is the cleanest diesel truck engine General Motors has ever made. It complies with some of the toughest emission rules in the US as a result of its cooled exhaust gas recirculation (EGR) system.
The 2.8L Duramax is quite potent at low rpm because of its broad torque band. The turbocharged power delivery inspires trust with its seamless on-demand propulsion. In addition, it enhances performance without compromising safety while towing or regular driving.
Vehicles with the Duramax LWN:
Chevrolet/GMC years: 2016, 2017, 2018, 2019, 2020, 2021 LWN
Chevrolet/GMC diesel models: Colorado/Canyon, 4500 chassis, 5500 chassis
Distinguishing Features of Duramax LWN:
Improved overall drivability
Vehicle responsiveness
All-weather factory-style OEM plug
Factory safety measures
Selectable 4-position switch
Most Common Problems with the Duramax Engines
Every engine has its own drawbacks, and the Duramax engines are no exception. Here are some of the most frequent issues for all Duramax model years.
Cracked Pistons:
This is a severe problem faced by people who like pushing their vehicles to their limits. The pistons are normally reliable up to around 600 hp, but beyond that, they start to crack and shatter.
After going over these marks, piston failure becomes increasingly frequent. Despite strengthening the engine's blocks, the problem would persist. Additionally, they would break at higher power levels.
Issues With The Fuel Lift Pump:
The fuel lift pump is a common concern among Duramax engine owners. This pump transports gasoline from the tank to the engine. And if it stops working, you won't be able to get your truck going.
If you are having this issue or are unclear if your lift pump is working normally, take your vehicle in for servicing immediately.
Water Pump Failure:
The water pump is an essential component of your Duramax engine. It supports the cooling system by distributing coolant uniformly. The engine will soon overheat without this coolant circulation. If it isn't fixed soon, it will result in more serious issues later on.
An impeller, essentially a fan, is housed within each water pump to circulate the cooling liquid. The impeller can become worn and eventually shatter, especially under extreme heat, where the plastic impeller material melts. According to reports, this problem appears between 80,000 and 100,000 kilometers.
Injector Problems:
Injector failure is a common problem with Duramax engines. They run into issues with the ball seats. The resulting leak might result in reduced performance. All of these issues are serious but can be solved.
The repairs may be costly, but they should not stop you from purchasing this excellent work of art. The LB7 models produced between 2001 and 2004 have two major problems: internal cracking and rust. The injectors in later engine types were made of a more robust substance.
Transmission Lines Failure:
Many Duramax engines' lines are built in such a way that the crimp is insufficient to hold onto the line. As a result, water began to flow from the lines.
Some people would experience leaks all the time, while others would only experience them when the engine was cold. These leaks would eventually cause transmission damage. This problem may occur quite quickly at 20,000 feet.
Snapped Crankshaft:
The issue is prevalent in higher horsepower engines across all generations and is not model-year specific. Most crankshaft failures occur at the first-rod journal. It is caused by a combination of high rpm and a large external counterweight.
Frequently Asked Questions
How Reliable is the Duramax Engine?
The Duramax engine is extremely durable. Since its introduction in 1997, Duramax has been put to use in a wide range of vehicles, including heavy-duty dump trucks and work trucks.
It is one of the most often used motors available now due to its high power output relative to its compact size. Furthermore, it has a very low carbon footprint and excellent gas mileage.
Its durability and performance have earned it a reputation as one of the most powerful engines available today. That's why you'll find it in so many trucks and other commercial vehicles.
What Is the Life Expectancy of Duramax Engines?
A Duramax engine will typically last between 200,000 and 300,000 kilometers. If you want to keep it running smoothly and efficiently for a long time, you'll have to put in some work maintaining it.
The driving conditions and engine year/model will have a large effect on how long it will last. The engine may survive a long time, but the rest of the vehicle might have problems. This could make repairs uneconomical, but it will never be due to the engine.
How Frequently Should You Change A Duramax Engine's Oil?
There is no "ideal" interval between oil changes based on mileage or time. It is dependent on how much your truck is driven and the driving conditions. The best time to have an oil change is mentioned in your owner's handbook.
If you constantly run out of oil, the engine may be damaged. You should change the oil in your Duramax engine once a year or every 10,000 miles if you travel an average of 15,000 miles each year.