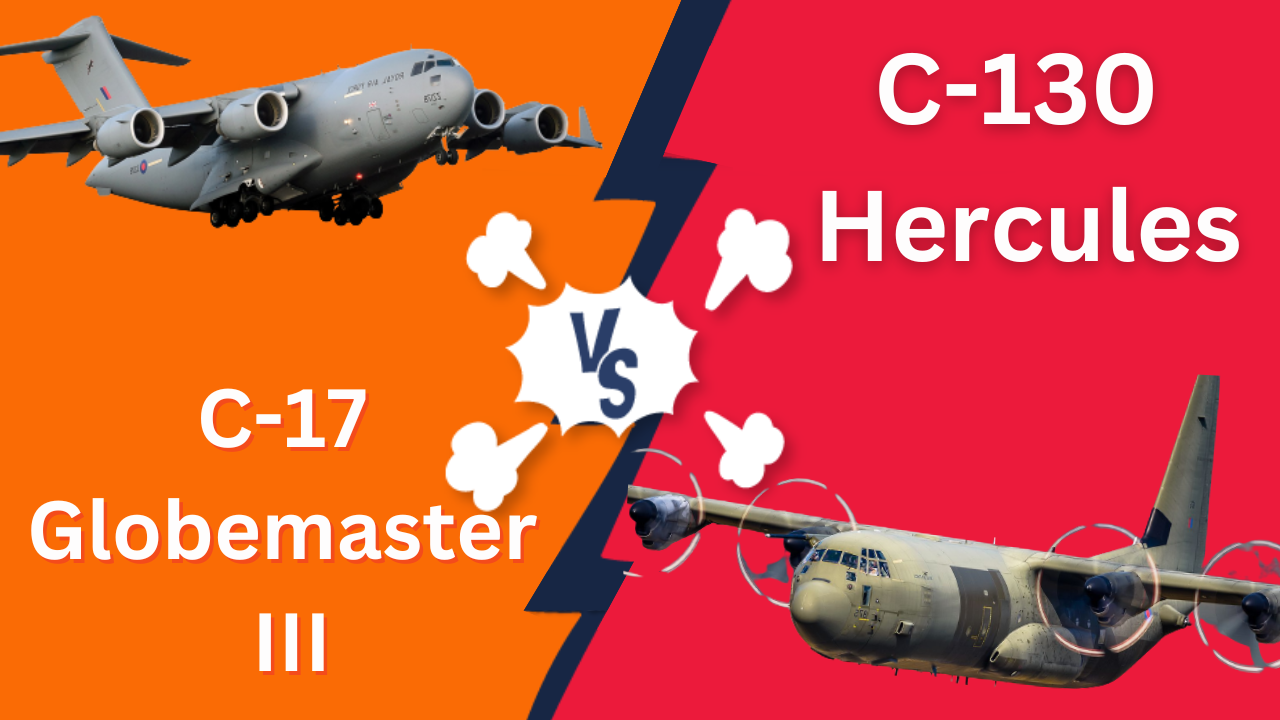 This article will examine military aircraft and compare two of the most well-known transport planes that have made significant contributions in their respective wars. A military transport aircraft often called a military cargo aircraft or simply airlifted, is a type of aircraft owned by the military and used to transport troops and military supplies in support of military operations.
Supply lines to forward bases that are difficult to reach by land or sea need the use of transport aircraft, which can be deployed for both strategic and tactical missions. They are commonly used to transport aid to victims of natural disasters.
The C-17 Globemaster and the C-130J Super Hercules transport planes will be discussed in this article.
We shall study their specifications and learn all there is to about them.
Both of these transport planes have made their names in the industry, so comparing them is bound to get heated.

C-17 Globemaster III Tactical Transport Aircraft
McDonnell Douglas built the massive military transport aircraft C-17 Globemaster III in the 1980s and '90s for the United States Air Force (USAF). The C-17 is named after the Douglas C-74 Globemaster and the Douglas C-124 Globemaster II, both of which were piston-engine military transport planes that came before it.
It can go across oceans and touch down on short runways. The pilot, copilot, and loadmaster can control all functions with the help of the electronic cockpit and the sophisticated cargo system.
Cockpit
The C-17's cockpit has space for two observers and the pilot and co-pilot. The digital avionics system includes two fully functional heads-up displays (HUDs), as well as cargo systems and four multifunction cathode ray tube displays (MFDs) made by Honeywell.
The electronic flight control system is so safe that it includes four independent redundancies and a fifth that is operated mechanically.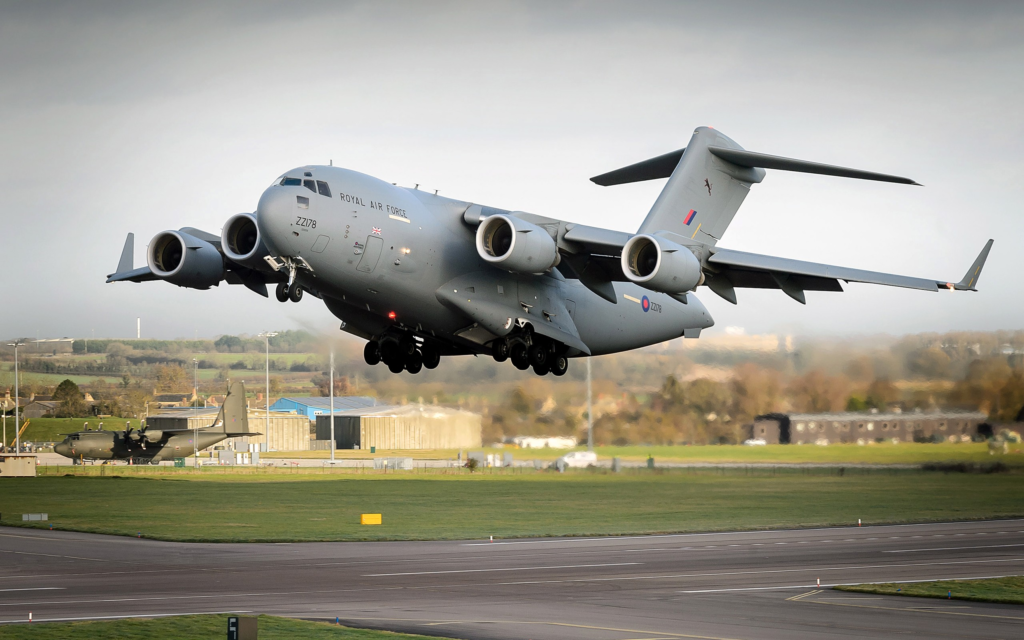 Two Lockheed Martin mainframes, one Hamilton Sundstrand data management system and a pair of Honeywell aircraft data terminals are on hand.
Northrop Grumman Navigation Systems has upgraded the C-17A's avionics with new mission computers, displays, and software for the warning and caution system. The automatic flight control system has been given a boost by installing BAE Systems' CsLEOS real-time operating system, which has been approved to meet the standards of the GATM (global air traffic management) system.
Cargo systems
The C-17 can transport a wide variety of vehicles, palleted freight, paratroopers, air-drop packages, and aeromedical evacuees thanks to its versatile cargo hold.
Carrying big-wheeled and tracked vehicles, tanks, helicopters, artillery, and armaments like the Patriot missile system is possible due to the cargo hold's spacious cross-section. Each C-17 deployment cargo consists of three Bradley armored vehicles. It is possible to tow the M1A1 main combat tank used by the United States Army.
With 18 pallet locations, including four on the ramp, the maximum payload is 77,519kg (170,900lb). The transport plane can perform LAPES drops, or low-altitude parachute extractions, from a safe distance. When used for Medevac purposes, the C-17 can carry up to 54 ambulatory patients and their caregivers, as well as 36 litter patients.
Countermeasures
An array of surface-mounted thermal sensors known as AN/AAR-47 are installed all around the C-17 to detect the thermal signature of missile exhaust plumes. Techniques for signal processing and frequency selection are employed to reduce the false alarm rate.
The system alerts the crew of the presence and direction of the missile threat via the cockpit indicator unit. The ALE-47 dispenser immediately receives a signal.
The AN/ALE-47 is capable of transporting a variety of disposable defenses, like jammers. The system connects to the sensors on the C-17 Globemaster III aircraft. The dispenser can be operated totally automatically, semi-automatically, or manually by the aircrew.
Mission information, as well as the variety and number of disposable countermeasures systems installed into the ALE-47, can be entered into the cockpit control unit. The dispenser's status as well as the quantity and kind of countermeasures that are still available, are updated and shown by the cockpit controller.
In addition to the typical chaff and flare decoys that are compatible with the older ALE-40 and ALE-39 dispensers, ALE-47 can distribute the newer generation active expendable decoys POET and GEN-X.
Variants of C-17 Globemaster III
Some popular variants of C-17 are –
C-17A: early military airlifted version.
C-17A "ER": A C-17A "ER" is an unofficial designation for a C-17A with increased range because of a wing tank installed in the plane's center. This improvement went into mass production with the Block 13 planes that began flying in 2001.
C-17B: The C-17B is a proposed variant of the aircraft that would be used as a tactical airlifter. It would have shorter landing and takeoff distances thanks to its double-slotted flaps, central main landing gear, and more powerful engines.
MD-17: Proposed MD-17 variant for civilian operators; renamed BC-17 following the merger in 1997.
C-130J Hercules Tactical Transport Aircraft
American aircraft manufacturer Lockheed Martin designed and constructed the four-engine turboprop military transport aircraft C-130 Hercules (now Lockheed Martin). The C-130 was first conceived as a troop, medevac, and freight transport aircraft due to its ability to use unprepared runways for takeoffs and landings.
Aside from its usage as a gunship (AC-130), the airframe has been put to good use in a wide variety of additional duties, such as search and rescue, research assistance, weather reconnaissance, aerial refueling, maritime patrol, and firefighting from the sky.
As a result, many armed forces throughout the world rely on it as their primary tactical airlifter. Over 60 countries use one of Hercules' 40 variations, including civilian versions sold as the Lockheed L-100.
The United States was the first country to put the C-130 into service in 1956; Australia and other countries soon followed suit. The Hercules has been used for countless military, civilian, and humanitarian missions over the years.
Cockpit
A loadmaster and two pilots make up the C-130J's crew. Four L-3 systems with multifunction liquid crystal displays for navigation and flight control are included in the new glass cockpit.
Each pilot gets a head-up display from Flight Dynamics (HUD). The dual mission computers, which are provided by BAE Systems IEWS, control and keep track of the aircraft's systems as well as update the crew on their status.
The Northrop Grumman low-power color radar monitor is installed in the cockpit. Digitally saved image data is displayed on the map.
The Honeywell dual-embedded GPS/INS, ground collision avoidance system, SKE2000 station-keeping system, instrument landing system, and enhanced traffic alerting and collision avoidance system (E-TCAS) are all features of the C-130J. (ILS).
The following items were included in the baseline configuration of new C-130Js, according to an announcement made by Lockheed Martin in July 2008: the TacView portable mission display, the InegrFlight commercial GPS landing system sensor unit, and the global digital map unit from Elbit Systems.
Cargo systems
The C-130J's cargo bay has a total usable volume of almost 4,500ft³ and can hold weights up to 16880 Kg (37,216lb). As an illustration, consider three armored personnel carriers, five pallets, 74 stretchers, 92 combat troops with equipment, or 64 paratroopers. The bay is furnished with tie-down rings, cargo handling rollers, storage bins, and troop seat storage.
Countermeasures
The ATK AN/AAR-47 missile warning system on the C-130 analyses and ranks threats using spectral selection, complex signal processing algorithms, and electro-optic sensors to find missile exhaust. Both in the tail cone and close to the nose, directly below the second cockpit glass, sensors are installed.
The superheterodyne AN/ALR-56M radar warning receiver from BAE Systems operates in the 2GHz to 20GHz bands. A low-band antenna and four high-band quadrant antennae are fitted in the tail cone and nearby the nose portion beneath the second cockpit glass.
In addition to the POET and GEN-X active expendable decoys, the BAE Systems Integrated Defence Solutions (previously Tracor) AN/ALE-47 countermeasures system may also dispense chaff and infrared flares.
An adaptive infrared jamming signal with shifting frequencies is produced by the Lockheed Martin AN/ALQ-157 infrared countermeasures system. The main undercarriage bay fairing's rear end has a surface-mounted infrared transmitter.
Variants of C-130J Hercules transport aircraft
There are so many variants of C-130J Hercules with C series, EC series, HC series, LC, MC, PC series, etc. Some examples are –
C- series – C-130A, C-130B, C-130E, C-130K ,etc.
EC-130 series – EC-130E/J Commando Solo – USAF / Air National Guard psychological operations version.
EC-130E Airborne Battlefield Command and Control Center (ABCCC) – USAF procedural air-to-ground attack control also provided NRT threat updates.
EC-130E Rivet Rider – Airborne psychological warfare aircraft.
EC-130H Compass Call – Electronic warfare and electronic attack.
EC-130V – Airborne early warning and control (AEW&C) variant used by USCG for counter-narcotics missions.
HC-130 series – HC-130B/E/H, HC-130P/N Combat King, HC-130J Combat King II, HC-130H/J, and many more.
C-17 Globemaster III VS C-130J Hercules
Specifications
Detailed comparisons were made based on the many factors included in the table below. These figures shed more light on the strength and capabilities of both planes.
Basics
| | | |
| --- | --- | --- |
| Data | C-17 Globemaster III | C-130J Hercules |
| Origin: | United States | United States |
| Year: | 1995 | 1956 |
| Crew: | 3 | 5 |
| Production: | 279 units | 2,300 units |
Dimensions and Size
| | | |
| --- | --- | --- |
| Dimensions | C-17 Globemaster III | C-130J Hercules |
| Length: | 53 m (174 ft) | 29.79 m (97.9 ft ) |
| Wingspan: | 51.755 m (169.9 ft) | 40.41 m (132 ft) |
| Wing area: | 350 m2 (3,800 sq ft) | 162.1 m2 (1,745 sq ft) |
| Height: | 16.79 m (55 ft) | 11.84 m (38 ft) |
| Weight: | 128,140 kg (282,500 lb) | 34,274 kg (75,562 lb) |
Performance
| | | |
| --- | --- | --- |
| Specs | C-17 Globemaster III | C-130J Hercules |
| Max speed: | 833 kph (518 mph) | 600 kph (373 mph) |
| Range: | 9,432 km (5,861 mi) | 3,600 km (2,237 mi) |
| Ceiling: | 13,716 m (45,000 ft) | 10,000 m (33,000 ft) |
| Cargo bay length: | 27 m (88 ft) | 12.50 m (41 ft) |
| Capacity: | 32,159 kg (170,900 lb) | 19,050 kg (42,000 lb ) |
| Cargo bay width: | 5.5 m (18 ft) | 3.05 m (10 ft) |
| Cargo bay height: | 3.76 m (12 ft) | 2.74 m (9 ft) |
Engine
C-17
The wings are outfitted with four turbofan engines from Pratt & Whitney, model number PW2040. The aircraft is equipped with speed brakes and engine thrust reversers that may be activated in flight, allowing for quick deceleration and descent maneuvers.
C-130
A total of 4,591 shaft horsepower is produced by the C-130J's four Allison AE2100D3 turboprop engines (3,425kW). Dowty Aerospace created the R391 composite six-blade propeller system.
Lucas Aerospace's full-authority digital electronic control (FADEC) systems are installed in the engines. Improved short-airfield performance is possible because of an automated thrust control system (ATCS) that optimizes the engines' power distribution.
FAQ
Is C-5 or C-17 bigger?
The only other jet transport in the combined airlift fleet is the enormous C-5 Galaxy, which has a per-flight capacity of around 50 tonnes greater than a C-17. This translates into the ability to move twice as many supply pallets, missile batteries, or armored vehicles every sortie.
Is the C-17 still in production?
Boeing announced in September 2013 that it was ceasing C-17 manufacture and that the final model would be delivered in 2015. 279 C-17s were produced by McDonnell Douglas and Boeing for the USAF and various allies' forces worldwide between 1991 and 2015.
Can C-17 carry a tank?
Almost all of the Army's air-transportable equipment, such as a 69-ton M1 Abrams main battle tank, armored vehicles, trucks, and trailers, can be loaded aboard the C-17 using a sizable aft ramp and door system.
Why does the C-17 have a stick?
All cargo and passenger aircraft have yokes (wheels). Combatants use sticks. Therefore, the C-17's designers decided to use a stick rather than a yoke so that the pilots could feel more "tactical."
What plane will replace the C-130?
The Netherlands selects the Embraer C-390 Millennium transport aircraft to replace its aging C-130 Hercules.
Is the C-130 armed?
The C-130 Hercules transport aircraft comes in a strong-armed, long-endurance, ground-attack derivative called the Lockheed AC-130 gunship. It is equipped with a wide variety of ground-attack weapons that have the cutting-edge sensor, navigation, and fire-control technologies built right in.
Can a civilian own an AC 130?
The general public can now purchase the Super Hercules. The C-130J Super Hercules now has a civilian variant of its own—the LM-100J—just like the famed "legacy" C-130 Hercules series of extremely adaptable military cargo carriers that were provided in the civilian form under the L-100 designation.
So far, we've looked at the technical specs of the C-17 Globemaster and the C-130J Super Hercules to see how they stack up against one another. Finally, we'll remark that each plane has its advantages and disadvantages but that both have served their countries' defenses well.