The construction industry is experiencing significant growth, with projections indicating a further surge in demand in the upcoming years. The World Bank predicts that by 2050, seven out of ten people will be living in urban areas, increasing the demand for urban infrastructure such as homes, hospitals, schools, and subway systems.
To meet this growing demand, boost efficiency, and reduce expenses, the construction industry needs to explore new and creative technologies. One of these technologies includes concrete pumping. Concrete pumps have significant benefits in terms of usability and efficiency. Let's have a detailed look at how it works and other important aspects, including its types, benefits, and costs.
What is Concrete Pumping?
Concrete pumping is a technique for delivering concrete to a particular spot. In this procedure, liquid concrete is moved from a hopper to a concrete pump by a mixing truck. Continuous churning of the liquid keeps it from solidifying too soon.
How Does a Concrete Pump Work?
A concrete pump requires an expert concrete pump operator to drive. With the boom or hose in place, the pump operator directs the pump's function, position, and output. Additionally, the operator is responsible for operating the pump at the job site, putting it up, cleaning it after usage, and doing any necessary repairs.
A concrete pump uses the difference between the ambient pressure and the pressure created by the pump's hydraulic system to move concrete. The hopper is loaded with concrete, and the pump kit employs hydraulic cylinders to collect and distribute the material through a rock valve and into the rest of the system.
Appearance of a Concrete Pump
Traditionally, a concrete pump has the appearance of a long, thin boom. There will be a group of personnel on the placement end and a line of redi-mix trucks on the other during the concrete pumping process.
Applications of a Concrete Pump
Concrete pumping is utilized to enable a more effective and safe way to place concrete. This is typical in places where labor, equipment, and material movement are restricted.
Here are some common applications of concrete pumps:
Building slab foundations: Solid foundations are necessary to stop sagging and cracking. Concrete pumps guarantee efficient and timely work, ensuring that concrete is delivered to its intended location properly.
Basement foundations: Concrete pumps ensure timely project completion by reducing mistakes and time delays during foundation installation.
High-rise buildings: Boom pumps are necessary to reach higher altitudes. They enable you to transport concrete to upper floors securely and swiftly, keeping your project on schedule.
Highway overpasses and tunnels: Concrete pumps allow you to construct a strong, reinforcing final structure that can withstand a lot of weight. Also, boom pumps make it easy to get to the right heights.
Bridgers and dams: Boom pumps can be used to raise materials to the desired height, allowing for the construction of sturdy, stable bridges or dams that can withstand heavy traffic and high water levels.
Parking structures: a concrete pump can be used to reach the upper floors of parking structures, saving workers time and effort.
Driveways and sidewalks: Boom pumps are useful in constructing a stable and smooth sidewalk or driveway, which can enhance the visual appeal of a house.
Swimming Pools: The foundation for a swimming pool can be laid using concrete pumps that can cross a house from the street, causing the least amount of disturbance to a homeowner's yard.
Patios and garden shed foundations: Concrete pumps allow construction crews to access backyards, where they may pour sturdy concrete slabs for garden shed foundations and patios without driving into the yard.
Types of Concrete Pumps
Basically, there are two types of concrete pumps: line pumps and boom pumps. Every pump has a different function and advantages.
Line Pumps
With line pumps, you can transport liquid concrete to the required place on the construction site by pumping it through hoses at ground level. These pumps are really versatile since you can use them anywhere from next to a house to down an alleyway where you might not be able to park the concrete pump truck.
Examples
Stationary pumps: These are the most simple kind of concrete pump. It is pulled to the building site by a separate truck that has the pump on a small trailer. Since these pumps don't have a boom, pipelines or placement hoses are necessary to move the concrete to the desired location. A laying boom will also be necessary in order to direct the concrete precisely.
Truck-mounted static pumps: It is simple to transport these pumps straight to the construction site because they are mounted on truck beds. Similar to stationary pumps, placing hoses is necessary to guarantee that the concrete reaches its destination.
Truck mixer pumps: These models have a concrete mixer and pump built in, so you may transport concrete straight from the truck mixer.
Boom Pumps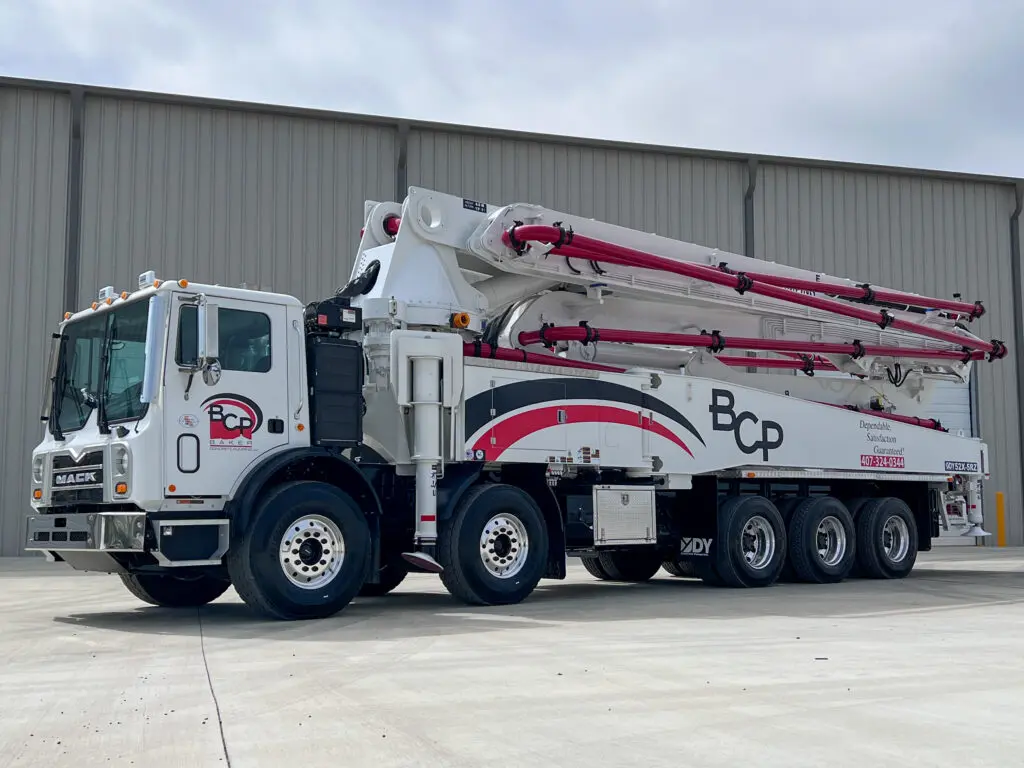 Unlike line pumps that are located at ground level, concrete boom pumps are suspended in the air. The boom on these pumps is a long, remote-controlled arm that has exceptional flexibility and can stretch into the air, much like a crane. These pumps are perfect for difficult-to-reach places, including apartment buildings, where line pumps are unable to operate. Boom pumps can also be used for concrete pool and landscaping designs.
The pump can be driven straight to the job site, and the placing boom can be used without any extra hoses. The boom can get to any point within its reach, which makes it a popular and adaptable choice for building projects.
Examples
57X-6RZ: This model is perfect for high-rise buildings and difficult-to-reach places due to its remarkable vertical and horizontal reach. In addition to its 360-degree mobility, this boom pump also features remote control access, which facilitates precise and straightforward concrete placement.
43X-5RZ: This medium-sized model is perfect for construction tasks in both residential and commercial spaces. Because of its small size, the truck can easily avoid obstacles like power lines and tree branches when parking in residential areas.
33X-5ZZ: It is a portable option due to its low weight. Due to its compact size and lightweight design, it is simple to use in confined areas, like rooms with low ceilings or beneath bridges.
Benefits of Using Concrete Pumps
Here are some common benefits of using concrete pumps:
Increased Efficiency: Maximize the use of available workers by boosting the placement rate.
Decrease Construction Live Loads: Prevent scratching caused by vehicle dumping in slab-on-grade placements and buggy loads in slab-on-deck placements.
Project speed: Concrete pumps are more effective and only need two workers to operate so that you can finish projects on time and without any delays.
More robust concrete: Pumped concrete is less likely to break because it contains less water than concrete that is poured through a chute.
Environment Protection/Erosion Control: Discharged concrete is localized, and mud and dirt from travel is minimized.
How Much Does a Concrete Pump Truck Cost?
A new concrete pump truck will cost between $250,000 and $500,000, depending on your region and the truck's condition. Given the extremely specialised sector that concrete pump trucks are used in, the pre-owned market for these trucks is not very big. Costs tend to stay high because of the low quality of used trucks.
How Much Does a Concrete Pump Truck Cost Per Hour?
If you only need to pump concrete for one-time jobs, getting a concrete pump truck by the hour can be beneficial. The exact cost may vary depending on your region and type of truck. However, the average cost to rent a 46-meter concrete pump truck is $215 per hour + $3 for each pumped cubic yard of concrete. In addition, travel and cleaning charges are often applicable.
Bottom Line
Saving energy, money, and time is the primary goal of concrete pumps when working on any concrete project. With the use of a pump, you can accurately pour concrete where it is needed, regardless of any barriers that may prevent a truck from getting to the required site. So, for your next concrete project, consider renting a concrete pump instead of wheelbarrows to save money, time, and effort. You can get these services from your local concrete suppliers.