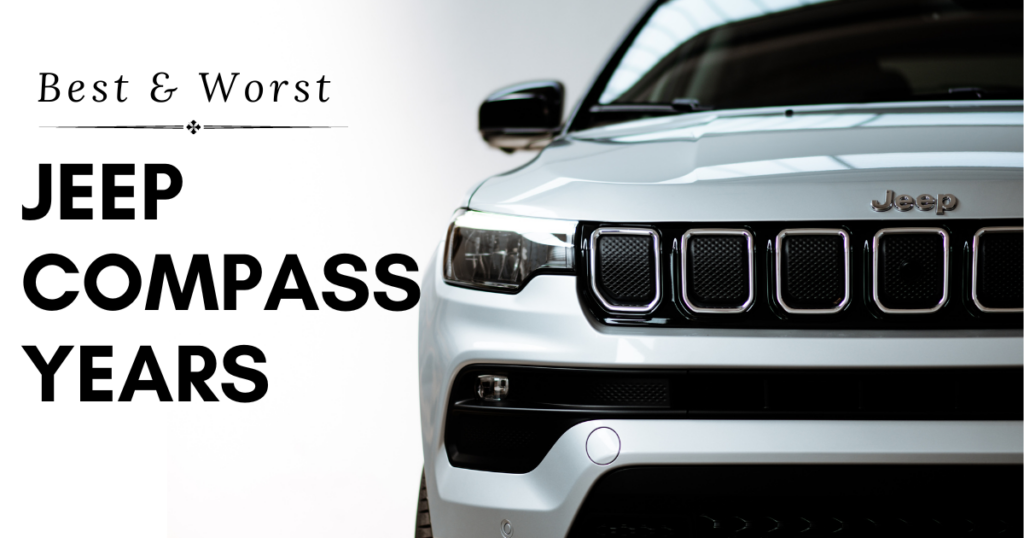 Jeep Compass has long been recognized as a high-quality, affordably priced compact SUV ideal for families. Although it's not a premium SUV or an off-road car, it can serve you well on your family trips or daily driving.
While the Jeep Compass is a fantastic choice for most families, there are a few model years you should try to avoid. As a result, we explored deeper to expose the model's shortcomings and assist you in selecting the most suitable model year.
Jeep Compass years to avoid include 2007, 2008, 2010, 2012, 2014, 2017, 2018, and 2019; they are considered the worst. The best years for Jeep Compass include 2009, 2020-2023. This result was concluded from trustworthy sources such as NHTSA, Edmund, JD Power, and Kelley Blue Book.
Jeep Compass Years To Avoid
Owners have criticized several years of Jeep Compass production as they required the most maintenance and were the most frustrating to drive. Let's discuss the most problematic Jeep Compass years to avoid.
8. Worst Year: 2008 Jeep Compass (3.75 Rating)
Jeep has made many improvements to the 2008 Compass; however, there were serious issues with it. Car Complaints reports that failure of the tie rods and control arm is the primary issue with the 2008 Jeep Compass.
Many drivers said they had to replace their tie rods and lower control arms repeatedly. This issue manifests itself at relatively low mileage, about 50,000. Also, the Compass's engine frequently stalls or shuts off while driving. Many people said it happened to them while traveling on a motorway, making this an extremely dangerous situation.
Reviews, Ratings, Recalls & Complaints:
7. Worst Year: 2010 Jeep Compass (3.68 Rating)
The 2010 Jeep Compass, despite its affordable pricing and novel flip-down tailboard speakers, is rated by Edmunds as one of the least appealing options in the compact SUV class. The 2010 Jeep Compass has a lot of problems. A clunking or knocking sound is one of the most common complaints, with six people having this problem at around 51,000 miles.
Fixing this issue typically costs around $610 and involves replacing either the outer tie rod ends, the ball joints, the lower control arms, or the leaking rear struts. Other frequent problems include the vehicle suddenly losing power, stopping working, or pulling to one side, all of which are potentially dangerous.
Reviews, Ratings, Recalls & Complaints:
6. Worst Year: 2019 Jeep Compass (3.66 Rating)
On carcomplaints.com, 305 people have reported issues with the 2019 Jeep Compass. The interior, electrical, and mechanical components consistently rank as the most often reported issues.
The worst problem with this model is the car suddenly stops working. When you get to about 10,000 miles, you'll notice that every time you start the car, the breaker light will come on, and the car will shut down.
Low oil pressure and intermittent failure of the car to start are two more problems that are frequently encountered and reported with the 2019 Jeep Compass.
Reviews, Ratings, Recalls & Complaints:
5. Worst Year: 2014 Jeep Compass (3.48 Rating)
Even though 2014 is on our list of Jeep Compass model years to avoid due to possible safety or reliability issues, there aren't many severe ones.
The 2014 Compass has several problems, but the loud noise from the back brakes stands out as the worst. While it may not be an immediate danger, most people would like not to attract attention whenever they apply the brakes. This problem presents itself at roughly 10,000 kilometers, and there is no known solution to this problem.
In the 2014 jeep compass, malfunctioning wireless control modules (WCMs) are also a common cause of a vehicle not cranking or starting. Similarly, the remote keyless entry system will stop working if the WCM fails. Typically, this issue is fixed by replacing the WCM.
Reviews, Ratings, Recalls & Complaints:
4. Worst Year: 2017 Jeep Compass (3.42 Rating)
The 2017 Jeep Compass comes in at number four because it is the least desirable vehicle on this list due to being painfully slow and incredibly bland.
There have been 56 complaints filed with NHTSA this year about engine defects, and they range from car shutdowns while driving to using too much oil and the engine dying unexpectedly.
Electrical issues are the second most common type of problem with this model. In addition to other malfunctions, stock tires wore out quickly this year. Many customers complain that cars won't be able to start and turn over.
Reviews, Ratings, Recalls & Complaints:
3. Worst Year: 2012 Jeep Compass (3.35 Rating)
Just as Jeep was starting to create a few years of solid manufacturing, 2012 rolled along, and this Compass was a headache for both owners and consumers.
The SUV's biggest problem was a faulty transmission and suspension. Overheating caused the CVT to fail frequently, and there were many complaints about the vehicle's tie-rods, control arms, and bushings. Tie rods were consistently breaking, costing owners around $500 to replace, while transmission issues added another $900 to the average repair price.
The Compass also had problems stopping because the brakes stopped working. Some customers also stated that their calipers were stuck, while others heard grinding or buzzing sounds.
Reviews, Ratings, Recalls & Complaints:
2. Worst Year: 2007 Jeep Compass (3.04 Rating)
According to carcomplaints, the 2007 jeep compass is the overall worst year to buy. Given that this is the initial Compass, this should come as no surprise. Like so many other cars, Jeep's first try isn't flawless.
The 2007 Compass SUV's control arm was the most frequently reported issue. Several customers have complained that the bushings in their control arms suddenly broke. This problem is annoying because it usually manifests at a relatively low mileage, somewhere around 58k miles. The lower ball joints or the control arm might need to be replaced.
The electronics in the 2007 Compass have issues as well, especially the Totally Integrated Power Module (TIPM). A new TIPM is the industry standard but will cost you around $1,650.
Reviews, Ratings, Recalls & Complaints:
Related: 11 Best & Worst Jeep Patriot Years [Complete Data]
1. Worst Year: 2018 Jeep Compass (2.60 Rating)
The 2018 Jeep Compass, one of the more recent entries on this list, has the most complaints and recalls in this lineup, making it the worst jeep compass year ever.
The 2018 Compass is yet another Jeep SUV plagued by an unpredictable and frequently inconvenient engine failure. The most common complaint was that the car would suddenly shut down while driving. Once again, this is a critical security risk that most consumers would rather not encounter.
Starting issues, the check engine light coming on, and other electrical system issues have plagued the 2018 Compass. Most electrical issues are recorded at roughly 20,000 miles, which is probably within an extended warranty's scope.
Reviews, Ratings, Recalls & Complaints:
Best Jeep Compass Years To Buy
Now that you know which Compass model years to avoid and the primary issues associated with them, We can move on to the best years of production. These years are mostly from the latest generation and are absolutely safe to buy.
5. Best Year: 2009 Jeep Compass (3.81 Rating)
A 2009 model year Compass is a good choice if you're looking for a used car. Though the 2009 Compass won't surprise you, it has a lot to offer thanks to its car-like ride quality, respectable fuel economy (for a Jeep), impressive safety features, and classic Jeep design. When compared to newer models, the 2009 Compass provides good value for the money.
While it isn't universally lauded, its many satisfied drivers attest to its reliability. There were just two trim levels to choose from this year, but both were upgraded to provide a quieter, more comfortable ride on a more streamlined platform.
Reviews, Ratings, Recalls & Complaints:
4. Best Year: 2020 Jeep Compass (3.90 Rating)
Jeep introduced the 2020 Compass to overcome the mess created by the 2019 model. It improved upon the excellent performance and handling of the 2019 model while also adding numerous additional safety features.
This 5-seat SUV is powered by a 2.4-liter 4-cylinder engine rated at 180 horsepower and mated to a standard 6-speed gearbox, with optional 9-speed automated gearboxes.
The car's FWD and AWD systems, 7-inch display, and compatibility with Apple CarPlay and Android Auto all contribute to the convenience of the roomy cabin and trunk.
Related: Jeep Liberty Years To Avoid | All 11 Best & Worst Model Years
Reviews, Ratings, Recalls & Complaints:
3. Best Year: 2022 Jeep Compass (3.97 Rating)
The 2022 Jeep Compass is a small crossover that lives up to the brand's reputation for ruggedness and can be modified to perform well off-road. It sits between the Renegade and the Cherokee in terms of size and competes with vehicles like the Mazda CX-5 and the Toyota RAV4.
There are five different trim levels of the 2022 Jeep Compass compact crossover: Sport, Latitude, Latitude Lux, Limited, and Trailhawk. All of them include a 2.4-liter inline-four motor (177 hp, 172 lb-ft of torque). The standard transmission for FWD cars is six speeds, while the AWD models get nine.
Reviews, Ratings, Recalls & Complaints:
2. Best Year: 2021 Jeep Compass (4.08 Rating)
If the 2020 Jeep Compass had a number of great upgrades, the 2021 version should have even more, making it even better than the 2022 model.
The 2021 Jeep Compass has a reliability score of 81 out of 100 from cars.usnews, which is considered great. Moreover, Due to its ranking as #5 in Small SUVs from J.D. Power, it is one of the best Jeep Compass years to buy, and you can easily build your trust in this vehicle.
The 2021 Jeep Compass offered six distinct trim levels, many of which were limited edition and boasted significantly more basic safety equipment than the base model.
Reviews, Ratings, Recalls & Complaints:
1. Best Year: 2023 Jeep Compass (4.30 Rating)
The latest model of the car is generally considered to be flawless and improved due to advancements in technology and manufacturing processes. The same case happened with the 2023 Jeep Compass.
This year significantly improved over the past years, as you can see by the track record of zero complaints and recalls reported while writing this article.
Jeep refreshed the Compass last year with a new exterior and interior design, upgraded amenities, and more standard equipment. Jeep will continue its efforts in 2023. However, In 2023, A new turbocharged engine was added to the Compass, making it more potent and efficient than its predecessor.
It's incredible that it comes with 200 horsepower already, and that much extra power should translate to far quicker acceleration.
Reviews, Ratings, Recalls & Complaints:
What Are The Common Jeep Compass Problems?
Although the Jeep Compass is generally a reliable compact SUV, it does have a few nagging reliability issues that some drivers find frustrating.
1. Transmission Overheating:
Compass owners have complained that the CVT transmission frequently overheats and causes the car to stall. This is not only a dangerous situation because you lose the ability to control your speed, but it is also quite costly to fix.
2. Unable To Start The Car:
Many Compass owners have voiced frustration at the vehicle's inability to start. It's basically a no-start problem that starts occurring at low mileage, which is quite annoying. Fiat-Chrysler issued several service bulletins to address the problem.
3. Noisy / Griding brakes:
Noisy or grinding brakes are another serious issue that has affected a number of Compass models. The braking system continued to make a low-pitched noise.
4. Water Leakage:
Leaking water into the cabin is another issue in Jeep Compass models manufactured between 2007 and 2014. The SUV's front and/or back roof appeared to be leaking water.
5. TIPM Failure:
Totally Integrated Power Module (TIPM) failure was cited by numerous Compass owners (especially those who purchased a 2007 model). When the TIPM fails, it can trigger a cascade of electrical issues that affect things like the door locks, wipers, lights, dashboard, and fuel pump. The most typical solution is to replace the TIPM, which will set you back around $1,650.
6. Check Engine Light Issues:
Several Compass owners have complained that their vehicle's check engine light blinks on and off at random, which is quite annoying. RepairPal suggests that an out-of-date PCM could be the root of the "check engine light" problem.
7. Defective Tie Rods and Control Arm:
Several models of the Compass allegedly have defective control arms and/or tie rods. Many Compass owners have reported hearing strange noises coming from the suspension system and noticing uneven tyre wear.
FAQs
Is Jeep Compass A Good Car?
The Jeep Compass SUV has a 4.0/5.0 reliability rating on RepairPal, which is great. The Jeep Compass is a reliable good car, but only if you stay away from 2018, 2007, and 2012 models.
How Long Will Jeep Compass Last?
A well-maintained Jeep Compass can go for 180,000 miles or more without much problem.
Is Jeep Compass Expensive To Maintain?
The Jeep Compass is comparatively expensive to maintain. It has an initial cost of roughly $10,000, which is around $1,151 more than the average SUV.
Conclusion
Jeep Compass is a good car that puts reliability and security first, providing you and your family with the safest and most comfortable driving experience possible. However, it is crucial that you are aware of the best and worst years for the Jeep Compass so that you can avoid the worst years, like the 2018 model, and instead get the best years, most probably the latest ones.