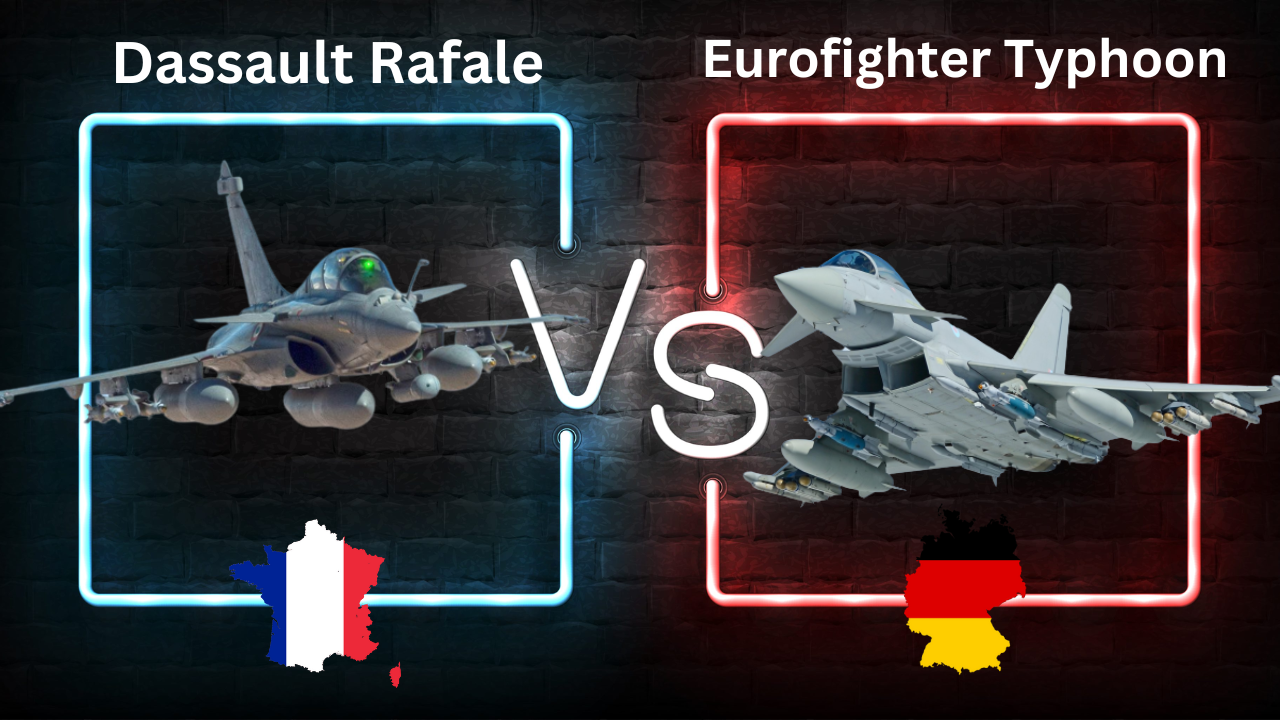 In this article, we will be comparing Dassault Rafale with Eurofighter Typhoon.
Five European nations had signed an agreement to create a European fighter jet. Therefore, these two planes were originally planned to be one. France, however, left the project early because of disagreements about the planned characteristics and abilities of the aircraft.
In the context of the Cold War, the UK, Germany, Spain, and Italy desired an air superiority fighter, while France desired a more adaptable, lightweight, and navy-capable weapon. Thus Rafale was created.
Why compare?
Because Eurofighter Typhoon and Rafale are both considered among the world's most advanced multi-role combat aircraft.
Also, to know more about them in detail.
The most recent avionics, ECMs (Electronic Counter Measures), and CAESAR AESA radar are all included in the Eurofighter Typhoon.
The Rafale, on the other hand, is a true "Omni-role" fighter, as they like to call it; it can hold its own against another fighter and has superior air-to-ground attack capabilities than the Typhoon.
So, let's get into it then.
Dassault's Rafale
Dassault Aviation's Rafale is a twin-jet fighter plane capable of both short- and long-range operations. It can be used for spying, pinpoint strikes, assaults on land and sea, and even as a deterrent against nuclear attacks. The aircraft was designed for use by the French Navy and French Air Force.
Multiple countries, including Afghanistan, Mali, Libya, Syria, and Iraq, saw fighter planes engaged in combat. Egypt, Qatar, and India also placed orders for the aircraft.
In 2019, Rafale fighter jets were displayed at the Langkawi International Maritime and Aerospace (LIMA) Exhibition.
The cockpit of Dassault's Rafale
The throttle and stick are operated manually in the cockpit (HOTAS). Thales Avionique has installed a heads-up, wide-angle holographic display in the cockpit that shows flight information, mission information, and fire cues.
The tactical situation and sensor data are presented on a collimated, multi-image head-level display, and the aircraft system characteristics and mission information are displayed on two touchscreen lateral displays.
The pilot also has a sight and display installed on his helmet. Throughout the mission, an onboard recorder and CCD camera capture the image from the head-up display.
Weapons onboard Rafale
With 14 hardpoints for the air force version and 13 for the navy variant, Rafale can transport payloads weighing more than 9t. The arsenal of weapons consists of air-to-air missiles Mica, Magic, Sidewinder, ASRAAM, and AMRAAM; air-to-ground missiles Apache, AS30L, ALARM, HARM, Maverick, and PGM100; and anti-ship missiles Exocet/AM39, Penguin 3, and Harpoon.
The MBDA (formerly Aerospatiale) ASMP stand-off nuclear missile can be delivered by a Rafale aircraft for a strategic mission. The MBDA Storm Shadow / Scalp EG stand-off cruise missile was certified for use on the Rafale in December 2004.
The MBDA Meteor BVRAAM beyond visual range air-to-air missile had its debut flight on a Rafale fighter in September 2005. Successful flight tests of the Exocet, Scalp-EG, Mica, ASMP-A (to replace the ASMP), and Meteor missiles were conducted from the Charles de Gaulle in December 2005.
The Sagem AASM precision-guided bomb, which has GPS/inertial guidance and, optionally, imaging infrared terminal guidance, was fired for the first time by the Rafale in April 2007. Since 2008, Rafale aircraft have been fitted with AASMs. Six AASM missiles, each with a 10m accuracy goal, can be carried by the Rafale.
The Nexter (formerly Giat) 30mm DEFA 791B cannon on the Rafale can fire 2,500 rounds per minute and has a twin-gun pod. For laser missile guidance, the Rafale is outfitted with laser designation pods.
Countermeasure
The Thales Spectra electronic warfare system is used by Rafale. Solid state transmitter technology, a DAL laser warning receiver, missile warning, detecting systems, and jammers are all included in Spectra.
The Thales-developed RBE2 passive electronically scanned radar, with look-down and shoot-down capabilities, is a feature of the Rafale multirole combat fighter. The radar can identify and prioritize threats while tracking up to eight targets at once.
The Rafale was outfitted with an active electronically scanned RBE2 version created by Thales in February 2011.
The aircraft's nose is equipped with an infrared search and track system made by Thales and SAGEM. The optronic suite does target identification, telemetry, target tracking, and target discrimination automatically.
Variants of Rafale
Rafale has lots of variants like –
Rafale A, Rafale D, Rafale B variant F3-R, Rafale C variant F3-R, Rafale M variant F3-R, Rafale N, and Rafale R. It also has various national variants, which means many countries have their own version of Rafale.
For example –
Rafale DM – Two-seater version for the Egyptian Air Force.
Rafale EM – Single-seat version for the Egyptian Air Force.
Rafale DH – Two-seater version for the Indian Air Force.
Rafale EH – Single-seat version for the Indian Air Force.
Rafale DQ – Two-seater version for the Qatar Emiri Air Force.
Rafale EQ – Single-seat version for the Qatar Emiri Air Force.
Eurofighter Typhoon
Delta-winged, beyond-visual-range, close-air fighter aircraft with surface attack capability; that's the Eurofighter Typhoon. The Eurofighter can supercruise,' or fly at sustained speeds of over Mach 1 without needing to use an afterburner.
Eurofighter GmbH, headquartered in Munich, Germany, is wholly owned by BAE Systems of the United Kingdom, Alenia Aeronautica of Italy, and EADS Deutschland (formerly DaimlerChrysler) and EADS Spain (formerly CASA), both of which are managed by Airbus Military.
On March 27th, 1994, a prototype Eurofighter took to the air for the first time. In September 1998, the name Typhoon was officially chosen for the plane, and the first production contracts were inked. The planes will continue to fly until 2040.
The Cockpit of Eurofighter Typhoon
A voice throttle and stick mechanism are used for the pilot's control (VTAS). 24 fingertip controls for sensor and weapon control, managing defense assistance, and handling in flight are located on the stick and throttle tops. The pilot can use voice commands to select a mode and enter data, thanks to the direct speech input.
The automatic low-speed recovery system (ALSR) on the quadruple fly-by-wire flight control system gives the pilot a visual and audible low-speed warning and will, if necessary, automatically take control of the aircraft to return to a safe flight.
The FLIR imaging, weapon pointing and cueing, and flying reference data are shown on the BAE Systems Striker helmet-mounted symbology system (HMS) and head-up display. The TERPROM ground proximity warning system from BAE Systems is being installed.
The tactical situation, system status, and EADS digital map displays may all be seen on the three multifunction color head-down displays (MHDD) in the cockpit. The MIDS low-volume terminal provides Link 16 capabilities for secure data transfer and is supplied by an international consortium called EuroMIDS, which also includes Data Link Solutions of the US.
For tranche 2, Raytheon Systems Ltd. is providing anti-jam global positioning systems (GPS).
In August 2010, Northrop Grumman received a contract to provide inertial measurement units (IMU) for tranche 3A. Inertial sensors and built-in redundancy are included with the IMU. It was created as a component of the flight control system for the aircraft.
Weapons
The Mauser BK27mm gun, which is placed internally, is a revolver-style weapon with a linkless closed ammo feed system. Four under each wing and five under the fuselage make up the 13 hard points for weapon carriage on the Eurofighter Typhoon. An armament control system (ACS) controls the discharge of weapons and keeps track of their status.
The fighter can carry a variety of the following missiles depending on its role:
Six BVRAAM (beyond visual range)/AMRAAM air-to-air missiles are mounted on semi-recessed fuselage stations, and two ASRAAM short-range air-to-air missiles are mounted on the outer pylons for air superiority.
Four AMRAAM, two ASRAAM, two cruise missiles, and two anti-radar missiles are used in air interdiction (ARM).
SEAD (suppression of enemy air defenses) consists of six anti-radar missiles, two ASRAAM, and four AMRAAM.
Two GBU-24 Paveway III/IV and three AMRAAM, two ASRAAM, two ARM, and multirole.
Four AMRAAM, two ASRAAM, and 18 Brimstone anti-armor missiles comprise the close air support.
Maritime attack: six anti-ship missiles, two ASRAAM, and four AMRAAM.
For the BVRAAM requirement, the RAF has chosen MBDA Meteor, and until Meteor enters service, Raytheon AMRAAM. For more maneuverability and range, Meteor features a revolutionary air-breathing ramjet motor.
The imaging infrared IRIS-T air-to-air missile was developed by Diehl BGT Defence in Germany and is used by Spanish, Italian, and German Eurofighters. December 2005 saw the start of deliveries. The Taurus KEPD 350 stand-off missile from EADS/LFK and Saab Bofors Dynamics, which has a range of more than 350km, is also equipped on German and Spanish aircraft.
The MBDA Storm Shadow / Scalp EG stand-off cruise missile and the MBDA Brimstone anti-armour missile are both carried by RAF Eurofighters. The former entered operational service on Tornado aircraft in March 2003, while the latter did so with initial operational capability (IOC) on the RAF Tornado GR.Mk4 aircraft in March 2005. Storm Shadow is also carried by Italian aircraft.
Countermeasures
The avionics system is integrated with the aircraft's defensive aids sub-system (DASS), which is housed within the structure of the aircraft.
The EuroDASS consortium, comprised of Selex Sensors and Airborne Systems of the UK, Elettronica of Italy, and Indra of Spain, developed DASS. With a fully automatic response to a single or a number of threats, DASS offers a comprehensive prioritized assessment of threats.
A laser warning receiver, front and rear missile approach warners, supersonically capable towed decoy systems, an electronic countermeasures/support measures system (ECM/ESM), and a SaabTech Electronics BOL chaff and flare dispensing system are all included in the DASS. Based on a NATO standard databus with fiber optic highways, the avionics system.
In July 2010, Eurofighter and Euroradar started working together to create an advanced active electronically scanned array (AESA) radar. It aims to satisfy the demands of export clients and Eurofighter partner countries. The radar now has a greater detection and tracking range.
Variants of Eurofighter Typhoon
There are single-seat and twin-seat versions of the Eurofighter built. Although it is capable of combat, the twin-seat model is exclusively utilized for training and not in actual operations. Three main standards have been used in the production of the airplane.
Seven Development Aircraft (DA).
Seven production standard Instrumented Production Aircraft (IPA) for further system development.
A constant quantity of aircraft in series production. With the air force of the partner country, the production aircraft are now in service.
From 2000 on, the Tranche series of airplanes were manufactured. The main variations in this series are:
Tranche 1 – Basic Air Defence Capability, Initial Operational Capability.
Tranche 2- The model featured Rangeless ACMI, IFF Mode 5, and Enhanced DASS as part of its Enhanced Operational Capability (EOC) 1.
The Tranche 3 of the Kuwait Air Force's serial production batch is the first to get Captor-E. Since the Captor-E active electronically scanned array radar was not yet operational, the Captor-M mechanically scanned array radar was deployed instead.
With its cutting-edge CAPTOR E AESA radar, the Tranche 4 is a multi-role combat aircraft. The CEO of Airbus Defence and Space, Dirk Hoke, has stated that the new Tranche 4 Eurofighter is the most cutting-edge European-built combat aircraft with a service life well beyond 2060.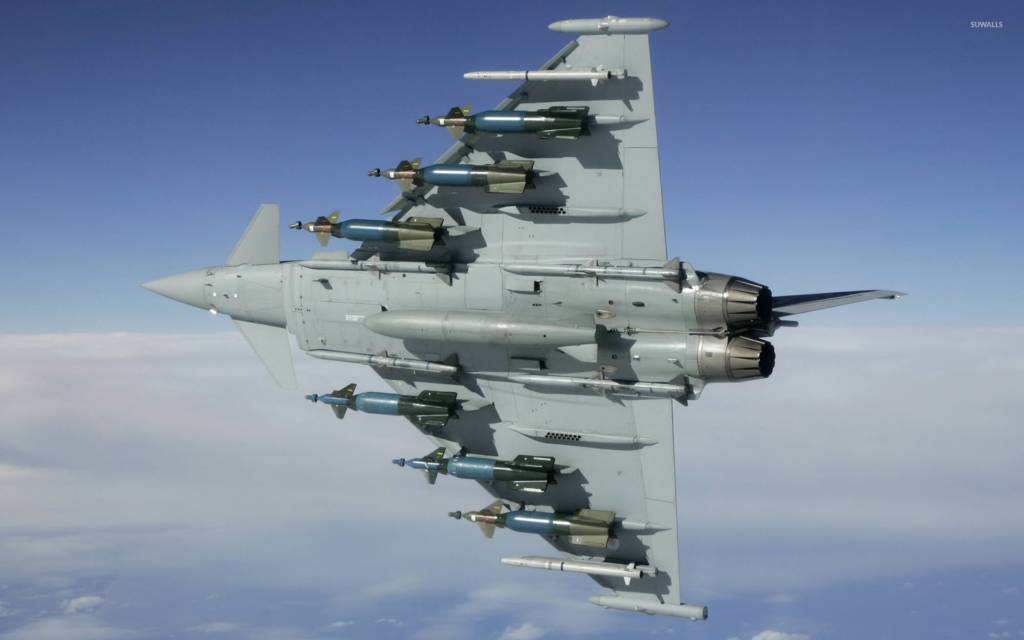 Dassault's Rafale Vs Eurofighter Typhoon
When it comes to their respective air forces, the Eurofighter Typhoon and Dassault Rafale are often compared and mistaken for one another. Though these combatants may look similar at first glance, they have some distinctions.
Specifications
Basics
| | | |
| --- | --- | --- |
| Data | Rafale | Eurofighter |
| Origin: | France | Germany |
| Year: | 2001 | 2003 |
| Crew: | 1 | 1 |
| Production: | 201 units | 570 units |
Dimensions and Size
| | | |
| --- | --- | --- |
| Dimensions | Rafale | Eurofighter |
| Length: | 15.3 m (50.2 ft) | 16 m (52.5 ft) |
| Wingspan: | 10.9 m (35.8 ft) | 11 m (35.9 ft) |
| Wing area: | 45.7 m2 (492 sq ft) | 51.2 m2 (551 sq ft) |
| Height: | 5.3 m (17.5 ft) | 5.3 m (17.3 ft) |
| Weight: | 10,300 kg (22,708 lb) | 11,000 kg (24,251 lb) |
| Power: | 2 x 75kN (11,250 lbf) | 2 x 60 kN (13,000 lbf) |
Performance
| | | |
| --- | --- | --- |
| Specs | Rafale | Eurofighter |
| Max speed: | 1,225 kph (1,383 mph) | 2,495 kph (1,550 mph) |
| Range: | 3,700 km (2,299 mi) | 2,900 km (1,802 mi) |
| Ceiling: | 15,835 m (51,952 ft) | 19,819 m ( 64,993 ft) |
| g limits: | +9 −3.6 (+11 in emergencies) | +9 / -3 |
| Fuel Capacity: | 4,700 kg (10,362 lb) | 4,996 kg (11,010 lb) |
| Wing loading: | 328 kg/m2 (67 lb/sq ft) | 312 kg/m2 (64 lb/sq ft) |
Engine
Dassault's Rafale
Two SNECMA M88-2 engines provide the Rafale with a total of 150 kilotons of thrust. The plane has a flight refueling hose reel and drogue pack for in-flight refueling with another plane. Delivery of the first M88 engine occurred in 1996. A twin-shaft bypass turbofan engine, it excels at both low-altitude penetration and high-altitude interception operations.
Single-piece bladed compressor disks, an on-polluting combustion chamber, single-crystal high-pressure turbine blades, powder metallurgy disks, ceramic coatings, and composite materials are just a few of the cutting-edge technologies used in the M88.
The M88 engine has full authority digital engine control and features a three-stage LP compressor with an inlet guide vane, an annular combustion chamber, a single-stage cooled HP turbine, a single-stage cooled LP turbine, a radial A/B chamber, a variable-section convergent flap-type nozzle, and a radial A/B chamber (FADEC).
Eurofighter Typhoon
Each of the two Eurojet EJ200 engines powering the Eurofighter can generate 90kN of thrust when operating at full reheat and 60kN when switched to a dry powder. The HP compressor and fan both have five stages; however, they are all driven by single-stage turbines. Eurojet, based in Munich, created the EJ200 engine.
The engine has a convergent/divergent exhaust nozzle, digital control, wide chord aerofoils, and single crystal turbine blades, as well as built-in health monitoring.
FAQ
Is the Eurofighter Typhoon any good?
The Typhoon is a fourth-generation multi-role combat aircraft that is incredibly capable and agile. It may be used for a wide range of air operations, including air policing, peacekeeping, and high-intensity conflict.
Which is better, Eurofighter vs F-35?
The F-35 is more stealthy and better armed than the Eurofighter, which is multipurpose. It also possesses more advanced armaments. The F-35 boasts more expensive and cutting-edge technologies due to its extended development time. The F-35 and F-22 are superior to the Eurofighter in either case.
What is special about Dassault Rafale?
The Rafale is a versatile aircraft designed to carry out a variety of missions, including air superiority, interdiction, aerial surveillance, ground support, in-depth strike, anti-ship strike, and nuclear deterrence. Dassault refers to the Rafale as an "Omni-role" aircraft.
Why did France pull out of Eurofighter?
In order to focus on its own ACX project, which would eventually become the Dassault Rafale, France formally withdrew from the project. The initiative had a price tag of £180 million by 1986.
Does the Eurofighter Typhoon have 2 seats?
A Tranche 1 trainer with two seats is Typhoon T1. The original Typhoon T1 is still a part of the BAE fleet and is an Instrumented Production Aircraft (IPA1).
Why is Rafale so popular?
When the first Rafale prototype took off for the first time in July 1986, it was heralded as a wholly contemporary combat aircraft. It was a top-tier jet thanks to its strong electronic surveillance and jammer technology as well as electronically scanned radar.
Is Rafale air superior?
A twin-jet fighter that can fly from both a shore base and an aircraft carrier is called a Rafale. All combat aviation operations, including air superiority and air defense, close air support, in-depth strikes, reconnaissance, anti-ship strikes, and nuclear deterrents, may be accomplished by the highly adaptable Rafale.
Is the Eurofighter better than the f16?
The Eurofighter Typhoon has two engines, whereas the F-16 only has one. As a result, the Eurofighter Typhoon outperforms the F-16 in terms of turning ability, speed, and pickup.