Statues have been constructed all over the world since ancient times. Kings and rulers erect statues to honor historical figures or significant events. Sometimes, it serves nothing more than as a simple reminder and source of royal pride. These statues attract attention from people and have become popular tourist destinations. 
Continue reading the article to explore the 23 tallest statues in the world.
Christ The Redeemer
Christ the Redeemer is the world's fourth-largest statue of Jesus Christ and the world's most giant Art Deco-style sculpture. It is 30 meters high and constructed of concrete and soapstone.
Located In: Rio De Janeiro, Brazil
Completed In: 1931
Dedicated To: Jesus Christ
African Renaissance Monument
This 49-meter-tall statue is Africa's tallest. The statue depicts a male figure holding a female figure and a baby. This bronze statue has been heavily criticized for its style, contract with a North Korean company, expense, and semi-naked figures.
Located In: Ouakam suburb, Senegal
Completed In: 2010
Dedicated To: The country's independence from France
Tokyo Wan Kannon
This 56-meter-tall statue provides a breathtaking view of Mount Fuji and Tokyo Bay. You must climb 324 stairs to reach the top of the statue. Visit on a clear day for a spectacular view of the surrounding area. Gardens, picnic areas, grasslands, and other facilities can be found around the statue.
Located In: Coast of Futtsu, Japan
Completed In: 1961
Dedicated To: Statue of Kannon, dedicated to world peace
Aizu Jibo Dai Kannon
This white statue is 57 meters high and hollow in the center, with a spiral staircase leading to the woman's shoulder. Many windows provide a spectacular view of the hill and neighboring areas. This statue is said to bring good luck to pregnant ladies, young people searching for love, and newborns.
Located In: Aizu Wakamatsu, Japan
Completed In: 1987
Dedicated To: Kannon
The Motherland Monument
This 62-meter-tall statue is made of stainless steel. This statue holds the Soviet Union's state emblem on a shield. The statue is kept in Kyiv's History Museum. It has a mosque near it that features a memorial with the names of all 11,600 troops who served in the war.
Located In: Pechersk, Ukraine
Completed In: 1981
Dedicated To: Ukraine's contribution to Second World War
Guanyin of Mount Xiqiao
This bronze statue is 77 meters tall, supported by a bronze pedestal, and surrounded by a moat. This statue is located in Guanyin Cultural Park. This park has a strolling area, rock sites, caves, picnic spots, and tourist destinations.
Located In: Foshan, China
Completed In: 1990
Dedicated To: Guan Yin
The Motherland Calls
This 85-meter-tall statue commemorates the Battle of Stalingrad, which lasted 200 days. There are 200 steps leading up to the statue. During the Battle of Stalingrad, 225 German soldiers and allies died because of Marshal Vasily Ivanovich Chuikov. The statue stands guard over his grave. The woman in the statue is the Russian Motherland, urging her sons and daughters to pick up a sword and fight for the country.
Located In: Mamayev Kurgan, Russia
Completed In: 1967
Dedicated To: Battle of Stalingrad
Dai Kannon of Kita No Miyako Park
This 88-meter-tall statue has 20 floors and an elevator. These floors house several temples and places of worship for various Buddhist deities. There is also a platform where you can get a good view of Ashibetsu and its surrounding area.
Located In: Ashibetsu, Japan
Completed In: 1989
Dedicated To: Goddess Avalokitesvara
Grand Buddha At Ling Shan
This is one of the largest statues of Buddha in standing posture. The statue weighs 700 tons and is supported by a bronze lotus pedestal. A palace was later built near the statue. To approach the figure, visitors have to climb a flight of stairs. A beautiful and well-maintained garden may be seen around the statue. The height of this statue is 88 meters.
Located In: Longshan, China
Completed In: 1996
Dedicated To: Buddha
Great Buddha of Thailand
Thailand's tallest statue is 92 meters tall, made of concrete, and painted with gold. This sculpture shows Buddha with a meditative attitude. This statue has been made to honor Thailand's King, Bhumibol.
Located In: Wat Muang, Thailand
Completed In: 2008
Dedicated To: Buddha
Statue Of Liberty
This colossal statue stands 93 meters tall. As the American Civil War ended in 1865, the French historian Edouard de Laboulaye proposed that France erect a statue to honor the United States' success in establishing a viable democracy.
Located In: New York, United States
Completed In: 1876
Dedicated To: The universal symbol of freedom.
Mother of All Asia–Tower of Peace
Mother of Asia, also known as the Tower of Peace, is the tallest statue in the Philippines and the world's tallest Virgin Mary statue. It is 98 meters tall and made of concrete and steel.
Located In: Batangas, Philippines
Completed In: 2021
Dedicated To: The Virgin Mary
Peter the Great Statue
This 98-meter-tall statue was erected to commemorate the 300th anniversary of the foundation of the Russian Navy. T e statue weighs 1000 tons—600 tons of stainless steel; the rest is copper and bronze.
Located In: Moscow, Russia
Completed In: 1997
Dedicated To: Peter (founder of the Russian Navy)
Guishan Guanyin
This statue honors the goddess with a thousand hands and a thousand eyes. This 99-meter-tall Guishan Guanyin statue was constructed entirely of gilded bronze. Gardens, picnic areas, and strolling paths surround the statue. It is not feasible to climb the figure, but you can spend time admiring it.
Located In: Weishan, China
Completed In: 2009
Dedicated To: Goddess Avalokitesvara
Sendai Daikannon
This is the world's second-tallest goddess statue and the world's tallest statue of the Japanese goddess Nyoirin Kannon. This statue has an elevator that takes you to the top. The goddess statue has a gem in her hand. This gem is known as a 'wishing gem' or a 'wish-fulfilling Kannon.' The height of the Nyoirin Kannon statue is 100 meters.
Located In: Sendai, Japan
Completed In: 1991
Dedicated To: Nyoirin Kannon
Usami Dai – Kannon
This 100-meter-high statue is one of the country's tallest sitting statues. This statue is located in a temple that contains numerous Buddhist mandalas and is a significant religious attraction in the country. 
Located In: Shizuoka, Japan
Completed In: 1986
Dedicated To: world peace
Yan and Huang Statue
This 106-meter-tall statue is carved on the peak of a Yellow River mountain. This statue is built to honor Yan Di, the country's first ruler, and Huang Di, a national hero and the country's most famous emperor. It took 20 years to complete this statue.
Located In: Zhengzhou, China
Completed In: 2007
Dedicated To: Emperor Yan Di and Huang Di
Guanyin of Nanshan
Guanyin of Nanshan is a 108-meter-tall statue with three sides, one facing inland and the others facing the South China Sea. It is built to pay tribute to the goddess of mercy.
Located In:  Hainan, China
Completed In: 2005
Dedicated To: Guanyin
Statue Of Belief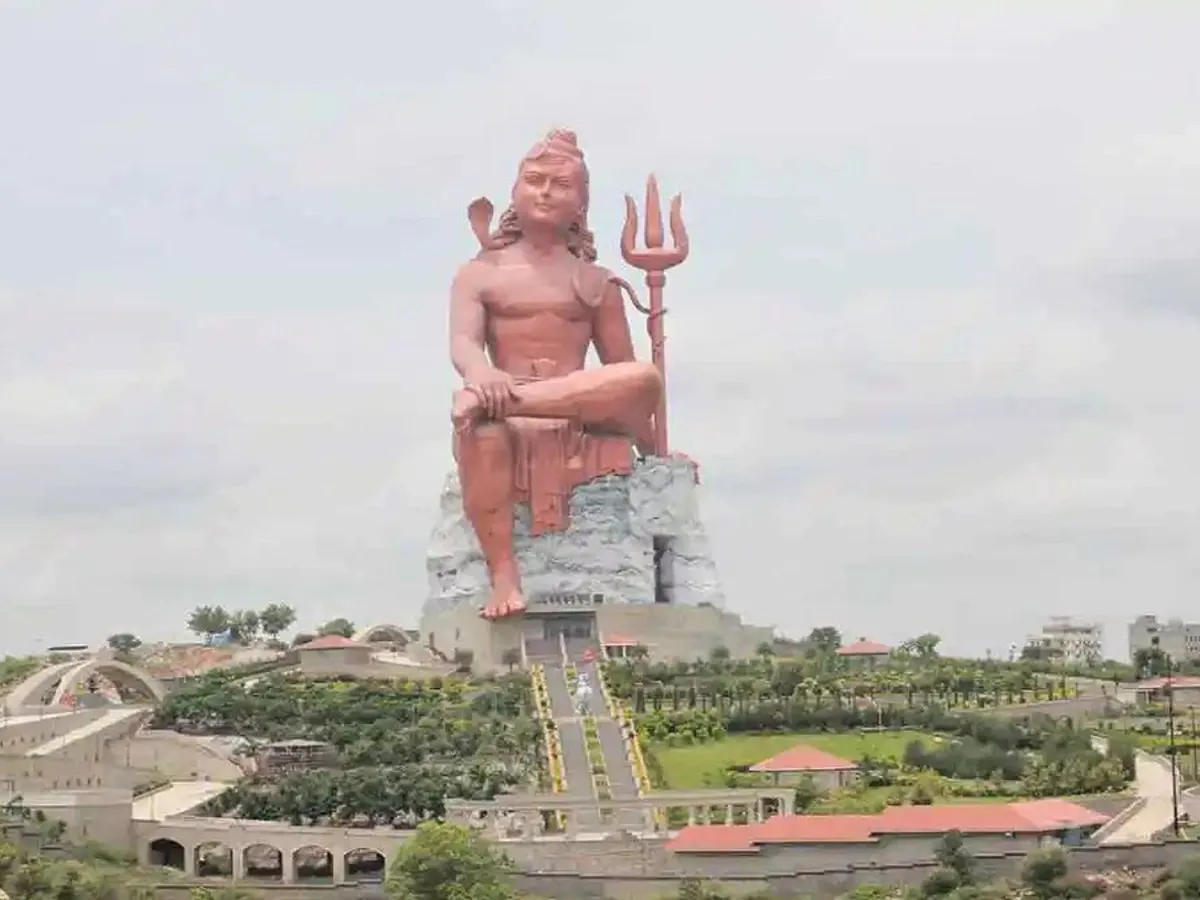 The Statue of Belief, also known as the Vishwas Swaroopam, is a statue of the Hindu god Shiva. The Statue of Belief is currently the tallest Lord Shiva statue in the world. It is 112 meters high and made of a three-layered concrete structure.
Located In: Rajasthan, India
Completed In: 2022
Dedicated To: Hindu God, Shiva
Laykyun Sekkya Buddha
The Laykyun Sekkya Buddha statue stands 116 meters tall and is crafted to look like Buddha. This statue is bulit entirely with the donations of local people. A temple inside the figure and a special elevator go to the 27th floor.
Located In: Khatakan, Myanmar
Completed In: 2008
Dedicated To: Gautama Buddha
Ushiku Daibutsu
This Buddha statue stands 120 meters tall on a lotus platform. Bronze is used in the construction of this colossal statue. An elevator inside the statue brings you to the observation deck, where you can get a bird's-eye view of the park and the city.
Located In: Ushiku, Japan
Completed In: 1993
Dedicated To: Gautama Buddha
Spring Temple Buddha
This magnificent statue of Gautama Buddha is 153 meters tall and stands on a small hill with several small pedestals that make it even taller. One thousand one hundred pieces of copper, weighing 1,000 tons, were used to construct this statue. The statue gets its name from a Tianrui hot spring near the statue.
Located In: Henan, China
Completed In: 2008
Dedicated to: Gautama Buddha
Statue Of Unity
The statue of unity is the tallest in the world, and it is more than just a collection of metal and minerals. It has a viewing space, a museum, a gallery for exhibits, a memorial garden, a maintenance facility, an audio-visual gallery, and much more. The statue's height is 182 meters and is built to honor the country's first home minister.
Completed In: 2018
Located In: Gujarat, India
Dedicated To: Sardar Vallabh Bhai Patel
The Bottom Line
Statues serve as a reminder of the past and a glimpse into the future. They also play an essential role in promoting tourism and generating profits for the countries where these statues are located.
Let us know which statue you find the most captivating.