The Acura RDX is the second crossover SUV that Honda's luxury car business, Acura, has made. Since it came out in 2006, this car has had 17 different versions, from the 2007 model to the most current 2023 version.
Even though the RDX model is a popular car, people still have some problems with it. The Acura RDX is a reliable and long-lasting SUV as long as it is well taken care of and driven in a smart way, but problems are still sure to happen in most of the models.
The model years from 2007, 2008, 2011, 2013-2015, 2019, and 2020 are the worst Acura RDX years. The best model years of Acura RDX include2009, 2010, 2012, 2016-2018, and 2021-2023. This result was concluded from trustworthy sources such as NHTSA, Edmund, JD Power, and Kelley Blue Book reviews.
If you want to buy an Acura RDX car, this review will tell you which model year is the best and which is the worst.
What Are The Worst Years Of Acura RDX?
Now, we'll talk about the years of Acura RDX you should not buy. Let's discuss them in more detail about these years so you can understand why experts don't suggest any of these models.
#8 Worst Year: 2011 Acura RDX (3.87 Rating)
The 2011 Acura RDX is one of the worst models due to several complaints. Some owners have complained that the windows rattle when open, making driving less pleasant. Some 2011 Acura RDX owners have had problems with the starting, which has caused unexpected delays and inconvenience.
The automatic brake warning lights on the 2011 Acura RDX have been a source of worry for many drivers, as they need to be looked at to ensure the car is safe to drive.
Common Problems:
Windows Rattle in the open position
Starter problems
Automating brake warning lights on
Reviews, Ratings, Recalls & Complaints:
#7 Worst Year: 2008 Acura RDX (3.68 Rating)
Acura RDX 2008 owners have had many problems with the condenser, leading to poor air conditioning performance and expensive repairs. Compressor failure was also a common problem, which caused the cooling system to stop working.
Turbo problems have plagued this model, causing slower acceleration and engine performance problems. Airbag failure was also one of the major problems with this model leading to 21 complaints.
Common Problems:
Condenser damage
Turbo problems
Compressor failure
Reviews, Ratings, Recalls & Complaints:
#6 Worst Year: 2007 Acura RDX (3.62 Rating)
Despite its promising debut as the first RDX, defective airbags were the most common complaint from 2007 RDX owners.
The 2007 RDX arrived with the controversial Takata airbags, which have been linked to several explosions and injuries. Users also had issues with the electrical system, citing the frequent occurrence of engine malfunction indicators. Many people have problems with loud engine noise.
Common Problems:
Turbo failure
Failed connecting rod bearing
Faulty gear sensor
Reviews, Ratings, Recalls & Complaints:
#5 Worst Year: 2020 Acura RDX (3.55 Rating)
Although not as problematic as the 2019 model, the 2020 Acura RDX was the second iteration of the third generation and nevertheless received a higher-than-average number of complaints.
It's not shocking that a brand-new model would have a few bugs to work out, but shockingly, this one has so many that they make it unacceptable.
The 2020 Acura RDX's slow acceleration is its main problem. Many RDX drivers complained that their vehicles suddenly stalled, the check engine light came on, and the car entered "limp mode."
Common Problems:
Loss of acceleration
Apple CarPlay disconnects
Brakes grind and squeal
Reviews, Ratings, Recalls & Complaints:
#4 Worst Year: 2014 Acura RDX (3.47 Rating)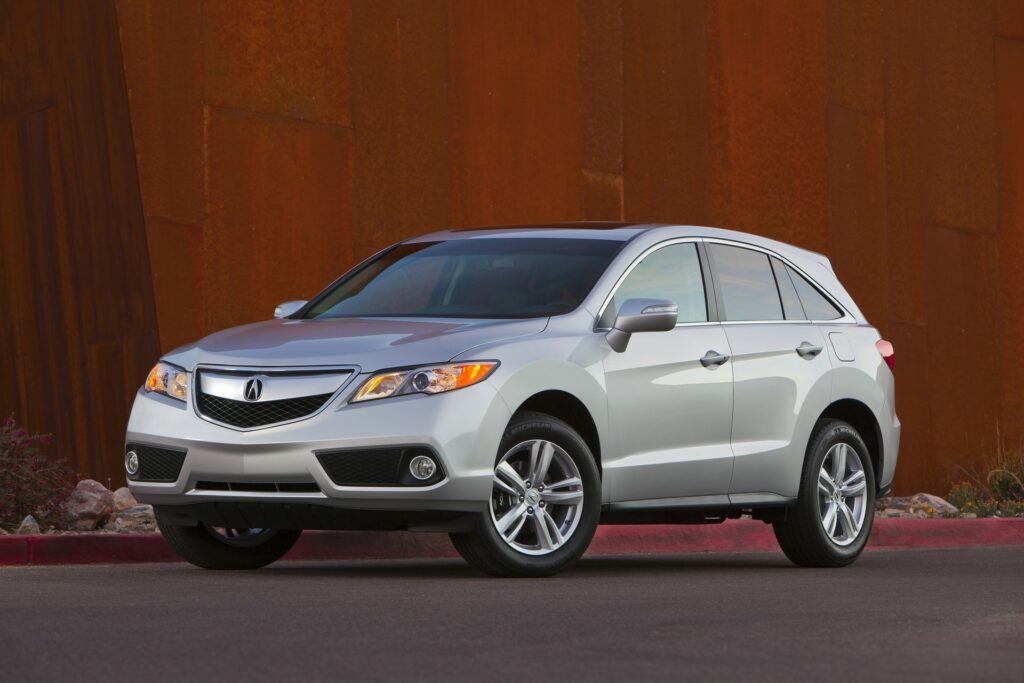 The Acura RDX's headlights are its biggest flaw for 2014. Many 2014 RDX owners, like those of the 2015 model year, complained that the headlights were too dim. At the time of this review's writing, carcomplaints.com had already received 68 complaints specifically about the headlamp.
Other than that, some owners have experienced issues with clunking noise in the rear, premature brake wear, and faulty shock absorbers. If you frequently drive at night, you should probably avoid this vehicle.
Common Problems:
Clunking noise in rear
Premature brake wear
Faulty shock absorbers
Reviews, Ratings, Recalls & Complaints:
#3 Worst Year: 2013 Acura RDX (3.40 Rating)
The 2013 Acura RDX is also among the worst models you can buy. There are problems with the vehicle's suspension, battery, and headlights. Many drivers have complained about the poor handling on rough terrain, and others have voiced their displeasure with the suspension's clunking noise.
The infamous Takata airbag recall also smashed the 2013 Acura RDX. These airbags were known for exploding, shooting deadly shards across the cabin.
Common problems:
Low Battery
Low-beam headlights are too dim.
Seat deteriorating
Reviews, Ratings, Recalls & Complaints:
#2 Worst Year: 2015 Acura RDX (3.05 Rating)
2015 was midway through the second generation before a substantial redesign in 2016. Its electrical wiring contains soy-based insulation, which is better for the environment but can entice animals into the undercarriage, costing owners $2000 to fix. Airbags in this model year burst when exposed to heat and humidity.
The navigation system was often faulty, although it didn't pose a significant safety hazard. A recall was issued to prevent future vehicle damage and costly maintenance due to the faulty gasoline pump. Pump failure can cause engine overheating. As a result, The car shook excessively, damaging its components.
Common Problems:
Soy-based wiring chewed by rats
Engine stalls, misfires
Brake squealing
Reviews, Ratings, Recalls & Complaints:
#1 Worst Year: 2019 Acura RDX (3.01 Rating)
Most alarming to us is that most complaints about the 2019 model year cited "engine stall" as the root cause. The engine has stalled on the highway, causing an immediate drop in speed, say from 65 to 40 mph, without any interventions. Significant problems with the infotainment system plagued the 2019 model year.
The 2019 RDX (the first year of the newest generation) has received the most complaints of any RDX model year, with 192 significant complaints. The most common issue with the 2019 model year is a loss of acceleration power, sometimes known as 'limp mode,' and stalling problems. Similar to the original generation about 17 years earlier, this one had a huge airbag recall.
Reviews, Ratings, Recalls & Complaints:
What Are The Best Years Of Acura RDX?
The following section will talk about the best years of the crossover and explain why they are better than all the other years.
#9 Best Year: 2012 Acura RDX (3.90 Rating)
The Acura RDX 2012 is one of the few reasonably priced SUVs, keeping its value relatively well compared to the competition. Regardless, the vehicle's turbocharged 2.3 L four-cylinder engine not only generates 240 hp but also provides outstanding performance. The vehicle's dynamic handling is impressive.
This SUV has features such as antilock brakes, heated mirrors, a sunroof, automatic climate control for the driver and front passenger zones, and leather upholstery.
According to Edmunds, the Acura RDX 2012 is predicted to cost between $16,590 – $19,990.
Reviews, Ratings, Recalls & Complaints:
#8 Best Year: 2009 Acura RDX (3.95 Rating)
The 2009 Acura RDX is one of the first generation RDX vehicles to hit the market. Although it may not amaze with its cabin or storage size, this vehicle provides an exceptional driving experience comparable to that of the more modern RDX SUV.
The 2009 Acura RDX is a high-end vehicle with a sophisticated all-wheel-drive system, leather seats, and Bluetooth phone and audio connectivity. This SUV has 240 hp and 260 lb-ft of torque thanks to its turbocharged 2.3 L four-cylinder engine.
Despite being an older model, this SUV is unique because it offers high comfort levels on a limited budget. Surprisingly, US News ranks the 2009 Acura RDX as the #2 Best Luxury compact SUV of the year.
Reviews, Ratings, Recalls & Complaints:
#7 Best Year: 2016 Acura RDX (3.97 Rating)
The RDX underwent extensive revisions for the 2016 model year without compromising reliability. The new features and upgrades included a new grille, updated headlights and taillights, more engine power, an improved infotainment system, and many additional standard safety and entertainment features.
The 2016 Acura RDX is powered by a 3.5-liter V6 engine, which generates 279 hp and 252 lb-ft of torque. A six-speed automatic transmission sends That power to the front wheels, with all-wheel drive as an available bonus.
This model year's innovative styling, enhanced performance, and class-leading cargo capacity earned high marks from critics and consumers alike.
Reviews, Ratings, Recalls & Complaints:
#6 Best Year: 2010 Acura RDX (4.01 Rating)
The vehicle stood out from the crowd because it had few complaints and the high quality of its luxuries. It has a 2.3-liter turbocharged engine under the hood. Thousands of individuals in the United States favored it due to its sporty vibe and responsive handling.
This RDX gets excellent gas mileage overall, with an average of about 19 mpg in the city and up to 24 mpg on the highway. The car has decent legroom. While most crossovers can seat five passengers, only a select few do so in relative comfort.
Honda has improved the look and comfort of the car by installing leather seats, which are superior to those made of fabric. It's no surprise that the 2010 RDX is included in this list.
Reviews, Ratings, Recalls & Complaints:
#5 Best Year: 2021 Acura RDX (4.0 Rating)
The RDX 2021 comes up next, and it's a relatively new model. The 2021 Acura RDX demonstrates Honda's commitment to quality by incorporating the company's ongoing upgrades. In addition to safety features, it also includes cutting-edge technology, including a user-friendly touch screen and Apple CarPlay.
However, for 2021, the Performance Manufacturing Center in Ohio produced a new limited-edition model called the PMC Edition. Its turbocharged engine can provide a respectable 272 horsepower. You may get high speeds from the same engine. The acceleration is incredible. It can go from zero to sixty in 6.3 seconds!
It has responsiveness and ease of control, just like a sedan. Its excellent maneuverability makes driving on the highway or tight city streets easy.
Reviews, Ratings, Recalls & Complaints:
#4 Best Year: 2017 Acura RDX (4.18 Rating)
If you're shopping for a dependable second-generation vehicle, the Acura RDX from 2017 is an excellent option. The 3.5-liter V-6 engine produces 279 horsepower and is paired with a new six-speed automated transmission and either front-wheel drive or all-wheel drive.
Since the 2016 RDX had a significant redesign, no significant changes were made for the 2017 model year. Despite this, it has a sporty appearance, a plush ride, and substantial power, making this car unbeatable.
Reviews, Ratings, Recalls & Complaints:
#3 Best Year: 2018 Acura RDX (4.26 Rating)
The second generation, first presented in 2013, ended with the 2018 RDX. This model's reliability and lack of problems are its greatest strengths. Models released early in a generation are more likely to be flawed than those released late, which is the case here.
The 2018 RDX didn't get a significant redesign like the one that came out for the 2016 model year, but still, it is an embodiment of reliability.
Reviews, Ratings, Recalls & Complaints:
#2 Best Year: 2022 Acura RDX (4.38 Rating)
According to Acura, the RDX 2022 was successful because it offered customers the requested features. The 2022 update prioritized quieter cabins and more standard equipment for all trims, notably those to combat noise and vibration problems.
For 2022, Acura redesigned the RDX so that its exterior is similar to the MDX's. The front and rear bumpers of the 2022 RDX were updated to include wider air intakes and rectangular exhaust tips, while the grilles were modified a bit.
The cabin had less outside noise because of the upgraded soundproofing and the standard installation of Apple CarPlay, Android Auto, and Amazon Alexa. The Long Beach Blue Pearl paint, used on the special edition NSX Type S is also used on the limited edition RDX PMC Edition.
Reviews, Ratings, Recalls & Complaints:
#1 Best Year: 2023 Acura RDX (4.4 Rating)
The 2023 RDX, a brand-new model that is possibly the best one to date, is both attractively styled and entertaining to drive. Its AcuraLink connectivity plan is free for three years, and the scheduled maintenance package is free for two years or 24,000 miles.
It has almost no complaints, and unlike other models, it has never been recalled. This alone is evidence of the vehicle's reliability.
There were no major updates for the current model year, but the vehicle was lauded for its low starting price and several convenience and entertainment options. It even gets an award of #3 best luxury compact SUV of 2023 from kelley blue book by beating Mercedes, Lexus NX, and BMW.
Reviews, Ratings, Recalls & Complaints:
What Are The Common Problems Of Acura RDX?
The most common and frequently seen problem with Acura RDX is brake problems, whereas some other reported issues are listed below:
Defective headlight system
Soy-based wiring chewed by rats
Faulty transmission system
Airbag Inflator Issues
Clunking suspension noise
Brake squealing, grinding, and squeaking
Denso Fuel Pump Failure
Turbo problems
Loss of acceleration
FAQs
1. Is Aura RDX A Good Car?
The Japanese carmaker is known for making reliable cars, and the RDX is usually no exception. There are a lot of good reviews from owners, and it's even on Forbes' list of 10 cars that can run well for at least 250,000 miles. According to Forbes, the 2023 Acura RDX can compete with any of its small luxury SUV competitors.
2. Acura RDX Vs. Acura MDX: Which is Better?
Both the Acura RDX and the Acura MDX are wonderful cars. The Acura MDX is a mid-size SUV, and the Acura RDX is a compact SUV. They both have varying prices as a result, with the Acura MDX charging a premium due to its increased adaptability.
Acura MDX is bigger than Acura RDX, has more rows of seats, and has a bigger engine, while the RDX is the one that is more fuel-efficient option. Both are good choices, depending on what the user needs.
3. Is Acura RDX Expensive To Maintain?
Even though the Acura RDX is not the cheapest car to buy, it is good news for buyers that it is easy to fix and doesn't cost much to maintain. Overall, it costs $497 per year to maintain an Acura RDX car. That's pretty good, and it means you won't have to spend much on this SUV after you buy it. It's a great buy all around.
4. How Long Will Acura RDX Lasts?
The Acura RDX is a reliable SUV that can last between 250,000 and 300,000 miles if properly maintained. If you drive your Acura RDX 15,000 miles annually, you can expect it to last 15 to 20 years before it breaks down or needs expensive repairs.
Conclusion
The Honda Acura RDX is an excellent choice for small families. As we conclude this article, one year of the Acura RDX stands out from the rest and calls out to be driven. The latest 2023 Acura RDX is a hard-to-resist choice for automobile enthusiasts.
Don't just take our word for it—experience the 2023 Acura RDX's unbeatable charm for yourself, and you'll see why it's the best car. To avoid any bad luck, staying away from the 2019 Acura RDX is recommended as if it is a red flag.