As we move towards a more sustainable future, the automotive industry is also making strides to provide consumers with cars that are not only cost-effective but also fuel-efficient. With the rising gas prices, finding a car that offers the best gas mileage without sacrificing performance and comfort is becoming increasingly important.
In this article, we will explore some of the most efficient and economical cars available in the market today. From hybrids to traditional gas-powered cars, we will look closer at their features and fuel efficiency and help you find the best car for your needs. Let's explore the market of the most economical and best gas mileage cars.
Best Gas Mileage Cars (Hybrids):
14. 2023 Honda CR-V: 40 MPG
Combined Fuel Economy: 40 mpg
Starting Price: $29,705
When it comes to compact SUVs, the 2023 Honda CR-V Hybrid is among the best. The hybrid drivetrain has a 2.0-liter inline-four gas engine and two electric motors. The engine generates 204 hp and 247 lb-ft of torque, which is sent to the wheels via a CVT.
In addition to having excellent fuel efficiency, the CR-V Hybrid has reliable power for cruising around town and confidently reaching highway speeds. The new-look CR-V Hybrid features an upscale cabin with up to 76.5 cubic feet of cargo space and has been completely revamped for the 2023 model year.
Heated front seats, a remote start, a leather-wrapped steering wheel, and a comprehensive list of driver-assistance systems are standard.
13. 2022 Ford Escape Hybrid: 41 MPG
Combined Fuel Economy: 41 mpg
Starting Price: $31,660
The Ford Escape Hybrid is a sporty crossover with engaging handling and cutting-edge design. A 2.5-liter four-cylinder engine and an electric motor combine to produce 200 horsepower, allowing quick acceleration.
The continuously variable automatic transmission (CVT) is quiet even while accelerating quickly, which is unusual for many CVTs. The cabin is well-designed and includes amenities like the SYNC 3 entertainment system and a Wi-Fi hotspot. It has an 8-inch touchscreen that is standard and supports Apple CarPlay and Android Auto.
12. 2023 Toyota Crown: 41 MPG
Combined Fuel Economy: 41mpg
Starting Price: $41,045
The Toyota Crown nameplate has made a comeback to North America after a long absence. It replaces the former Avalon, but this isn't your typical sedan. Instead, the 2023 Crown is a hybrid between a car and an SUV, possibly to attract buyers who aren't interested in the rapidly dwindling full-size sedan market.
All Crown models feature a hybrid drivetrain, but only the Platinum trim level has Toyota's new Hybrid Max setup. This system combines a turbocharged 2.4-liter four-cylinder with an electric motor mounted on the rear axle to provide 340 horsepower. A 2.5-liter, four-cylinder hybrid system with three electric motors and 236 horsepower is available for the XLE and Limited variants.
11. 2023 Lexus UX: 42 MPG
Combined Fuel Economy: 42mpg
Starting Price: $36,490
The Lexus UX Hybrid is a chic small luxury crossover that offers a smooth ride and a first-rate interior. A 2.0-liter four-cylinder engine and two electric motors make up the UX Hybrid's powertrain, which has a combined output of 181 horsepower.
Although not very impressive, acceleration is adequate for getting around town. Despite having a confusing infotainment system, it does have Android Auto, Apple CarPlay, and Amazon Alexa. It also has four USB ports, a push-button start, and a Wi-Fi hotspot.
10. 2023 Kia Sportage: 43 MPG
Combined Fuel Economy: 43mpg
Starting Price: $27,615
The brand-new Kia Sportage offers consumers an appealing alternative to established market leaders. Its electric motor and turbocharged four-cylinder engine together produce 227 horsepower. The Sportage Hybrid achieves a combined 43 mpg.
Additionally, it has a load capacity of up to 73.7 cubic feet. Both of these figures are excellent for the hybrid SUV market. A comprehensive array of cutting-edge driver assistance systems, a fully digital instrument panel, wireless Apple CarPlay, and Android Auto are all standard on the Sportage Hybrid.
9. 2023 Lexus ES: 44 MPG
Combined Fuel Economy: 44mpg
Starting Price: $42,590
The Lexus ES mid-size luxury vehicle offers buyers a significantly lower starting price than its competitors while excelling in comfort. A four-cylinder gas engine and two electric motors work together to produce 215 horsepower in the Lexus ES Hybrid.
As a result, you get respectable power at motorway speeds and brisk acceleration from a stop. The ES provides a smooth ride that mostly smooths out road imperfections. The ES has one of the most pleasant interiors in its class, quiet and refined powertrains, and a comfortable ride.
8. 2023 Honda Accord: 48 MPG
Combined Fuel Economy: 48mpg
Starting Price: $28,390
The Accord has been a best-seller for a good reason: it's dependable, economical, spacious, and packed with features. The 2023 Accord retains its 192-horsepower, 1.5-liter turbocharged four-cylinder engine but adds a new 2.0-liter hybrid powertrain.
This new Accord has the best handling of any model to date, a smooth ride, and a stylish dashboard with a standard digital instrument cluster. With the help of new amenities, such as an available 12.3-inch touchscreen with wireless Apple CarPlay and Android Auto, and a powerful and efficient engine, the 2023 Accord Hybrid builds on an already impressive resume.
7. 2023 Toyota Corolla: 50 MPG
Combined Fuel Economy: 50mpg
Starting Price: $22,645
The 12th-generation Toyota Corolla combines great fuel economy and a wealth of standard safety features in a small car that is much more fascinating to look at than it is to drive. The Corolla's 2.0-liter four-cylinder engine produces 169 horsepower, and a continuously variable automatic transmission (CVT) transfers that power to the front wheels.
The Toyota Corolla Hybrid is a compact vehicle with a fuel-efficient drivetrain. Despite its lack of rear-seat headroom and trunk space, the Corolla Hybrid's powertrain provides strong acceleration from a standstill and a smooth transition from electric to gas power.
6. 2023 Toyota Camry: 52 MPG
Combined Fuel Economy: 52mpg
Starting Price: $27,315
The Toyota Camry Hybrid effectively combines functionality and performance with outstanding fuel economy. Four-cylinder engine and an electric motor work together to produce 208 horsepower, which is then sent to the front wheels via a constantly variable automatic transmission.
The base LE trim of the Camry Hybrid is the most effective model because of the wheels and tires that come with it. The Camry prioritizes the comfort of its passengers, offering a quiet, comfortable ride and high-quality materials throughout the cabin. The Camry has a lot of basic safety measures, and it also has an easy-to-use infotainment system.
5. 2023 Hyundai Sonata: 52 MPG
Combined Fuel Economy: 52mpg
Starting Price: $26,365
With its unconventional, almost aquatic design and a large list of standard comfort and safety equipment, the Hyundai Sonata Hybrid draws you in. The Sonata's inventory includes a well-equipped base model, a gas-sipping hybrid, and a 290-horsepower N Line for enthusiasts who don't mind the front-wheel drive.
The Sonata's other powertrain options consist of two inline-fours, each with either a 191-hp base engine or a 180-hp turbo for the SEL Plus and Limited grades. Although the six-speed automatic does tend to whine when accelerating quickly, the power delivery and excellent fuel economy make up for it.
4. 2023 Kia Niro: 53 MPG
Combined Fuel Economy: 53mpg
Starting Price: $27,915
The 2023 Kia Niro, with its striking new design, will give the eco-friendly brand a more hip image. The base hybrid features a four-cylinder engine with 139 horsepower, while the plug-in hybrid has a more powerful electric motor that increases horsepower to 180.
The 2023 Niro is only available with front-wheel drive and comes standard with a six-speed dual-clutch automatic transmission. It provides the sufficient low-end acceleration, and its six-speed automatic transmission efficiently controls power at all speeds. The Niro moves more quickly in sport mode, albeit at the expense of fewer miles per gallon.
3. 2023 Hyundai Elantra Hybrid: 54 MPG
Combined Fuel Economy: 54mpg
Starting Price: $22,065
Due to its competitive fuel economy, a wealth of basic safety technology, and additional creature comforts, the Hyundai Elantra is a practical option for everyday driving duty—a choice that also comes with a lot of stylish flairs.
It has a four-cylinder engine and an electric motor that combine 139 horsepower and 195 pound-feet of torque, controlled by a six-speed dual-clutch automatic transmission. The Elantra Hybrid has a lot of power at its disposal in city driving and on the highway. The interior of the Elantra seems adequately futuristic to match its striking outside.
2. 2023 Toyota Prius: 57 MPG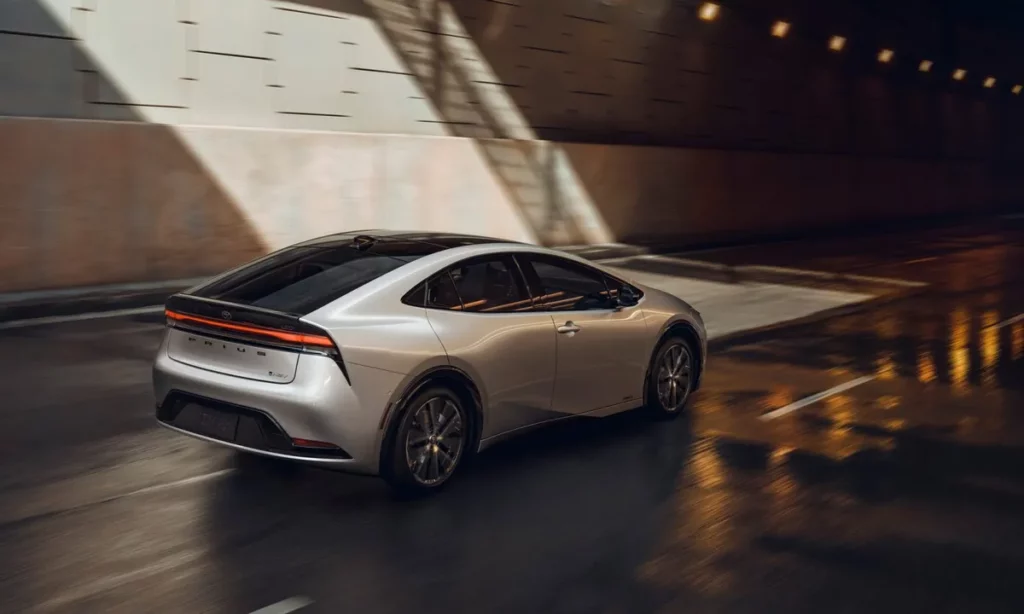 Combined Fuel Economy: 57mpg
Starting Price: $28,545
The 2023 Toyota Prius ushers in the fifth generation, completely redesigned and modernized inside and out. Toyota's hybrid was an ugly duckling until a complete facelift for 2023 transformed it into a real beauty.
With a bigger 2.0-liter four-cylinder engine and battery-driven motors connected to it, the new Prius' produces 194 horsepower on front-wheel drive models and 196 horsepower with an all-wheel drive system.
The 194-hp front-wheel-drive model is expected to attain a combined fuel economy of up to 57 mpg, also a Prius record. Toyota's all-wheel-drive Priuses get an additional 60 horsepower due to the addition of a high-output permanent magnet electric motor mounted to the back axle.
1. 2022 Hyundai Ioniq: 59 MPG
Combined Fuel Economy: 59 mpg
Starting Price: $24,695
The Hyundai Ioniq out-fuel-sips a Prius, which is outstanding for any hybrid, and does it with the help of a 1.6-liter four-cylinder engine coupled with an electric motor and a 1.56-kWh battery pack. The 2022 Hyundai Ioniq is ideal for people looking for a hybrid or plug-in hybrid hatchback that blends in and drives like a regular car.
The 2022 Ioniq is a green and user-friendly car since its cabin is built with recyclable materials, and it comes with a long list of convenient amenities as standard equipment. The base Ioniq Blue model is the most fuel-efficient hybrid on the market. With two rows of roomy seats and practical cargo space, the Ioniq offers as much functionality as it does efficiency.
Best Gas Mileage Cars (Non-Hybrids):
11. 2023 Subaru Impreza: 32 MPG
Combined Fuel Economy: 32mpg
Starting Price: $20,815
The 2023 Impreza is a reflection of Subaru's reputation for practicality. The Impreza, Subaru's smallest model, comes in a sedan and a hatchback. The Impreza has a four-cylinder engine that produces 152 horsepower and 145 pound-feet of torque, making it a tortoise in a class of hares. Of course, all-wheel drive is standard.
Although lacking in aesthetics, Impreza's interior is top-notch in design. This car's easy-to-read gauges, straightforward buttons, and well-designed air conditioning system make it a delight to drive. The cabin also has soft-touch plastics, plush armrests, and excellent fit and finish.
10. 2023 Chevrolet Malibu: 32 MPG
Combined Fuel Economy: 32mpg
Starting Price: $26,095
The Chevy Malibu, a classic family sedan, is a fantastic option for anyone searching for a fuel-efficient commuter or a highly comfortable car for long road trips. Unlike competing family sedans, the 2023 Malibu has just one engine option. Both hybrid and all-wheel drives are not available.
The Chevy is powered by a reliable continuously variable automatic transmission (CVT) and a 1.5-liter turbocharged four-cylinder engine with 163 horsepower. The Malibu's cabin isn't the quietest or most luxurious, but it's still pleasant and has good ergonomics.
9. 2023 MINI Convertible: 32 MPG
Combined Fuel Economy: 32mpg
Starting Price: $33,395
Among Mini's lineup of quirky vehicles, 2023 Convertible is sure to be a crowd-pleaser. With its potent engines and agile handling, the Mini Convertible combines the excitement of top-down driving. Easy to drive in the city and a blast on winding country roads. Just like the original Minis, all modern Minis have front-wheel-drive systems.
The base model has a 1.5-liter three-cylinder engine that generates 134 horsepower and 162 pound-feet of torque. The car has a beautiful outside and an equally appealing interior. Although it's not the most spacious convertible you can get, this one is unquestionably one of the most enjoyable to drive. It will make you happy to see it in your driveway.
8. 2022 Nissan Sentra: 33 MPG
Combined Fuel Economy: 33mpg
Starting Price: $21,045
The 2022 Nissan Sentra, newly remodeled, exudes an air of confidence that prevents it from the obscurity of a rental car. Give the Sentra a closer look if you're looking for a cheap sedan with a wide range of standard active safety features and roomy passenger amenities.
A 2.0-liter four-cylinder engine with 149 horsepower is standard on every Sentra, and it is mated to a CVT and front-wheel drive. The Sentra boasts one of this market's most attractive interiors. The driver is presented with a set of straightforward analog gauges that surround a display measuring 7.0 inches on all trim levels other than the base model.
7. 2023 Acura Integra: 33 MPG
Combined Fuel Economy: 33mpg
Starting Price: $32,495
To succeed in the entry-luxury compact sector, Honda's Acura luxury division has resurrected the historic Integra nameplate. The 2023 Integra is powered by a 1.5-liter, turbocharged, four-cylinder engine with 200 horsepower that was taken from the Honda Civic Si.
As standard equipment, all models have front-wheel drive and a continuously variable automatic transmission (CVT). Six-speed manual transmissions and limited-slip differentials are available as extras on A-Spec versions. Although many pieces are shared with the Honda Civic, Acura has done a good job of making the interior fit in with the rest of the lineup.
6. 2023 Kia Forte: 34 MPG
Combined Fuel Economy: 34mpg
Starting Price: $20,815
The Kia Forte has fewer body options and lower base engine output than competitive compact cars. However, its value and usefulness make it a great choice overall. Two engine options for the compact sedan Forte are: a 2.0-liter four-cylinder with 147 horsepower and a 1.6-liter four-cylinder turbocharged to provide 201 horsepower.
When selecting small cars, many consumers prioritize value, which the Kia Forte does. It is among the most reasonably priced options in its class, and despite its low base price, it includes a wide range of great standard features and a strong warranty.
5. 2023 Volkswagen Jetta: 35 MPG
Combined Fuel Economy: 35mpg
Starting Price: $22,550
The Volkswagen Jetta is a star in the small-car class, providing a comfortable and fuel-effective driving experience with a good ride and handling balance, precise steering, and a quiet cabin. Because of Jetta's agile handling, using its 158 horsepower turbocharged, inline-four engine is enjoyable.
The Jetta comes with a standard six-speed manual transmission, but an eight-speed automatic transmission is also an option for a few hundred dollars more. The Jetta's interior is packed with good infotainment options and standard safety features. The Jetta offers a stylish interior with plenty of room for passengers.
4. 2023 Nissan Versa: 35 MPG
Combined Fuel Economy: 35mpg
Starting Price: $18,495
Although Nissan updated the Versa for 2023, the subcompact vehicle is still committed to fulfilling its promise of offering affordable, reliable transportation. The attractive front end now has a flashier grille with cascading silver trim pieces, and new 17-inch wheels are offered to spice up the small sedan's appearance.
A four-cylinder engine powers the Versa, and while its 122 horsepower won't win any stoplight drag races, it will achieve remarkable highway fuel economy. The Versa also stands out for its comfortable ride and a host of innovative security features like automatic emergency braking.
3. 2023 Honda Civic: 36 MPG
Combined Fuel Economy: 36mpg
Starting Price: $27,545
For decades, the Honda Civic has provided thrifty drivers with a tiny car option. The most recent generation, which includes the 2023 model, continues this heritage and goes above and above by providing attractive interior trim and several features that were recently regarded as luxuries.
Despite redesigning every other aspect of the new Civic, Honda retained the previous generation's powertrain options. Base models come with a 2.0-liter four-cylinder engine that produces 158 horsepower, while the improved 1.5-liter engine is still a turbocharged four-cylinder and now produces 180 horsepower.
2. 2023 Kia Rio: 36 MPG
Combined Fuel Economy: 36mpg
Starting Price: $17,875
The Kia Rio is an excellent vehicle for the money. The Rio provides easy mobility with exceptional city and highway fuel efficiency, and it comes as either a four-door sedan or a five-door hatchback. The Rio's 1.6-liter inline-four engine produces 120 horsepower, and there is one available transmission: a continuously variable automatic.
Within Rio, simplicity reigns supreme, and that's not meant as an insult. It offers a tidy, user-friendly panel with audio and climate settings. The Rio includes an 8.0-inch touchscreen as standard, which provides the most recent wireless smartphone mirroring possibilities for both Apple and Android phones.
1. 2023 Mitsubishi Mirage: 39 MPG
Combined Fuel Economy: 39mpg
Starting Price: $17,450
The Mitsubishi Mirage is an affordable subcompact car that nevertheless manages to impress with great gas mileage and a roomy trunk. The small Japanese hatchback also provides remarkable efficiency and luxurious features along with its cheap and extensive warranty coverage.
The 1.2-liter three-cylinder engine that powers all Mitsubishi Mirage hatchbacks only produces a meager 78 horsepower and 74 pound-feet of torque. Every Mirage has a standard CVT, which sends power to the front wheels. The Mirage has mediocre acceleration when driven on city streets and highways.
Conclusion
With the increasing price of gasoline and maintenance being critical factors in buying a car, opting for a car with excellent gas mileage can save consumers a lot of money in the long term.
We have listed the top 25 best gas-mileage and economical cars available in the market, showcasing a wide range of options for consumers who prioritize fuel efficiency and affordability. We hope this guide will help you in choosing the best and most affordable vehicle for you.