If you are a senior searching for a new vehicle, you might wonder about your best options. Numerous types of vehicles are on the market nowadays, and deciding on one might take a lot of work. Senior drivers require a car that is easy to operate, has plenty of safety measures, and is simple to get in and out of.
Maybe you, as a senior, may want an athletic appearance that is approachable and economical. In such a case, SUVs, with their large doors and low sills, are perfect for seniors. With increasingly advanced and intelligent driving assistants, automotive manufacturers have built SUVs that are both safe and easy to drive.
We compiled the 12 best SUVs for seniors based on accessibility, visibility, active safety features, headlamp performance, comfort, and control functions. These automobiles have various features and facilities to ensure a comfortable ride. Continue reading the article to explore more.
1. Honda CR-V
The Honda CR-V is an excellent choice for senior drivers for various reasons. Aside from being one of the best-selling compact crossovers, it also has responsive handling, a decent highway fuel efficiency of 34 mpg, and average visibility. It has large door apertures and enough headroom in the front seat to accommodate tall drivers.
The cabin is spacious, and you will have enough space because the cargo area is large. This vehicle also includes space for storing cups and phones. This vehicle's safety features, such as cross-traffic alerts, brake assist, and an anti-lock braking system, are noteworthy. The Honda Sensors Umbrella also offers enhanced driver aids.
2. Toyota Highlander
The Toyota Highlander is a popular vehicle among seniors. It features an ergonomic design that provides a comfortable and smooth ride for drivers of all ages. This vehicle has good visibility and is powered by a strong V6 engine.
The Toyota Highlander seats up to eight passengers, so you can easily accommodate your grandchildren and pets. Seniors will like the huge visual displays and easy-to-use controls. The exit and entry to the Highlander are both readily accessible, and the seats are sufficiently high.
The door sills of the automobiles are placed below, allowing them to slide freely. It also has standard features like automated emergency braking, adaptive cruise control, and lane-keeping assist. Furthermore, the combined city and highway fuel economy of 24 mpg saves fuel.
3. Hyundai Santa Fe
The versatile Hyundai Santa Fe has a lot to offer. If your grandchildren keep getting out of the car, you'll need this vehicle. It contains a comprehensive safety suite that ensures a safe exit. When another vehicle is coming, passing, or drawing up, this function prevents passengers from departing the vehicle.
The Santa Fe includes numerous safety measures like frontal collision avoidance, lane-keeping assistance, and pedestrian recognition to keep seniors safe. The Hyundai Santa Fe has a big touchscreen, heated steering wheel, and 24-hour roadside assistance to provide elderly drivers with peace of mind when driving.
4. Acura MDX
The Acura MDX is a reliable vehicle for senior drivers. It offers an accommodating and pleasant interior. The car also boasts excellent acceleration and automatic transmission, making it easy to operate. The ride is comfortable, and the car handles well on all types of roads. It has a roomy cabin that can seat up to seven people.
The entertainment system in the car is simple to use, and the gauges are easy to read. The seats of the automobile are extremely pleasant and supportive. The Acura MDX has a comprehensive list of safety systems, including adaptive cruise control, automated emergency braking, and lane departure warning.
5. Infiniti QX60
The Infiniti QX60 is a vehicle that is both comfortable and roomy inside. It is easy to drive, has excellent visibility, and has numerous safety features, such as the detection of pedestrians, prevention of frontal collisions, and guidance for staying in one's lane. The infotainment system in the automobile is simple to operate and includes large icons.
The Infiniti QX60 has a V-shaped design, providing a wide and sturdy posture. This vehicle is sensitive to adjustments made to the steering, and it has powerful brakes. The Environmental Protection Agency (EPA) estimates that senior drivers will achieve 21 mpg in the city and 26 mpg on the highway.
6. Subaru Forester
The Subaru Forester is a low-cost vehicle known for its off-road ability. It has a four-wheel drive to ensure a good grip even in snowy weather. Its safety features, such as autonomous emergency braking and lane-keep assistance, ensure driver safety.
Included is a camera with a view of 360 degrees, blind spot monitoring, and Eyesight driver assistance technology. The Subaru controls are labeled so the elderly can easily regulate the temperature or take phone calls. There is a lot of cargo capacity, and you can alter the heights using a lift gate.
7. Nissan Rogue
The Nissan Rogue is an excellent choice for seniors looking for something modern, sleek, and attractive. The interior of the Rogue is quite functional, with plenty of space for the driver and passengers.
The car comes standard with front-wheel drive, but buyers can upgrade to an all-wheel drive system. It gets approximately 37 miles per gallon on the highway, so it's quite efficient.
The Rogue includes various storage compartments that have been intelligently constructed, allowing you to keep your drinks and other valuables safe.
8. Chevrolet Traverse
The Chevrolet Traverse is a reliable and comfortable SUV. It includes a backup camera, front pedestrian braking, lane departure warning, Forward collision alert, and automated emergency braking as standard.
Furthermore, the Traverse offers ample luggage and interior room, making it great for hauling groceries or transporting grandchildren. It also has excellent handling, making handling easy in tight spaces or on twisting terrain.
The vehicle has great fuel efficiency for an SUV, averaging roughly 18 mpg in the city and 27 mpg on the highway. The Chevy Traverse is an excellent choice for seniors because of its safety, comfort, and cost.
8. Mazda CX-5
The Mazda CX-5 has an automatic transmission and all-wheel drive, delivering superb steering and handling.
Its safety features include stop-and-go capability, nighttime pedestrian recognition, blind spot monitoring, and lane departure warning.
To keep you warm on cold days, the interior of this car has heated and ventilated front seats, a push-button start, and a heated steering wheel. There is also plenty of room, and the trim levels are excellent.
Its suspension makes driving enjoyable, and the vehicle remains steady while turning. It is exceptionally fuel efficient, with an EPA estimate of 24 mpg in the city and 30 mpg on the highway.
9. Kia Telluride
The Kia Telluride includes outstanding safety features like adaptive cruise control, stop-and-go blind spot collision avoidance, and lane-keeping assistance. Heated seats and a 10.25-inch touchscreen are among the amenities.
The smooth engine in this midsize SUV gives a comfortable ride. It also boasts good passenger and cargo room and impressive handling. It is simple to get in and out of the vehicle, making it one of the best automobiles for seniors.
The driving range, engine sound, and how it feels when started to meet the needs of senior drivers. There's plenty of cargo capacity, with 21 cubic feet of storage space in the back for easy gear movement. There's also enough legroom for comfort on extended journeys.
10. Hyundai Tucson
The Hyundai Tucson boasts a fluid powertrain that ensures a comfortable and smooth ride. This little SUV has numerous safety features, including hands-on lane centering, blind spot recognition, and driver attentiveness alert.
The driver's seat's view is superb, and there's enough legroom in the front and rear. It also has great fuel efficiency, 26 mpg in the city and 38 mpg on the highway. Another reason the Hyundai Tucson is appealing to elders is its large interior and ample cargo capacity.
11. Honda Pilot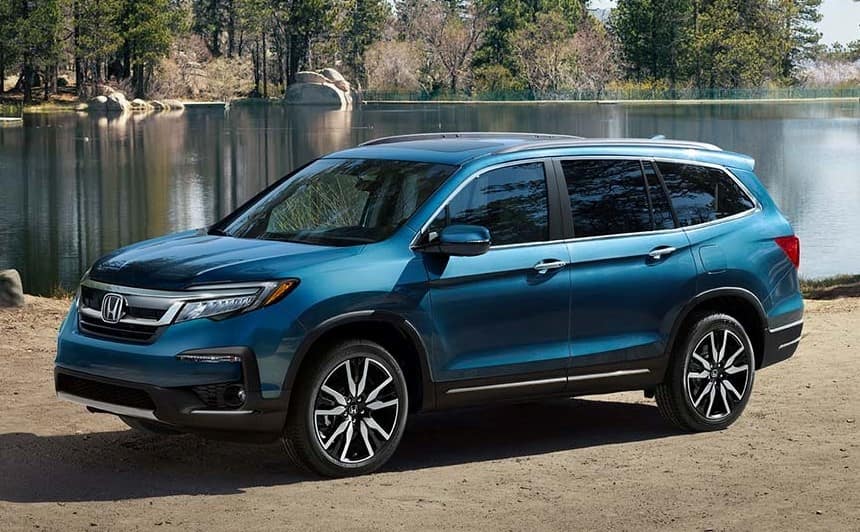 The Honda Pilot is a stylish and enticing SUV that gives senior drivers a bright and modern image. Its fast and fuel-efficient V6 engine allows for a more frugal driving style.
Most seniors can quickly enter and exit because it has a ground clearance of around 7.3 inches. Within the Honda Pilot, up to 8 passengers can seat comfortably and pleasantly, and there is ample space for groceries.
The Pilot includes numerous driver-assist functions, such as an 8-inch touch screen, lane-keeping assistance, adaptive cruise control, and emergency braking. The Pilot's big windows and elevated driving position give drivers an excellent road view.
Specs of the Best Sport Utility Vehicles' Specs (SUVs) for Seniors
A vehicle must meet the following criteria to be taken seriously as a contender in this class:
The most important priority is comfortable seating.
It is crucial to have the appropriate height for convenient entry and exit.
Technology should be user-friendly and organized.
The list of safety criteria should be extended.
The operating costs should be kept to a minimum.
Advice for Seniors on Finding the Most Suitable SUV

Here are some things to think about if you plan to buy an SUV as a senior:
Keep things as simple as possible: Even if you want to believe everything is in order, many people can attest to how frustrated the senior audience is with overly sophisticated technologies.
Give comfort a priority: Look for a car with great reviews on its comfort level. Seats that can be changed in various ways, as well as seats that are simple to use and accessible, fall into this category.
FAQs
Which SUV is the safest option for seniors?
The Honda CR-V, Toyota Highlander, and Nissan Rouge are some of the safest SUVs for elderly citizens.
Which Vehicle is the most convenient to enter and exit?
The Hyundai Santa Fe and Subaru Forester are the most convenient automobiles to enter and exit.
Which SUV offers the most space for the head and legs?
The Kia Telluride gives passengers the most head and leg room among all full-size SUVs.
Wrap Up
Here are our picks for the top 12 SUVs for seniors as of 2023. The Honda CR-V is ranked among the top SUVs for senior drivers. It is undeniably valuable, uses little fuel, and generates sufficient power. It has an incredible array of safety measures as standard equipment and offers outstanding comfort even at the most basic level.
Out of these 12 Best SUVs for seniors as of 2023, Let us know which one you find the most suitable!