Car enthusiasts have a strong obsession with luxury cars due to their sophisticated and advanced features. They are equipped with modern-day technologies like active aerodynamics, autonomous emergency braking, a digital rear-view mirror, and thematic ambient lighting.
A cheap luxury car is an excellent option if you value comfort and style on the road. The ideal cheap luxury automobiles have great ride quality, loads of interior space, and plenty of technology. With all these features, one does not usually expect luxury cars to be cheap.
While most of the best luxury cars are expensive, you can also get some cheap ones in the car market. Keeping all the above factors in mind, here is a detailed list of cheap luxury cars in 2023, with all their positive and negative aspects.
1. Acura ILX 2023:
The Acura ILX is arguably one of the cheapest entry-level luxury cars available. It boasts all the amazing benefits of a premium vehicle while enjoying the reliability and safety of a Honda.
It includes heated seats, a sunroof, and the AcuraWatch suite of safety and driver-friendly technologies. Additionally, it is a good investment, given the low entry cost of only $30,800.
The Acura ILX comes to the lineup with a 201-horsepower turbo engine and a well-balanced, fun-to-drive chassis. It is the only compact luxury car with a fun six-speed manual transmission and a versatile liftback body shape.
2. Buick Envision 2023: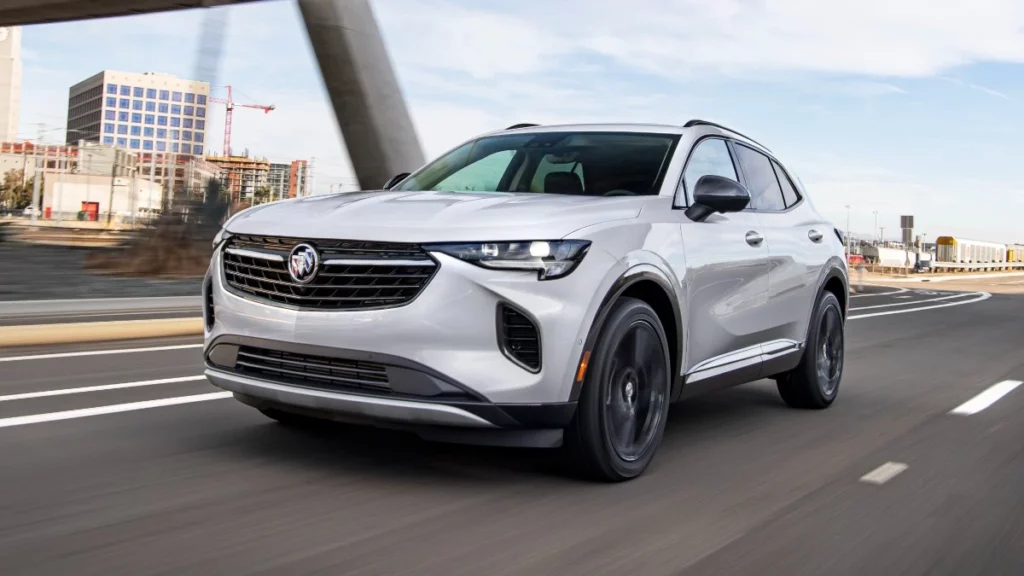 When you think of a luxury SUV, Envision probably isn't the first option that comes to mind. But Buick will do its best to look like some of the best compact luxury SUVs out there. It is equipped with a modern ECOTEC 2.0-liter turbo four-cylinder engine.
The 2023 Envision inspires confidence in every driver with its all-wheel-drive system and quality MacPherson strut front suspension. The same engine powers all three trim levels (Preferred, Essence, and Avenir).
Its engine can produce 228 horsepower and 258 lb-ft of torque. The Envision is fairly spacious in terms of its carrying capacity. Its back seat, folded flat, can fit up to 21 carry-on luggage. You can easily get it at the cost of $33,400.
3. Cadillac CT4 2023:
The Cadillac CT4 is the smallest sedan offered by American car manufacturers. The CT4 has a starting price of $34,095 for its base Luxury model with front-wheel drive. Additionally, all-wheel drive is also available for $35,695.
The Cadillac XT4 is the company's entry-level model and checks all the necessary boxes for a high-end SUV. The CT4 is a small vehicle with seating for five people. Two available turbocharged engines provide stellar performance.
The cabin is small for a luxury vehicle, and the back seats are narrow. There are three trim levels available for the 5-seat Cadillac CT4. With a 2.0L I4 Turbo engine and Rear Wheel Drive, the Premium Luxury version is the most popular. This CT4 is expected to deliver 23 MPG in the city and 34 MPG on the highway.
4. Volvo XC40 2023:
The 2023 Volvo XC40 is a small SUV with a mild hybrid system that makes it easier to start and go faster. The XC40 has a 48V battery to store energy in keeping with its eco-friendly attitude. It lowers fuel consumption and emissions from tailpipes. There is also an eco-friendly version of the XC40 called the XC40 Recharge EV.
The standard B4 Core XC40 generates 194 horsepower and 221 lb-ft of torque with the help of a 48-volt hybrid system and a 2.0-liter turbocharged four-cylinder engine. The base price of a B4 with front-wheel drive is $36,350. However, the B5 Plus trim will provide you with more value for your money.
5. Mercedes-Benz A-Class 2023: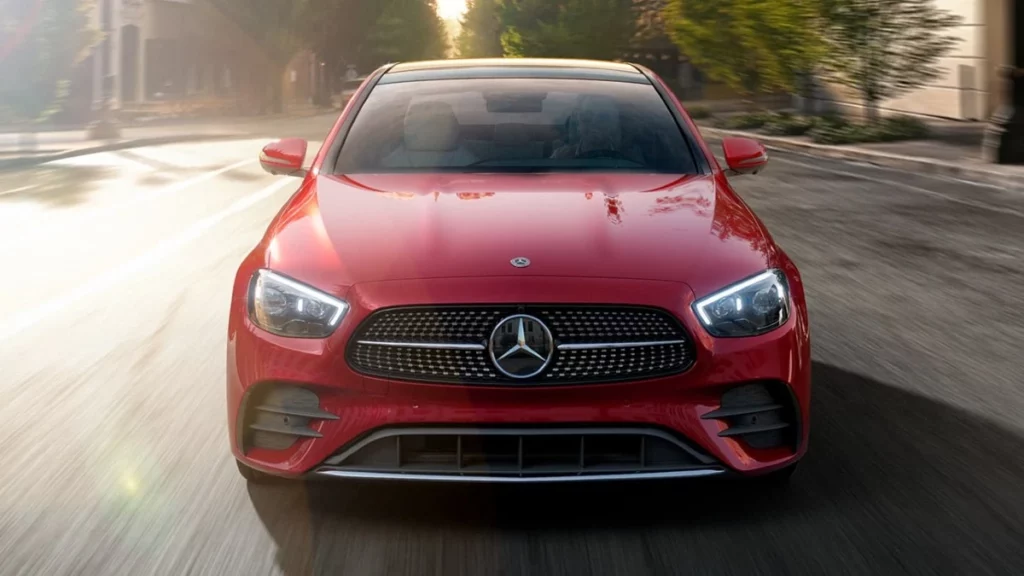 If you're looking for the cheapest and smallest Mercedes-Benz, go no further than the A-Class! Therefore, it is not surprising that it lacks passenger space and is less comfortable than its more expensive siblings.
Its best features are its strong performance, beautiful design, and pleasant interior. The base A-Class comes with a strong engine with four cylinders. Moreover, the performance-oriented AMG 35 offers a more potent version of the same engine.
Both A-Class models are fun to drive, with responsive handling, rapid acceleration, and flexible steering. There is only one trim level for the 5-seat Mercedes-Benz A-Class. The most popular model is the A 220 4MATIC, which starts at $34,500. According to estimates, this A-Class gets 25 mpg in the city and 35 mpg on the highway.
6. Cadillac CT5 2023: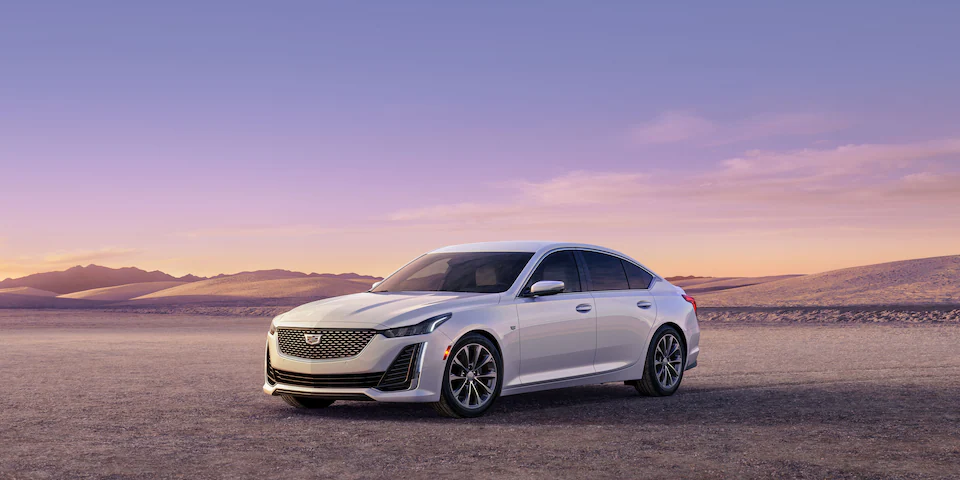 Cadillacs have a reputation for being expensive, yet several reasonably priced models are available. One of the best affordable luxury vehicles they have to offer is the 2023 Cadillac CT5. It features a sleek design and a potent V-6 engine, making it a head-turner on any route.
In terms of power, it comes equipped with a 3.0 liter V6 twin-turbocharged engine capable of 335 horsepower output. This is coupled with a 10-speed automatic transmission and rear-wheel drive.
With a starting price of just $38,195, it is less expensive than some of the other options available in Europe. But it's a decent deal for what it offers overall and how much it costs. Consider the 2023 Cadillac CT5 if you're interested in buying a new luxury vehicle.
7. BMW X1 2023:
The newest BMW X1 doesn't make any mistakes. It exudes boldness, size, and brightness from the inside. The X1 introduces a large curved touch-focused display for the first time.
In order to update the X1 for 2023, the Bavarian carmaker added L-shaped blades to the corners of the front and rear ends. The 2023 X1 is bigger than earlier models in length, height, and width. As a result, you get more cabin and cargo area.
The powertrain is a 2.0-liter inline 4-cylinder BMW TwinPower Turbo gasoline engine. It generates 241 hp, which is 13 more than before. Starting price of this luxury model is $38,600.
8. Lincoln Corsair 2023:
The Corsair is a classy Ford Escape with excellent handling and spacious cargo capacity. The 2023 model gets a slight upgrade with new wheel styles and a redesigned front profile.
It has more sophisticated interior design and modern technologies. This gives the impression of greater luxury at a more affordable price. The new Corsair is a hybrid vehicle with a 2.5 L four-cylinder engine and an electric motor.
The basic Corsair's 2.0-liter four-cylinder engine produces 250 horsepower and 280 lb-ft of torque. If you fold down the back seats in the Corsair, it can fit 21 carry-on luggage. Its starting price in 2023 is $38,690.
9. Audi Q3 2023:
In 2023, Audi upgrades the Q3 to balance high performance and everyday practicality. The Q3 resembles a scaled-down version of the Q8 but features a contemporary look. The 2023 Q3 comes with standard LED headlamps on all four trim levels.
A 2.0-liter turbocharged four-cylinder engine powers the all-wheel drive Q3. The first three trim levels have an output of 184 horsepower and 221 lb-ft of torque. Whereas, the top of the line Plus 45 can generate up to 228 horsepower and 251 lb-ft.
Compared to the BMW X1, the Q3 is less spacious and functional. However, with the back seats folded, it can fit 12 carry-on luggage. It has a starting price of $36,800.
10. Lexus UX 2023:
The Lexus UX combines Toyota's renowned durability with the luxurious ride and handling that Lexus has been delivering to customers for decades. The Lexus UX has the look of an SUV but the feel of a car, and it will come with a hybrid powertrain and front-wheel drive as standard next year.
Lexus claims to have improved the suspension and chassis for the new UX. Electric motors supplement the 2.0-liter, four-cylinder engine of the UX 250h to provide 181 horsepower. Standard features include heated seats, a heated steering wheel, and a motorized sunroof.
The starting price of the 2023 Lexus UX 250h is $35,340. The IX will only be offered as a hybrid model in 2023. It is backed by a standard guarantee valid for either 50,000 kilometers or four years, whichever occurs first.
11. BMW 2 Series 2023: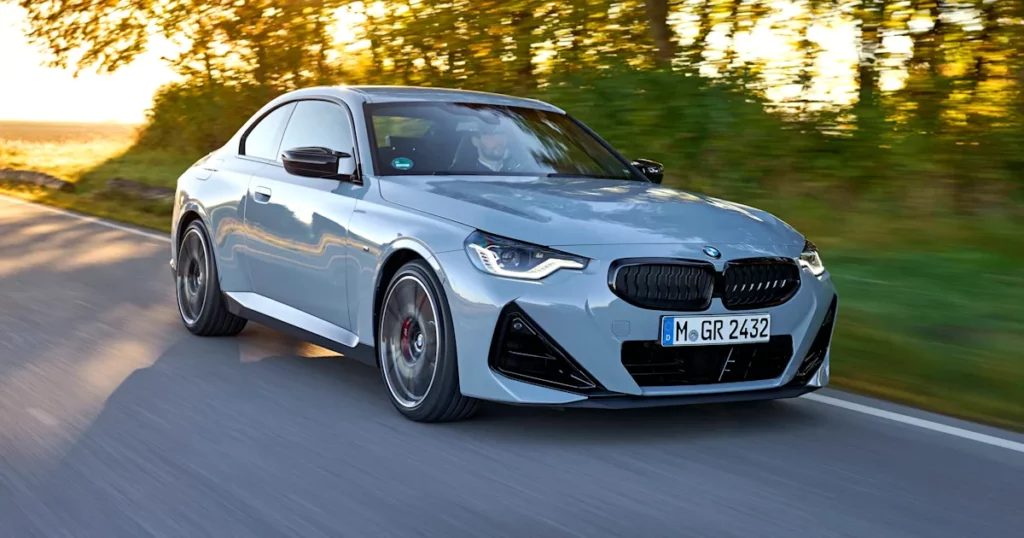 The 2017 BMW 2 Series is a good bet for those who want a sporty car with a luxurious interior at an affordable price. The 2023 BMW 2 Series includes two distinct models. The coupe was updated last year, and the Gran Coupe came out for the first time in 2020.
The Gran Coupe is a four-door sedan, not a two-door coupe. It also features a roofline that tapers, giving it a "coupe-like" appearance. Although the Gran Coupe shares its base with the Mini, everything about it, including design, construction, and performance, is pure BMW.
The starting price for both 2 Series models is just under $40,000. The 2 Series maintains its status as a dynamic, driver-oriented luxury car with the introduction of a completely revised coupe version for this model year.
12. Genesis G70 2023:
The luxurious, cozy, and sporty Genesis G70 is a great substitute for the European sedans that predominate the market. The 5-seater Genesis G70 is available in two trim levels. The base engine for the G70 is a turbocharged four-cylinder with reliable but average performance.
The real action begins with the optional twin-turbo V6, which provides rapid acceleration and a powerful roar at full power. The G70 is a true sports sedan with precise steering and dynamic handling.
The 2.0T RWD is the most popular model, with a starting price of $39,150. This model has a 2.0L I4 Turbo engine and Rear Wheel Drive. On average, this G70 is estimated to deliver 21 MPG in the city and 31 MPG on the highway.
13. Mercedes-Benz GLA 250 2023:
The GLA 250 is the smallest and most economical SUV made by Mercedes-Benz. However, it excels in comfort, appearance, and driving experience. Despite its small size, the GLA 250's design is very functional.
It includes metal roof rails at the top where you can attach accessories for carrying cargo. The 2023 GLA 250 is powered by a 2.0L four-cylinder turbo engine. It has 221 horsepower and 258 lb-ft torque capacity and a starting price of $37,500.
14. Infiniti Q50 2023:
Premium compact cars provide luxury at an affordable price. Infiniti's model for this category is the Q50. It has a cozy cabin, making it a great option for people who travel frequently. The Infiniti Q50 has a strong lineup of engines and a variety of standard features.
However, competing models offer more modern interiors and better gas mileage. The INFINITI Q50 is a 5-seater vehicle available in three trim levels. The LUXE RWD is the most purchased trim level, beginning at $43,675.
This model has Rear Wheel Drive and a 3.0L V6 Twin-Turbo engine. According to estimates, this Q50 delivers 20 mpg in the city and 29 mpg on the highway. For the year 2023, you can get it at a price as low as $43,675.
15. Audi Q4 E-Tron Q50 2023:
The Q4 E-Tron Q50 is among the most highly anticipated electric car models. It's loaded with modern luxuries and premium features. It has a dual electric motor configuration that produces 295 horsepower. It can travel up to 250 miles before needing to be recharged.
This is a remarkable achievement by Audi, but the new Q4's best feature is its cabin. It combines advanced technologies with innovation and quality. You feel like you're driving a much more costly automobile due to the touch-sensitive surfaces and exquisite lines. You can get this luxury car for $50,995.
16. Jaguar XF P250 2023:
The XF P250 might not impress all Jaguar enthusiasts. However, even at $46,000, the model is still sufficient for a Jaguar. The XF P250 is powerful and capable of going far due to its four-cylinder turbocharged engine.
The inside continues to exude the same familiar grace and style that Jaguar has become known for over the years. Moreover, the interior doesn't have a traditional wooden look.
Sophistication and efficiency combine to boost the minimalist aesthetic. The interior is modernized with the in-house built Pivi Pro infotainment system. Its base price is as little as $47,000.
17. BMW 3 Series 2023:
When it comes to high-end sports sedans, the BMW 3 Series has always been the global standard. The 3 Series provides a wonderful driving experience with powerful, high-performance engines and precise handling.
The 3 Series is a vehicle with endless potential. It offers excellent performance, elegance, and efficiency in a stylish, small package. The BMW 3 Series is a 5-seater with three trim levels.
The most popular model is the 330i xDrive, which starts at $46,795. It has a Wheel Drive system and a 2.0L I4 Turbo engine. According to estimates, this 3 Series gets 24 MPG in the city and 33 MPG on the highway.
18. Lexus RC 2023:
The Lexus RC stands out as a compact luxury vehicle that is both attractive and moderately priced. It provides maximum comfort and refined driving dynamics. The luxurious interior and easy handling of the Lexus RC are impressive.
Unfortunately, this is not the best option if you require a car with cargo space. The Lexus RC is a four-seater car with six trim options. The RC 350 AWD is the most popular model, with a starting price of $49,065.
It has a Wheel Drive system and a 3.5L V6 engine. It is estimated to provide 19 city MPG and 26 highway MPG. The RC is a perfect pick if you appreciate high-quality construction and smooth functioning.
19. Alfa Romeo Giulia 2023: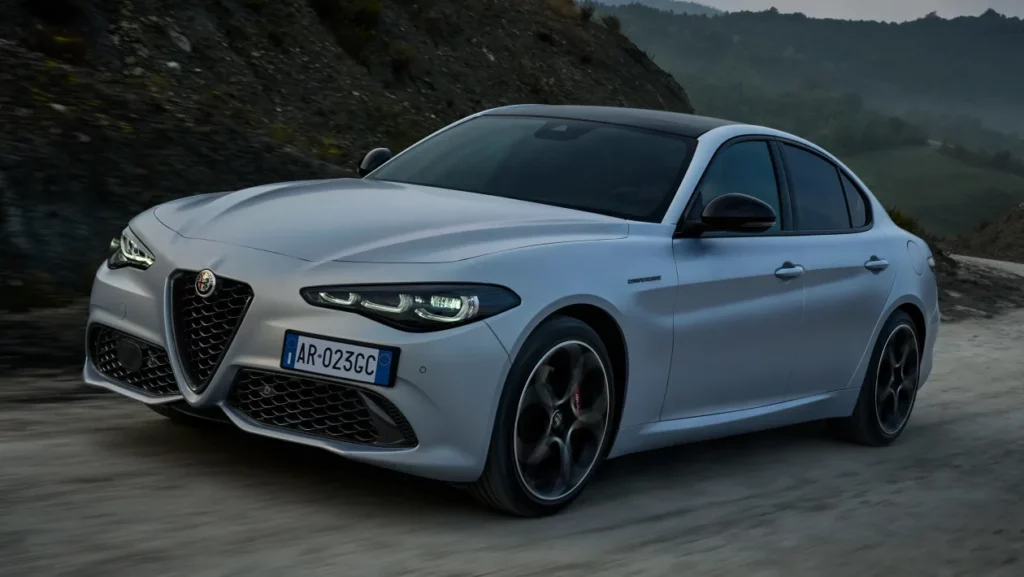 The Alfa Romeo Giulia lives up to the reputation of European sports sedans for excellent driving abilities. One benefit is that you won't find one on every street corner. Compared to most rivals, it has higher basic horsepower.
An all-aluminum, 2.9-liter twin-turbo V6 powers the Quadrifoglio ultra-performance model. It produces a powerful 505 horsepower. There are five trim levels available for the 5-seat Alfa Romeo Giulia.
The Veloce RWD, which starts at $49,590, is the most popular model. It has Rear Wheel Drive and a 2.0L I4 Turbo engine. This Giulia is expected to get 24 MPG in town and 33 MPG on the motorway.
20. Volvo S90 2023:
Most people don't even think about Volvo when talking about luxury cars. But Volvo does provide better value than other manufacturers, and the new S90 is a perfect example of that. The Volvo S90 is a stunning vehicle both inside and out.
The Swedish manufacturer calls it their "Scandinavian luxury sedan." It features a soft combination of wood and leather with brushed metal elements, creating a peaceful atmosphere.
It has a 2.0-liter straight-four engine that is turbocharged as well as supercharged. It has 295 horsepower and can go from 0 to 60 mph in 6.7 seconds. These features work together to make the driving experience as enjoyable as possible. Its starting price is $57,000.
Conclusion
What is the first thing that comes to mind when you think about luxury cars? Most people would say the extremely high price. But, in reality, many high-end automobiles are much more affordable than most people imagine.
With the advancement of technology, many premium features now come as standard over a wide range of vehicles, lowering the overall cost. As the market is becoming more competitive, luxury brands are offering better experiences at lower prices.
This blog has compiled all the details of cheap luxury cars you can buy in 2023. These cheap luxury cars show that you don't have to spend a fortune to get a healthy dose of luxury, even in 2023.