It's hard to say what it is, but motorcycles are impressive works of art and, at the same time, brilliant pieces of engineering. Since the first series production motorcycle in 1894, the two-wheeler has grabbed the attention of enthusiasts worldwide. Competition has only got more fierce through the years, with more motorcycle manufacturers trying to one-up against their rivals.
The past century has seen the birth of numerous iconic motorcycle makers and their iconic products. It is hard to describe any one manufacturer as the greatest. Most motorcycle companies have had moments of triumph either in the market or on the racetrack. So we have compiled this list of 15 of the greatest motorcycle makers ever. Each of these companies has contributed to perfecting the art of motorcycle making in one way or the other.
1. Suzuki
The brand Suzuki was founded in 1909, initially manufacturing silk weaving looms. Suzuki started building bikes in 1952 following the economic effects of WWII and hasn't stopped since. Suzuki has been a trailblazer; and took the world by storm when it launched the GSXR750, the world's first road-legal racebike.
The Hayabusa represents Suzuki's top-of-the-line product within its entire 2-wheeler portfolio. Suzuki's line-up includes everything from commuter scooters to a selection of adventurous scramblers. Suzuki is a true achiever on the racetrack; Suzuki has won 7 premier class World Constructor's Championships.
2. Yamaha
The brand Yamaha started its journey in 1887. It transitioned from being a manufacturer of musical instruments to manufacturing motorcycles and engines in 1955. Yamaha's early motorcycling days in Japan's postwar economy were exciting, marked by successes in the racetrack.
Yamaha has maintained a stellar record in motorcycle racing, claiming 39 world titles and 210 Isle of Man TT victories. Yamaha's off-road motorbikes were the first to feature mono-shock technology. Several Yamaha models are now legends, but the YZF-R1 represents the company's top-of-the-line motorcycles designed for the racetrack but street-legal.
3. Kawasaki
Kawasaki Motorcycles is a subsidiary of the Japanese international conglomerate Kawasaki Heavy Industries. Kawasaki Heavy Industries was founded in 1896. The motorcycle and engine divisions started in 1949.
Kawasaki has had a checkered past in MotoGP. It has clinched four MotoGP titles, apart from four in the 350cc class. Kawasaki's overall performance at the Superbike and Endurance World Championships was also commendable.
In contrast, Kawasaki motorbikes have earned a reputation for making high-quality, high-performance motorcycles. The Ninja ZX series, for instance, is well-known for its sleek design and lightweight. Unsurprisingly, the ZX-10R had the best-in-class power-to-weight ratio in 2004 and was arguably the best superbike of its time.
4. Harley Davidson
One word to describe Harley-Davidson: Iconic. No motorcycle has been able to achieve as big a cult status as Harley-Davidson has earned itself. Since its founding in 1903, the American motorcycle company has created some of the most recognizable motorbike designs in the world.
Harley is most famous for its Fat Boy (due to its appearance in the Hollywood movie- Terminator 2), a bulky and heavy cruiser with a V-twin engine usually over 700cc capacity. Conventional HD fans identify a Harley by its large V-twin engine's signature rumble, also called the 'Potato-Potato' exhaust note. Despite that, the latest LiveWire electric motorcycle model shocked and amazed die-hard Harley fans. The uniqueness of a Harley-Davidson motorcycle has stood the test of time for nearly a century.
5. Triumph
Triumph Motorcycles produced its first motorbike in 1902. Modern Triumphs are a favorite among motorcyclists thanks to their unique teardrop tank shape, naked design, and powerful engine. Triumph motorcycles have a long history in the U.K. market. The firm suffered many financial difficulties from the 1970s until 1983 when it entered receivership.
After John Bloor took over Triumph in 1983, it embarked on a new journey to its current global success. More than 130,000 bikes are produced each year by Triumph. The most desirable Triumph motorcycles include the Bonneville, the Rocket III, and the Street Triple.
6. Honda
When one thinks of world-famous motorcycle manufacturers, Honda is a name that instantly comes to mind. The brand Honda was started in 1949, initially manufacturing piston rings and later expanding into producing high-end motorcycles.
In 2019, Honda achieved the milestone of 400,000,000 motorcycles. The firm has surpassed double the sales number of any global motorbike brand. Honda is as recognizable in cars and power tools as in motorcycles. Honda's most iconic models are undoubtedly the Honda CBR1000RR, also sold under the name "Fireblade."
7. KTM
KTM is an Austrian motorcycle manufacturer originating in 1934 as a modest car repair garage. The name KTM (Kronreif & Trunkenpolz Mattighofen) resulted from a merger in 1953. The year also marked the start of KTM's first mass-produced motorcycle, the R 100.
In 1992, KTM underwent a drastic rebranding exercise, dividing its attention between developing high-performance racing motorbikes and off-road motorcycles since then. The most famous KTM street models were the Duke and the Superduke series, representing KTM's all-around performance approach. KTM has also maintained a reputation for motorcycles with excellent handling.
7. Aprilia
Aprilia is owned by Piaggio Group, an Italian conglomerate that owns many automotive businesses. Aprilia started out as a bicycle manufacturer in 1945 and later expanded into motorcycle production in 1968.
Aprilia has had its fair share of competition success. It began to win Motocross championships in the late 1970s in the 125cc and 250cc categories. After supporting several independent Aprilia racing teams for several years, Aprilia entered the MotoGP class as a factory team in 2022.
The RSV Millie, a 1000 cc V-twin, and the RSV4 Factory Time Attack 1100 cc V4 are two of their most famous superbikes. Aprilia demonstrated its vision for the future through an unconventional electric machine named Electrica.
8. BMW Motorrad
BMW dates back to 1923 when it debuted with a motorbike powered by a flat-twin boxer engine. One such product is the BMW R 1250 GS Adventure, which has a reputation as an indestructible motorcycle. It is a little-known fact that the BMW R1200C was featured in the 1997 James Bond movie, "The World is not Enough."
BMW produces a motorcycle in every market segment, from the flamboyant C-series maxi-scooters to the sporty S-series to the parallel twin-engine F-series and everything in between.
BMW competes in both the Dakar Rally and the Superbike World Championships. BMW Motorrad has won the Dakar Rally six times in a row, demonstrating the reliability that BMW motorcycles are famous for.
9. Classic Legends
Classic Legends Private Limited is the youngest and most innovative motorcycle company on this list. The group was established in 2015 with the intention to revive legendary motorcycle brands to appeal to the classic-retro motorcycle enthusiast. The Indian automotive brand Mahindra owns 60% of Classic Legends.
The company's portfolio includes the Jawa, Yezdi, and BSA brands. Jawa, the pioneering Classic Legends brand, was reintroduced to the market in 2018. The brand quickly climbed to the top of Google's list of most-searched motorbike manufacturers.
In December 2021, the legendary BSA Goldstar was unveiled at Motorcycle Live in Birmingham, UK. Yezdi debuted in 2022 with three unique motorbike models.
10. Buell
Buell Motorcycles was formed in 1983 by Erik Buell, a former Harley Davidson engineer. Harley-Davidson first bought a 49% stake in Buell motorcycles which eventually increased to 100% in 2003. After being discontinued by Harley in 2009, Buell Motorcycles was relaunched in 2021, promising 10 new models by 2024.
The 1190RX and SX were the first models released; they are essentially upgrades on the 1125R. The 1190SX was designed as a "dominating street machine" with carbon fiber bodywork and an impressive 185 hp. Buell Motorcycles is a unique company that combines classic styling with cutting-edge American engineering.
11. Indian
Indian Motorcycle was founded in 1901. Since Indian specializes in cruiser motorcycles, it could be described as the most popular motorbike manufacturer in the USA and Harley-Davidson's closest "rival". Despite several updates over the years, Indian motorcycles have been recognized as the quickest, most reliable, and most comfortable cruiser motorbikes available in the United States.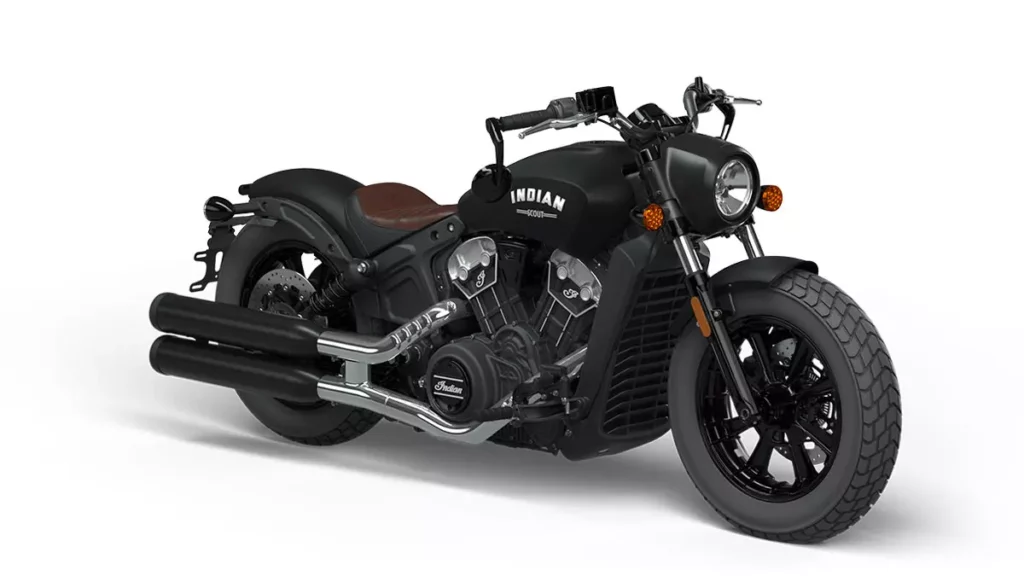 The brand Indian has been through several receiverships due to financial troubles; despite these circumstances, the brand has managed to maintain its identity. Indian Motorcycles now offers a variety of bikes in several categories, such as cruisers, baggers, elites, standards, electrics, and tours. Indian's most recognizable models are the Scout, the Roadmaster, and the Chieftain.
12. Ducati
Ducati is literally and figuratively the Lamborghini of motorbikes. In truth, Lamborghini and Ducati are both produced by the Volkswagen Group. Ducati was established in 1926, manufacturing radio parts. Following the bifurcation of Ducati into separate electronics and motorcycle businesses in 1953, it has been manufacturing a wide range of bikes, including the Monster, Supersport, Hypermotard, Multistrada, and Scrambler.
Ducati's racing expertise is unmatched, as shown by the fact that the company has won 17 Manufacturers Superbike World Championships and 14 Riders. Ducati has also succeeded in Formula TT, the FIM Superstock 1000 Cup, and the British Superbike Championships. Like Harley-Davidson, Ducati commands a cult following of over 20,000 diehards in over 400 Ducati fan organizations.
13. Benelli
Benelli was established in 1911 in Italy initially as a bicycle and motorcycle garage. Benelli entered motorcycle manufacturing in 1921. Since 2005 Benelli has been owned by the Chinese automotive group Geely and operates under Qianjiang Motorcycles.
Benelli's TNT 600, with its 600cc four-cylinder engine and contemporary styling, is one of the company's best-selling models. Another notable model is the 500 cc TRK 502 adventure bike, intended for off-road use. Benelli's motorcycle models range from 135cc to 750cc twin-cylinder.
14. MV Agusta
MV Agusta is a well-known Italian motorcycle manufacturer that has been operating since 1945. MV Agusta is the motorbike division and offshoot of the well-renowned Agusta helicopter manufacturing company. The 'MV' in MV Agusta stands for Meccanica Verghera, the town where the first MVs were made.
Despite several mergers and takeovers, MV Agusta has been consistent in its design aimed at the greatest possible motorcycle riding experience by paying meticulous attention to every detail. MV Agusta's two best-selling bikes are the Brutale and the Dragster.
15. Moto Guzzi
The Italian company Moto Guzzi has been making motorcycles since 1921 by two brothers. After financial difficulties and a couple of takeovers, Moto Guzzi is now in the ownership of the Piaggio group alongside Aprilia Motorcycles. The company's reputation rests on its groundbreaking innovations like the swingarm suspension and the first motorcycle wind tunnel.
The V7, the V9, and the V85TT are Moto Guzzi's three best-selling motorcycles. The V7, in particular, has become a classic bike due to its timeless style and convenient ergonomics.
Conclusion
We have looked at those motorcycle brands that have shaped the motorcycle world. While some brands like Harley-Davidson stand out because of their cult following, others like Ducati stand out because of their style and premium appeal; every one of these companies has created machines out of their passion for excellence and made a mark in the history of motorcycles through their uniqueness.