The Kia Optima competes with the Honda Accord, Toyota Camry, and Nissan Altima as a mid-size sedan with five seats. It was manufactured between 2001 and 2020 and earned a reputation as a reliable and reasonably priced family car.
The Optima is a good choice for most people; however, there are a few problematic model years to avoid and a few best to purchase. Let's look at them in detail and see why they rank so.
Kia Optima's years to avoid include 2011 to 2016; they are considered as the worst. The best years for the Kia Optima include 2005, 2009, 2010, and 2017-2020. This result was concluded from trustworthy sources such as NHTSA, Edmund, JD Power, and Kelley Blue Book.
Kia Optima Years To Avoid
If you want to avoid the most problematic Kia Optima vehicles, you should avoid these years, as they are considered the worst years for the Kia Optima.
#6 Worst Year: 2016 Kia Optima (3.87 Rating)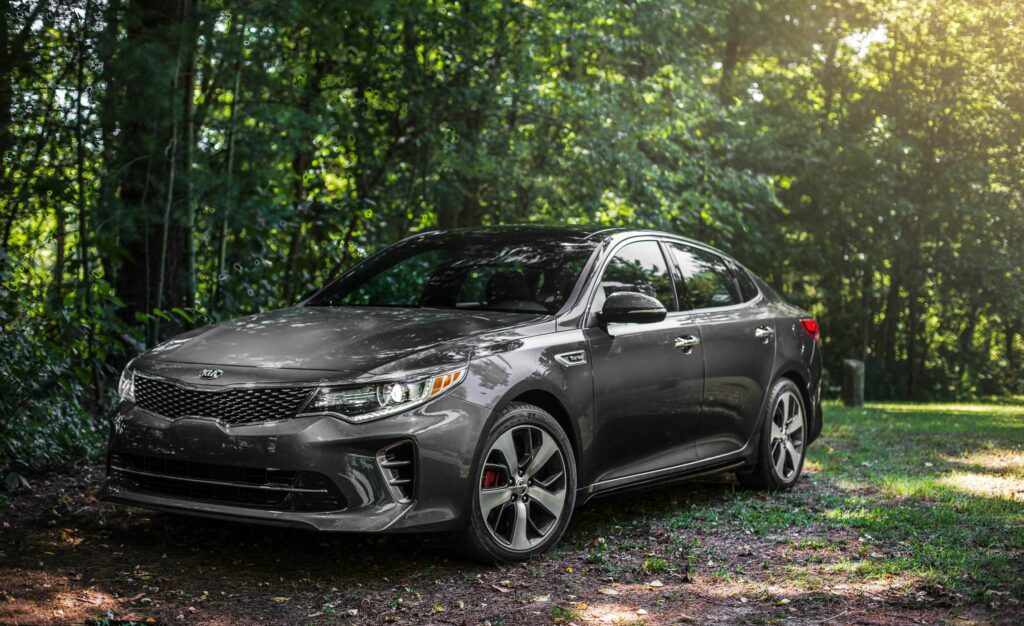 Even though the 2016 Optima was revised and received fewer complaints than previous models, it still had a few significant issues, justifying its position here. Some 2.4-liter vehicles were recalled because of problems with driveshaft cracking in the front.
Additionally, CarComplaints reports that a few owners have had window regulator failures. Last but not least, Consumer Reports notes that some vehicles with sunroofs have problems with the sunroofs not closing, the tracks warping, or general rattling due to outdated seals.
Common Problems:
Sunroof failure
Power window regulation
Poor sealant insulation
Reviews, Ratings, Recalls & Complaints:
#5 Worst Year: 2015 Kia Optima (3.79 Rating)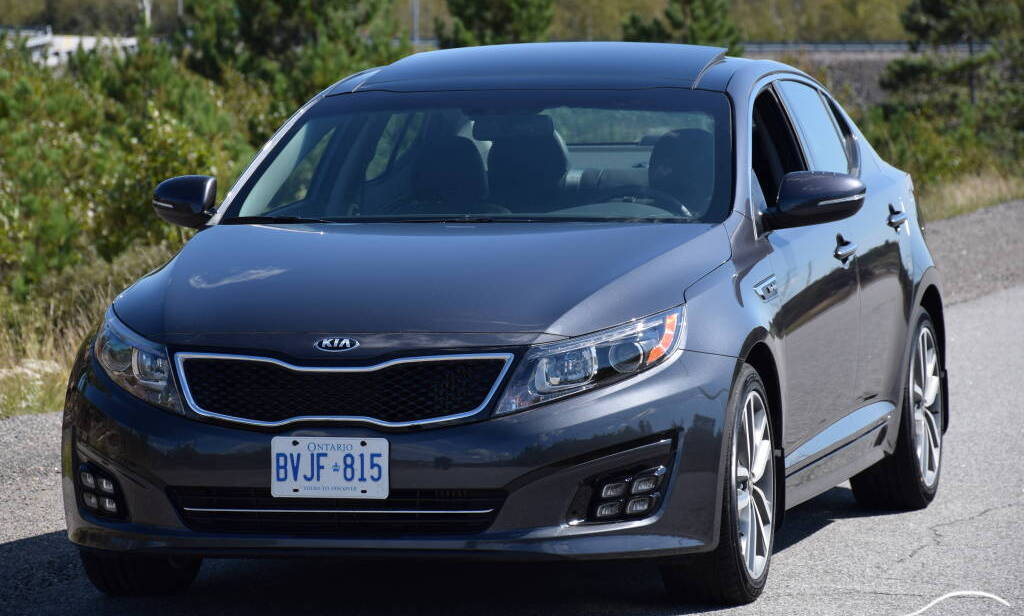 The main problem with this model is its faulty engine, as Kia ignored customer feedback regarding earlier models with the same problem. The 2015 model year has the most complaints of engine stalling while driving.
There have also been incidents where many cars have caught fire, posing a risk to drivers, passengers, and others. Another common complaint among owners of the 2015 model is that it consumes too much oil, necessitating frequent oil changes to prevent the engine from suddenly knocking.
Another frustrating aspect of this model is that the steering wheel is frequently stuck. When the owners hit the brakes, they quickly lose control due to the system's severe braking system.
Common Problems:
Engine failure
Steering wheel sticks
Engine locked up
Fire hazards
Reviews, Ratings, Recalls & Complaints:
#4 Worst Year: 2011 Kia Optima (3.77 Rating)
The 2011 Kia Optima is also one of the worst years to buy. The 2011 Kia Optima's most common issue is engine failure, which often occurs at less than 100,000 miles and costs over $4,500 to repair on average.
A class action lawsuit was filed against Kia because of extensive complaints and customer dissatisfaction. Eventually, the manufacturer recalled various vehicles, including the 2011-2014 Optimas equipped with 2.0-liter and 2.4-liter four-cylinder engines.
It uses a lot of oil and makes annoying knocking noises when moving. The 2011 Kia Optima also has particular problems with the transmission. Drivers often need to stop driving for a few minutes or hours to give the transmission time to recover. Another common complaint is that shifting out of third gear is tricky.
Common Problems:
Engine failure
Low beam dims
Excessive oil consumption
Reviews, Ratings, Recalls & Complaints:
#3 Worst Year: 2014 Kia Optima (3.67 Rating)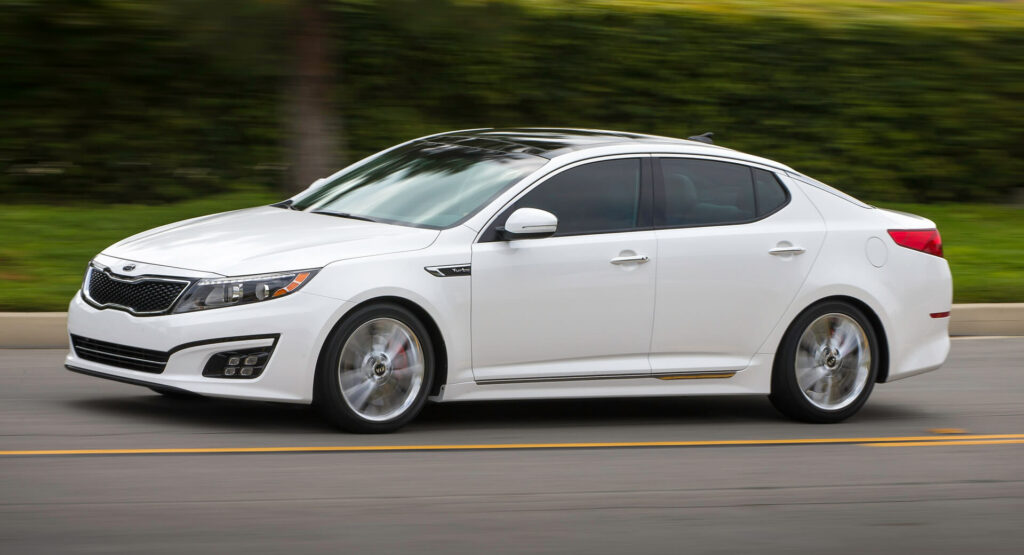 The 2014 Kia Optima's appearance on this list is not unexpected. This model has been recalled six times. Because of engine issues, the manufacturer recalled vehicles equipped with the 2.4-liter and 2.0-liter turbocharged four-cylinder engines.
Due to the low pressure in the fuel lines, cracks and leaks occurred intermittently, eventually leading to a fire breaking out in one of the engines. The heat from the engine has been responsible for several problems. Therefore, it's best to stay away from this particular model.
This vehicle is known for high maintenance costs, potential fire risks, and engine recalls. This model is one to avoid if you're looking for a car with unnecessary expenses.
Common Problems:
Engine failure
Car loses control
Stalled while driving
Reviews, Ratings, Recalls & Complaints:
#2 Worst Year: 2012 Kia Optima (3.62 Rating)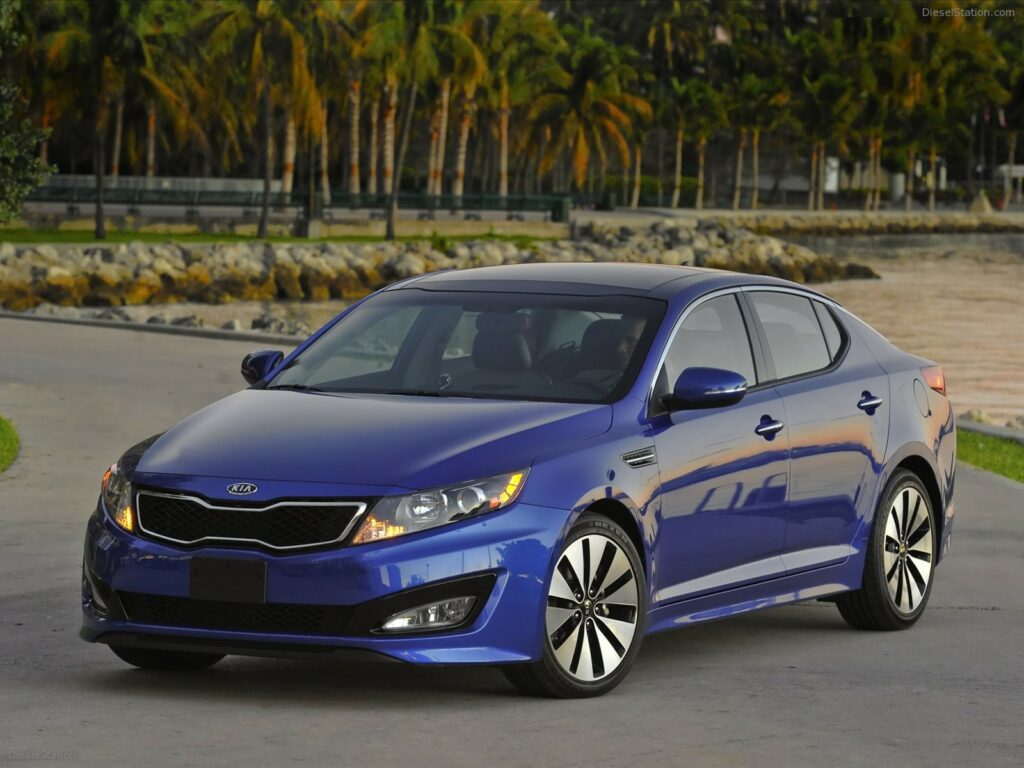 The 2012 Kia Optima is not a reliable vehicle. It received a reliability score of 3 out of 5 from Consumer Reports and a poor 1 out of 5 for customer satisfaction. This is mainly due to total engine failure.
Due to this issue, replacing the vehicle's expensive engine may be necessary. Most drivers have reported unstable wheels and the exploding sunroof problem. When drivers turn, the steering wheel often makes a squeaking sound.
Unfortunately, fuel pump failure was the most common complaint from drivers who had their engines replaced. It's annoying that, even once the fuel pump problem is rectified, there always seems to be something else wrong. Not only does this model's air conditioner not work correctly, but it actually blows hot air.
Common Problems:
Engine failure
Poor acceleration
Sunroof blew out
Reviews, Ratings, Recalls & Complaints:
#1 Worst Year: 2013 Kia Optima (3.10 Rating)
Consumer feedback and NHTSA statistics indicate that the 2013 Kia Optima is the worst-ever Kia Optima. The 2013 Kia Optima's engine was the primary source of complaints, leading to a finding of "not reliable" and customer satisfaction scores of only 1 out of 5.
Many buyers complained about the model's blown engine, which would suddenly shut down. They also noticed an increase in oil consumption and eventual engine failure due to the accumulation of oil sludge.
The horrible aspect is that the steering wheel even sticks or pulls to one side at high speeds, rendering most basic car features useless. There is a risk of an accident if this continues. Most owners have reported that the paint on their model readily chips and scrapes. As a result, the model's aesthetic appeal fades after only a few months on the road.
Please refrain from purchasing the 2013 model, as it will make you regret it.
Common Problems:
Engine blown
Steering pulls to the side
Oil sludges
Reviews, Ratings, Recalls & Complaints:
Related: Are Kia Cars Reliable? Best Models, Pros & Cons 2023
What Are The Best Years Of Kia Optima?
The Kia Optima is an excellent option if you're looking for a midsize car. These are the best years that you should consider buying if you are looking for a good Kia Optima.
#8 Best Year: 2006 Kia Optima (4.20 Rating)
If you're shopping on a strict budget, the Optima 2006 is a great option. Although it looks and feels a little antiquated now that it's the last of its first generation, this model has proven to be a rock-solid reliable car.
The affordable pricing, comfortable highway ride, and solid warranty of these vehicles have won widespread praise. You can choose between a 2.4-liter 4-cylinder or a 2.7-liter V6 engine in this car's LX or EX trim level. At 21 mpg in the city and 31 mpg on the highway, the EPA predicts a combined 25 mpg for this car.
Reviews, Ratings, Recalls & Complaints:
#7 Best Year: 2017 Kia Optima (4.25 Rating)
The Optima 2017 is the second model of the 4th generation. If you're looking for a practical and reasonably priced midsize sedan, this is another great option because the fourth generation is noticeably more technologically advanced and safer than its predecessors and has a more streamlined look.
Traction control, advanced seatbelts, curtain and torso airbags, and more are just a few of the safety features available. These safety features make a strong statement about the manufacturer's commitment to the well-being of its customers.
While the 2017 model is virtually unchanged from its predecessor, several trims now include improved headlights (from xenon to LED), and most trim levels offer extra packages. With this vehicle, you can save money on gas because of its excellent MPG rating. Amazingly, the hybrid version can achieve 46 mpg.
Reviews, Ratings, Recalls & Complaints:
#6 Best Year: 2005 Kia Optima (4.29 Rating)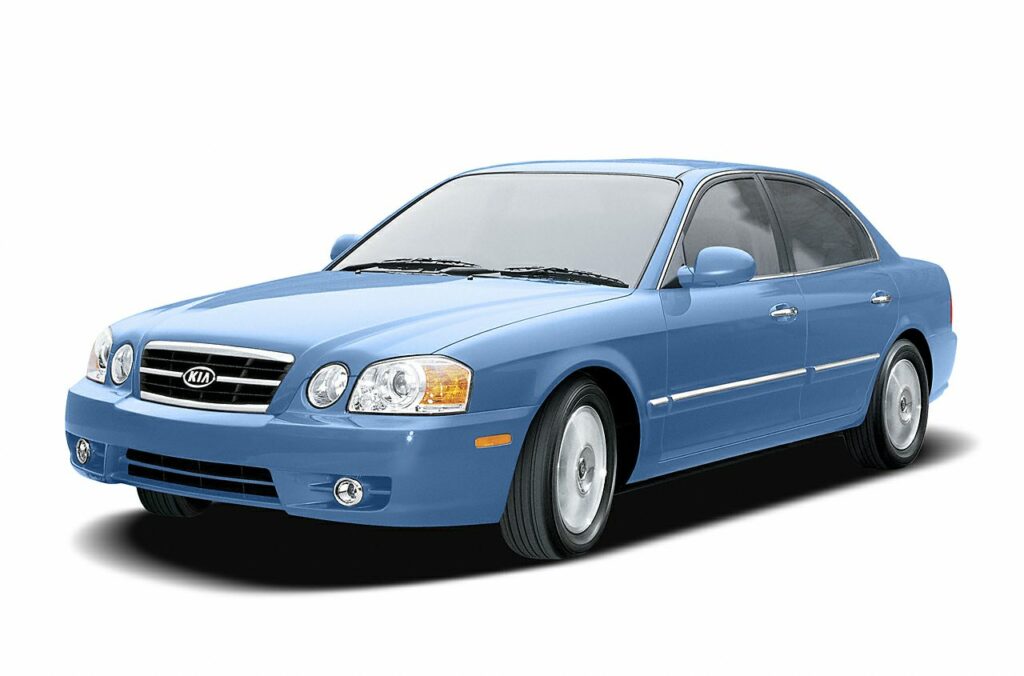 The 2005 Optima is a great option for those on a strict budget. For a low price, it's a good deal for an elegant, well-equipped family car. Despite its noisy four-cylinder engine, this vehicle is well-known for its low pricing, comfortable highway ride, smooth V6, ample storage capacity, and excellent warranty.
For 2005, the Optima received new front turn signal lenses, a one-touch opening sunroof on the EX trim, and updated stitching on the available leather seats as new, improved features.
Reviews, Ratings, Recalls & Complaints:
#5 Best Year: 2018 Kia Optima (4.31 Rating)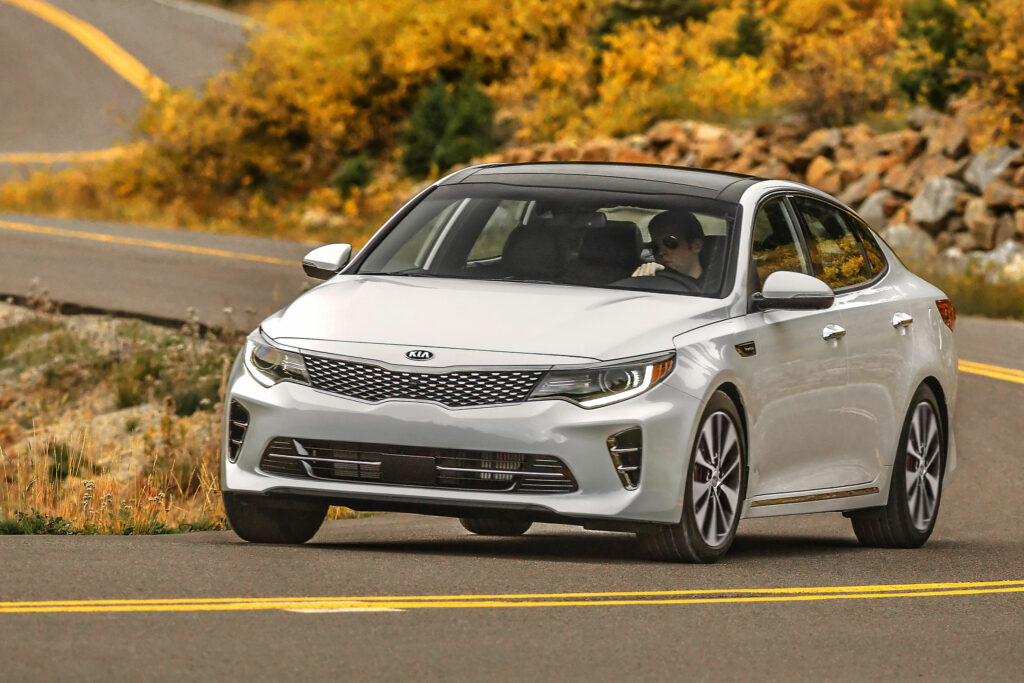 The 2018 Kia Optima is a fantastic car. It's a better investment than the 2017 model year because of the added security measures. The 2018 model is among the best regarding safety and usability, earning a perfect score of five stars in government crash tests.
Both Apple CarPlay and Android Auto are available for all 2018 models. The vehicle incorporates driver assistance technologies like rear parking sensors and blind-spot monitors. The 2018 model's interior is well-designed and constructed from high-quality materials to ensure the highest level of passenger comfort.
As the interior blocks out the road noise, the driving experience is superb. Those with children should seriously consider purchasing this automobile. Both a 1.6-liter and a 2.0-liter turbocharged engine are available. Both motors have a solid reputation for fuel efficiency and performance.
Related: 10 Common Kia Soul Problems | Best & Worst Years
Reviews, Ratings, Recalls & Complaints:
#4 Best Year: 2009 Kia Optima (4.37 Rating)
While the 2009 Optima may not have the most cutting-edge features, it is among the most reliable models ever made. The second generation of this model improved upon the first in terms of reliability and customer satisfaction. Moreover, unlike its predecessors, this model did not suffer the same engine problems.
It has a roomy rear seat, a high degree of responsiveness behind the wheel, and high marks in crash tests. The exterior and interior of this model year were updated to make it look more modern.
This model has been improved sonically, with satellite radio and a navigation system joining the impressive list of features. For the 2009 Optima, Anti-lock brakes and stability controls have established industry standards for driver safety.
Reviews, Ratings, Recalls & Complaints:
#3 Best Year: 2010 Kia Optima (4.38 Rating)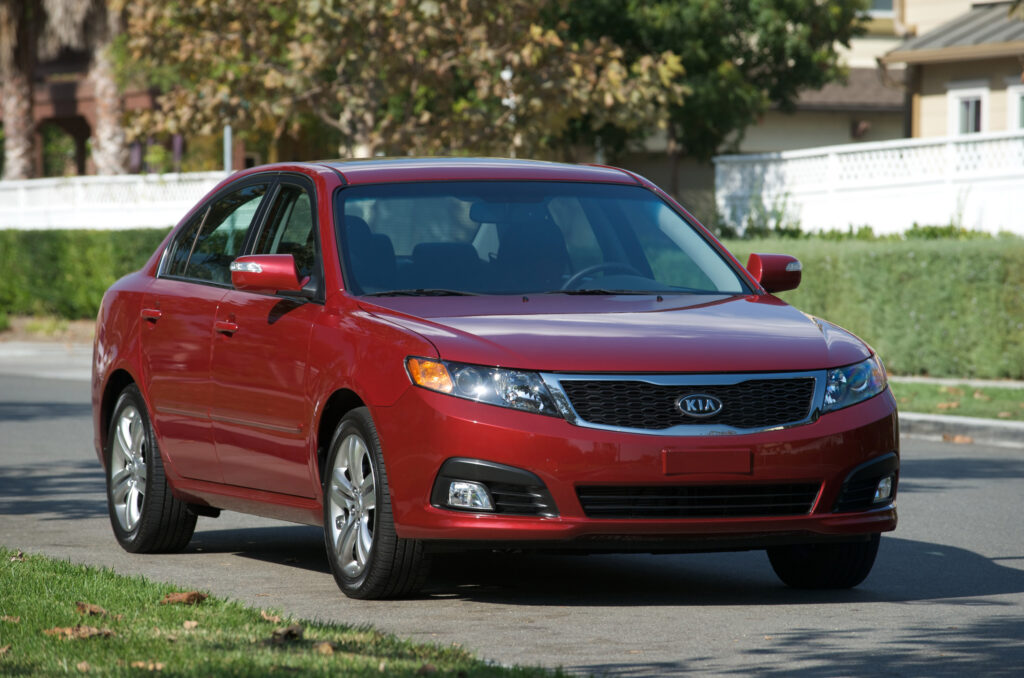 The 2010 Optima, the last model in the second generation, has been universally praised and has generated almost no negative feedback. As it was the last model of the generation, it didn't have many improvements because those were saved for the following model year.
The only significant alteration was the addition of keyless entry and ignition as standard equipment for the SX grade. This car has either a 5-speed manual or 5-speed automatic transmission with a 2.4-liter engine (175 hp).
This car is notable for its fuel efficiency, with 32 miles per gallon on the highway possible from the optional 2.7L V6 engine. It boasts a 2.4-liter four-cylinder engine that produces up to 175 horsepower, and its retro-looking bodywork is also appealing. No matter your choice, you'll get a powerful engine in this Kia car.
Reviews, Ratings, Recalls & Complaints:
#2 Best Year: 2019 Kia Optima (4.39 Rating)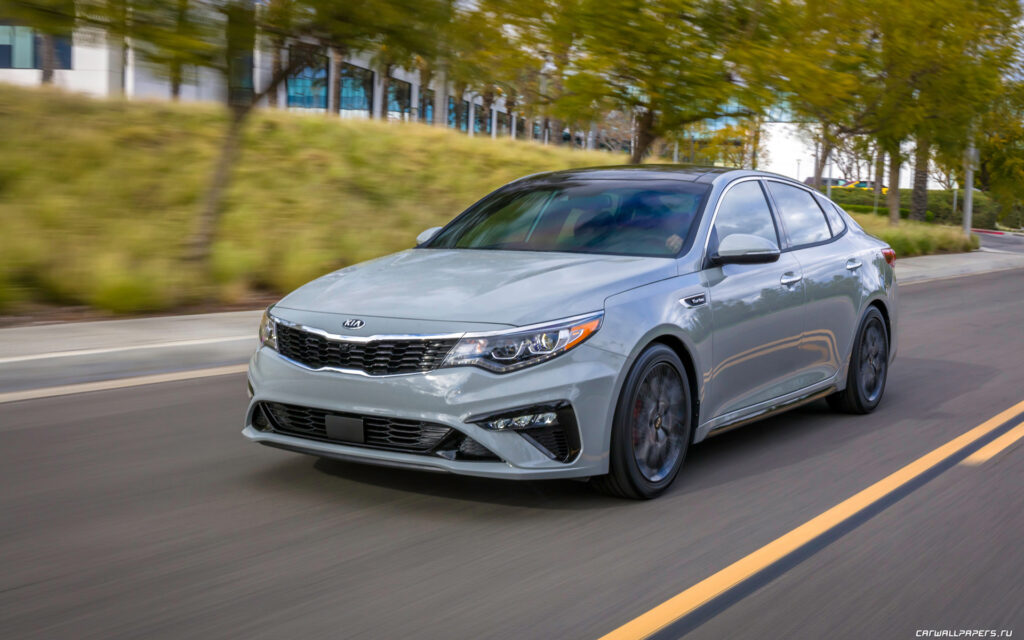 The 2019 Kia Optima is expected to perform admirably regardless of which trims you choose. The newest Optima models tend to have the fewest problems, which is why the 2019 Kia Optima is one of the most reliable models in the model's history.
It was well-appointed inside and out, had a roomy trunk, and came with various engine choices. There are also very few complaints about this model, so you can confidently purchase a used one. It's reasonably priced, considering the number of high-end extras included.
The 2019 Kia Optima sports a robust engine with 185 horsepower, providing quick acceleration and a comfortable ride. The 2019 Kia Optima's available 1.6-liter turbo engine meets your needs for low fuel consumption and powerful acceleration.
Every single road test score for this vehicle was superb, and it handles emergencies really well.
Reviews, Ratings, Recalls & Complaints:
#1 Best Year: 2020 Kia Optima (4.48 Rating)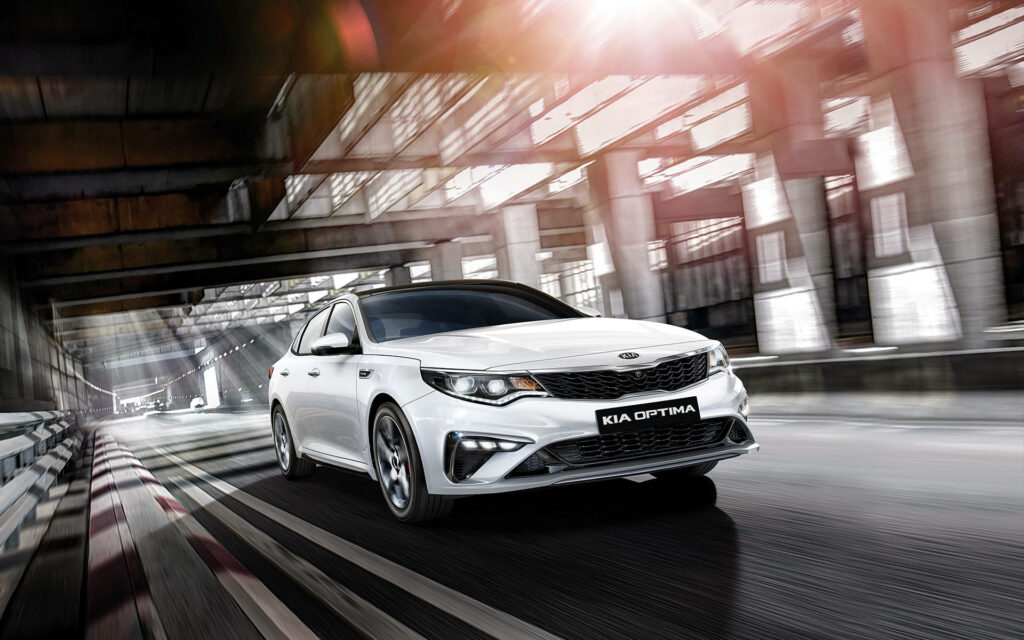 The 2020 Optima is the last model in the lineup and, so far, the most reliable of the bunch, receiving top marks in every major evaluation category and loaded with cutting-edge technology and safety features. A stylish interior, user-friendly controls, and a long list of convenient functions are standard equipment.
As a midsize family sedan, it's one of the most cost-effective and reliable vehicles of the year compared to its predecessors. Its amenities include a 2.0L inline 4-cylinder engine, an 8-inch touchscreen, and HD Radio.
The SX model's sport-tuned suspension ensures a comfortable ride. It also has seats that can be adjusted to your liking to make the trip more comfortable.
Related: Toyota Camry Problems (Common Issues And Fixes)
Reviews, Ratings, Recalls & Complaints:
What Are The Common Problems With Kia Optima?
These are some of the common problems you can encounter with most Kia Optima models.
Engine failure
Steering wheel sticks
Sunroof blew out
Engine locked up
Fire hazards
Sticking the steering wheel
Obsolete transmission software
Faulty steering
FAQs
1. Are Kia Optima Good Cars?
The Kia Optima has relatively high-reliability ratings, scoring a 4/5 on RepairPal. It's a reliable car with low maintenance costs. It also has a high resale value and a low rate of depreciation. CarEdge.com estimates that after five years, the resale value of a KIA Optima will be $20,066. This represents an annual depreciation rate of 18%.
3. How Many Miles Will Kia Optima Last?
If you take good care of your Kia Optima, you can get 200,000 miles out of it. It can also endure over 13 years at a minimum of 15,000 annual kilometers driven.
4. Kia Optima Vs. Hyundai Sonata: Which One Is Better?
After carefully considering both cars, you should consider the Kia Optima. While the Hyundai Sonata and the Kia Optima have certain similarities in equipment, the former provides more excellent value for the money.
The Hyundai Sonata provides a more relaxing drive, while the Optima excels in maneuverability and responsive driving. The decision between these two is ultimately up to personal preference. The Sonata is more elegant, while the Optima is more of a performance or sporty car.
Conclusion
The Kia Optima competes with a number of other famous brand models on the market as one of the most reliable midsize sedans. Since the Kia Optima is only available as a used or nearly new vehicle, the best years to look for are 2017-2020; however, the years that must be avoided are 2005, 2009, 2010, and 2011-2016.
I hope this article should have made it easier for you to choose between the best and worst years of the Kia Optima's production run. Good Luck with your purchase!