In a world where constant change and innovation are needed to stay ahead of the curve, remaining static is not an option. Shipyards worldwide are pushing the limits to get an edge over their rivals and build the best yachts, each bigger and more luxurious than the last.
Each yacht on this list is a masterpiece of design and engineering. Continue reading the article to explore the ten largest yachts in the world as of 2023.
1. Sailing Yacht A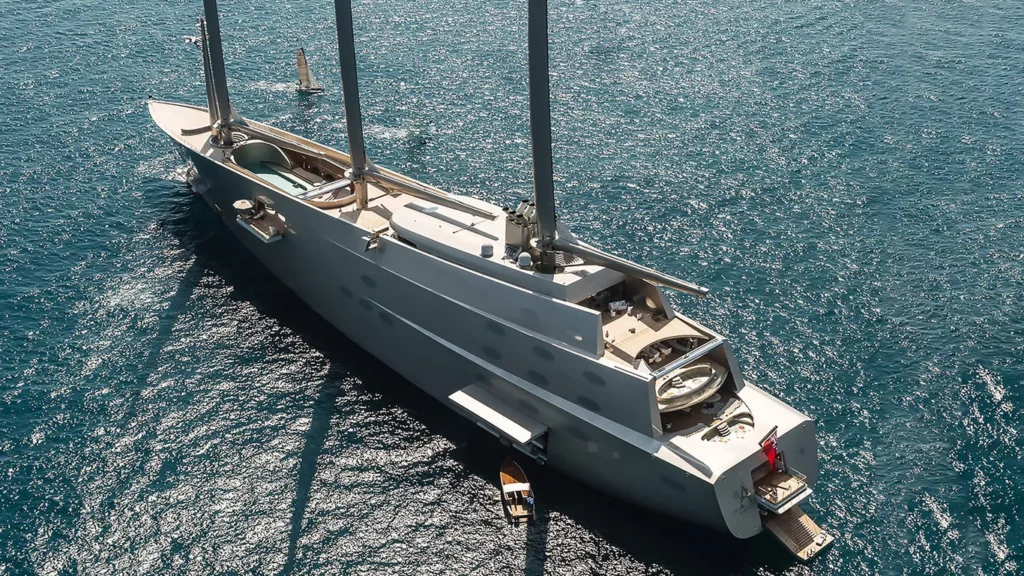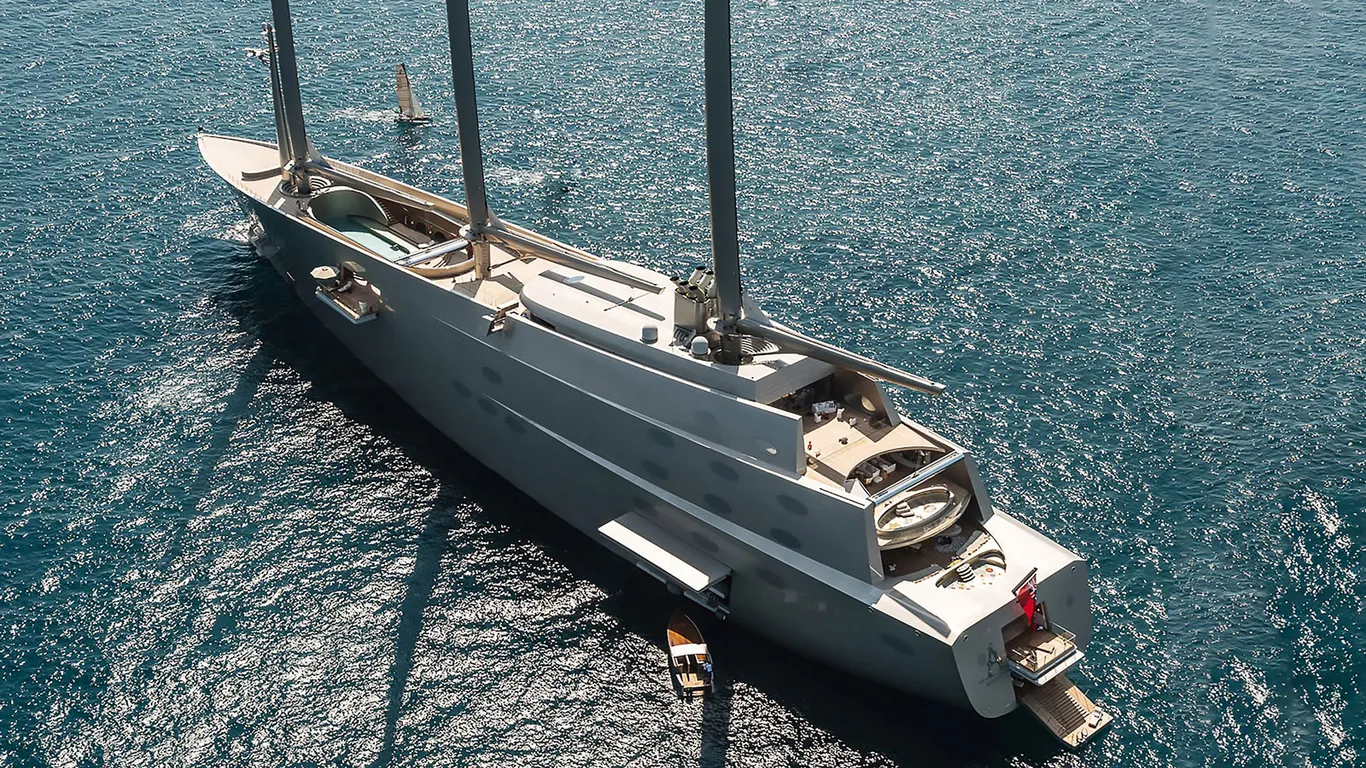 Length: 143 m
Launch: 2017
Owner: Andrey Melnichenko
Sailing Boat A is the biggest private sail-assisted motor yacht in the world. She is a cutting-edge superyacht with unique features like an underwater observation pod, a hybrid diesel-electric propulsion system, and advanced navigational equipment.
It has a top speed of 21 knots and a keel-mounted underwater observation platform. This ship has 54 crew members and can accommodate as many guests as possible. The almost invisible windows give this yacht a futuristic appearance while keeping the interior, which is still a mystery, hidden from view. Andrey Melnichenko, a millionaire from Russia, is the owner of Sailing Yacht A.
2. El Mahrousa
Length: 145.72 m
Launch: 1865
Owner: Egyptian Navy
The 145-meter Samuda Brother's yacht El Mahrousa, launched in 1865, was recently discovered in history and records. This boat was made for the Ottoman governor of Egypt. It showed up at the opening of the Suez Canal in 1869.
She underwent many changes, like switching from paddle-wheel motors to turbine-driven propellers in 1905. In 1912, a telegraph was additionally installed on the yacht. El Mahrousa was also extended by 40 feet in 1872 and another 17 feet in 1905. This boat can go as fast as 16 knots, and the Egyptian Navy is in charge of it now. It is sometimes used as the president's yacht.
3. Prince Abdulaziz
Length: 147 m
Launch: 1984
Owner: Royal Family Of Saudi Arabia
Helsingor Vaerft constructed the 147-meter motor yacht Prince Abdulaziz in 1984. It held the record for the largest vessel in the world for a long time in both length and height. This yacht was initially made for the late King Fahd of Saudi Arabia. Abdullah, the brother of the late King Fahd, now owns it.
There are no photos of its interior, even though the late David Nightingale Hicks created it. We only know that it is as luxurious as the Titanic. However, this ship has a crew capacity of 60 people and is capable of 22 knots of speed. It can fit the same number of guests who can use the indoor pool and other facilities. The ship features a helipad on the deck.
4. A+ Yacht
Length: 147 m
Launch: 2012
Owner: Sheikh Mansour Bin Zayed Al Nahyan
A+, formerly known as TOPAZ, is the seventh-largest yacht in the world, measuring 147 meters in length. A+ is also one of the largest superyachts in the world in terms of volume, with a gross tonnage of 12,532 GT. Sheikh Mansour Bin Zayed Al Nahyan, the owner of Manchester City Football Club and a member of Emirate royalty, is said to be the owner of this 2012 Lürssen superyacht.
The superstructure and hull of the yacht A+ are both made of aluminum. Her six Wärtsilä engines enable her to reach a top speed of 19.5 knots. It has eight decks, two helipads, a gym, two Jacuzzis, a conference room, and a theater. The A+ can carry 79 crew members and up to 62 passengers in 26 cabins.
5. Al Said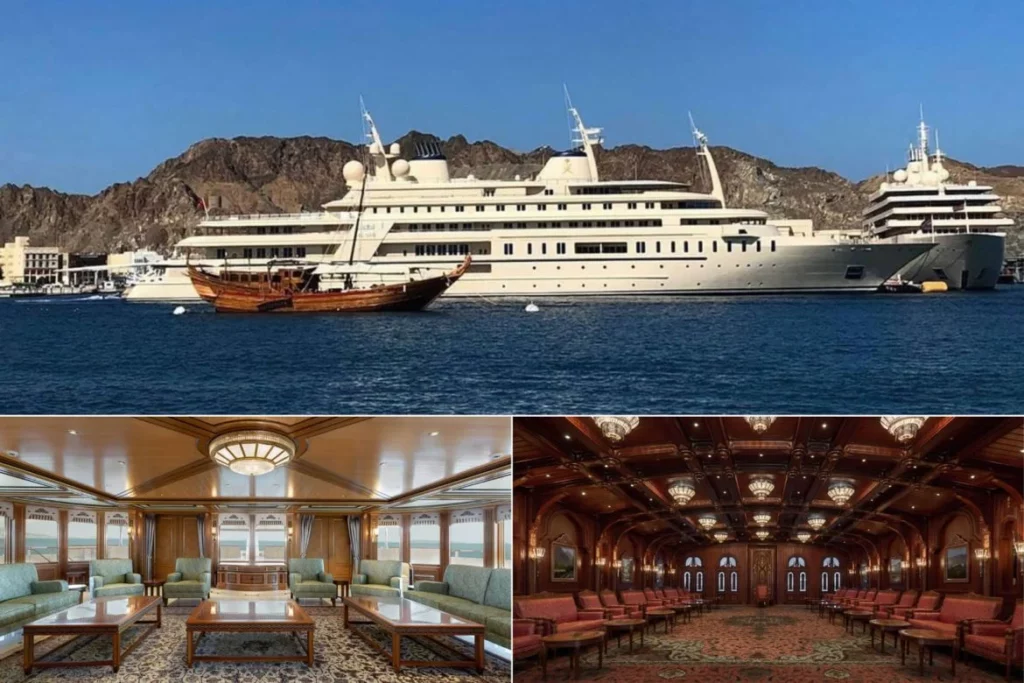 Length: 155 m
Launch: 2008
Owner: Sultan Qaboos (Sultan of Oman)
The sixth-largest superyacht in the world, Al Said, is 155 meters in length and was launched by Lürssen in 2007. The Omani royal family owns and uses this yacht. Two MTU engines power Al Said, which has a cruising speed of 20 knots and can reach a top speed of 22 knots.
Aluminum makes up the superstructure, while steel makes up the hull of the yacht Al Said. It has six decks, and the performance hall can accommodate a 50-piece orchestra. This yacht has space for up to 154 trained crew members and 70 guests.
6. Dilbar
Length: 156 m
Launch: 2016
Owner: Alisher Usmanov
Lürssen created a 156-meter superyacht named DILBAR in 2016. Espen Ino gave her a traditional shape and a light ivory hull when he designed her outside. Lürssen says that DILBAR, which is 156 meters long and weighs 15,917 tons, is one of the biggest and most technologically advanced yachts ever built.
Dilbar has a speed of 22.5 knots due to technological advancements and a 30,000-kilowatt diesel-electric power plant. She has two places for helicopters to land and a 25-meter-long swimming pool, the largest one ever built on a yacht. Dilbar is owned by Russia's richest businessman, Alisher Usmanov.
7. Dubai
Length: 162 m
Launch: 2006
Owner: Sheikh Mohammed bin Rashid Al Maktoum
Make room for the 162-meter yacht Dubai, which had a nonlinear construction history. Blohm+Voss and Lürssen first collaborated on this superyacht in 1998. However, with only a skeletal structure, the project was halted.
The project was restarted under the supervision of the new owner, Sheikh Mohammed bin Rashid Al Maktoum (the ruler of Dubai), and Platinum Yachts. In 2006, the yacht was completed. Four MTU diesel engines give her a top speed of 26.0 knots and a cruising speed of 22.0.
She can carry 48 passengers in 22 cabins. She weighs 12488.0 GT gross and has a beam length of 22.0 m. It has seven decks, a helipad, a garage for submarines, a nightclub, a movie theater, and an atrium.
8. Eclipse
Length: 162.5 m
Launch: 2009
Owner: Roman Abramovich
The Eclipse was the largest yacht in the world when Roman Abramovich, the owner of Chelsea Football Club, received it from the construction company in 2010. Terence Disdale Design was in charge of all the interior design, deck layout, and design and construction of the ship's superstructure.
They made custom interior finishes for the Eclipse. The hull and superstructure of the Eclipse are made of steel and aluminum. She is propelled by four MTU engines, which allow her to reach a top speed of 25.0 knots and a cruising speed of 22.0 knots.
There are 24 guest cabins on board, interior swimming pools and hot tubs, a disco, a gym, a spa, and a working submarine. Eclipse has won many awards, including "Motor Yacht of the Decade" at the 2015 World Superyacht Awards.
9. Fulk Al Salamah
Length: 164 m
Launch: 2016
Owner: Omani Royal Family
The mega yacht Fulk Al Salamah, also called the "Ship of Peace," was constructed by Mariotti in 2016. The Omani royal family is thought to be the owner of this magnificent yacht. Despite not being the longest yacht, she has the most capacity at 22,000 gross tons.
It has a beam of 24.0 m and a draught of 9.3 m. Studio de Jorio created the exterior design, which is less like a private superyacht and more like a cruise ship. Steel makes up the hull, whereas steel and aluminum make up the superstructure of the yacht Fulk Al Salamah. Four Wärtsilä engines propel her.
10. Azzam
Length: 180 Meters
Owner: Sheikh Khalifa bin Zayed Al Nahyan
Launch: 2013
Azzam is the world's largest private yacht. This superyacht was built by Lürssen Yachts in 2013 and is now owned by Sheikh Khalifa bin Zayed Al Nahyan, President of the UAE and Ruler of Abu Dhabi. It cost more than $600 million to build.
Azzam has a beam of 20.8 meters (68 feet) and a draft of 4.3 meters, which is unusually shallow (14 feet). The outside of this ship was made by Nauta Design to look sleek and timeless while making it look smaller than it is. The 9,000 kW MTU engines give her a long-distance speed of 18 knots and a top speed of 33 knots.
It can hold up to 80 crew members and 36 guests. Most of the interior design is a mystery, but some wood furniture is said to have beautiful mother-of-pearl marquetry on the surface. A gym, pool, and golf training area are also available inside the yacht.
Wrap Up
Many people's top wish lists would include a yacht if they had the money to buy one. Millionaires and billionaires often own yachts to show off how much money they have. In their minds, the bigger the yacht, the better. Entertainment firms also use superyachts to attract wealthy passengers looking for a rich experience.
These features frequently increase their owners' enjoyment and sense of luxury. But yachts, which are very valuable from an economic and social point of view, can help create jobs and boost the economies of travel destinations while giving people a unique way to spend their free time.As of 2023, the Azzam holds the record for being the longest yacht in the world.
Out of these 10 largest yachts in the world, let us know which one you find fascinating!