Do you want to sail your boat but are afraid of the enormous prices of buying one? Here we will present you with the 10 cheapest yachts. Now you can cruise in style but on a budget.
Everyone has experienced envy when seeing a stranger's yacht while basking in the summer sun. And if you don't have a boat and can only watch the waves churn up and down while you crave the open water, it can be even more frustrating.
But the reality is that a multimillion-dollar income is not required to purchase a yacht. Quite the opposite. Thanks to modern marine technology and a surge in popularity, boat buyers can choose from a wide variety of surprisingly reasonable, high-quality vessels.
Here's a list of ten of the cheapest yachts, including several brand-new models, that can get you and your loved ones out on the water and well on your way to countless exciting boating excursions that will leave you with memories that will last a lifetime.
Top 10 Cheapest Yachts You Should Look For
Look at the luxuriously cheapest yachts we have sorted for you.
1. Element E16 Bayliner
Bayliner is featured many times as the cheapest option in yachts for a good reason: the firm is committed to building high-quality boats at prices that make them accessible to many families. These simple-to-operate boats are wonderful for those who have never been in the water.
The Element E16 bowrider boat has the power and comfort to get you and your pals to fun locations with style and swiftness. The steering wheel feels just like driving a car, and a slew of cutting-edge stability and safety technologies keep you safe and secure.
It's a good boat with many features that make it suitable for families. Unlike the world's priciest yachts, you don't need a million dollars to buy her, and she's a lot of fun to boot. You won't find a better deal anywhere else! Prices start at $143.33 per month or $15,806.00 (lump sum).
2. Sport Fishing Boat Lund 1650 Angler
The full-windshield 1650 Angler Sport from Lund is one of the greatest 16-foot fishing boats available, making it a top choice for serious anglers. This aluminum Lund fishing boat is fully equipped with a big cockpit, front and rear fishing platforms, lockable rod storage, a live well, and enough storage compartments for fishing gear, making it suitable for fishing in small lakes and huge, windy bodies of water.
From $165.60 USD a month, or $18,247 (lump sum).
3. Aluminum Fishing Boat, Tracker V-16 SC
One of the most incredible affordable fishing boats available is the Tracker Super Guide V-16 SC, featured in an episode of Boat Trader's Stomping Grounds video series. The 2022 model seems sure to continue that trend.
She's perfect for anglers on a tight budget who don't want to sacrifice performance for affordability. Along with her standard galvanized trailer and 50 HP Mercury outboard, this Tracker is ready to hit the water.
Two removable fishing seats may be secured to any of the five pedestals positioned across the boat's deck, making this an affordable solution that will get you out on the water in comfort and style. This yacht is priced at $20,995 (lump sum).
4. SuperSport 160 and 130 Skiffs by Boston Whaler
Every boating expert has heard about Boston Whaler. The Super Sport 160 and its smaller sibling, the Super Sport 130, continue the manufacturer's legacy as the most fantastic boats available at or under 20 feet in length.
The larger SuperSport160, with its capacity for up to 100 horsepower, is a near-ideal little fishing boat that is widely used for fishing in bays, ports, and flats, as well as for cruising with friends and family.
Most experienced boaters know that not all boats are made equal and that these two Super Sport series boats are the best in terms of longevity, safety, and seaworthiness. Shoppers can feel confident that they are getting excellent value with either version. The base price of a 2022 Super Sport 130 is $15,363 (lump sum), while a 2022 Super Sport 160 is $23,826 (lump sum).
5. Party Barge 20 DLX Sun Tracker
If you're looking for a sizeable recreational pontoon boat that can still be pulled and launched by just two people, go no further than Sun Tracker's PARTY BARGE 20 DLX. This pontoon boat has just the appropriate amenities for an enjoyable day on the water, no matter the size of your group.
The STOW MORETM seat storage system is installed in the midship L-lounge and both bow sofas, allowing for a plethora of storage space. Tune into your favorite tunes on the Bluetooth audio while you cool down with a swim off the extra-wide platform and get back on via the extra-wide ladder.
The time has come to pack up the family and head off to the lake for a weekend of fun and bonding. Depending on the dealer and the available stock, a boat, engine, and trailer combo with a 40 ELPT FourStroke Command Thrust Mercury FourStroke outboard could cost roughly $25,000 (lump sum).
6. Walker Bay 450 DLX Generation RIB
The Walker Bay 450 DLX, designed as a yacht tender for larger yachts, is a highly capable vessel in her capacity, thanks to her deep V-hull and rigid inflatable design. She's got a sleek European design and a roomy, athletic, wider hull.
She can accommodate up to eight people and has 75 horsepower. She has a well-thought-out design, enough storage space, and a built-in ski pole and boarding ladder so you can have the best time possible while out on the lake.
Additionally, she weighs 633 pounds, making her simple to trailer and control on the water. Prices begin at about $30,000 USD (estimated) but may vary by region and luxury.
7. Pontoon Boat Model Starcraft CX 21 R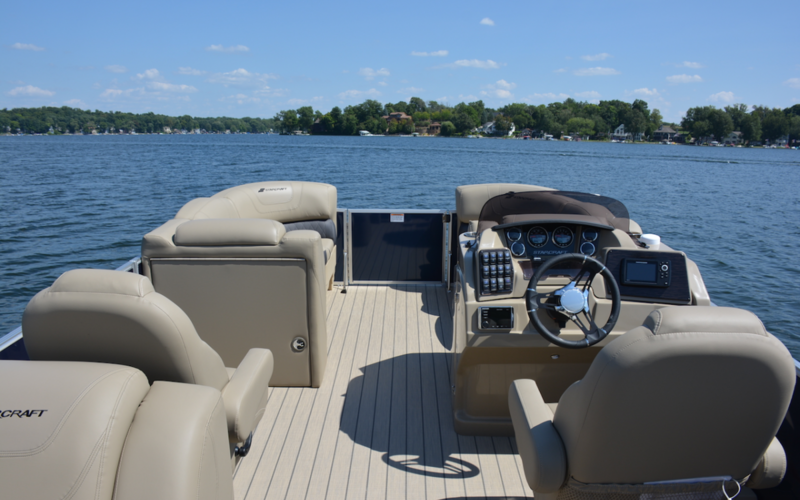 Still today, pontoons are the go-to watercraft for many families looking to spend all day on lakes, rivers, and inland waterways in style and comfort. The best part is that you can usually get one of these boats for a lower price than you might imagine, despite its stability, opulence, and spacious interior.
If you're looking for a high-quality pontoon boat, look no further than Starcraft's CX series. They offer every feature you could want from a top manufacturer. As a bonus, they provide excellent value in reasonably priced bundles that cater to the needs of different boat owners and types of boating.
The CX 21 R provides exceptional ease of use, design, and value thanks to superior consoles, fashionable fencing, and rail accents. In most cases, you can get into a 2021 CX 21 R pontoon for about $30,000 (lump sum), with enough left over to stock her coolers with beverages and munchies for the whole crew.
8. Chaparral 19 SSI
Chaparral's 19 SSI is a modern take on the classic bowrider runabout, including clean lines, stainless steel fittings, plenty of storage and seats, a swim platform, a folding arch tower, and non-skid flooring. Her 19 feet, 4 inches of length let her carry 11 people comfortably on her plush, hand-stitched upholstery in the bow.
In 2021, Chaparral introduced a new helm style with a handmade hand-stitched brow and aluminum-faced gauges highlighted with stainless steel bezels and fog-resistant instruments. Starting at $34,195 (lump sum).
9. Bayliner Center Console Trophy T20CX
Bayliner has brought back an old moniker with their new Trophy series, and the 2021 T20CX center console is a great example of why you should consider purchasing one. The boat's standout features are its deep V-hull, broad bow for casting or lounging, live wells, aft bench seat, and dry-riding interior, all of which make the trip to your favorite fishing place or waterfront restaurant much more pleasant.
Its user-friendly layouts and convenient features, such as a self-bailing cockpit that makes cleanup a breeze and a private head compartment in the center console, make it a hit with families. Ski tow pylons and other accessories provide adventurers with more alternatives. Prices start at (lump sum) $35,046 USD or $336/month.
10. SPX 190 Sea Ray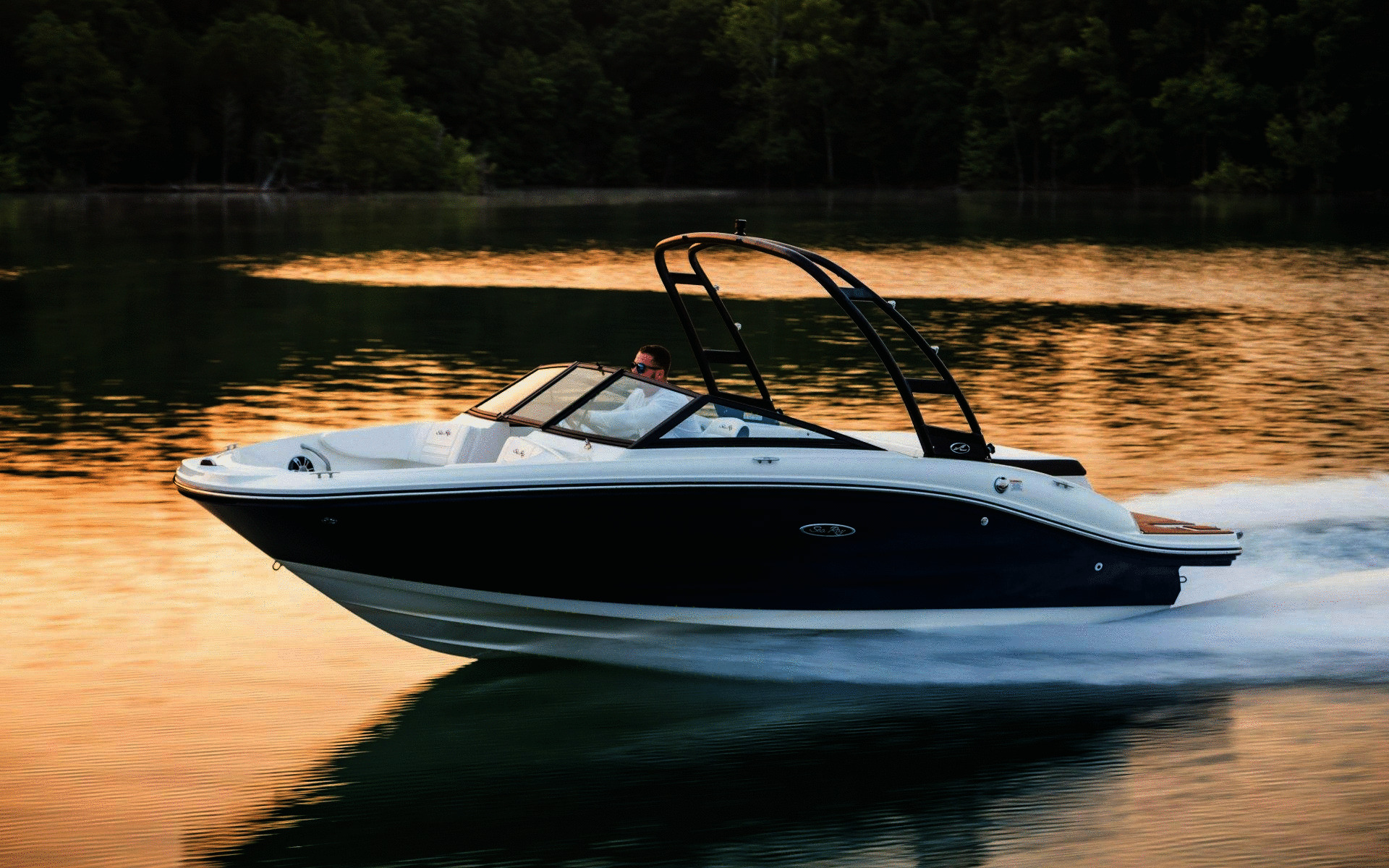 The Sea Ray SPX 190 is a very economical family boat with some wonderful amenities and features, with base models starting in the $40,000 bracket. The SPX 190 has an athletically gifted performance with a comfortable, roomy interior that features the traditional Sea Ray style, ensuring you make the most of your time on the water.
The SPX 190 brings the reliable, family-friendly Sea Ray standard of boating to a more reasonable price point. Depending on the trim, market, and dealer availability, prices can begin at about $45,000 (lump sum).
FAQs
Where Can I Find a Low-Cost Yacht?
In most cases, a yacht's price will not reflect its popularity. A yacht is a luxury item purchased for one's use. Buying a boat is more exciting than buying a car since boats are unique and challenging to come by. Quite a variety of one-of-a-kind options are readily available.
If money is an issue, you can save the most money by purchasing a previously owned yacht. Family-friendly cruisers from respected manufacturers like Sea Ray, Carver, Hatteras, and Bertram are worth considering.
How to Find a Boat at the Best Price?
The options expand dramatically through an internet marketplace when looking for a boat. You can find thousands of new and used boats for sale on online marketplaces, and the platforms are designed to make the purchasing process simple and quick.
Is purchasing a yacht at a boat auction a viable option for finding a cheap yacht?
Do not get lured into buying a salvage boat or yacht at an auction unless you are an expert mechanic and have thoroughly inspected the vessel in question. Auctions are an excellent place to look for boats on the cheap, but whether you get a good deal or a bad one depends on your luck, talent, and experience.
Most boats at auctions are used boats that have been previously owned, however, occasionally, new boats will be available from local vendors.
Do I need a new boat, or should I get a salvage boat instead?
Salvaged boats can waste your money or cost more to restore than the boat is worth. However, you can make a profit if you have the knowledge and abilities to finish all structural repairs yourself.
Think about whether you could create a hull repair template. Are you able to make electrical fixes? If the answer is yes, then using a salvage boat might be worthwhile.
Final Advice
Our recommendation is to use extreme caution around salvage vessels. A thorough survey must first be conducted to determine a boat's actual worth. It's important to remember that the surveyor won't necessarily find every problem that needs addressing.
Some problems won't surface until you get out on the water. Some people make it their business to buy and sell salvage boats professionally. An advantage is saving a lot of money, but a disadvantage is sitting in a boat that lacks the luster of a brand-new one and is more prone to developing issues down the road.