Have you ever dreamed of taking a drive over an ocean? It may sound impossible, but with the world's longest sea and ocean bridges, it is now a reality! These incredible man-made feats of engineering are some of the world's longest sea and ocean bridges – stretching over vast waterscapes to connect two or more countries.
Even more remarkable is that many of these structures have been standing for decades, allowing travelers to cross between nations quickly and safely. So take a moment to appreciate all these fantastic man-made creations have accomplished – it truly is something special!
Join us in discovering the "15 longest sea/ocean bridges"– learn about their unique features and all they've accomplished in this post!
Exploring Magnificent World's Longest Sea/Ocean Bridges: The Top 15
Here is the list of the 15 longest sea/ocean bridges in the world:
1. Incheon Bridge (12.3 km):
The Incheon Bridge is a cross-sea bridge connecting Yeongjong Island and Incheon in Incheon, northwest South Korea. It sailed across the Yellow Sea.
The bridge's length is 13.3 miles (21.4 kilometers), the bridge section length is 11.4 miles (12.3 kilometers), and the length over water is 7.3 miles (11.7 km ). Construction began on July 1, 2005, and opened on October 16, 2005. The bridge cost 2300 billion won (about $2 billion USD).
2. Confederation Bridge (12.9 km):
Confederation Bridge is an incredible engineering feat connecting Prince Edward Island with mainland New Brunswick in Canada. Spanning almost 12.9 kilometers, it was completed in 1997 and quickly became one of the most iconic sights in Canada!
Its structure consists of two concrete caissons that reach down 46 meters below sea level and support piers along its length, which make up this magnificent bridge. It's truly awe-inspiring to witness such a massive construction standing tall over the Northumberland Strait.
3. Tokyo Bay Aqua-Line (15.1 km):
The Tokyo Bay Aqua-Line is a 15.1-kilometer-long underwater tunnel that connects Kawasaki to Kisarazu. The tunnel was constructed to alleviate traffic congestion on the surface of Tokyo Bay and is the longest underwater tunnel of its sort in the world.
The Tokyo Bay Aqua-Line is an engineering marvel, and traveling through it is an incredible experience. The tunnel is exceptionally well-lit and has a polished concrete floor. There is also a ventilation system that gives motorists fresh air.
The Tokyo Bay Aqua-Line is an excellent method to avoid traffic while taking in the sights of Tokyo Bay. I strongly endorse it!
4. Quanzhou Bay Bridge (20.2 km):
The Quanzhou Bay Bridge is one of the longest sea bridges in the world, measuring 20.2 kilometers. The bridge was finished in December 2019 and connected the city of Quanzhou to the island of Kinmen over the mouth of the Jinjiang River.
The bridge is a remarkable achievement of engineering that has been recognized for its aesthetic appeal and practicality. The bridge has become a significant tourist attraction, with many people walking or driving across it to enjoy the breathtaking views.
The Quanzhou Bay Bridge is an outstanding illustration of what contemporary engineering is capable of and is destined to be a monument for decades to come.
5. Second Penang Bridge (24 km):
The 24-kilometer-long Second Penang Bridge connects the island of Penang to the mainland. It is one of Asia's longest bridges and Malaysia's longest.
The bridge was constructed to alleviate the growing congestion on the previous Penang Bridge. Since its completion in 2005, the Second Penang Bridge has alleviated congestion on the old bridge and boosted traffic flow between the island and the mainland.
Additionally, the Second Penang Bridge is an essential economic generator for the region. It has helped promote growth in areas like Seberang Perai, which had lagged behind other regions of Peninsular Malaysia. Enhanced communication between the island and the mainland has facilitated business operations.
Overall, the Second Penang Bridge has been a welcome addition to the region and has improved Penang's traffic and economy.
6. King Fahd Causeway (25 km):
The 25-kilometer-long King Fahd Causeway connects Saudi Arabia and Bahrain. Over 25,000 cars traverse the causeway every day, making it one of the busiest sea routes in the world.
The causeway was constructed in 1986 and is named after Saudi Arabia's King Fahd. A series of bridges and viaducts span the Gulf of Bahrain.
The causeway has been an indispensable link between Saudi Arabia and Bahrain, promoting trade and transit between the two nations. It has also been essential to the economic growth of both countries. The causeway is an engineering marvel and a symbol of the strong partnership between Saudi Arabia and Bahrain.
7. Jintang Bridge (26 km):
The Jintang Bridge is the longest steel arch bridge in the world. Its length of over 26 kilometers makes it one of China's most remarkable engineering marvels. The bridge, built in 2009, has been instrumental in connecting Jintang County to the rest of China.
In addition to being an engineering marvel, the bridge is a stunning sight. The illumination of the bridge's arches at night makes it a famous tourist attraction. If you find yourself in China, you must visit Jintang Bridge!
8. Jiaozhou Bay Bridge (26.7 km):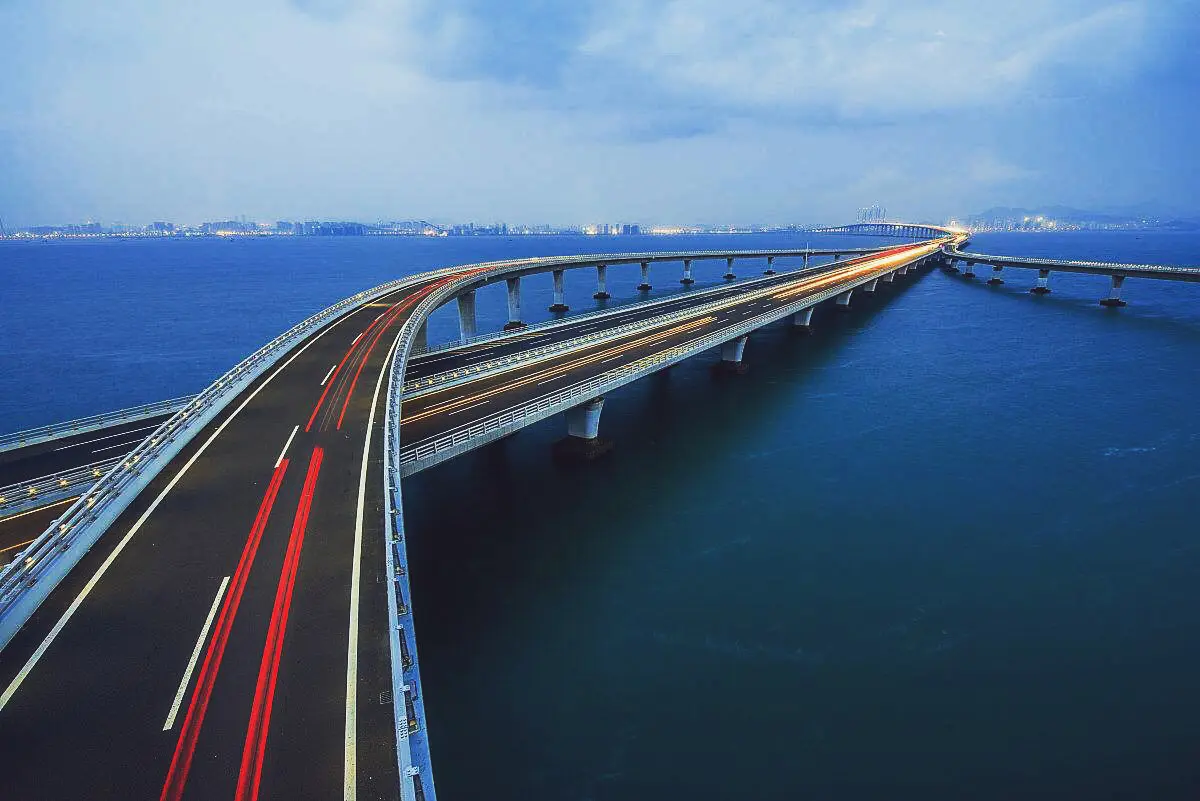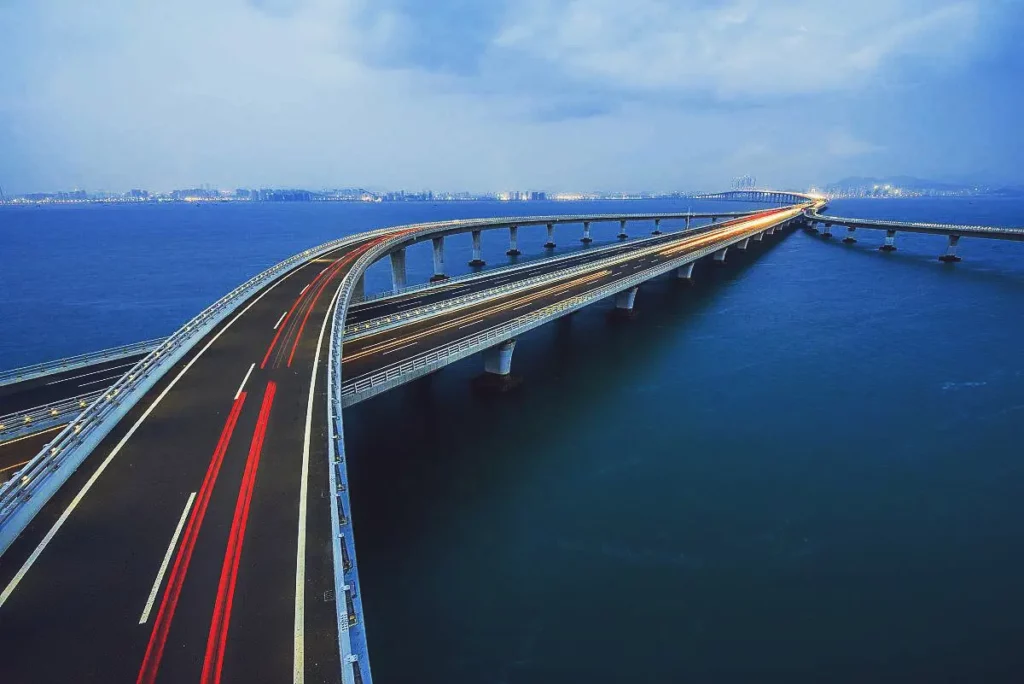 China's Jiaozhou Bay is home to the Jiaozhou Bay Bridge. It is a cross-sea canal in China's Qingdao City, Shandong Province, Huangdao District, Chengyang District, Licang District, and Jiaozhou City. This bridge is also known as the Qingdao Bay Bridge.
The Bridge has an overall length of 42.23 kilometers and a bridge length of 26.7 kilometers; the bridge deck is a two-way, six-lane highway with a maximum design speed of 80 kilometers per hour.
It cuts the distance between Qingdao and Huangdao by 30 kilometers (19 miles) compared to the highway along the bay's coast, reducing travel time by 20 to 30 minutes. The overall investment amount is more than 10 billion Chinese yuan (about 1.5 billion US dollars).
9. Chesapeake Bay Bridge-Tunnel (28 km):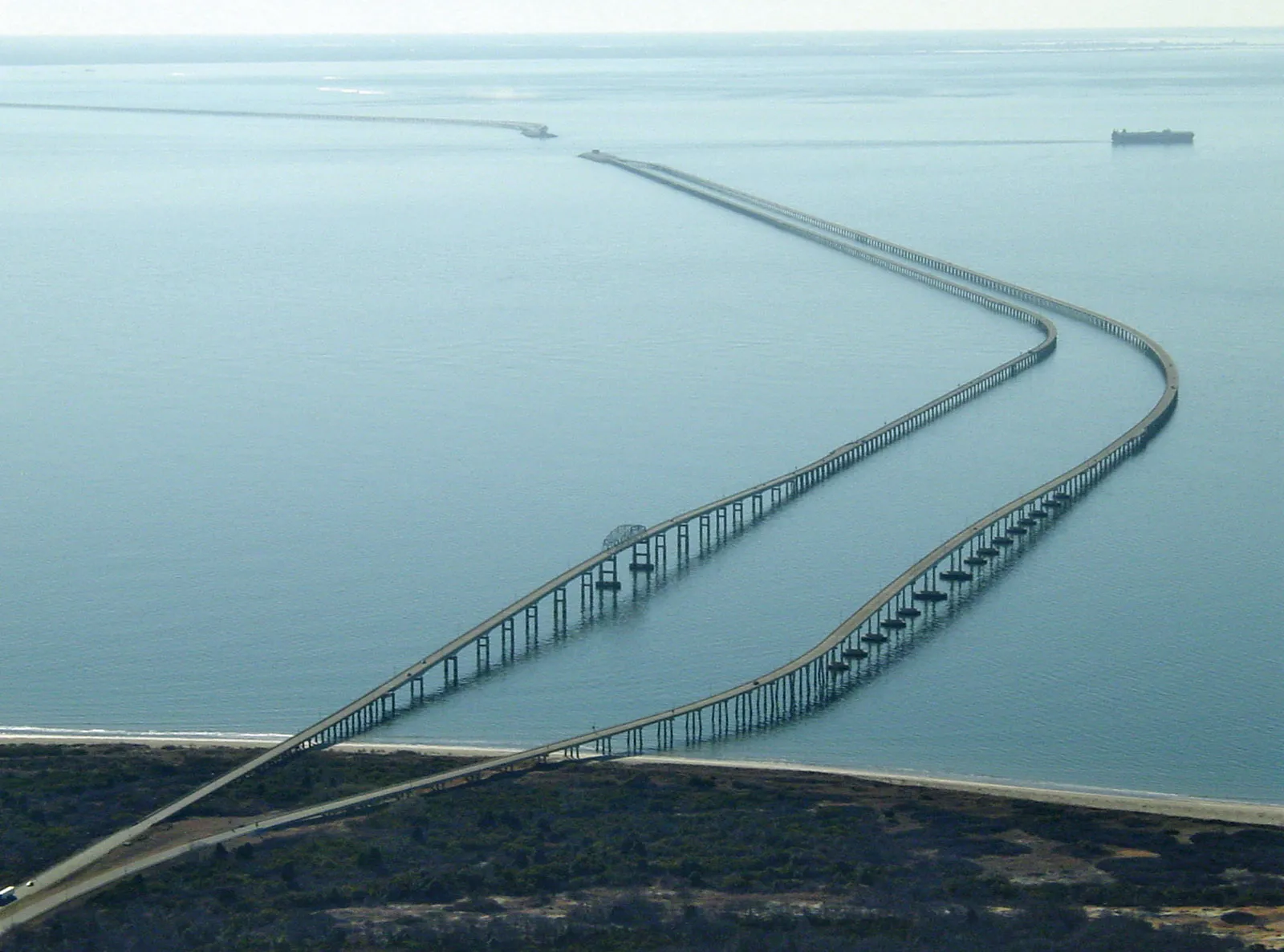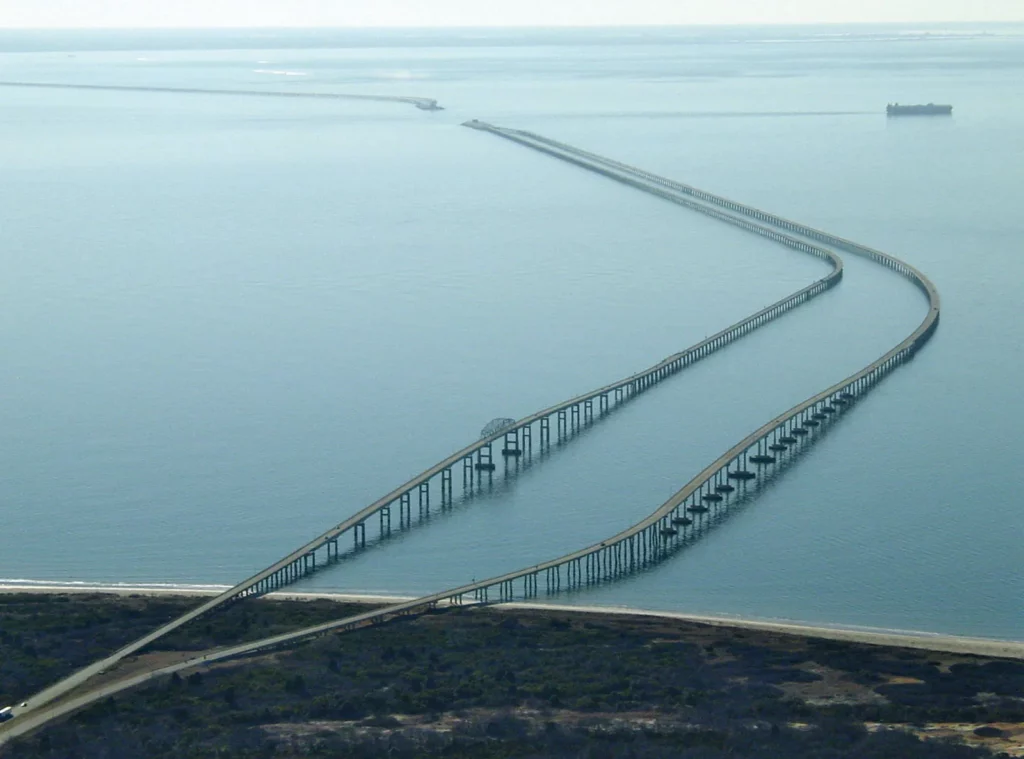 Chesapeake Bay Bridge-Tunnel is a 28 km stretch of incredible engineering linking Delmarva with Hampton Roads in the U.S. state of Virginia. This fantastic bridge offers an unforgettable experience for those who travel across it, allowing them to take in the majestic views of the bay below. Driving over this incredible feat of modern construction is guaranteed to be thrilling!
With its impressive length and well-maintained surface, the Chesapeake Bay Bridge-Tunnel provides travelers with a smooth ride as they go from one destination to another in no time. So if you're looking for an unforgettable journey, head to Chesapeake Bay Bridge-Tunnel – you won't regret it!
10. Donghai Bridge (32.5 km):
Hangzhou Bay, Zhejiang Province, China, is home to the Donghai Bridge. It links Shanghai to the Yangshan Deepwater Port. It is also one of Yangshan Deepwater Port's important supporting projects (Part of Shanghai Port).
On June 26, 2002, the Donghai Bridge was completed. The Donghai Bridge was officially opened on May 25, 2005, with a ceremony. The Donghai Bridge was officially opened to traffic on December 10, 2005.
The Bridge's entire length is 32.5 kilometers, the main bridge is 25.3 kilometers, the deck is a two-way six-lane highway, the design speed is 80 kilometers per hour, and the project's total investment is 7.11 billion yuan (about 1.1 billion US dollars).
11. Hangzhou Bay Bridge (35.673 km):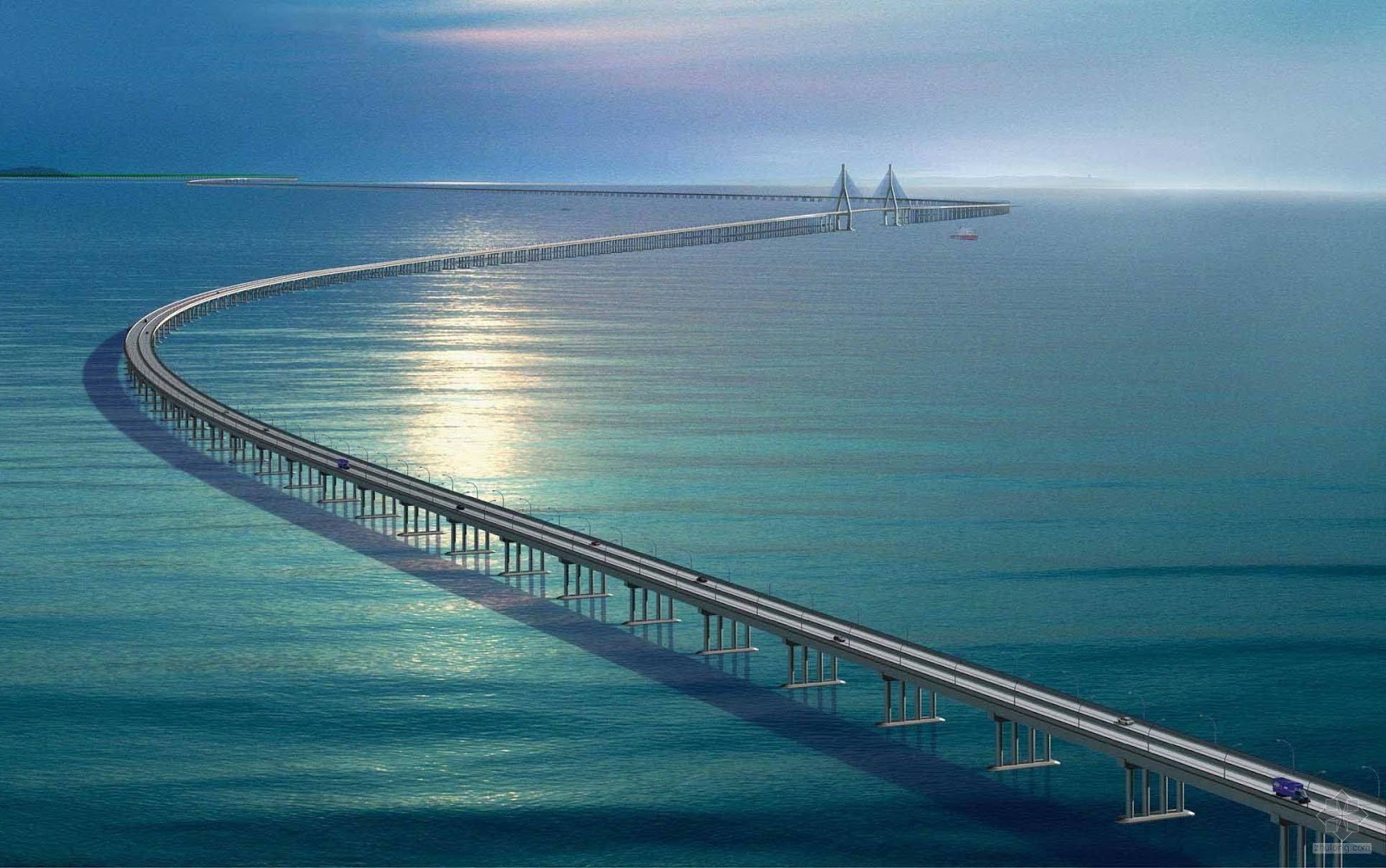 Hangzhou Bay Bridge is an impressive feat of modern engineering in Zhejiang Province, China. Spanning 35.673 km (22 miles) across Hangzhou Bay, the bridge provides travelers with an unforgettable experience as they take in the beautiful views and enjoy a smooth ride from one side of the bay to the other.
The stunning structure was completed in 2008 and has become a popular tourist attraction in the region. Whether driving or taking a boat cruise, crossing Hangzhou Bay Bridge will be an exciting adventure you won't forget!
12. Sheikh Jaber Al-Ahmad Al-Sabah Causeway (36 km):
The Sheikh Jaber Al-Ahmad Al-Sabah Causeway is an impressive 36-kilometre-long road that links Kuwait City with Subiyah in the Middle East. It was opened to the public in 2019 and has drastically improved transportation between these two cities.
With its incredible sea views, this causeway provides a breathtaking experience for those lucky enough to take it. The bridge is visually stunning and exceptionally well-engineered, allowing drivers to make the journey quickly and safely. If you ever find yourself in the Middle East, drive over this magnificent causeway – it's worth it!
13. Qingdao Haiwan Bridge (42.6 km):
Qingdao Haiwan Bridge is a beautiful and impressive structure that stretches 42.6 kilometers (26.4 miles) between Qingdao and Huangdao Districts in China. This incredible feat of engineering was completed in 2011, opening both regions to commerce and tourism.
As you drive over this stunning bridge, you will be treated to breathtaking views of the turquoise waters below. Its winding roads offer an adventure for drivers of all ages who wish to explore what lies beyond the horizon. Whether you're seeking awe-inspiring sights or just looking to get from one place to another quickly and safely, Qingdao Haiwan Bridge is the perfect solution.
14. Hong Kong-Zhuhai-Macau Bridge (55 km)
The Hong Kong-Zhuhai-Macau Bridge is a fantastic feat of engineering! It spans a whopping 55 km and connects the cities of Hong Kong, Guangdong Zhuhai, and Macau in China. This bridge was opened to the public in 2018 after years of construction, connecting these vibrant metropolises in new ways.
You'll experience incredible sea views below as you drive over the bridge. Whether for sightseeing or simply getting around quickly and safely, the Hong Kong-Zhuhai-Macau Bridge is worth taking a trip on.
15. Overseas Highway (171.4 km):
The Overseas Highway in the United States of America is one of the world's longest and most impressive sea bridges. At a total length of 171.4 km, it connects some of the islands of the Florida Keys with mainland Florida. It consists of 42 bridges that span across the ocean and serve as a link between Key West and Miami.
The views along this highway are breathtaking, providing stunning glimpses of the turquoise waters below. Its winding roads offer an adventure for travelers to enjoy as they drive from island to island.
Conclusion
Overall, these 15 bridges are a testament to the incredible engineering feats created by mankind. Despite the various complexities of building bridges across oceans, it is clear that dedicated engineers have been able to construct some of the most impressive structures ever created.
Whether for transportation or tourism purposes, these bridges provide a unique and awe-inspiring experience for anyone lucky enough to see them in person. By admiring these impressive pieces of engineering, we can be inspired to continue pushing the boundaries of what is possible and create even more incredible structures in the future.