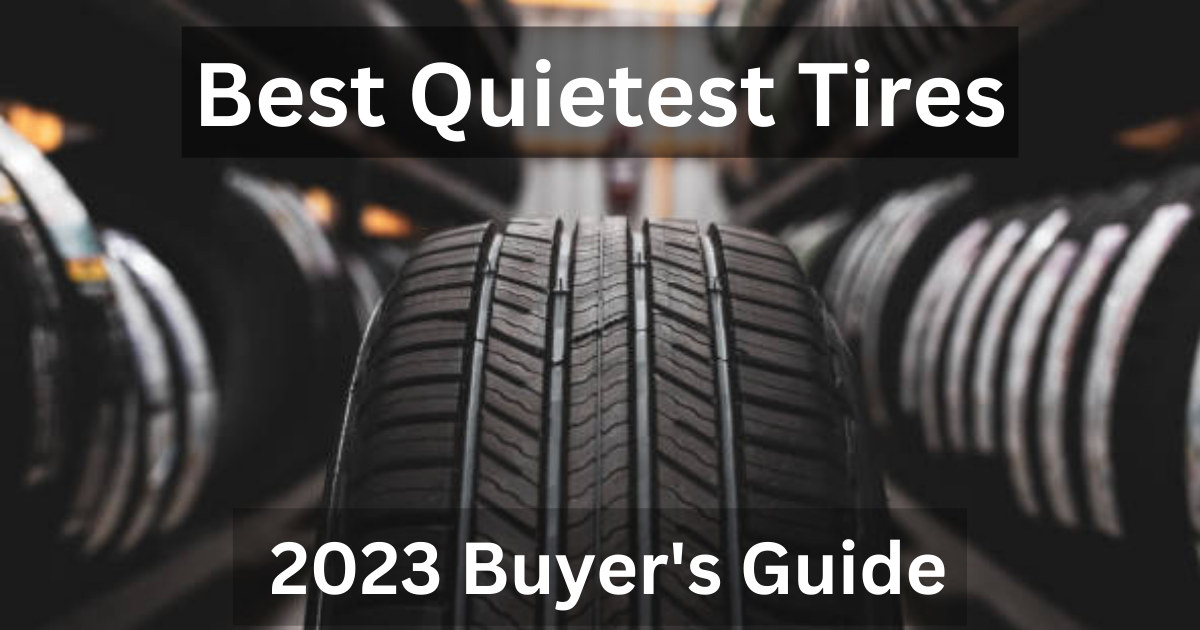 Have you ever been in a car on the highway and felt the noise was intolerable? Additionally, more noise means more distractions, which makes it worse for safety, in addition to the fact that it annoys you. Long travels are also considerably less comfortable with all that loudness, especially after trying to solve the problem with loud music.
The quietest tires are becoming increasingly popular in the US as more drivers want to minimize road noise and improve their driving experiences. Quieter tires are a terrific way to help reduce noise pollution and offer a more pleasant ride with the hustle and bustle of city life.
However, not all quiet tires are created equal, so weighing the advantages and disadvantages of various choices before deciding is crucial. We'll examine more closely the quietest tires on the market in the US, their features and benefits, and what factors to consider when choosing the best tires for your car in this post.
Types of Best Quiet Tires in the Market
Tire noise is one of the most significant aspects when it comes to driving. Nobody enjoys the continual hum of their tires when they are driving. Fortunately, there are several alternatives for silent tires on the market. We have mentioned below some best options to consider.
All-Season Passenger Tires
Passenger tires designed for all seasons are a flexible solution that delivers reliable performance in a range of weather situations while also offering a smooth and quiet ride. The Michelin CrossClimate 2 and Goodyear Assurance WeatherReady are popular options in this group.
Travel Tires
Long-distance driving is made more pleasant and silent by the design of travel tires. To minimize road noise and increase stability, these tires frequently have specific technology like strengthened sidewalls and tread patterns that reduce noise. The Bridgestone Turanza Serenity Plus and Continental TrueContact Tour are two well-liked choices for travel tires.
Tires for Grand Touring
Grand Touring tires are made to provide the ideal combination of comfort, performance, and handling. These tires frequently include cutting-edge designs and materials that offer a comfortable and quiet ride, high grip, and durability. The Continental ExtremeContact DWS06 and Michelin Pilot Sport A/S 3+ are popular choices in this category.
Road Tires
Road tires provide outstanding handling and performance and are made for driving at high speeds on paved roads. These tires frequently include a low profile, rigid sidewall, and unique tread pattern for better handling and less road noise. The Bridgestone Potenza RE-71R and Michelin Pilot Sport 4S are two common choices for road tires.
Tires with high and ultra-high performance
High- and ultra-high-performance tires are made to give the best possible performance in speed, handling, and performance. These tires frequently have a low profile and a broad contact patch for increased stability and unique designs and materials that offer higher grip and responsiveness. The Pirelli P Zero and Michelin Pilot Super Sport are well-liked alternatives in this group.
Crossover and SUV Street/Sport Tires
SUV and crossover street/sport tires were developed for drivers who want the quickness and efficiency of a sports car along with the flexibility and capabilities of an SUV. These tires frequently have a bigger diameter and a unique tread design that offers excellent traction on dry and wet surfaces. The Continental CrossContact LX Sport and Michelin Pilot Sport 4 SUV are popular choices in this group.
All-Terrain Tires
All-terrain tires are designed for drivers frequently encountering rough terrain, including dirt, gravel, and mud. These tires often feature rugged construction and a specialized tread pattern that provides excellent traction and durability on various surfaces. Popular options in this category include the BF Goodrich All-Terrain T/A KO2 and Goodyear Wrangler All-Terrain Adventure with Kevlar.
Our Top Pick for Quietest Tiers
1. Bridgestone Turanza QuietTrack
Tyer Type: Best for All-Weather
The Bridgestone Turanza QuietTrack tire is the most promising one we like in our test. It offers more than low noise. Dry conditions suit the tire. Grand touring tires have more grip and traction than ordinary ones, so you can push them before they break. The tire has class-leading braking distances.
The Turanza QuietTrack, a premium tire, usually performs well in wet weather. Daily driving grip and traction are sufficient. You'll have less breathing room than in dry circumstances, but the tire won't feel inadequate.
While short, some of its competitors perform better. Aquaplaning resistance is good, and the tire stays stable at highway speeds. They work well in winter. Grip and traction are good in shallow snow, so drive cautiously.
Anything rougher will strain the tire. It excels in refinement. Regardless of speed or surface, its noise levels are lowest in class. Modern automobile insulation muffles tire noise. The tire smooths road irregularities, making it comfortable. The cabin won't shake if you hit an enormous pothole.
Key Features
Quieter performance
All-season performance
Pros
Rainproof handling
Wet tarmac brakes quickly
Good light snow handling and braking
Good dry pavement grip
Cons
Not the cheapest.
Damp roads increase braking distances.
2. Michelin CrossClimate 2
Tyer Type: Best for All-weather
It's one of the few all-season/all-weather tires available from Michelin that has a Severe Snow classification, indicating that it has undergone further longitudinal testing for grip on snow. This snow tire is undoubtedly the finest, offering exceptional traction and well-balanced handling.
Also, Michelin's cutting-edge all-season rubber devours harsh conditions, offering superb traction, braking, and shockingly lateral solid grip. The tire is remarkably silent, especially at highway speeds, even though the ride isn't as smooth as what the Turanza QuietTrack gives. This is important since the tire's performance on the highway is adequate.
In our experience, using a set of these tires to go hundreds of miles was not problematic. The CrossClimate 2 isn't flawless; the price is outrageous, and the treadwear warranty is just 60,000 miles (96560.64 km), less than the premium competitors.
Key Features
Offer good Grip
Comfort and quietness
Pros
Excellent dry-road handling and brakes
The finest all-season rain tire
High grip and balanced snow handling
Cons
Some find it costly.
It's a bit noisy.
3. Goodyear Assurance ComforTred Touring
Tyer Type: Grand touring all-season tire
The Goodyear Assurance ComforTred Touring tire is a high-end model featuring an asymmetrical pattern, grooves, and shoulder blocks that provide excellent traction on dry roads. One of the most well-liked and best-selling tires on the market right now is the Goodyear Assurance ComforTred Touring tire, which offers comfort and a quiet ride.
This can be attributed to Goodyear inventing a unique layer of shock-absorbing rubber between the steel belts and treads. It also provides comfort during the ride and isolates you from the noise and vibrations caused by bumps, expansion joints, and other typical road obstacles. Goodyear built this tire with a stronger sidewall for more impact absorption and easier cornering at high speeds.
Key Features
NanoPro-Tech rubber compound for grip
Noise-reducing grooves
Snow-gripping edges
Pros
In both dry and rainy conditions, traction is good.
Outstanding ride quality and stability
Inexpensive
Cons
4. Hankook Optimo H727
Tyer Type: Touring all-season tire
Hankook, with its Optimo H727, is included in our top guide. This tire offers a tranquil riding experience and excellent touring all-season traction. With its Carbon Compounding and Footprint Shape Optimization, the tread design utilizes the most recent advancements in tire technology.
The result is a tread designed to reduce the annoying road noise and tapered lateral grooves. The Hankook Optimo H727 is a tire made for sedans, minivans, and coupes and provides excellent handling and quick steering response. One of the quietest tires on the market, this is reasonably priced and offers superb value.
Key Features
Increased traction with an all-season tread compound
Asymmetric tread pattern to lower noise production
Four water-removal channels around the perimeter
Pros
Performance is excellent on dry roads.
On slick surfaces, and steering response are pretty good.
100 000-mile guarantee
Keeps traction on icy roads
Cons
5. Continental TerrainContact H/T
Tyer Type: Best All-Season Tires
Defender's most outstanding adversary and a tire that outperforms its competitors in many ways is the TerrainContact H/T. For instance, we found it simpler to drive on snow-covered roads, with more robust acceleration traction and much better braking.
Furthermore, the excellent braking, high lateral grip, and sure-footed handling of Continental's highway all-season tire have elevated it to the new rain benchmark in its class. Additionally, Continental was able to get the driest traction possible out of a highway tire at the time (although the numb steering is a minor annoyance).
The comfort of this tire is even more surprising; noise levels are pretty low, and the ride stays comfortable even when you strike a severe pothole. Last, Continental offers a category-leading 70,000-mile (112654.08 km) treadwear warranty on Euro-metric sizes and a 60,000-mile (96560.64 km) warranty on LT-metric sizes.
Key Features
Versatility
Comfort and quietness
Pros
Best wet-road braking
Stiff yet comfy
Long treadwear warranty
Cons
Price is high
Off-roading isn't ideal
6. Yokohama Avid Ascend GT
Tyer Type: Best All-season grand touring tire
When used in dry circumstances, the Avid Ascend GT delivers near-peak performance. The high levels of grip, traction, and stability you experience indicate the tire's status as a grand touring tire, which promises performance.
It's not a performance model but has more features than the average buyer needs. There's also the responsive handling, which is on par with the finest in its field. The Avid Ascend GT performs admirably in light, unconsolidated snow, and wet weather. The tire has exceptional grip and traction, even on wet pavement.
Driving in packed snow is more complex, and it's best to avoid driving in any circumstances at all costs. The tire dampens road irregularities, making riding easy. Driving over a large pothole won't shock or vibrate.
It is inferior to its competitors in terms of warranty. The treadwear guarantee on this tire is 65,000 miles (104607.36 km), longer than what you'll find with specific Michelin models but shorter than what you'll get with Pirelli or Continental.
Key Features
Advanced Tread Design
Adaptive Shoulder Blocks
Pros
Exceptionally Silent
Dynamic Handling
Abundant efficiency in both dry and wet weather
Cons
Common issues include tread life.
7. Yokohama Geolandar A/T G015
Tyer Type: Best Quiet All-Terrain Tires
The Geolandar A/T G015 is quieter than any other all-terrain tire and slightly noisier than a highway all-season tire. Even though Jeep's SUV isn't very quiet, we had no trouble hearing the music when I tested this tire on the most recent Wrangler.
Although the ride is a bit of a mixed bag, we suppose that's to be expected. But the G015 offers so much more; besides performing admirably on paved surfaces, it does well on turf, gravel, and sand.
Furthermore, the on-road traction is excellent; whether it's raining or not, you can rely on this tire. It can compete with the best all-terrain tires regarding driving performance. If it wasn't good enough, packed and unloaded snow, have excellent traction.
Key Features
Off-road and on-road tires.
Biting edges and circumferential grooves
Strengthened puncture resistance
Pros
Good dirt and gravel grip.
Firm grip and braking on the road.
Rain-friendly handling
Cons
8. Continental CrossContact LX25
Tyer Type: Best Crossover/SUV Touring Tires
One of the top all-season tires for crossovers and SUVs, the CrossContact LX20, is improved upon with the CrossContact LX25. Continental once again produced a class-leading tire that will be used as a benchmark for all rivals by making numerous improvements.
For instance, the CrossContact LX25 tire is incredibly pleasant over bumps and easily tolerates minor and significant flaws. There is also practically no tread noise at urban speeds, and the LX25 is barely heard on the freeway. Only a slightly louder thump when it hits sharper potholes bothered us, but that won't happen frequently.
Performance-wise, the LX25 has the finest traction in its class in the rain, with sure-footed turning and predictable behavior at the limit. The situation is the same on dry asphalt, where Continental's touring all-season tire offers excellent braking and lateral traction. Although the steering felt a little dull to us, we don't believe that will be an issue for users of this tire.
The CrossContact LX25 handles, accelerates, and brakes firmly on light snow. Plus, it has Tuned Performance Indicators, which show the driver how much tread depth is left more precisely than its rivals, making it one of the most durable tires in its class.
Key Features
All-Season Performance
Fuel-Efficient
Pros
Even at high speeds, little road noise.
Wet-weather traction and handling
Cons
Expensive
Treadwear issue
Benefits and Drawbacks of Buying These Tires
| Benefits | Drawbacks |
| --- | --- |
| Relaxed driving | Some performance and handling issues |
| Vehicle noise reduction | They are not as grippy as louder tires. |
| Reduced road noise for residents. | Less durable than louder tires |
| Increased fuel efficiency | High-priced tires |
Frequently Asked Questions (FAQs)
Does tire wear make them noisier?
Despite having more minor grooves, worn tires typically make more noise. The cause is irregular wear, which can convert even the most noise-free tire into a noisy mess.
Additionally, the rubber tends to become louder as it loses elasticity, which can also affect refinement. Most high-end tires, especially those with exceptionally long tread life and high-quality tread compound, should stay quiet over time.
Will regular tire rotation keep the tires from becoming noisy?
Absolutely! Rotating the tires can significantly reduce the problem because they get louder with uneven wear. In light of this, I advise rotating the tires every time you get your oil changed every 5,000 to 8,000 miles (8046.72 – 12874.75 km), depending on the vehicle – ask the technician to take care of it for you!
Are brand-new tires noisier?
The first time you use your new tires, they could be extremely noisy. The lubricants can't disperse themselves throughout the tire, which is the cause. In addition, the rubber is too stiff and incapable of adapting. But after a few instances, this unpleasant phenomenon may stop. After extensive use, if the noise persists, it may be time to think about tire repair.
Conclusion
In conclusion, tire noise may be a severe problem for drivers, distracting them and lowering their comfort level. The quietest tires are gaining popularity in the US because they reduce road noise and provide a more comfortable ride.
All-season passenger tires, travel tires, grand touring tires, road tires, high- and ultra-high performance tires, crossover and SUV street/sport tires, and all-terrain tires were some of the tire types and their qualities that were covered in the article.
Along with their features, advantages, and disadvantages, Bridgestone Turanza QuietTrack and Michelin CrossClimate 2 are our top two choices for the quietest tires on the market. When choosing a tire, it is essential to consider the vehicle's driving conditions and intended use. When selecting tires, it is necessary to remember that quieter tires can significantly improve driving comfort.