The Toyota Tacoma and 4Runner are two of the most sought-after four-wheel-drive cars worldwide. Since the beginning of the mid-size truck market, the Tacoma has been the most popular model. The 4Runner, on the other hand, is the most well-known 4×4 (off-road) SUV produced by a non-American carmaker.
Although these two Toyota utility vehicles aren't in direct competition with one another, they are both mid-sized and capable of towing, hauling, and navigating rugged terrain. Both the Tacoma and the 4Runner are excellent options if you need a midsize pickup that can handle any terrain and won't let you down when the going gets rough.
The primary difference between the two is their appearance, but they each have some key benefits that might make you choose one over the other. Below, we will compare the salient features of the Toyota Tacoma and 4Runner, to determine which is better than the other.
Cabin Area
Tacoma:
Tacoma: The front of Tacoma's cabin is spacious. It has 39.7 inches (1,008 millimeters) of headroom, compared to 39.3 inches (998 millimeters) in the 4Runner. It also has more headroom and hip room, with 57.2 inches (1,452 mm) compared to 56.6 inches (1,437 mm) and 42.9 inches (1,089 mm) compared to 41.7 inches (1,059 mm). In terms of front and rear shoulder room, it performs better than the 4Runner by almost an inch on either end.
Related: 12 SUVs With Most Hip Room | Ultimate Guide
4Runner:
The 4Runner, however, has a slight edge in most of the second-row dimensions. It provides 38.6 inches of back headroom in comparison to Tacoma's 38.3 inches (973 mm). It also has nearly an inch more hip room (56.3 inches (1,430 mm) and 32.9 inches (836 mm) of legroom, which is 0.3 inches (8 mm) more than the mid-size vehicle.
Additionally, while the third row of seats in the 4Runner is somewhat cramped and the Tacoma lacks a third row, the SUV has a clear lead in terms of passenger capacity.
Cargo and Towing Capacity
Tacoma:
Since there is no roof in the way, Tacoma has a substantially larger load capacity. A large television in its box will likely not fit in the 4Runner's rear cargo space due to the vehicle's roofline, but it will fit readily in the Tacoma's bed, especially if you choose the truck's optional six-foot bed.
Longer objects that won't fit inside an SUV, such as lumber, ladders, or other equipment, can also be transported with ease. The V6-equipped Tacoma can tow up to 6,800 lb (3,084 kg), but the 4-cylinder model can only manage 3,500 lb (1,587 kg).
4Runner:
The pickup is always the better option if you are moving heavy loads, but the enclosed cabin of the 4Runner offers more safety if you are hauling smaller, more fragile objects. The covered storage in the back of the Toyota SUV keeps things safe from the weather and burglars. Behind the third row, there is 9 cu ft (254 liters) of baggage space, which increases to 46.3 cu ft (1,311 liters) with the third row down.
Also, if you have a lot of small cargo, like if you are helping a friend move their small things to a new home, the second-row seats of the 4Runner fold flat to give you 89.7 cu-ft (2,540 liters) of luggage space. All 4Runners have a 5,000 lb (2,267 kg) towing capacity rating.
Technological Features
Tacoma:
The Tacoma SR has cloth seats with four-way manual adjustment for the front seats, while the SR5 versions have a 10-way power adjustment for the driver's seat. SR5 variants have a leather-wrapped steering wheel with Bluetooth controls. The TRD Sport and TRD Off-Road versions have fabric seats with 10-way motorized driver's side adjust, but you may upgrade to leather.
Additionally, the Tacoma Limited and TRD Pro have leather-trimmed, heated seats with 10-way power driver adjustment and 4-way manual passenger adjustment. There are two different infotainment options for the Toyota Tacoma. The SR has a 7-inch touchscreen, but the SR5, TRD, and Limited models all have an 8-inch touchscreen.
All of the models also have Bluetooth connectivity, SiriusXM, Android Auto, Apple CarPlay, and Amazon Alexa compatibility. Tacoma SR models have a basic four-speaker sound system, while the SR5, TRD Sport, and TRD Off-Road models have a six-speaker sound system.
Every new Toyota Tacoma comes equipped as standard with a 4.2-inch LED information screen in the center of the analog gauge cluster, front dual-zone temperature control, remote keyless entry, and a tilt/telescoping steering wheel with audio controls.
4Runner:
In the SR5, Trail Special Edition, and TRD Off-Road trims, the 4Runner has cloth seats with an 8-way power-adjustable driver's seat and a 4-way manually-adjustable front passenger seat, a 40/20/40 split second-row bench, and a 50/50 split third-row bench. Cargo space can be increased by folding down the second and third rows of seats.
All of the premium variants, including the SR5 Premium, TRD Off-Road Premium, Venture Edition, and TRD Pro, include heated front seats and the same design of seats but are covered in SofTex synthetic leather. The Toyota 4Runner is equipped with an 8-inch touchscreen Entune infotainment system.
The 8-inch screen in the SR5 and Trail Edition models is paired with eight speakers, while the Premium Audio option adds Dynamic Navigation and 11 speakers. Other standard features of the 4Runner include a backup camera with a projected path, a leather-trimmed tilt/telescoping steering wheel with audio and Bluetooth controls, two 12-volt power outlets, four USB ports, and a 120-volt power outlet in the cargo area.
Engine Power
Tacoma: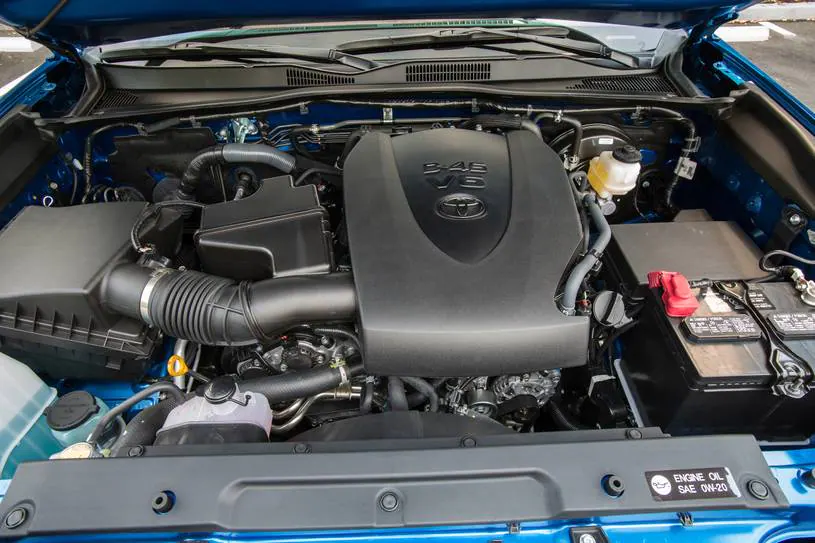 The Toyota Tacoma is offered with two different engines, two different transmissions, and either rear- or four-wheel drive. The SR and SR5 come standard with a 2.7-liter 4-cylinder engine producing 159 hp and 180 lb-ft of torque, mated to a 6-speed automated gearbox. This engine is available with either rear- or four-wheel drive.
The 3.5-liter V6 engine, which is available for the SR and SR5, has 278 horsepower and 265 lb-ft of torque. It is paired with either rear-wheel drive or four-wheel drive and comes with a standard 6-speed automatic transmission.
For the Tacoma TRD Sport and TRD Off-Road, the 3.5-liter V6 with the 6-speed automatic is standard, but you can still choose between rear-wheel-drive and four-wheel-drive. These cars' four-wheel-drive configurations are compatible with the 6-speed manual gearbox.
For the Tacoma TRD Pro, you can also choose between an automatic or manual gearbox with the V6, but four-wheel drive comes standard with that version. Honestly, it seems weird that the TRD Off-Road model doesn't come standard with four-wheel drive because who would buy a rear-drive off-road model?
4Runner:
The Toyota 4Runner has just one engine option, a 4.0-liter V6 producing 270 horsepower and 278 lb-ft of torque. In all models, this engine is paired exclusively with a 5-speed automatic gearbox. However, there is one powertrain configuration option available for certain models.
While the TRD Off-Road, TRD Off-Road Premium, Venture Special Edition, and TRD Pro come standard with four-wheel-drive, the SR5, Trail Special Edition, SR5 Premium, and Limited trim levels can be selected in either rear-wheel-drive or four-wheel-drive.
Fuel Efficiency
Tacoma:
The Toyota Tacoma has a range of fuel efficiency ratings depending on the engine, gearbox, and drive arrangement, but every single one of them is better than the 4Runner. Rear-drive 4-cylinder Tacomas are rated at 20 mpg in town and 23 mpg on the highway, while rear-drive V6 trucks are rated at 19 mpg in town and 24 mpg on the highway.
When four-wheel drive is added to a 4-cylinder truck, the ratings are only reduced to 19 city and 22 highway, while four-wheel drive V6 versions receive 18 mpg (14.8 L/100 km) in the city and 22 mpg (12.5 L/100 km) on the highway. The rugged off-road models with the manual gearbox get 17 mpg (13.8 L/100 km) and 21 mpg (11.7 L/100 km), which is less than the similar truck with an automatic gearbox but better than the 4Runner.
4Runner:
On average, the Toyota 4Runner gets 16 mpg (14.8 L/100 km) in town and 19 mpg (12.5 L/100 km) on the highway. These figures apply to both four-wheel drive and rear-wheel drive versions.
Safety Features
Tacoma:
The Tacoma comes with the Star Safety System as a standard feature. This system includes Vehicle Stability Control, Traction Control, Anti-lock Brake System with Electronic Brake-force Distribution, Brake Assist, and Smart Stop Technology. The Toyota Safety Sense system also features Dynamic Radar Cruise Control, Automatic High Beams, Lane Departure Alert, and Pre-Collision System with Pedestrian Detection.
The Tacoma also comes standard with the Tyre Pressure Monitor System, an engine immobilizer, ToyotaCare with Roadside Assistance, driver and front passenger active headrests, driver and front passenger seat-mounted side airbags, driver and front passenger knee airbags, front and rear Roll-sensing Side Curtain Airbags and driver and front passenger knee airbags. Optional safety features on the Tacoma include the Blind Spot Monitor with a Back Cross-Traffic Alert system and a sonar-based back parking assist system.
4Runner:
Along with all the features described above for the Tacoma, the Toyota Safety Sense and Star Safety Systems are standard on the 4Runner. The 4Runner differs from the Tacoma in terms of airbag count, primarily because of the larger SUV's cabin.
The 4Runner includes a total of eight airbags, including roll-sensing side curtain units in every row, driver and front passenger knee airbags, and TAP (Thorax, Abdomen, Pelvis) front seat-mounted side airbags. The 4Runner also includes side-impact door beams, a Tyre Pressure Monitor System, Daytime Running Lights (DRL) with a manual on/off feature.
It also has driver and front passenger active headrests, driver and front passenger seatbelt pre-tensioners with force limiters, three-point seatbelts for all seating positions, child-protector rear door locks, power window lockout and an anti-theft system with engine immobilizer as standard equipment. Sonar-assisted front and rear parking is the only optional safety feature available for the 4Runner.
Shape and Styling
Tacoma:
The 4Runner is taller and wider, but the four-door Tacoma is generally longer and has a larger wheelbase. It has similar but bigger, LED-trimmed headlights that point towards the grille.
However, the grille on the Tacoma is much bigger than that on the 4Runner, taking up most of the front end. The fog lights are also held by a narrow lower grille that extends outward to the corners of the car.
The Tacoma has flared wheel openings along the sides, with an upward slant at the rear that is reflected in the side windows. Although Tacoma's windows are smaller than those of the 4Runner, this mid-size pickup truck still provides good visibility. The Tacoma also sports clear-lens LED taillights at the back.
4Runner:
Compared to trims of a similar size, the 4Runner is broader and taller, with angular and LED-trimmed headlights that point inward towards a narrow upper grille. The bottom grille aperture is significantly wider, and it is flanked by two C-shaped vents that house the fog lights.
The flared wheel openings on the sides have a squared appearance, enhancing the 4Runner's tough aspect. Black pillars, black trim, and tinted rear windows give the vehicle a sportier appeal. The sportiness is carried over to the rear with a low-sitting spoiler that extends from the roofline and two transparent taillights with LED inlays.
Cost
Tacoma:
The starting price of the standard SR trim of the 2023 Toyota Tacoma is $27,250. The SR5 starts at $29,040, the Limited model at $40,05, and the Trail Special Edition at $40,470. A TRD Sport starts at $34,160, a TRD Off-Road at $35,440, and the TRD Pro, the top of the line, at $46,685.
4Runner:
The "base" trim level for the 4Runner is the SR5, which starts at $40,155. The SR5 Premium version starts at $43,215. The 4Runner TRD Sport starts at $43,015, and the 4Runner TRD Off Road starts at $44,000.
Final Verdict: Which One Is Better?
If you are comparing the Toyota Tacoma with the Toyota 4Runner and your main concerns are having more than five seats or being able to move cargo in limited space, the 4Runner is the best choice for you. However, if you don't need to carry more than five passengers and have little storage needs, the Tacoma is a great choice.
With a far lower starting price, the Tacoma has significantly more power, greater capability, better fuel efficiency, and more advanced interior technology. Even though they have different features, similar trims of the Tacoma cost less, so when you buy a 4Runner, you're really just paying for more interior space.
So, Tacoma is the better option if you don't want to pay more for any extra space. The choice eventually comes down to personal needs and preferences. We have provided a detailed comparison of both vehicles, so you can choose the one that fits your needs more precisely.