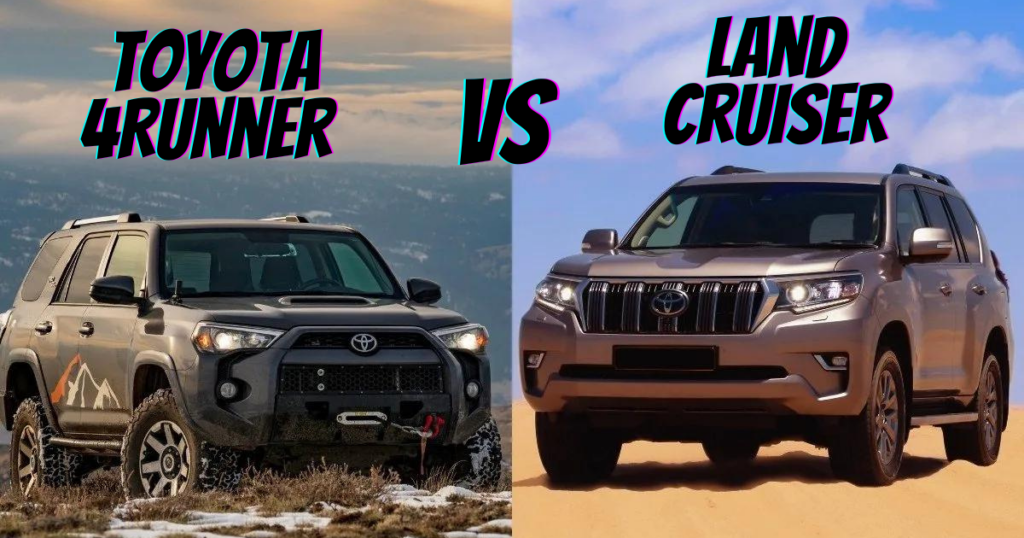 Toyota has built many great vehicles over the years, but the 4Runner vs. Land Cruiser is one of the most interesting debates ever. Toyota is known as a company that makes reliable, long-lasting cars. 4Runner and Land Cruiser are two of the best examples of Toyota's commitment to quality and excellence.
The debate over a 4Runner vs. a Land Cruiser is not easy. Both models hold their worth very well, with Toyota's whole lineup ranking first in terms of resale value after five years. The following list compares some of the major differences between the 4Runner and Land Cruiser in Toyota's SUV lineup so you can choose which one is best for you.
History of Toyota 4Runner:
The Toyota 4Runner has always been a tough terrain truck. The two-door, four-wheel-drive mid-sized SUV has drawn attention since it first rolled off the assembly line in 1984 because of its exceptionally high ground clearance. By the mid-1980s, consumers were increasingly interested in purchasing the most luxurious SUVs available, and Toyota sought to meet this demand.
The 4Runner was created by placing a fiberglass shell over the Toyota Hilux pickup truck bed and a second row of rear seats. The SUV market grew in the 1980s as families needed a vehicle to transport kids, dogs, and household goods.
Twenty years later, Toyota introduced four different generations of the 4Runner. By the late 1990s, Toyota was selling more than 100,000 4Runners annually in the US. Due to the popularity of the preceding four generations of the 4Runner, Toyota unveiled a fifth-generation 4Runner in 2009.
History of Toyota Land Cruiser:
With more than 10 million vehicles sold globally, the Toyota Land Cruiser has a long and distinguished history as Toyota's longest-running line of SUVs. Although the Land Cruiser's production started in 1951, the Japanese car's roots go back much further.
When the Japanese Imperial Army invaded the Philippines in 1941, soldiers immediately discovered an American Jeep and sent it back to Japan. The Japanese military instructed Toyota to produce a similar vehicle with slightly distinct designs.
Toyota created a Model AK prototype. The prototype later developed into the 1951 Toyota Jeep BJ. Willys Company, which made the first Jeep, eventually sent a trademark infringement notice to Toyota. Director of Technology Hanji Umehara quickly named the Toyota car the Land Cruiser.
Related: Why Toyota Are So Reliable?
Land Cruiser vs Toyota 4Runner: Major Differences
Here is a list of some of the major differences between the Toyota 4Runner and Land Cruiser:
Appearance:
At first appearance, the 4Runner and the Land Cruiser appear to be extremely similar; however, the Land Cruiser is significantly larger in height, width, and length. Only two trim levels of the Land Cruiser are available, while the 4Runner provides nine.
The 4Runner's TRD and Trail Special Edition models offer some impressive off-road features. With the Land Cruiser, you receive front and rear frame-mounted tow hooks, front and rear mudguards, and skid plates on either model.
Engine Performance:
Regarding off-roading, both SUVs can handle themselves admirably, but the Land Cruiser has a little edge over the 4Runner. The 4Runner's 4.0-liter V-6 engine produces 278 pound-feet of torque and 270 horsepower under the hood.
The Land Cruiser boasts a more potent 5.7-liter V-8 engine that can produce up to 381 horsepower and 401 pound-feet of torque. The Land Cruiser connects its engine with an eight-speed electronically controlled transmission, whereas the 4Runner has an electronically controlled five-speed transmission.
Comfort Features:
When you choose the 4Runner, you'll benefit from comfort features like fabric or SofTex-trimmed seats, a center console with storage, and an optional sliding rear load deck with underfloor storage. All-weather floor mats and an auto-dimming rearview mirror are two additional luxuries available on higher trim levels.
On the other hand, the Land Cruiser comes equipped with four-zone climate control, perforated leather-trimmed seating surfaces, a heated leather-trimmed steering wheel, a leather-trimmed shift knob, and a center console with a cooler box.
Technological Advancements:
Both of these SUVs are equipped with a ton of cutting-edge technology features. The 4Runner has an 8-inch touchscreen with Bluetooth wireless connectivity, Apple CarPlay, and Android Auto compatibility.
The Land Cruiser has a 9-inch touchscreen with built-in navigation to assist you in getting where you need to go. Additionally, this model boasts a 14-speaker JBL audio system, Siri Eyes Free, and a sophisticated voice recognition system.
Safety Features:
The 4Runner and the Land Cruiser are equipped with Toyota Safety Sense P as standard. This safety system has useful driver aids like lane departure warnings, automatic high beams, dynamic radar cruise control, pedestrian recognition, and a pre-collision system.
But, Land Cruiser is your best bet if you're looking for an SUV with features like blind-spot monitoring, rear cross-traffic alert, front and rear parking assist, and a backup camera with a projected path.
Drive Train:
The 4WD powertrain is standard on the Land Cruiser variant; however, it is unavailable on any 4Runner trims. A 4Runner's system runs on a part-time basis. On rough terrain, the 4Runner's driver must change gears to send torque to all four tires. On the other hand, the Land Cruiser can transfer its power to each of its four wheels without the driver's assistance.
Resale Value:
You might be wondering why used Toyota 4Runners cost so much. It's because the 4Runner has a stellar reputation for longevity, reliability, and durability. They maintain their value very well because you could drive a 4Runner for decades.
In recent years, the price of a used 4Runner has increased dramatically. The greatest first-generation 4Runners may be purchased for roughly $30,000, and decent versions can be sold for between $10,000 and $15,000. Prices for used 4Runners have been quite high, and these trends do not appear to be changing any time soon.
Collector Land Cruisers in excellent condition are very expensive. The price of a well-maintained classic 4Runner from the 1970s and 1980s can reach over $60,000 in some cases.
Related: 10 Reasons Why Land Cruisers Are So Expensive
Off-Road Prowess:
When comparing off-road capabilities, the Land Cruiser is clearly superior to the 4Runner. Both vehicles have Multi-Terrain Control (MTC), which allows them to maneuver effortlessly on off-road surfaces and to rule steep terrain. However, Land Cruiser vehicles are equipped with an underbody camera to detect roadblocks in the distance. It makes traversing difficult terrain safer and more comfortable.
The self-leveling KDSS adjustable suspension of the Land Cruiser also enables instantaneous ride height adjustment. On the other hand, this suspension is exclusive to the 4Runner TRD and TRD Premium levels.
Size and Interiors:
The Toyota 4Runner is more compact and easier to use with its smaller size. Additionally, it makes going off-road simple, which is great for adventurers. But if you want a larger SUV with more luxury features, you should choose the Land Cruiser. Compared to the 4Runner, which seats five passengers, it is bigger, has more features, and has a maximum capacity of eight.
The seats, steering wheel, and shift knob of the Toyota Land Cruiser are all constructed of premium leather. Additionally, there is a center console and four-zone climate control. If you want your off-road journey to be as comfortable as possible, the Land Cruiser is the right choice.
Cost:
The 2023 Toyota 4Runner's Manufacturer Suggested Retail Price (MSRP) is $41,490 for the basic SR5 variant with a destination fee. Prices will rise as you add extras or select trim with more features. While a brand-new Land Cruiser costs more than $89,888, a superb used car may be found at a fraction of that price.
Related: 10 Reasons Why Pickup Trucks Are So Expensive
Frequently Asked Questions
Which is cheaper to maintain?
The 4Runner is less expensive to maintain and acquire replacement parts than the land cruiser because it is not a luxury model.
Which one is best for towing and highway driving?
The Landcruiser is better if you frequently need to tow anything weighing more than 4000 pounds, and it performs better on highways as well. If you want to buy an SUV primarily for towing and highway driving, go with a Suburban or Ford Expedition and save money.
Do you need to modify Land Cruisers to go off-road?
You can, but why bother? The Landcruiser is already a capable off-road car, so you don't need to add anything to improve it.
Verdict: Which One is Better?
Both the 4Runner and the Land Cruiser are off-road vehicles made to carry the driver across various terrain types. However, choosing between these two cars is largely influenced by their prices. The Land Cruiser seems more opulent and comes with a lot of high-end amenities as part of the basic package.
If you don't mind the cost, the Land Cruiser is a better choice for a larger family looking to go on an off-road adventure without sacrificing comfort. These luxurious Toyota SUVs include the amenities necessary to ensure you enjoy every mile of your travels and arrive at your destination in style. So, the final choice comes down to personal needs and preferences.