What is a crate engine?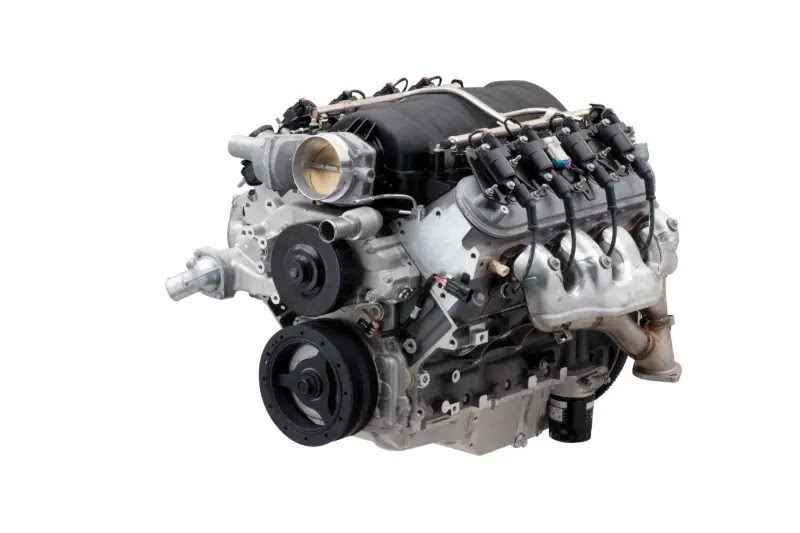 Crate engines are standalone engines that are produced without cars usually. Some crate engines are the same V8s used in muscle car production, while others are unique engines that have never been sold on the road. Crate engines are popular among enthusiasts who want to use them in muscle cars or classic automobiles.
The Big Chevy Crate!
This is the largest and most powerful crate engine that Chevrolet has ever produced, the ZZ632/1000. 1,004 horsepower and 876 lb/ft of torque are available from the naturally aspirated V-8 engine's 632 cubic inch displacement.
According to Chevrolet, at 6,600 rpm, the Big Block V-8 produces 1,004 horsepower and should be revved no higher than 7,000 rpm. Chevrolet also added that the eight-port injectors pour the fuel into the engine, and the engine breathes via CNC-machined high-flow aluminum cylinder heads whose specifications are all identical to ensure that they all deliver identical power."
Biggest, baddest crate engine from Chevy
Although the ZZ632 shares a mold with the ZZ572 crate engines used in the Chevrolet Performance COPO Camaro, the castings have been modified to handle the large 632-cubic-inch displacement. Compared to the 572-cubic-inch V-8s, the bores enlarged by 0.040 inches, with the majority of the displacement gain coming from a 0.375-inch longer stroke! The engineers changed both the block and the connecting rods to offer enough space for such a lengthy stroke. Four-bolt main caps assure long-term strength and durability.
ACCORDING TO A PRESS STATEMENT FROM CHEVROLET, the ZZ632/1000 was tested on a dynamometer for more than 200 simulated drag-strip runs. The new crate engine will be on exhibit at the 2021 SEMA show, which will be held at the Las Vegas Convention Center in a few weeks. The price of the new engine has not yet been announced, but the rumors say it will be sold for about $16,000. The business has stated that deliveries would begin early next year. Thus the price of the monster engine can't be too far away from being announced.
According to GM Performance and Racing Propulsion Team Director Russ O'Blenes, this is the largest and most powerful crate engine we've ever developed. "The ZZ632 is the crown jewel of our crate engine collection, delivering the ultimate in performance. An astounding amount of horsepower, and it does it on regular gasoline."
Internal combustion engines are being phased out in favor of electric vehicles by parent firm GM by 2035. Earlier last month, the business unveiled its new Ultium family of electric motors, which will power the electric Hummer with 1,000 horsepower.
Chevrolet Performance ZZ632 Crate Engine Specs:
Displacement: 632 cu in (10,348cc)
Bore x Stroke: 4.60 x 4.75 in
Compression Ratio: 12.0:1
Power: 1,004 hp @ 6,600 rpm
Torque: 876 lb-ft @ 5,600 rpm
Maximum Recommended Engine Speed: 7,000 rpm
Block: Tall Deck 632 Bowtie Sportsman, cast
Cylinder Heads: RS-X Symmetrical Port, CNC-machined aluminum
Crankshaft: Forged steel
Connecting Rods: Forged steel
Pistons: Forged aluminum
Fuel: Electronic port injection