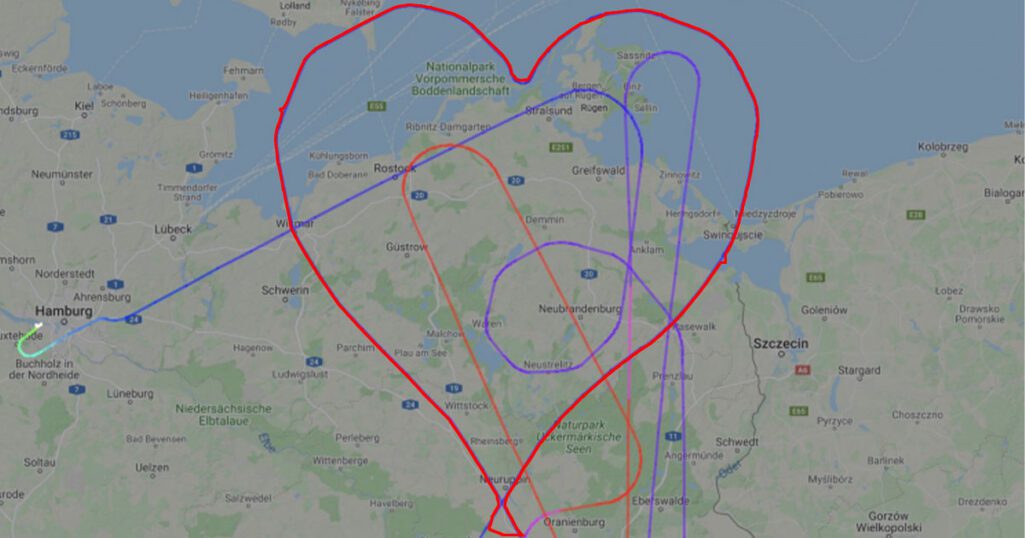 This superjumbo holds a unique place in many aviation enthusiasts' hearts, and when the last of its kind performed its final test flight, it reflected love with a message in the sky.
On December 13, Airbus' Hamburg-Finkenwerder Airport facility hosted the final pre-delivery flight of the world's largest passenger aircraft, which took off for a tour of northeastern Germany.
FlightRadar24, a company that provides real-time flight monitoring, noticed the pilots' unusual route: they traced the form of a heart.
Since March, the MSN 272 craft has been in Hamburg, Germany, where it is undergoing final testing and fitting up the cabin and painting the livery.
Emirates, the airline's largest client, will get the plane this month. At up to 853 passengers per flight, the Airbus A380 is the world's largest mass-produced civil aircraft, created at the cost of $25 billion.
Almost 250 A380s have been produced in Toulouse since the superjumbo's initial delivery to Singapore Airlines was made in 2007. This writing has been over three years since Airbus stated that the plane will be phased out.
Despite this, carriers such as Singapore Airlines and British Airways have returned their superjumbos to operation. Thus A380s will remain in our skies for the near future.
According to a CNN story, 1,500 different firms worked together to build this superjumbo airplane. A total of four million parts purchased from over 30 countries went into the construction of each aircraft. Hundreds of people gathered to see the last procession of these parts to the Final Assembly Line (FAL) in France, hoping to gain a glimpse of the common occurrences that occurred while manufacturing was ongoing.