After 12 years on the market, the Chevrolet Avalanche, the ideal blend of truck and SUV, was finally phased out. In this article, We review its first and second generations (2002–2006 and 2007–2013) and pick our best and worst years for you.
The 2002-2005 and 2007 models are the worst Chevy Avalanche years. The best model years of Chevy Avalanche include 2006, 2008-2013. This result was concluded from trustworthy sources such as NHTSA, Edmund, JD Power, and Kelley Blue Book reviews.
What Are The Worst Years Of Chevy Avalanche?
The article will begin by examining the details of the worst possible models. They are so fraught with problems that you shouldn't even consider them.
#5 Worst Year: 2005 Chevy Avalanche (3.82 Rating)
The 2005 Avalanche has a poor reputation due to its numerous issues. This model's transmission was a frequent failure point, just like in the 2004 version. Several drivers have reported transmission failure. Moreover, passengers were uneasy whenever their vehicles jerked due to transmission issues. Repairing these issues will set you back about $2,600.
The interior design was also criticized for being a source of irritation. If you plan to acquire a 2005 Avalanche, you'll experience being trapped somewhere because they regularly stall. Even though the automobile looks fantastic, driving it is a frustrating experience.
Reviews, Ratings, Recalls & Complaints:
#4 Worst Year: 2007 Chevy Avalanche (3.61 Rating)
CarComplaints claims 2007 is the worst model year and that excessive oil consumption is the primary issue with this model. It is also more expensive than similarly equipped SUVs and trucks with the same mileage.
Throttle body failure due to faulty motor sensors is another issue to consider. The issue is not resolved by simply keeping the throttle body clean. The sensor is the root cause of the problem. Other than that, there is a very concerning problem with this model year is the dashboard cracking.
Reviews, Ratings, Recalls & Complaints:
#3 Worst Year: 2004 Chevy Avalanche (3.44 Rating)
This list includes 2004 models because of an issue with the transmission failing prematurely. Fixing this issue would cost too much money and negatively impact the owner's experience.
The heating and cooling systems also received negative feedback. Another common complaint is a faulty axle bearing. Many customers complain that the car generates a lot of noise whenever the gear is changed.
Reviews, Ratings, Recalls & Complaints:
#2 Worst Year: 2003 Chevy Avalanche (3.27 Rating)
Because it was released a year after the poorly received 2002 model and didn't improve, the 2003 Chevrolet Avalanche is another horrible truck. This model has severe braking issues. Sometimes brakes wear out too quickly. A rusty brake line is another potential issue.
In addition to these, the model's speedometer is severely flawed. Inaccurate readings have led to unwanted traffic and speeding accidents. There were issues with the car's interior amenities as well.
Reviews, Ratings, Recalls & Complaints:
#1 Worst Year: 2002 Chevy Avalanche (3.25 Rating)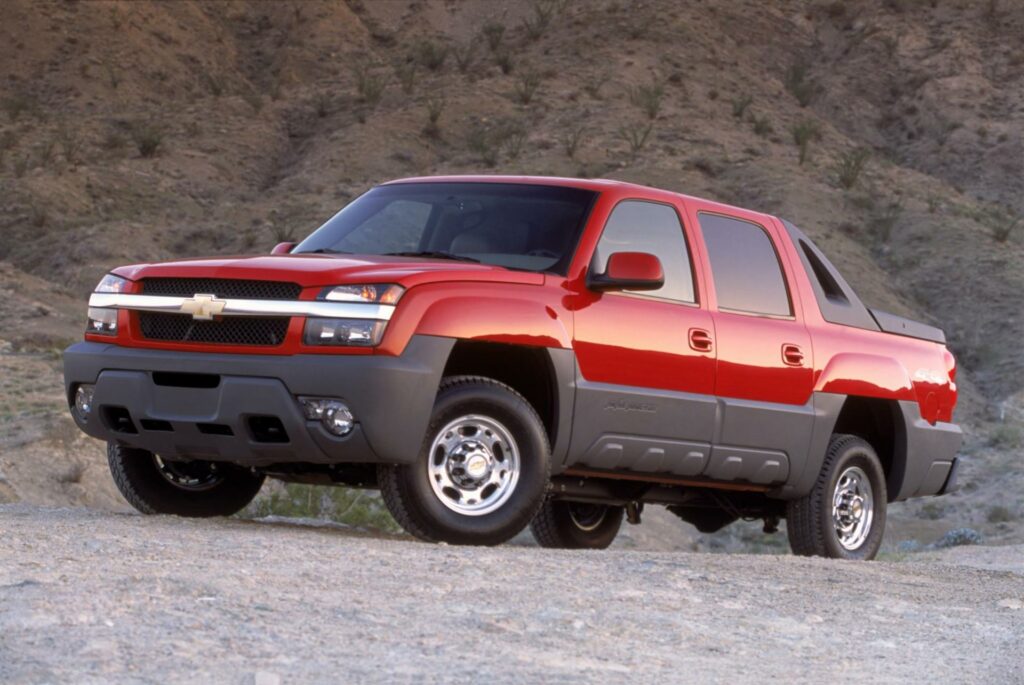 The 2002 Chevrolet Avalanche is not only one of the earliest but also one of the poorest models of the pickup truck. There were so many problems that it was almost impossible to use. The 2002 model should be avoided primarily because of its faulty braking system.
The Avalanche's exterior finish often looked worn and shabby. After being subjected to heat and sunlight, the paint layer flaked off and looked powdered. Users have reported transmission and gear issues. There have also been reports of leaking panels.
Reviews, Ratings, Recalls & Complaints:
What Are The Best Years Of Chevy Avalanche?
We've finally reached the meat of the piece. With the Avalanche, Chevrolet scored big with a few different models. Here, we'll break down what makes those specific model years best.
#7 Best Year: 2008 Chevy Avalanche (4.01 Rating)
So far, many consumers have encountered comparatively fewer problems with this vehicle. It drives amazingly well. Moreover, the whole family has plenty of room, and the vehicle's superb comfort makes it the best pick. Power windows, locks, and excellent speakers are standard features.
Both the 5.3-liter and 6.0-liter V-8 Avalanches with rear-wheel drive have a maximum towing capacity of 8,000 pounds, which is great for a truck.
The truck's bed is more adaptable and practical thanks to the panels that can be removed. The vehicle also has a top-notch suspension system, making long drives a breeze. The only real negative is that it has less gas mileage.
Related: 13 Best & Worst Chevy Colorado Years
Reviews, Ratings, Recalls & Complaints:
#6 Best Year: 2011 Chevy Avalanche (4.06 Rating)
Among pickups, the 2011 Chevrolet Avalanche ranks well. It has a 5.3L V8 engine with more than 300 horsepower, which is more than adequate for most drivers. In most cases, the 8100-pound towing capability is well appreciated.
The anti-lock brakes (ABS), electronic stability program (ESP), and side curtain airbags are also notable safety features of the 2011 Chevrolet Avalanche. It's easy enough to maneuver and steer for regular use.
Finally, it could use a little more power under the hood, but other than that, this model is great for everyday use. It is trustworthy and won't cause too many problems when driving.
Reviews, Ratings, Recalls & Complaints:
#5 Best Year: 2009 Chevy Avalanche (4.14 Rating)
The 2009 Chevrolet Avalanche is an excellent pickup that can be used for daily transportation. It's not a top-tier performer, but it's hard to beat for the price. In 2009, a 6-speed automatic transmission became available, while the 6.0 V8 engine was discontinued.
This model came in various trim levels, allowing customers to select the version that best meets their requirements. In addition, the most potent engine available was a 6.0L V8 that generated 366 HP, which was even more than the 2006 model.
The removable covered tailgate is a standout design element. The covered tailgate is a plus because it reduces the opportunity for theft by keeping valuables out of sight.
Reviews, Ratings, Recalls & Complaints:
#4 Best Year: 2010 Chevy Avalanche (4.34 Rating)
It is one of the best Avalanche trucks. Thanks to its enhanced anti-lock brakes (ABS), blind-spot monitoring (BSM), and rear parking sensors, the NHTSA awarded the 2010 Avalanche a perfect five stars. Cars.usnews.com ranks the 2010 Chevrolet Avalanche third among all Full-Size Pickup Trucks for 2010.
The Avalanche's 6.0L engine was discontinued in 2010, leaving only the 5.3L for the final three years of manufacture. Its unique Midgate feature makes it a good solution for many transport requirements. Additionally, the 2010 model brings notable updates, including adding a USB port to the audio system and a refined trim lineup.
Reviews, Ratings, Recalls & Complaints:
#3 Best Year: 2006 Chevy Avalanche (4.54 Rating)
The 2006 Chevrolet Avalanche is an excellent pick-up truck. Many iterations of this truck have been produced over the years, while it has been in the market since 2006 and has only 51 complaints; this, alone, says a lot about the vehicle's reliability.
It launched with a number of different cab configurations and a powerful V8 engine that could deliver up to 325 HP—impressive for a truck of its size. There was enough room for passengers and goods, and the ride quality was excellent. This one is easily in the top tier compared to other Chevrolet Avalanche models.
Reviews, Ratings, Recalls & Complaints:
#2 Best Year: 2012 Chevy Avalanche (4.56 Rating)
Another model that receives high reliability and common complaints is the last generation of the Chevy Avalanche. This Avalanche is a sport utility vehicle (SUV) based on the Suburban and powered by the same 5.3-liter small-block V-8 engines (up to 320 horsepower).
The Avalanche is in its second generation and has stood out from the competition thanks to its innovative Midgate design. Since the Ford Explorer Sport Trac has passed on to truck heaven, the Honda Ridgeline has emerged as its chief rival.
The 2012 Chevrolet Avalanche is adaptable with a midgate-based body layout that permits quick and simple transformation between storage capacity and passenger seating. Furthermore, its comfy seating provides a more relaxed ride than regular pickups.
Related: 22 Best & Worst Chevy Silverado 1500 Years
Reviews, Ratings, Recalls & Complaints:
#1 Best Year: 2013 Chevy Avalanche (4.70 Rating)
Moving on to the final best version of Avalanche – the 2013 model, marks the end of the entire lineup and stands tall as the finest model to date. As the final year of the second generation, Chevrolet has resolved all problems from earlier models. The "black diamond edition" was made available even more lavishly than any Avalanche ever produced.
Not bad for a vehicle of its size, the 2013 Avalanche's V8 engine achieves 15 city, 21 highway, and 17 combined mpg. When you think about the type of chassis it has, you realize just how incredible this is.
If you plan to get an Avalanche, Look no further than the 2013 model because it covers the mistake of previous models and will give you the most reliable truck to own.
Reviews, Ratings, Recalls & Complaints:
What Are The Common Problems Of Chevy Avalanche?
1. Excessive Oil Consumption
High oil consumption is a common problem with the Chevrolet Avalanche. A damaged valve seal or a broken timing chain are the most common causes of this issue. Oil consumption will increase, resulting in premature engine failure.
2. Cracked Dashboard
One of the most typical Chevrolet Avalanche issues is a cracked dashboard. Sunlight causes the plastic to degrade and become brittle. The tension of constant changes in temperature could eventually cause the dashboard to break.
If they are small enough, cracks can be fixed with epoxy or other adhesives; otherwise, the entire dashboard may need to be replaced if the cracks are extensive.
3. Risky Airbags Deployment
The Avalanche was one of the Chevrolet models that had to be recalled. There was a risk of significant injury because the airbag could activate at the wrong time. In an accident, this problem can result in death or severe injury.
FAQs
1. Is Chevy Avalanche Reliable?
The Chevrolet Avalanche should be reliable enough for most drivers if properly cared for and maintained. However, newer versions from other companies are now more accessible on the used market, so buyers looking for a highly reliable car might want to investigate them instead.
2. Do We Expect Chevy To Resume The Avalanche?
A new Avalanche is expected. The 2023 Chevrolet Avalanche will likely be more potent than the current model. There have been rumors that the 5.3-liter V8 engine will be upgraded, which now produces 360 horsepower and 390 lb-ft of torque. A full-size car could likely manage this much power.
3. What Is The Towing Capacity Of Chevy Avalanche?
The Avalanche can pull up to 8,100 pounds using General Motors' SUV base. It has an efficient combination of components, one of which is the 5.3L V-8 with Active Fuel Management's cylinder deactivation technology.
Conclusion
Knowing which years to avoid and which models offer the best features might help you choose a trustworthy truck or an updated version of the Avalanche.
Avoid any model from before 2013, as it is more likely to have problems than recent variants. The years 2002, 2003, 2004, 2005, and 2007 are known to have the most issues. The 2013 Chevrolet Avalanche Black Diamond is the best year since it has the most cutting-edge safety technology, the best fuel economy, and the most potent engines.
Before deciding on a truck, it's crucial to think about how much money you have and what kinds of features you'll need. Get a professional mechanic's opinion on any used models you're considering buying to ensure you're making a good decision.