Do you want to buy a Nissan Titan but can't decide between models from different years? Then, Welcome to the perfect destination for car enthusiasts! Knowing which model year will give you the most bang for your buck which is challenging when there are so many to choose from.
Relax; We've ranked the best and worst years to buy a Nissan Titan based on statistics and experience.
The model years from 2005, 2008, 2009, and 2018-2020 are the worst Nissan Titan years. The best model years of Nissan Titan include 2007, 2015, 2017, and 2021-2023. This result was concluded from trustworthy sources such as NHTSA, Edmund, JD Power, and Kelley Blue Book reviews.
What Are The Worst Years Of Nissan Titan?
These model years' design, features, and other aspects are particularly problematic, leading to bad user experiences. That is why we've ranked it as the worst model year.
#6 Worst Year: 2009 Nissan Titan (3.97 Rating)
While the 2009 Nissan Titan can be considered a generally good year, it is worth noting that it had four recalls and received 38 complaints. Due to these factors, when evaluating the overall reliability and consumer satisfaction, the 2009 model year is often placed in the last position among the worst years for the Nissan Titan.
This truck is not worth purchasing with persistent engine issues, a clogged canister, and a malfunctioning ceiling entertainment system.
Common Problems:
The car will not shut off
Clogged canister
Failure of the ceiling entertainment system
Reviews, Ratings, Recalls & Complaints:
#5 Worst Year: 2019 Nissan Titan (3.96 Rating)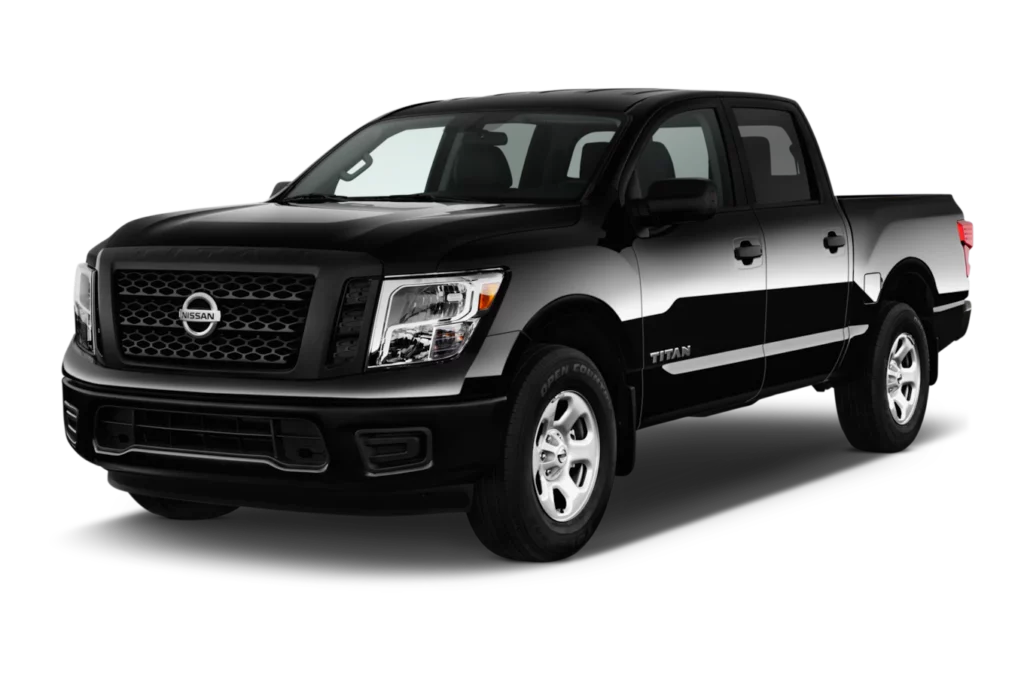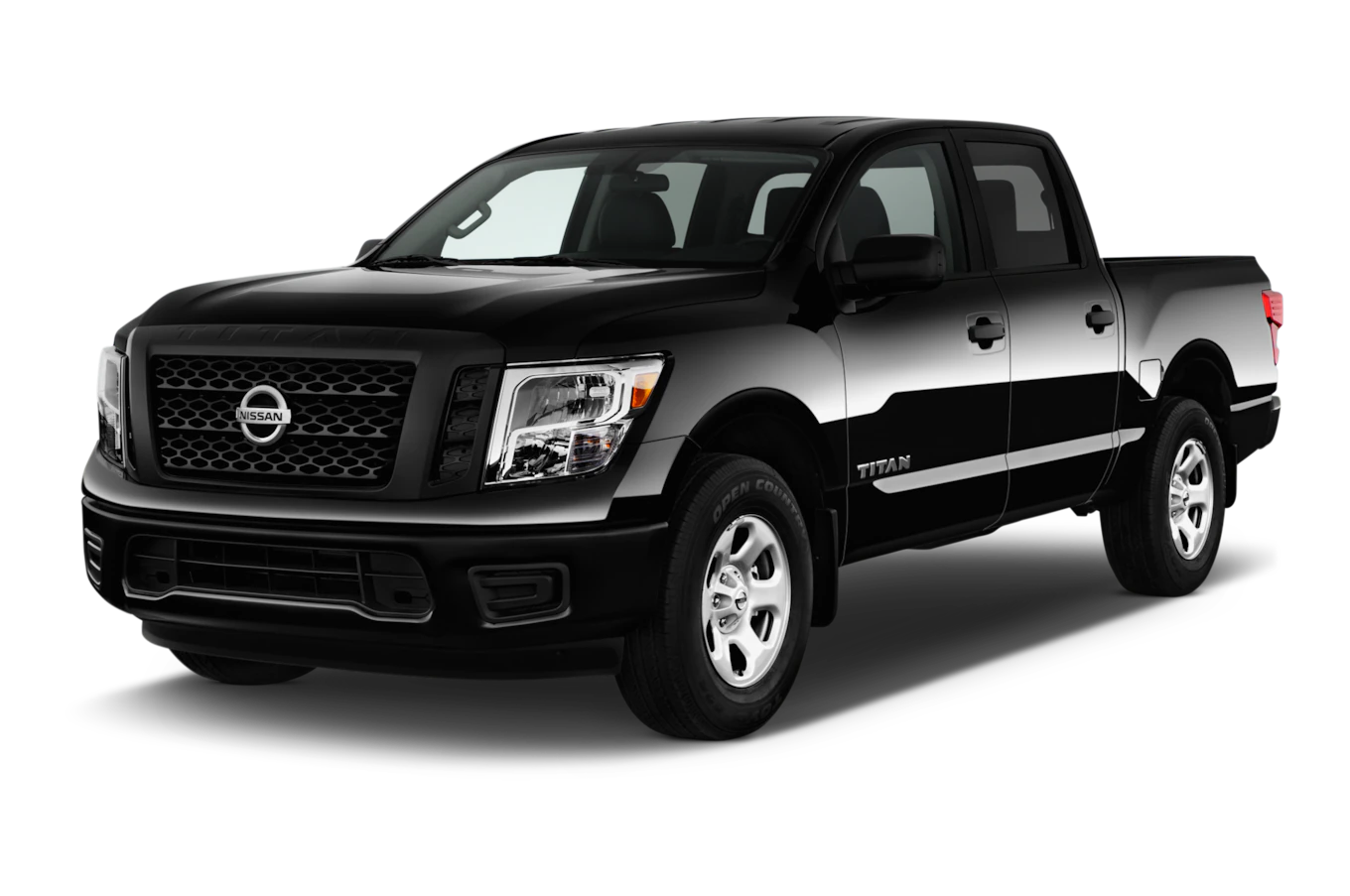 Avoid the 2019 Nissan Titan due to recurring issues like cracked steering gearbox and engine knocking, along with a lack of alternative engines and limited axle ratio options. The problematic automatic radio and small buttons on the touchscreen interface further hamper the driving experience.
Additionally, the unattractive cabin design and slightly lower towing and payload capacities compared to rivals make it a less desirable choice.
Common Problems:
Cracked steering gearbox
Knocking on the engine
Automatic radio on
Reviews, Ratings, Recalls & Complaints:
#4 Worst Year: 2018 Nissan Titan (3.95 Rating)
Another worst model year to avoid is the 2018 Nissan Titan. The 2018 Titan had some issues with the transmission. According to Carcomplaints, owners experienced jerking and vigorous shifting when going up and down gears. Some reports indicated that while traveling, their trucks would suddenly stop.
The 2018 Titan also has engine issues. Even though it was powered by a 5.0-liter Cummins diesel engine, a few of them had early turbo failure.
Common Problems:
Severe vibration at high speed
Transmission hesitation and jerks
Shakes and wobble
Reviews, Ratings, Recalls & Complaints:
Related: 12 Best And Worst Years Of Nissan Pathfinder (Data Proofs)
#3 Worst Year: 2020 Nissan Titan (3.74 Rating)
Avoid the 2020 Nissan Titan, even though it's a recent model, as it can lead to a nightmare of recurring issues and disappointing performance. It embodies the epitome of a worst-case scenario, from powertrain failures and faulty fuel systems to electrical system malfunctions.
With limited engine and axle ratio options, subpar towing and payload capacities, mediocre in-cabin storage, and compromised visibility, it becomes an unfortunate investment that can turn your driving experience into a constant struggle.
Common Problems:
Power train failure
Faulty fuel propulsion system
Failure of the electrical system
Reviews, Ratings, Recalls & Complaints:
#2 Worst Year: 2008 Nissan Titan (3.66 Rating)
Nissan recalled approximately 180,000 Titans in 2008 because of a defective brake booster. This could increase stopping distances and the likelihood of an accident. Due to a defect in its cooling system, this particular Nissan Titan model would fail to function properly at higher altitudes. Similar results from harsh weather are seen.
In addition, the 2008 Nisan Titan model has a subpar suspension. Sometimes the car's upper control arm wouldn't function properly. Despite claims that this vehicle requires little upkeep, the cost to fix this was equally high.
Given this, it's clear that buying a 2008 Nissan Titan would be a waste of money.
Common Problems:
Radiator leak coolant
Reverse failure
Coolant leaking into the transmission.
Reviews, Ratings, Recalls & Complaints:
Related: 16 Best & Worst Nissan Xterra Years | Data Proven Ratings
#1 Worst Year: 2005 Nissan Titan (2.75 Rating)
With a staggering record of six recalls and a shocking number of 886 complaints, the 2008 Nissan Titan stands out as the worst model regarding reliability and customer satisfaction. Save yourself from headaches and frustration by avoiding the 2005 Nissan Titan at all costs!
This model is notorious for rear axle failures, a troublesome mixing of anti-freeze and transmission liquid, and an unsettling shudder while braking.
With limited drivetrain and body style choices, no heavy-duty models, and an exhaust note that can grate on your nerves during long drives, it's best to steer clear of this truck for a smoother and more enjoyable ownership experience.
Common Problems:
Rear axle failure
Mixing of anti-freeze and trans liquid
Shuddering while braking
Reviews, Ratings, Recalls & Complaints:
What Are The Best Years Of Nissan Titan?
You need to understand why these models are regarded as good years before I go into the list of the best years. The key reason is that they have the fewest potential issues. The seamless operation of these models provides the user with a satisfying experience. They have also been less subject to recall.
So, without further ado, let's talk about the top model years of the Nissan Titan.
#6 Best Year: 2017 Nissan Titan (4.05 Rating)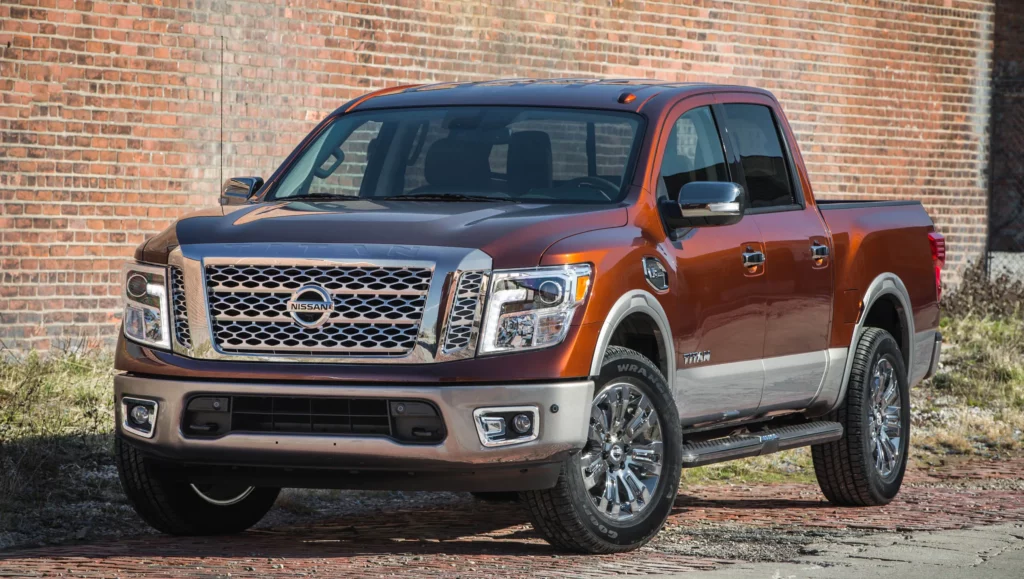 The 2017 Nissan Titan is an outstanding pickup truck option. The Titan's high-reliability rating results from many positive characteristics, including its general dependability, the quality of its features and accessories, and their dependability.
The Titan's high-strength steel frame and durable body design make it ideal for demanding work and off-road exploration, while the sturdy build of the truck is a significant plus. Titan's superior technological characteristics also contribute to its dependability.
The 2017 Titan has numerous safety and comfort options, such as:
Installing a camera in the back of the vehicle
Checking for blind spots
A media player that works with both Apple CarPlay and Google's Android Auto
This truck has excellent durability, reliability, and customer satisfaction ratings and reviews, so you can count on it to serve you well for many years.
Reviews, Ratings, Recalls & Complaints:
#5 Best Year: 2007 Nissan Titan (4.12 Rating)
Consider the 2007 Nissan Titan based on satisfied owners' feedback. They rave about it being the best vehicle they've ever owned, with fuel economy being a secondary concern due to the engine's impressive power. According to cars.com, Comparable to a Nissan Frontier, the Titan surpasses expectations.
The notable features of the 2007 Nissan Titan are:
Powerful 317 horsepower from its 5.6-liter V-8
Two cab configurations
Optional side curtain airbags
Wide-opening back doors (168 degrees)
It's a solid, smooth, and powerful truck that handles well, making towing a breeze. The 5-speed transmission adds to its versatility, while the comfortable captain's chair and great price make it an enticing choice. The only drawback is the mid-teens fuel mileage, but the overall package outshines this minor flaw.
Reviews, Ratings, Recalls & Complaints:
Related: Best & Worst Nissan Rogue Years | 2023 Rated
#4 Best Year: 2023 Nissan Titan (4.27 Rating)
The 2023 Nissan Titan is the brand's entrance into the full-size light-duty pickup truck segment. Consider purchasing the 2023 Nissan Titan, which boasts America's Best Truck Limited Warranty, offering extensive coverage for features like the 5.6-liter engine and multi-leaf rear suspension system.
Several factors that guarantee this Titan's dependability are:
5.6-litre Direct Injection Gasoline
Nissan safety shield
8″ color touchscreen display with 7″ Advanced Drive-Assist Display
Although this model is part of the older Titan generation from 2016, its 400 horsepower V8 engine delivers satisfying power. However, compared to rival trucks such as Chevrolet Silverado, Ford F-150, Ram 1500, and Toyota Tundra, the Titan lacks engine variety and may not offer the best fuel economy, which kept it from taking first place.
Reviews, Ratings, Recalls & Complaints:
#3 Best Year: 2015 Nissan Titan (4.30 Rating)
The 2015 Nissan Titan is widely regarded as not only one of the most trustworthy trucks in its class but also one of the most reliable model years. The truck's body and structure are constructed from long-lasting components designed to withstand years of use. The 2015 model year is equipped with a dependable and long-lasting V8 engine.
In addition, the 2015 Nissan Titan has been praised for its:
Inside is roomy and comfortable.
Luxurious interior with just the best fittings
Comfortable seats
Workhorse capability and comfort for a family
In conclusion, both consumer ratings and reliability data attest to the 2015 Nissan Titan's reliability.
Reviews, Ratings, Recalls & Complaints:
#2 Best Year: 2022 Nissan Titan (4.42 Rating)
Another excellent year to buy a Nissan Titan is 2022. The 2022 Nissan Titan is a full-size truck that combines strength, technology, and aesthetics to open up a world of opportunity. Enjoy the well-designed front seat luxury while utilizing the V8 engine's raw solid power.
Reviewers have praised the 2022 Nissan Titan for its:
8.0-inch touchscreen with Apple CarPlay and Android Auto integration
Emergency braking, blind-spot monitoring
Rear cross-traffic alert, lane-departure warning, and more.
Thanks to the standard array of high-tech driver safety measures, you can relax while driving. While the mid-level SL trim level is no longer available, the 2022 Titan, available as part of the second-generation selection since 2016, has been an enormous success. Take the wheel of a 2022 Nissan Titan and prepare for an unforgettable journey.
Reviews, Ratings, Recalls & Complaints:
#1 Best Year: 2021 Nissan Titan (4.57 Rating)
Elevate your truck ownership experience with the 2021 Nissan Titan, a vehicle recognized as the #2 Large Light Duty Pickup of the Year by J.D. Power. The 2021 Nissan Titan is the best truck Nissan has ever made. It is the crown jewel of the entire lineup.
This truck has a powerful engine and can handle any terrain with ease. It also has a calm and quiet cabin that makes driving more enjoyable. Its transmission is quick and smooth, which improves its general performance.
There are many reasons for its reliability. However, some of them are:
Powerful 5.6-liter V8 engine
Nissan Safety Shield 360 advanced safety technology
Spacious and comfortable interior
Strong towing and hauling capability
With five impressive trims to choose from, including the Pro-4X and Platinum Reserve, and the option of extended or crew cab sizes, the Titan offers unparalleled customization.
You can safely bet on this model!
Reviews, Ratings, Recalls & Complaints:
What Are The Common Problems Of Nissan Titan?
Despite having some reliable and excellent model years, some Nissan Titan cars have serious problems that can be highly inconvenient and leave you with a terrible experience.
Let's discuss the most typical Nissan Titan problems!
Transmission failure
Engine issues
Faulty rear axle
Bad fuel efficiency
Rear differential failure
Faulty interior accessory
Navigation units failure
Faulty premature shock
FAQs
1. Is Nissan Titan A Good Truck?
There is no doubt that the Nissan Titan is a good Truck. The 2021 Nissan Titan received an 85 out of 100 Quality and Reliability rating from J.D. Power, making it a "Great" vehicle. Based on the Consumer Reports, I have found that older Nissan Titans are unreliable.
2. Nissan Titan Vs. Toyota Tundra: Which Truck Is Better?
When comparing the two vehicles' towing capacities, Nissan Titan is recommended as a superior option over the Toyota Tundra because it has more engine power and towing capacity compared to the Tundra.
The 2022 Titan has a higher towing capability, at 9,320 lbs, than the 8,300 lbs limit of the Toyota Tundra. Torque-wise, the Tundra wins out, but the Nissan Titan's engine produces more horsepower.
3. How Long Will Nissan Titan Last?
A well-maintained Nissan Titan is said to have a life expectancy of up to 300,000 kilometers. It's also been said that with 13,500 annual miles traveled, the Titan can last up to 22 years.
4. Is Nissan Titan XD Reliable?
The Nissan Titan XD has had mixed reliability ratings, with some owners reporting positive experiences and others encountering issues. The 2019 Nissan Titan XD has a relatively good reliability rating of 4.2 out of 5 from cars.com, which says it is a decent truck.
5. Does Nissan Titan Have Cummins?
Yes, certain models of the Nissan Titan have been equipped with Cummins engines. The Nissan Titan XD offers a 5.0-liter V8 turbo diesel engine manufactured by Cummins. This engine was available in previous model years of the Nissan Titan XD, providing increased towing and hauling capabilities.
Conclusion
I've compiled all the information you need about the many Nissan Titan models into this article, including which years are considered the best and worst models. Don't make the bad decision of buying one of the models listed in the worst years list.
Since the 2021 and 2022 Nissan Titans have only been the subject of one recall each, I would strongly recommend either one. Get the recommended ones and give yourself a thrilling driving experience.