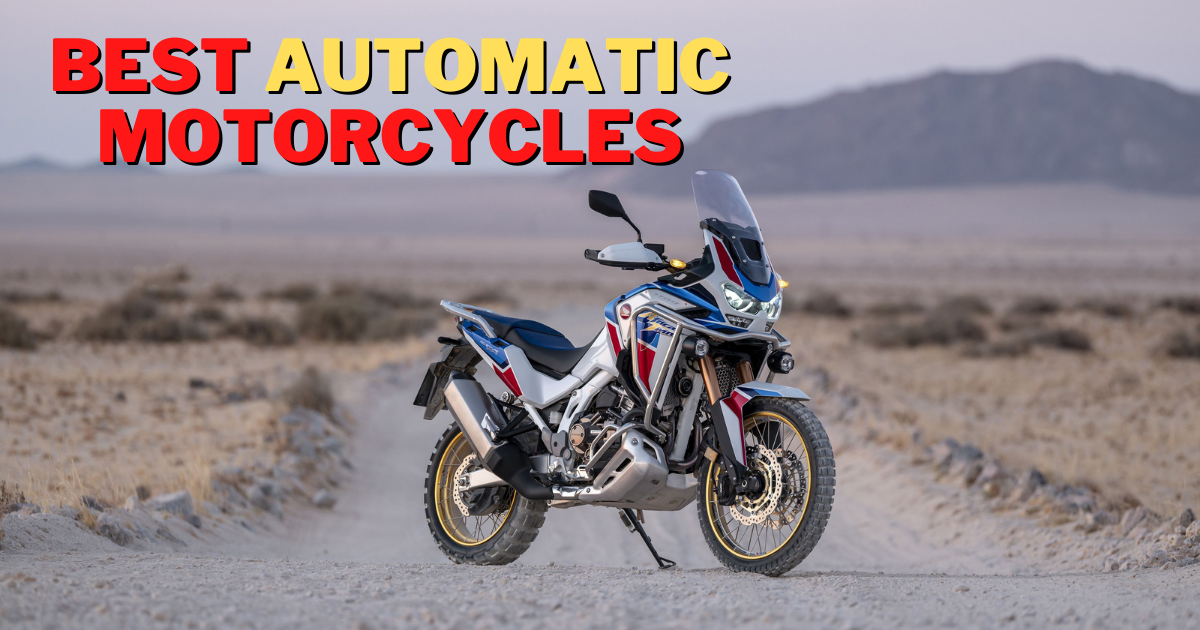 The use of an automatic transmission is frowned upon by many motorcyclists. This makes perfect sense, seeing that the manual transmission gives the driver a true sense of control and this is something that can never be provided by an automatic system.
However, there's no denying that an automatic gearbox makes shifting easier, even for advanced motorcyclists. For instance, with a manual transmission, up-shifting and down-shifting make the driving process hard. The automatic one is different in this regard. The computer on board takes care of everything in this transmission.
That's why we thought it would be a good idea to show you a few of the best motorcycles with automatic transmissions that will make your driving easier and more enjoyable.
1. 2022 Honda Africa Twin
The Honda Africa Twin, often known as the CRF1000L, is an automatic gearbox motorcycle that is extremely popular among adventurers. When you take it off-road, you'll feel completely at ease behind the wheel.
To change gears on a slow asphalt curve is one thing. It's a whole other ballgame to replant torque and traction in the midst of a dirt whoop. Knobbies will grab better, and the rider's focus will remain on the lines and the throttle, thanks to the improved shifting and reduced drive interruption. The legendary 1,084cc liquid-cooled twin from Honda can be operated in three distinct ways: Manual, Automatic Drive, and Automatic Sport.
Because of its parallel-twin engine design, the Africa Twin is a pleasantly compact motorcycle, making it ideal for navigating rough terrain thanks to its low center of gravity and narrow profile. With a firing sequence of 270 degrees, the engine produces a beautiful sound. In addition to being aesthetically pleasing, this motorcycle performs admirably in a variety of environments.
Another example of Honda's meticulousness is the transmission, which allows for pinpoint accuracy while the dual-clutch technology performs as promised. The bike handles nicely in traffic and carries its weight without becoming cumbersome.
2. Yamaha XMAS 300
Yamaha's reliable and easy-to-use motorcycle is a great pick for long-distance travel and leisurely excursions. Despite its bulky exterior, this commuter vehicle is actually quite maneuverable and light.
Its center of gravity is low, which is great because it makes side-to-side flicking a breeze. When it comes to riding comfort, this luxury commuter is hard to beat.
It's true that the brakes don't have a lot of feel, but that's just an issue when you need to stop suddenly. XMAX's twin shocks can seem harsh and under-damped on rocky terrain, so the suspension could be better. However, it excels on smoother roads and provides a riding sensation like no other.
3. BMW C 650 GT
BMW C 650 GT is one of the best bikes available now, but it is also one of the most expensive motorcycles you can buy. This bike makes up for its lack of power with its comfortable and easy ride.
It is great for extended travels since, in addition to comfort, it provides a huge lockable storage box, something that is lacking from the vast majority of bikes on the market today.
The liquid-cooled, 4V parallel-twin engine on this bike sounds great and purrs nicely, and the bike itself weighs 261 kg. The exhaust system on this model is lighter and more compact than the one on previous versions.
4. Honda Navi
The Navi is a compact bike that is ideal for riders who want something more than a pocket bike. With a 109cc engine and V-Matic automatic transmission, this motorbike is not only enjoyable to ride but also capable of transporting a fully grown adult comfortably across the urban environment.
If you don't have to use the clutch, you'll have an extra hand (or three if you have a passenger) to haul around spare tires, engine parts, or any of the other innumerable emergency items that are dragged around tracks every weekend.
In the safe confines of a private track, one may even sip a cold drink with one hand while riding sensibly. Motorcyclist obviously does not endorse drinking cold beverages while riding or riding without both hands on the handlebars.
Even though it's little and doesn't pack much of power, you'll still need to rely on your fundamental motorcycle abilities to ride safely and responsibly. Not only is it a great bike for beginners to learn on, but it's also a popular choice among seasoned cyclists because of its low price tag.
5. Honda NCX750X
If you're a taller or bigger rider who wants to get into adventure motorcycling, the Honda NC750X is an excellent option. It's not going to set any speed records on its 745cc parallel twin that makes roughly 51 hp, but it's also not going to scare away novice riders. In addition, Honda's greater displacement engines are just as reliable as their vehicle engines.
Honda's very elegant DCT transmission gives the bike a more adventure touring feel in the default Drive mode. The gearbox and throttle response is improved in the Sport mode, although they are still not excessive.
A thumb-operated toggle next to the throttle lets you quickly and easily choose between neutral and the two available drive modes without taking your hands off the handlebars.
6. Suzuki Burgman 400
This lightweight and agile motorcycle is perfect for touring, weekend excursions, and other extended journeys. It's fine for rides around town, but it really shines when venturing out of town. The Burgman 400 is functional and reasonably priced.
The convenience of the driver is of utmost importance to this design. The riding position is low and spacious, giving you the comfort and security you need for extended periods in the saddle. With its new catalytic converter and iridium spark plug, the 400cc single-cylinder motor in the Burgman 400 complies with Euro 4 standards.
With such a responsive throttle, you can feel the power almost immediately, which is great for when you need a little additional kick. The bike can be relied on and holds its own against comparable items.
7. Kawasaki Ninja 250R SE
Kawasaki Ninja 250R SE is developed with beginner riders in mind first, but honestly, it does not appear like a beginner bike at all. The paint job and fluid design are stunning, and the overall chic appearance will make you gasp.
This motorcycle's automatic transmission is quite remarkable. Because of the assist and slipper clutch in the transmission, you won't experience any stalling or jerking as you move forward.
The bike's 296 cc parallel-twin engine is water-cooled, which both lowers operating noise and provides a great aesthetic match. High-tensile steel is used to form the frame, which results in an almost flawless structural design.
8. BMW CE04
The best thing about life on two wheels is that there's everything for everyone. BMW's CE04 is a stylish, zero-emissions electric scooter that's ideal for novice riders. The electric motor produces 42 horsepower and can reach 75 miles per hour, but it truly comes into its own when used away from the motorway and makes commuting and exploring urban areas a joy.
The CE04's selectable riding modes, stability, and traction controls make learning to use a clutch and gears in traffic a much less daunting prospect for novice riders. Even if you're not into the style, we still believe there's a fantastic motorcycle out there for you to enjoy.
9. Honda Rebel
A big, comfy cruiser that doesn't cost ten grand? It now appears to be a masterstroke. What could be more laid-back and cruiser-like than having the option to switch gears with your thumb and three different riding modes?
Both the 300 and 500cc Rebel models that Honda released were immediately well received. We then learned that within a few years, nearly one-third of these new owners were shopping for a more powerful model. Introduced in 2021, the Rebel 1100 was a major technological breakthrough.
Now, you don't need a huge air-cooled twin to have the cruiser style that so many riders covet from Honda. DCT transmission is what makes this larger bike appealing to new riders. The Rebel 1100 offers a total of four riding modes (three preset and one user mode) with three power settings, three traction control settings, and cornering ABS.
Simply put, this gives a novice rider a lot of leeway for twisting and going quickly. You now have a bike upon which to build a lifetime of happy memories.
10. Harley-Davidson Livewire One
The 2023 Livewire One is Harley-Davidson's first production fully electric motorbike. It's perfect for commuting or a leisurely Sunday ride, with a range of 100 to 150 miles per charge.
The Livewire has a lot of power, with 105 equivalent HP and 86 lb-ft of torque. It's a great example of Harley's sports cruiser style, so it fits well with the rest of their bikes. Due to its design, the permanent magnet electric motor can only be used with a single gear.
But the bike includes an "automatic" transmission that allows the rider to choose between neutral, drive, and reverse. So that the ride feels more natural, the motor will use non-throttle periods as regenerative time. That means it will "brake" by tricking you into thinking the motor is spinning faster than it is because it is actually charging the battery.
11. Honda Gold Wing DCT/Gold Wing Tour
When it comes to the frame, engine, and Dual Clutch Transmission, the 2023 Honda Gold Wing DCT and the 2023 Honda Gold Wing Tour are identical. Riders have had nothing but praise for the DCT transmission, which pairs with a 1.8-liter engine producing over 125 HP and a 7-speed gearbox.
Despite its competition, the fully outfitted Honda remains on top of the luxury touring bike category thanks to its smooth engagement and outstanding handling at low speeds. The 2023 Gold Wing comes equipped with a navigation system, smartphone integration via iOS and Android Auto, electronic stability control, and lockable panniers.
Compared to its predecessor, the Gold Wing Tour features a passenger backrest, electronically adjustable suspension, fog lights, enhanced rear suspension for rider and passenger comfort, and a USB port in the saddlebag to charge a passenger's communications or electronic device.
12. Honda ADV150/PCX
The media frequently focuses on the Groms, Monkeys, and Z125s of the tiny bike world. Yes, it's true that riding a little bike makes shifting a lot of fun. Honda's ADV150 and PCX scooters, on the other hand, are ideal for individuals who seek a state of Zen in the space between Here and There.
Two-wheeled Honda CVT units have been in production since 1980, and they are expected to outlive most standard slush boxes. Both scooters have enough storage space for your winter gear (about 8 gallons) and speed (tuck position advised) to navigate the traffic of any major metropolis.
The Benefits of Buying an Automatic-Transmission Motorcycle
There was a time when the only way to ride a motorcycle was with a manual transmission. This is no longer the case, though. Automatically shifting motorcycles are presently on the market, and they bring many benefits.
Many factors go in favor of an automatic transmission motorcycle. For starters, it can reduce the difficulty of getting started on a motorcycle. An automatic transmission motorcycle is a good choice if you are a novice rider or have never mastered the skills necessary to ride a motorcycle with a manual transmission.
Second, compared to manual gearboxes, automatic ones are typically far less jerky. Especially when traveling long distances, this can improve the ride quality.
Thirdly, compared to manual transmissions, automatics tend to provide higher gas mileage. This is because you won't waste gas by having to switch gears repeatedly.
Finally, they include other features, such as anti-lock brakes (ABS) and traction control, which improve safety in congested areas.
There are numerous positive aspects to thinking about purchasing an automated motorcycle. It's possible that an automatic motorcycle might be the best option for you if you are a beginner rider or if you just want a more relaxed and enjoyable ride.
FAQs
Which is the Fastest Automatic Motorcycle?
The Honda Gold Wing, Honda VRF1200X/F, and Yamaha FJR1300AS are the three fastest automated bikes currently available. The maximum speed of these bikes is between 140 and 150 miles per hour.
How Do You Shift Gears in an Automatic Motorcycle?
Semi-automatic motorcycles often feature a shift lever and buttons on the handlebar to facilitate gear changes. However, if the motorcycle is entirely automatic, you need not worry about shifting gears at all—simply floor the gas.
Are Automatic Motorcycles Safer?
Some motorcyclists argue that automatic bikes are safer since their riders are less likely to become exhausted during long journeys. The potential of careless shifting, which can cause collisions, is also removed. On the other hand, there are many who insist that manual motorcycles are safer since they provide a higher level of responsiveness and control. There doesn't appear to be a simple solution here.
Final Words
If you're in the market for an automatic motorcycle, one of the models listed above is your best bet. More and more people are opting for motorcycles with automatic transmissions. They are, for one thing, a lot less difficult to ride than manual bikes. No need to hassle with the difficult task of learning to shift gears. It can be a significant time saver for beginner riders who never have to worry about shifting gears.