Cruisers are the best-ever motorcycles for newbies, and they are the most popular among other motorcycles because of their unique design. These have low seats and ergonomic designs that allow you to run them faster on the roads.
If you are a newbie and want to enjoy your first ride and looking for the best cruiser model, then don't go anyway. Keep reading this article and get the latest information about cruiser models.
What Exactly Is A Cruiser Motorcycle?
Cruising motorcycles, or cruisers, are designed for the rider's comfort. The best cruiser bikes may be found in a variety of designs, each one focusing on a relaxed riding position.
Modern cruiser bikes take their cues from the muscular, chunky designs of Harleys and Indians, two iconic American motorcycle brands, and use V-Twin engines and air-cooling. Cruiser bikes are known for their low seat height and plush seats.
Most riders of cruiser motorcycles put their feet forward and hold the handlebars in a neutral or high posture. With their high and broad handlebars, cruiser motorcycles provide a riding position unlike any other.
The rider's comfort and visibility are improved due to this. Cruiser bikes are aesthetically pleasing, designed intricately, and produced in stages. They have a higher production cost than standard commuter cycles, but their unusual design makes them fun to ride.
Types Of Cruiser Motorcycles
Cruiser motorcycles may range from sporty to laid-back. Five broad types of cruiser bikes are covered here.
Starting Level: Motorcycles with smaller engines and more straightforward controls are perfect for riders just getting into the sport. This particular style of cruiser motorbike is quite rare. Motorcycle cruisers aimed at new riders tend to be reasonably priced.
Tourer: Tourer cruiser motorcycles are heavy and stout, making them relatively stable because of their massive weight and lengthy wheelbases. You can't go wrong with a tourer cruiser motorbike for open-road adventures and extended journeys. It's also possible to utilize them for commuting or cycling around town.
Bagger: Bagger is slang for a type of cruiser motorbike characterized by its vast fairing and heavy baggage. Bagger cruise bikes are equipped for lengthy rides with features like heated grips, cruise control, and in-dash entertainment systems. Baggers are sometimes referred to as "dressers" by some members of the motorcycling community.
Hyper-cruisers: Hyper-cruisers are a subset of cruiser motorbikes that aim to outperform standard cruiser models in every way. Motorcycles in the hyper-cruiser segment can lean significantly, accelerate quickly, and turn sharply.
Electric: Despite the limited availability of electric cruiser motorcycle models today, it is clear that electric cruiser bikes are the future wave. Electric cruiser bikes are at the front edge of motorcycle technology.
Although electric cruiser bikes often lack the powerful rumble and bark of a regular gasoline-powered V-Twin, they offer plenty of low-end torque for getting around town.
List Of Top Cruiser Motorcycles For Beginners:
If you are looking for the best cruiser motorcycles as a beginner, then look at our top picks.
1- ARCH KRGT-1
The KRGT-1 is the first production model from Keanu Reeves and Gard Hollinger's Southern California-based motorcycle boutique, and it's a high-end, lavish take on the hyper-cruiser genre.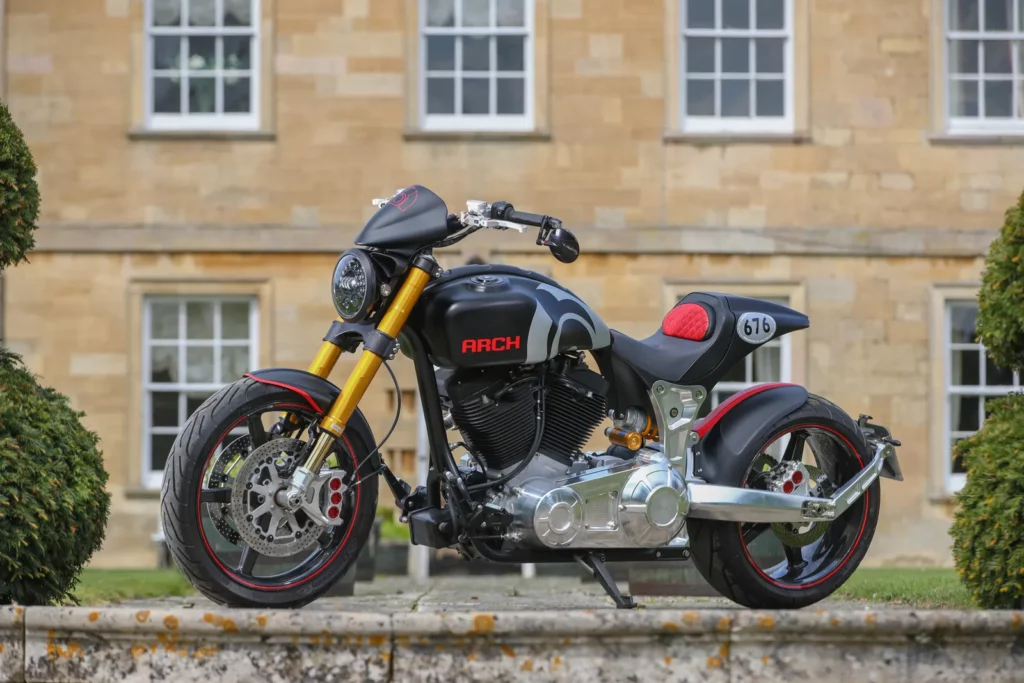 The 124ci S&S V-Twin at the bike's core is supplied air via a particular downdraft breathing system integrated into the hyper-all-billet cruiser's frame.
The BST carbon fiber wheels, twin six-pot ISR radial monobloc calipers, in-house made carbon superbike muffler, top-tier suspension co-developed by Arch and Ohlins, and Rizoma odds and ends and accessories give the KRGT-1 an unrivaled level of performance and handling.
2- Indian Scout Sixty
Many people refer to Indian Motorcycles as "the other American firm." Suppose you can put aside your biases and judge the Indian Scout Sixty solely on its mechanical merits. In that case, it's an excellent gateway into the luxury cruiser class, just like Harley-Davidson is.
The Scout Sixty, which may be thought of as a cross between a sports cruiser and a bobber cruiser, is powered by a 1,000cc V-Twin engine that emits its sound through two attractive exhausts and produces 78 horsepower and 65 pound-feet of torque.
Premium leather was used for the seat. Options for customizing the bike stretch as far as 17 arms. It's the luxury sedan equivalent of a comfortable, capable, and dependable Mercedes, making it the go-to choice for long trips.
The Scout Sixty's 544-pound wet weight may put you at ease despite the engine's power and torque's intimidating appearance. Because of its low 649 mm seat height, most riders can keep both feet firmly planted on the ground at all times.
You'll hear that familiar V-twin growl when you punch the gas, and the bike will respond with a beautiful linearity that will propel you forward without making you feel unsafe.
And it's true, if you like Indian cruisers, you'll probably like the premium cruiser market. This is irrelevant, though, because Indian produces a wide variety of premium cruisers.
3- BMW R18
An expert rider can only get the whole adrenaline rush of going against the wind with a gigantic, roaring beast of an engine below them. That's why we've got the R18 in stock. BMW Motorrad equipped the R18 with their biggest boxer engine to date.
The BMW R18 is the cutting edge of the cruiser machine genre, expertly blending cutting-edge technology with timeless 1930s design. The R18 has a sleek fishtail exhaust and retro-style forks.
Its unique bodywork is black with white pinstriping, an apparent reference to the legendary R5. In addition, the massive Bavarian may be outfitted with various BMW-made accessories.
4- Suzuki's Boulevard S40
Regarding cruiser bikes, there's something for everyone; the Suzuki Boulevard S40 is a more classic option than the contemporary Rebel 500. Suzuki's new beginner cruiser follows a formula that has been successful in the past, using a 652cc air-cooled engine.
The S40's basic design also makes it easy for users to personalize the bike to their tastes. The Boulevard S40 is one of the most inexpensive and simple-to-maintain cruiser motorcycles available.
5- Yamaha Vmax
In 1985, when it was initially introduced, the Vmax was the motorbike that started the hyper-cruiser craze. The bike's design is an angular, modern spin on the classic cruiser cycle, with touches of the bare-bones simplicity of a naked bike.
Powered by a massive 200-horsepower 1.6-liter V4, this vehicle will get your blood pounding. Because of its unique design and noticeable air intake scoops, the Vmax sticks out from the crowd of other cruisers on the market. Yamaha finishes the Vmax with a cockpit with instruments mounted partially on the top of the tank.
6- Honda Rebel 300
This iconic bike is one of our top picks for first-time motorcycle riders. Many new cruiser riders may trace their ancestry back to Honda Rebel, which first hit the market in 1985. If you were to ask any rider over 35 where they got their start, the answer would likely be the Rebel.
The Honda Rebel is a reliable, easy-to-handle, and well-balanced motorbike that isn't let down by its funky moniker. When the Rebel 300 wasn't selling well enough, Honda added the 500. Both of these bikes are excellent choices for a first cruiser motorbike.
Just under 320 pounds wet, the 300 is equipped with a peppy 234cc engine that can easily handle city streets or mountain twisties. The low seat height and outstanding durability of Honda motorbikes make this an excellent choice for a first rider.
Additionally, replacement components are widely available. Given the bike's longevity on the market, finding replacement parts and unique accessories should be a breeze.
7- Harley Davidson Iron 883
We know what you're thinking: "Wait a minute, I always heard that Harleys were terrible first bikes." You would be accurate most of the time, but the Iron 883 is an exception.
Harley-Davidson has been creating bikes that are both luxurious two-wheeled land yachts and affordable long-distance cruisers for almost 60 years. However, regardless of political beliefs, the Iron 883 is undeniably a top-notch motorcycle. Interruptions, no more.
This is due to its 883cc Evolution V-Twin engine, thus the name. Its engine is quite lenient because it is powered by only around 54 lb-ft of torque. Power delivery is linear, and you can feel everything the bike is doing in your legs, butt, and hands thanks to the perfect frame.
Harley typically does not provide peak power estimates. It's lighter and more stripped down than the huge Harleys, so it can teach you how it wants to talk to you about things like tire grip, cornering sensation, and other subtleties.
There is still a stigma attached to riding anything other than a Harley, so if you want to get your feet wet, you should expect to pay a slight extra for starting on a Harley-Davidson Iron 883.
8- Kawasaki Vulcan S
The first Kawasaki Vulcan hit the market in 1984 with a 700cc engine. Since then, the company has released other Vulcan models with a wide range of power outputs. A secondhand Vulcan 500 would make an excellent first machine.
The bike had a liquid-cooled 498cc parallel twin engine and was manufactured from 1990 to 2009. It was initially called the EN500A and, later, beginning in 1996, the Vulcan 500 LTD.
The final belt drive, front disc brake, and rear drum brake make up an essential motorbike. It has a maximum torque of 33 lb-ft and a power output of 46 hp, allowing it to travel at legal highway speeds.
The model S is the smallest cruiser in Kawasaki's futuristic Vulcan lineup. The Vulcan S has a seat height of 27.7 inches and is propelled by a 649cc liquid-cooled concurrent engine with a 6-speed gearbox and chain final drive.
The footpegs may be adjusted, and there are various seat and handlebar configurations, so the bike is almost tailor-made. Kawasaki's Vulcan S ABS version is equipped with antilock braking technology to boost rider confidence.
9- Evoke 6061
Topping out at over 140 mph with a peak power output of 168 horsepower and over 200 lb-ft of torque, this electric cruiser model takes its name from the aerospace-grade 6061 aluminum used in its frame.
The battery pack of the Beijing-made eBike is unique since it provides 290 miles of range and can be recharged in an unmatched 15 minutes.
10- Triumph Rocket 3
For the time being, the Triumph Rocket 3 has the highest available displacement of any motorcycle. It has a big 2.5-liter inline-three engine that generates 165 horsepower.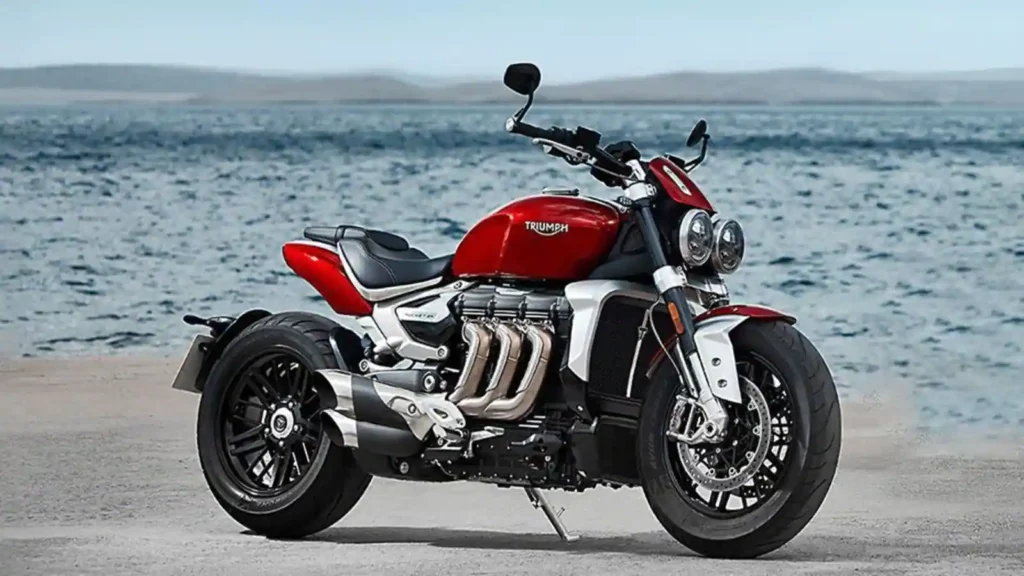 Even though the bike can only achieve a maximum of 140 miles per hour, it does it very quickly. With a time of 2.75 seconds to get from 0 to 60 mph, it is also the fastest-accelerating production motorcycle.
The Triumph Rocket 3 has many features that any knowledgeable cruiser rider would anticipate. It comes equipped with Google Maps and several different riding modes.
Things To Remember For New Owners
Keep your bike in good shape! The first step of purchasing the bike is essential, but maintaining it via routine maintenance will keep it running smoothly for many miles.
If you are a new rider, you should probably put your faith in the dealer and have them take care of the maintenance. Invest in some high-quality equipment. Riding a motorbike is exciting, but you should be aware of the dangers involved.
When you finally get your hands on that first motorbike, you must outfit yourself with the proper safety gear. Road safety gear, including sturdy, over-the-ankle boots, padded leggings and jackets, gloves, and a strong helmet, are essential.
Conclusion
In the end, cruiser motorcycles have extremely great design and magnificent power. These are available in a wide variety, and beginners find them comfortable for their first ride. These are heavy-weight, light, or low seats.
But everyone has their own choice and point of view about these motorcycles. You can choose from this list and can run it on the road. You can also utilize it in race competitions, which will never disappoint you.
FAQs
What is the valuable purpose of cruiser motorcycles?
Long, leisurely journeys are best experienced on a cruiser motorbike. It's also perfect for commuting, traveling, and riding around town.
Would you say that riding a cruiser motorcycle is difficult?
Since their design prioritizes comfort over maneuverability, cruiser bikes are notoriously challenging for new riders. In contrast, cruiser motorcycles are stable because of the low center of gravity that characterizes most designs.
Are cruiser bikes suitable for first bikes?
The comfortable riding position and a low seat height of a cruiser motorbike make it an excellent choice as a first bike.
Is it possible for a beginner to ride a 1000cc cruiser?
A newbie may technically ride a 1000cc cruiser motorbike, but doing so is both unwise and potentially deadly. Start with a smaller or medium-sized cruiser bike if you're unsure of your size preference.