Trucks are considered the best vehicles for driving and picking loads for factories like toys, garments, and many other things. As technology is increasing daily, their constructors are paying great attention to them, and many advancements have been made.
Electric trucks have been discovered, and they have all great features that make them different from the rest. In this article, you will find the complete details about them regarding features, working capabilities, pricing, etc.
Their demand is increasing daily, and in the 21st century, their manufacturers will earn a lot from them. So, let's check our top picks.
Features Of EV Pickup Models
This is where the electric truck diverges from its internal combustion engine relatives:
Drivetrain and Gearbox: While the notion of all-electric vehicles is novel, its electric powertrain is the defining feature. Depending on the model, the number of motors may range from one to four, and the resulting power statistics are quite astounding, with vehicles like the GMC Hummer EV Pickup claiming 11,500 lb.
These electric monsters only have a single speed of automated transmission, while regular pickups often feature many gear ratios and sometimes even a manual transmission.
Performance: Even if engine outputs don't tell the whole story, these massive brutes can race from 0-60 mph at speeds that are on par with or faster than the fastest electric vehicles from Tesla.
Capability: Heavy-duty pickups are known for their remarkable towing and carrying capacities, so it stands to reason that an EV vehicle would need to match or exceed these numbers to be considered worthwhile.
The Rivian R1T can handle nearly 11,000 pounds of towing, and the Nikola Badger can handle 8,000 pounds, so this shouldn't be an issue. These monsters can also travel through dirt and mud.
Appearance: A pickup, last but not least, has to match its reputation. These automobiles are strong, dependable, and fun to drive.
While the latest EV iterations still use this design language, they have updated it to include features typical of future high-tech vehicles. Features like this include more angular shapes, robust grilles, electric wheels, and eye-catching lighting.
Top Electric Trucks Pickups
Here are our top electric trucks pickups, which have high-quality features that provide several facilities and are unique in their design.
1- Hummer EV
A properly designed HUMMER EV Pickup is a powerful mammoth, capable of traveling over 300 miles on one charge. The ability to "CrabWalk," or drive diagonally in some form, is the HUMMER EV's greatest party trick.
HUMMER EV's external design makes it hard to believe that this massive vehicle is an EV, especially given that it looks so much like the original HUMMER, which was about as far from an EV as it is possible to go.
The HUMMER EV Edition 1, the wildest variant available with 1,000 horsepower and a 0-60 mph time of 3 seconds, is sold out now.
It's unusual for HUMMER to reinvent itself as an electric vehicle manufacturer. Instead of reviving a brand that has never been linked with efficiency, GM could have put those efforts into electrifying an existing brand. But the result is an electric vehicle that is both capable and enjoyable.
| | |
| --- | --- |
| Battery Range | 329 miles (530 km) |
| Payload | 1300 pounds (590 kg) |
| Towing Capacity | 7500 pounds (3400 kg) |
| Horsepower | 1000 hp |
2- Rivian R1T
If you're wondering why the Rivian R1T is rated higher than the others while having a payload limit of only 1,760 pounds, it can pull nearly 11,000 pounds and go up to 300 miles before needing a recharge.
This truck's specs alone should tip you off that you're dealing with a high-quality model, but the reasonable price tag of $69,000 seals the deal as a terrific mid-range option for the average driver.
Even though payload could still be an issue, you can easily acquire one of the most excellent EV trucks available if you are willing to look past that. The fact that it has supposedly left the factory means that you may expect to see this monster on the roads very soon.
| | |
| --- | --- |
| Battery Range | 260 miles (418 km) – 314 miles (505 km) |
| Payload | 1760 pounds (798 kg) |
| Towing Capacity | 11000 pounds (4989 kg) |
| Horsepower | 835 hp |
3- F-150 Lightning
The conventional Ford F-150 has been the best-selling vehicle in North America for 40 years, so the company's decision to make an electric version is a HUGE deal.
Since its debut in May 2021, hundreds of Americans have placed deposits on the Lightning, which takes its name from the high-performance, gasoline-powered F-150s of yore.
The Lightning features a large front trunk and bi-directional power, allowing you to operate your equipment or your house on its batteries for days. Pricing falls between $40,000 to $90,000.
| | |
| --- | --- |
| Battery Range | 240 miles (386 km) |
| Payload | 2000 pounds (907 kg) |
| Towing Capacity | 10,000 pounds (4535 kg) |
| Horsepower | 452 hp |
4- Fisker Alaska
The future pickup truck concept developed by Henrik Fisker and his crew, the Fisker Alaska, left the designer gasping for air as he tried to find the right words to describe it.
In all honesty, we didn't see the big deal at first, but after hearing him out, we can tell that he cares about his job and, more importantly, this model's promising future.
The actual release date or pricing of the vehicle has not yet been announced, but we know that Henrik Fisker is ecstatic to tell us the news.
5- RAM 1500 Electric
You might be misled by our description of this as a revolutionary new model, given that many electric Ram ProMaster models are already on the European market. You probably didn't know that none of these is the official Ram EV; they have modified versions of the company's regular trucks.
Fortunately, they plan to deliver an official Ram 1500 Electric vehicle by 2024, giving them a fighting chance against Ford and GM. When pressed, though, many admit uncertainty about their chances of success.
We see no reason to doubt this, mainly because the Ram 1500 EV's battery packs can hold up to 200 kilowatt-hours of energy, giving it a claimed range of over 500 miles.
| | |
| --- | --- |
| Battery Range | 500 miles (805 km) |
| Payload | Unknown |
| Towing Capacity | 10,000 pounds (4535 kg) |
| Horsepower | 1341 hp |
6- Bollinger B2
This is the working man's truck, with a claimed payload of over 5,000 pounds and an excellent towing capability of 7,500 pounds.
The Bollinger B2 is a very potent vehicle that can travel up to 200 miles before needing a recharge, and the best part is that we already know the pricing that Bollinger set with it.
The fantastic electric truck before you reportedly costs roughly $125,000, which is a bit pricey because it doesn't provide much more than the rest of the competition. Still, it has the payload and towing capabilities that will please anyone, and that's the truth.
| | |
| --- | --- |
| Battery Range | 200 miles (322 km) |
| Payload | 5000 pounds (2268 kg) |
| Towing Capacity | 7500 pounds (3400 kg) |
| Horsepower | 614 hp |
7- Alpha Wolf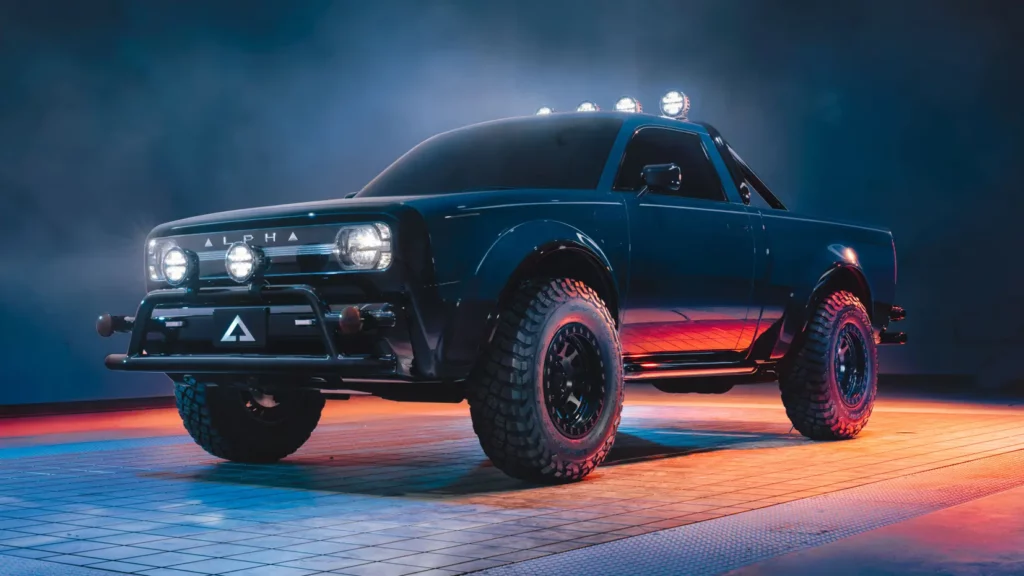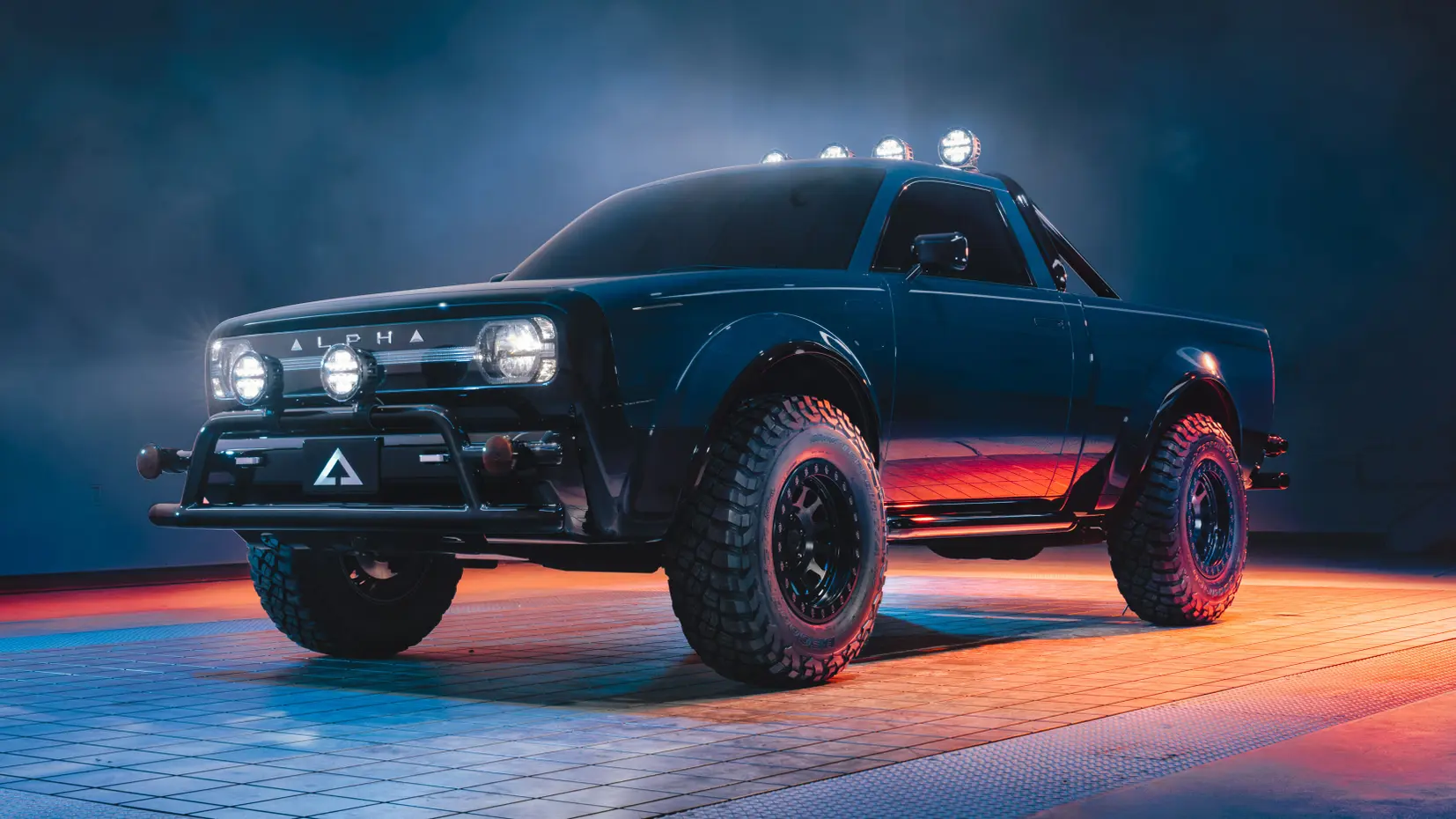 The Alpha Wolf is a peculiar new cast member, but we can't help but love them. This is another competent option, with a maximum towing capability of over 7,000 pounds.
In addition, it has a charging range of about 250 miles, which is terrific since it means you will not be concerned about having to travel to the next major city every few days to recharge your car, which is incredibly convenient if you live in a more remote region.
Moreover, its base price of under $36,000 makes it one of the least expensive models we've included in our roundup. We're already talking about a steal at this point.
Another model is expected to be released by the end of 2023, and if all goes according to plan, we strongly suspect this one will catapult their firm to new heights.
| | |
| --- | --- |
| Battery Range | 250 miles (402 km) |
| Payload | Unknown |
| Towing Capacity | 7000 pounds (3175 kg) |
| Horsepower | 215hp |
8- Atlis XT
The Atlis XT is a formidable pickup truck that can haul up to 20,0000 pounds behind it and has a maximum payload capacity of 5,000 pounds. Not only does it have a reasonable price tag of $45,000, but it also has a charging range of 300 miles.
While we agree that this vehicle is an excellent option for anybody shopping, the competition is fierce. The other suggestions we have in store for you are only a notch or two beyond what you'll find elsewhere, so we've moved them down the list a bit.
| | |
| --- | --- |
| Battery Range | 300 miles (483 km) |
| Payload | 5000 pounds (2268 kg) |
| Towing Capacity | 20000 pounds (9072 kg) |
| Horsepower | 600 hp |
9- Hercules Alpha
The Hercules Alpha is undoubtedly an intriguing option, to put it mildly. Its cargo capacity of just 2,500 pounds is more than compensated for by its towing capability of 12,500.
It has a range of 300 miles on a single charge, which is more than enough for most people, and it costs only about $75,000, making it a very reasonable option. There's no telling if this model will be released in 2023 or not, but we're eagerly anticipating whatever they have.
Even though "jack of all trades" vehicles are often hit-or-miss, we're keeping our fingers crossed for the Hercules Alpha since it can potentially establish the company as a serious contender in the pickup truck industry.
| | |
| --- | --- |
| Battery Range | 350+ miles (563+ km) |
| Payload | 2500 pounds (1134 kg) |
| Towing Capacity | 12,500 pounds (5,670 kg) |
| Horsepower | 1000 hp |
10- Canoo Pickup Truck
The designers of this neat vehicle claim that the Canoo Pickup Truck will provide an electric option to the Volkswagen Transporter and Dodge A100, and early indications are that this may be the case.
We can't wait to get our hands on one to witness the cab-forward design that does away with a traditional hood and the front gate that looks like it came straight out of a 1980s science fiction flick.
The release of the Canoo Pickup Truck is anticipated for 2023, and with a claimed range of 200 miles per charge, we can't wait to put this vehicle through its paces.
| | |
| --- | --- |
| Battery Range | 200 miles (322 km) |
| Payload | 1800 pounds (816 kg) |
| Towing Capacity | 7700 pounds (349 kg) |
| Horsepower | 600 hp |
11- Toyota Tacoma EV
Sadly, we will not receive this model soon, even though you can find it in our want list. Since the announcement that Toyota will release an electric pickup truck, many have been eager to see how far the company would go in its bid to dominate the pickup truck industry.
They didn't reveal many details but hinted that it would be an improved take on the previous generation of Tacoma. From what we can discern, the debut of an all-electric pickup truck might come as soon as 2024. We will, however, make sure you know when it is released to the general public so that you may examine it in further detail.
12- Lordstown Endurance
Lordstown Motors was named after the city of Lordstown, Ohio, where the business now owns a former GM plant. At least it did before it was acquired by electronics giant Foxconn, a move that should speed up the manufacture of its Endurance electric pickup truck. It's good news.
The Endurance is touted as an actual work truck, comparable to the F-150 but superior to the Rivian, thanks to its four in-wheel hub motors and 109kWh battery, which together provide a claimed range of 250+ miles. Begin at $52,500.
| | |
| --- | --- |
| Battery Range | 250 mi (400 km) |
| Payload | 3000 pounds (1360 kg) |
| Towing Capacity | 8000 pounds (3,600 kg) |
| Horsepower | 440 hp |
13- GMC Sierra EV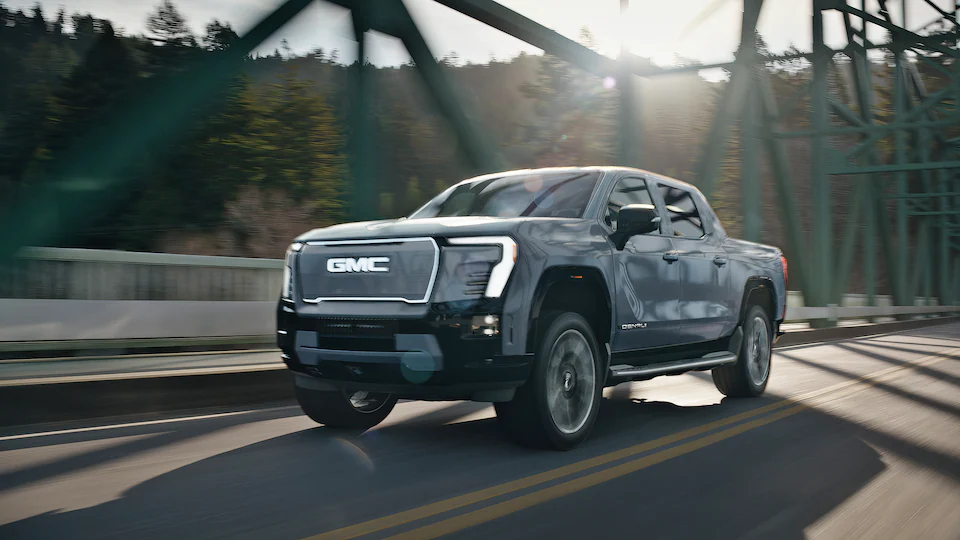 There's no denying that the GMC Hummer EV is a potent addition to the lineup, but it doesn't seem to measure up to the standards set by its more spectacular brother, the GMC Sierra EV.
Despite our little knowledge, we can't help but believe that this vehicle will dominate the market by 2023. While we know it will provide drivers with a whopping 400 miles of range, most other details remain unknown.
We're looking forward to seeing what they can accomplish with the new Sierra model, so we hope they don't fumble the ball.
| | |
| --- | --- |
| Battery Range | 400 miles (644 km) |
| Payload | 1300 pounds (590 kg) |
| Towing Capacity | 10,000 pounds (4536 kg) |
| Horsepower | 754 hp |
14- Chevrolet Silverado EV
Even though the Silverado EV is based on a preexisting vehicle, it is radically different from its gas-powered counterpart in design and construction, which is perhaps the best thing about it.
Even if it's nothing like they've promised thus far, this new all-wheel-drive EV is one of the most intriguing new entries to the market, and we can't wait to see it.
| | |
| --- | --- |
| Battery Range | 400 miles (644 km) |
| Payload | 1300 pounds (590 kg) |
| Towing Capacity | 10,000 pounds (4536 kg) |
| Horsepower | 664 hp |
15- Tesla Cybertruck
Now that we're talking about electric trucks, we should mention Tesla's Cybertruck. Undoubtedly one of the most forward-looking automobiles ever introduced to the public, we cannot be upset by its bizarre appearance.
The Tesla Cybertruck is one of those automobiles that will shatter the internet the moment they are available; therefore, we look forward to seeing what it offers despite being more of an acquired taste right now.
Since Elon Musk got involved in the "window scandal," Cybertruck's production line has been taken down. It was scheduled to go into production in 2022. Even so, I'm crossing my fingers that we can get it out the door by 2023.
| | |
| --- | --- |
| Battery Range | 500 miles (805 km) |
| Payload | 3500 pounds (1588 kg) |
| Towing Capacity | 14,000 pounds (6350 kg) |
| Horsepower | 800 hp |
Conclusion
In the end, our article has provided the complete guideline regarding electric trucks, and soon in 2023, you will find a lot of advancements in them. These trucks will come in several varieties, and you can choose from them according to your preferences.
These will ease several tasks and reach the destination in no time, thanks to their electric charge ability. Please read it thoroughly and enhance your knowledge.
FAQs
What will the price tag be for the electrified F-150?
Ford's F-Series is the most popular in the industry, so it's no surprise that many customers are anticipating the release of the F-150 Lightning. Early pricing announcements put the base price at somewhat less than $40,000.
For what reason do electric trucks cost so much more than conventional ones?
An electric vehicle's battery is among its most costly parts, and large vehicles like trucks require larger batteries to get the same driving range as lighter cars like SUVs and sedans. This significantly adds to the cost, especially considering that manufacturing vehicles are already not cheap.
What is the estimated cost of charging an electric truck?
You should check your local rates to obtain a more accurate picture of your area's power cost. On the other hand, power in California, where the EV revolution first took hold, costs 16.58 cents per kilowatt-hour as of this writing. Assuming a 30 kWh battery, such as the one found in the forthcoming F-150 Lightning, will set you back about $4.97 to fully charge.