The Range Rover is a high-end SUV from Land Rover. Since the 1970s, the Range Rover has established itself in society as a high-end vehicle capable of traversing rugged terrains. If you were to ask someone, to sum up the SUV in one word, they would probably reply, "expensive," and they would be right. The 2018 Range Rover has a price range between $75,137 – $141,783 for one of the 12 possible trim levels.
Even though it's expensive, some people still adore its spaciousness and off-road ability. However, some people may find this SUV to be too costly, others may prefer SUVs with a different body style, or you may want additional features that the Range Rover lacks. Whatever your reason, you can find many other SUVs that look like a Range Rover. Here are 15 other options that are just as good as the Range Rover.
15 Cars That Look Like Range Rover
Here are 15 cars that can be good alternatives to Range Rovers:
1. 2023 BMW X7:
The 2023 BMW X7 has got a mid-cycle redesign with a new front fascia, a larger digital instrument cluster, and BMW's latest infotainment system. It also features upgraded powertrains. The xDrive40i's six-cylinder turbocharger now generates 375 horsepower (an increase of 40) and 398 lb-ft of torque (an increase of 67 lb).
The M50i V-8 model has been renamed the M60i, and it now features a more efficient 4.4-liter twin-turbo and 48-volt hybrid arrangement. The next Alpina XB7 will have an even more powerful configuration than the M60i's 630 HP.
The X7 xDrive40i starts at $78.845. It has a top speed of 180 mph and can accelerate from 0 to 60 mph in 4 seconds. This wonderful vehicle has seven seats and a towing capacity of 5,300 to 5,950 pounds.
2. 2022 Mercedes-Benz GLS-Class:
The starting price for the GLS class is $77,850, and it offers a fuel efficiency of 18 mpg in the city and 24 mpg on the highway. Both the GLS 450 and GLS 580 trim levels have a top speed of 130 mph and can accelerate from 0 to 60 mph in 6.5 seconds.
With a towing capacity of 7,700 pounds and seating for seven passengers, the GLS class combines luxury with practicality. Despite its large size, it is surprisingly enjoyable to drive. The GLS450 is equipped with a smooth and powerful 362 hp turbo 3.0-liter inline-six engine, while the GLS580 features a more powerful 483 hp 4.0-liter twin-turbocharged V-8.
In terms of fuel efficiency, the GLS450 achieves 19 mpg in the city and 23 mpg on the highway, while the GLS580 offers slightly lower ratings of 16 mpg in the city and 21 mpg on the highway.
3. 2022 Mercedes-AMG GLS:
Standard sports-tuned air suspension improves the vehicle's handling and stabilizes the ride. The leather-lined cabin's first two rows of chairs have comfortable furnishings and enough legroom. Customers can put on several high-tech upgrades in addition to the baseline capabilities, including a mode for semi-autonomous driving.
Despite the GLS63's hefty base price of $135,000, we still believe you should spend the extra money on a few upgrades that the whole family will enjoy. The kit is perfect for people who live in colder areas because it has heated door panels, a console, and armrests.
The GLS63 has a twin-turbocharged 4.0-liter V-8 engine and a 48-volt hybrid system that together produce 603 horsepower. Air suspension, a 9-speed automatic gearbox, and all-wheel drive are all included as standard equipment.
4. 2023 Cadillac Escalade:
With a base price of $79,590 and a total of six available trim levels, this car is a deal given its opulent interior, cutting-edge technology, and the introduction of the high-performance V-series variant. Customers can choose between a potent 6.2-liter gasoline V-8 and a diesel-powered inline-six.
Cadillac's largest SUV is driven by a 6.2-liter V-8 engine that, when unused, shuts down half of the cylinders to save gasoline and generate 420 horsepower. Customers can choose between rear-wheel drive and all-wheel drive, and a 10-speed automatic gearbox is included on all models.
The Cadillac Escalade-V takes less than four seconds to accelerate from 0 to 60 mph. The top speed is 124 miles per hour, and the towing capability is 7,700 pounds. Rear-wheel drive Escalades have fuel economy ratings of 15 mpg in the city, 20 mpg on the highway, and 17 mpg while commuting in both the city and the highway.
5. 2023 Jeep Grand Wagoneer:
We get a quiet ride, a capacious cabin, and much more for a projected starting price of $90,000 with four trim levels; "L" models include spacious load compartments. It can tow up to 9860 pounds, has a maximum ground clearance of 10 inches, and can wade through water up to two feet deep.
Despite its strength, the most powerful Jeep only gets 16 mpg on open roads. It features a brand-new, 6-cylinder, twin-turbocharged engine capable of producing 510 horsepower. There are four different trim levels offered. The long-wheelbase Grand Wagoneer L comes with a 3.0-liter twin-turbo inline-six engine that produces 500 pound-feet of torque and 510 horsepower as standard.
6. 2022 Lincoln Navigator:
With a starting price of $78,965, this opulent vehicle provides us with a strong twin-turbocharged V-6 engine, a spacious cabin, and a sophisticated look. The Navigator's lavish cabin is jam-packed with premium components, numerous standard amenities, and cutting-edge technology from Lincoln.
With its Heavy Duty towing option and 440 horsepower dual turbocharged V-6, the Navigator can tow up to 8700 pounds. The Reserve trim is the best choice if you want a luxurious and functional vehicle. It includes features like heated and ventilated seats, a head-up display, and a power-adjustable steering wheel as standard equipment.
Anyone who requires it has access to an all-wheel-drive configuration. The acceleration time from 0 to 60 mph ranges from 6.8 seconds to 5.4 seconds, and the top speed is 115 mph.
7. 2022 Suburban:
The EPA predicts 21 mpg in the city and 27 mpg on the highway for the $56,395 base price. Each of the six available trim levels can reach a top speed of 154 mph (248 km/h) in less than seven seconds, which is great. This SUV can tow up to 7,400 to 7,800 pounds and has room for eight or nine passengers.
Due to the extended wheelbase and greater overall dimensions of the vehicle, a total of 121.7 cubic feet of cargo space can be made accessible when the third and center seats are folded down. The Suburban is available with a 420-horsepower V8 engine.
8. 2022 Chevy Tahoe:
Evergreen Grey, Auburn, and Dark Ash are colors that have wowed prospective buyers. The 7 to 8-seat vehicle gets 21 mpg in the city and 28 mpg on the highway in terms of mileage. While the High Country version only needs 5.9 seconds to reach its top speed, certain variations may do so in 7.5 seconds.
For as versatile as large SUVs come, the 2022 Chevrolet Tahoe, which starts at $56,395, is a good choice. Its internal space is comparable to a minivan, but its towing capacity ranges from 7,600 to 8,400 lbs, making it comparable to a pickup truck. There are three different powerplant options for Chevrolet's second-largest three-row SUV.
Related: 10 Reasons Why Pickup Trucks Are So Expensive
9. 2022 Ford Explorer: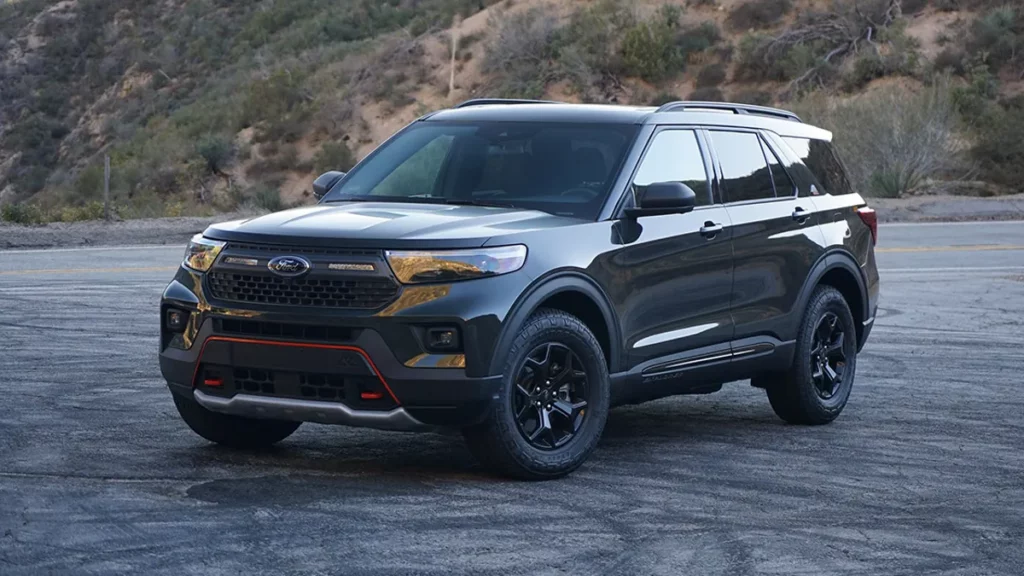 The Ford Explorer 2022 has a big cabin, a powerful engine, and a state-of-the-art safety and security system. The new Explorer has several beneficial features that make it difficult to beat in terms of design and performance compared to its rivals.
The engine for the Explorer has improved performance without raising fuel consumption. The new 2.3-liter engine can produce 300 horsepower and 310 pound-feet of torque and comes with a standard 10-speed automated gearbox. The Explorer Limited Hybrid's 3.3L hybrid powertrain offers the best fuel efficiency available.
10. 2022 Volvo XC90:
With a starting price of $50,900, the XC90 offers a cost-effective choice for budget-conscious people and achieves a fuel efficiency of 21 mpg in the city and 30 mpg on the highway. The available trims include Momentum, R-Design, and Inscription, offering different levels of refinement.
The XC90 can reach 0-60 mph in 6.5 seconds and has a top speed of 143 miles per hour. If you plan on carrying a lot of equipment, it has a towing capacity of approximately 4,000 to 5,000 pounds. The interior design of the cabin combines sophistication with child-friendly elements.
The latest high-level package includes a 360-degree video system, a head-up display, and an improved air-filtration system. The Climate package also features standard headlight cleaning and a heated steering wheel.
11. 2022 Nissan Armada:
Our favorite is the SL grade, which has four different configurations and starts at $51,195. Similar to the SV model, this one offers a number of enticing features, but it also has a power sunroof, remote ignition, power liftgate, and leather interior accents.
Related: 15 Famous Cars With Brown Leather Interiors That Suits All
While some interior decorations may appear outdated, the cabin exudes an elegant and serene atmosphere. Although the Platinum trim is costly, it provides a truly luxurious interior befitting a high-end pickup truck. Each model is equipped with a wide range of advanced technology and proactive safety features.
The Armada's refined automatic transmission and 400-horsepower V-8 engine deliver a commanding and confident driving experience. Whether equipped with rear-wheel drive or all-wheel drive, every model can tow up to 8,500 lbs and comfortably accommodate eight passengers at the same time.
12. 2023 Toyota Sequoia:
The new Sequoia starts at $59,795 and includes the Tundra's hybrid engine, which can produce 437 horsepower, as standard equipment. Its three-row interior has room for up to eight passengers and a huge touchscreen with the most recent software.
The Limited trim level among the five Sequoia trim levels appears to be the greatest deal. Every Toyota Sequoia comes with a 5.7-liter V8 engine that produces 381 horsepower as standard. The Sequoia is the best vehicle for towing, and when the second and third rows are folded down, it has more than 120 cubic feet of room for cargo.
The Armada moves with a sense of authority and assurance because of its 400-horsepower V-8 engine and sophisticated automated gearbox. Each model can tow 8500 lbs and accommodate eight passengers at once, whether it is rear-wheel drive or all-wheel drive.
13. 2022 Kia Telluride:
The Kia Telluride doesn't have quite the off-road prowess of some of the other SUVs on this list. Although it can handle some off-roading, you don't really buy a Telluride for that. You buy it because it has a stylish appearance and provides the kind of standard functionality typically found in minivans.
This vehicle comes in four trim levels: LX, S, EX, and SX. While the S and SX have 20-inch alloy wheels, the LX and EX trims have 18-inch alloy wheels. Alloy wheels are particularly effective in terms of fuel economy, regardless of size. This is because they are lighter than steel wheels.
Furthermore, despite the fact that Kia is not a luxury brand, you might be shocked by how pleasant the Telluride's inside is. A true luxury SUV would be significantly more expensive, but at a base price of just under $32,000, this SUV is far more affordable.
14. 2023 GMC Yukon/Yukon XL:
With a starting price of $57,295, it has a top speed of 107 mph and can accelerate from 0 to 60 mph in 6.2 seconds. There are five distinct trim levels available. This strong SUV can tow between 7,500 and 8,500 pounds and accommodate up to eight people.
Leather seats in Denali versions are hand-stitched, and wood accents decorate the dashboard. The Yukon can get up to 16 mpg in the city and 20 mpg on the highway with the 5.3-liter V-8 engine. For those keeping score, that equals an average mileage of 18 mpg.
Two V-8 turbo-diesel alternatives (a 355-horsepower 5.3-liter and a 420-horsepower 6.2-liter) are capable of up to 21 mpg in the city and 27 mpg on the interstate, making them more fuel-efficient than conventional engines.
15. 2021 Audi A8:
Audi is your best option if you want a vehicle that resembles a Range Rover, but you don't want to shell out the extra cash. The Audi A8 is a wonderful option if you're searching for a premium vehicle with a sophisticated exterior due to its smooth curves and clean design.
The vehicle comes in four trim levels: the 55 TFSI, 60 TFSI, plug-in hybrid TFSI e, and the powerful S8. All four trim levels use the all-wheel-drive system and the eight-speed gearbox.
You would like this car if safety is a concern for you. The vehicle includes numerous safety features, including driveline traction control, an anti-lock braking system (ABS), driver and passenger knee airbags, and side seat-mounted airbags.
Frequently Asked Questions:
Does the Range Rover Experience Any Changes in 2023?
Land Rover has introduced the 2023 Range Rover Sport, a more affordable and sportier version of the larger Range Rover. With advanced technologies and engine advancements, 2024 will mark a new age.
Are Range Rovers expensive to Maintain?
Compared to many other luxury cars, Range Rovers often cost more to maintain. You can expect maintenance prices for a Range Rover to go up a lot five to six years after the year of production.
How long does it take to get a Range Rover?
As is the case with many other automakers, new Land Rovers are not always readily available across the full lineup. Lead times typically range from six months to a year.
Conclusion:
Some car buyers believe they must settle for a Range Rover when they start looking for a four-wheel-drive SUV. It is one of the most overexposed cars, so you can't really blame them. However, some people may prefer alternative Range Rover-like cars.
Fortunately, this list will help people choose vehicles other than the Range Rover. Each vehicle on this list has standout characteristics. Each of these 15 vehicles is suitable for different people, and it is up to you as a buyer to decide which one is best for you. If you're having trouble with this, this guide will help you choose the best one for you.