Muscle cars are the cars many people dream of having in their garages. There is something about muscle cars that drives one to stop and stare. They give off an air of luxury, class, boldness, and aggression.
Despite their common perception, muscle cars are still going strong. Surely, you won't be able to find an Oldsmobile 442 at your local retailer anymore. Still, several modern vehicles are either fitting homages to the glory days of muscle or serve to redefine what a muscle car can be.
Muscle cars are good for drag racing because they can speed up quickly and go the fastest in a straight line. They are normally equipped with rear-wheel drive instead of front-wheel drive; however, all-wheel drive variants are also available.
In addition, these performance vehicles are quite cost-effective when compared to exotic sports cars. Car manufacturers are constantly upgrading muscle cars, making them efficient and loaded with the latest innovative features.
For those who want to get in on the action, there are modern muscle cars that are likely to become classics. Here are 20 modern American muscle cars worth a fortune in 2023.
1. Ford Mustang Shelby GT500
The current Shelby Mustang GT500 is the most powerful creation Mustang has ever made. It's Ford's most potent street-legal vehicle. Prices for a new Ford Mustang Shelby GT500 range from $32,295 to $102,145.
The GT500 is powered by a 5.2-liter supercharged V-8 producing 760 horsepower and 625 lb-ft of torque and paired exclusively to a TREMEC 7-speed automated transmission.
If you want more power, you can spend an extra $18,500 on the GT500KR, which stands for "King of the Road." You'll feel like a king with over 900 horsepower at your command. It has a 2.3-liter, four-cylinder EcoBoost engine that produces 310 horsepower. It offers a solid 350 lb-ft of torque, which is not too shabby.
2. Ford Mustang Bullitt
Like the hero who brought its grandpa to superstardom, it is the King of Cool among all Mustangs. It has undergone careful modification to provide a unique driving experience that distinguishes it from the rest of the Mustang lineup.
The Bullitt version can reach 60 mph in under 4.6 seconds, making it an instant classic. Powered by a roaring V8 engine producing 453 horsepower, the car sounds as good as it performs. It is a special Mustang with Highland Green paint, appropriate insignia, and customized trim.
The Ford Mustang Bullitt costs $47,810 and features a unique design, better productivity, and probably Steve McQueen's stamp of approval. Purchase one, enjoy it, and then make sure the garage has enough room to keep it in pristine condition.
3. Ford Mustang Mach 1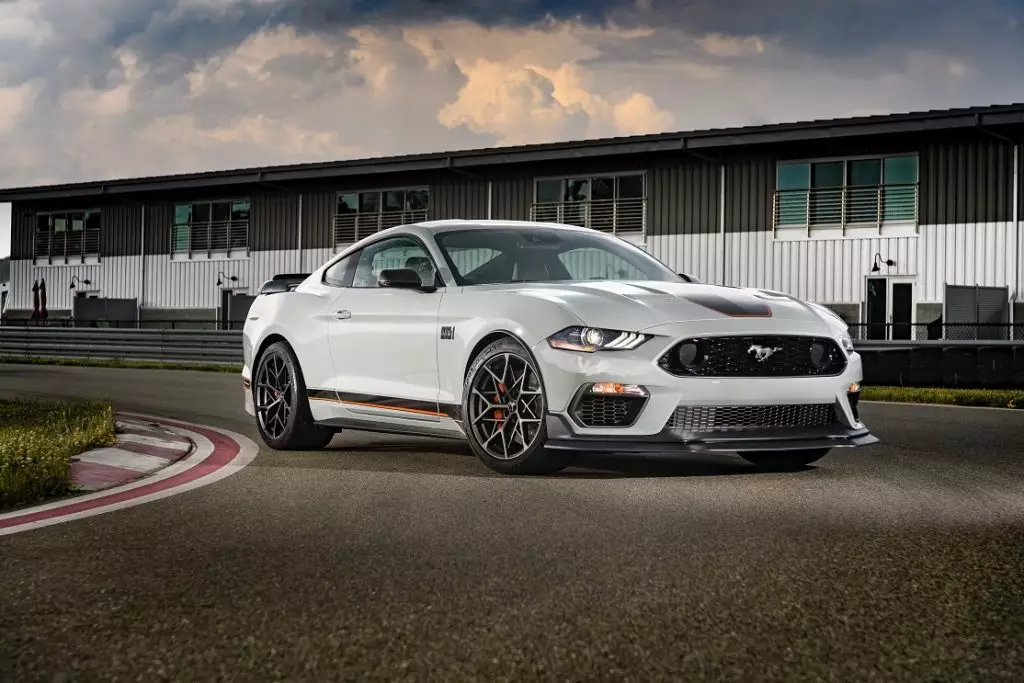 Mach 1 is the pinnacle of what the Mustang has to offer. The Mach 1 will challenge and excite you every day, no matter how skilled you are. You'll have a great time behind the wheel. The balance and capability of the Mustang Mach 1 are unmatched by many sports coupes.
The test Mach 1 reached 60 mph in 4.1 seconds by making the most of its 480 horsepower V8 and 10-speed automated transmission. Mach 1 performs beautifully on curved roads as well. The shock absorbers can be adjusted for a smoother ride on the highway and set to Sport or Track for more passionate driving.
The Mach 1 delivers incredible grip and stability when fitted with the premium handling package. Another advantage of the Mach 1 is its dual-zone automated climate control system. It has many excellently adjustable vents and does a wonderful job controlling temperature.
4. Ford Mustang Coupe
The Ford Mustang Coupe is an American icon. The cherished two-door coupe is better than ever despite being in its sixth generation. It is powered by a 2.3-liter, four-cylinder turbocharged engine with 310 horsepower.
Although many people will argue that the Mustang has lost its essence, there are several V8 possibilities. The base Mustang still has a ton of torque available. Furthermore, the tiny EcoBoost Fastback will outperform more expensive vehicles under the right conditions.
In contrast to its adversary, it provides a better overall driving experience. Even though it has the name of one of America's most iconic muscle cars, the Mustang's success is due to much more than its famed namesake alone.
5. Ford Mustang GT Convertible
The Ford Mustang GT Convertible is a two-door convertible with the same dimensions as the other Mustang Convertibles. It is the perfect car for people who want to get into the world of professional American sports cars.
It has a 5.0-liter V8 engine with naturally aspirated fuel. With a ten-speed automatic transmission, this engine transmits its 460 horsepower and 420 lb-ft of torque to the rear wheels. The GT Convertible is not only a blast to drive, but it also makes a useful everyday companion.
This automobile is not as hard as some more oriented driving cars, making it comfortable to drive daily. The convertible Mustang GT continues to be a perfectly functional vehicle. When you open the trunk, you'll find 11.4 cu ft. of room, which is more than enough for your needs.
6. Ford Mustang Shelby GT350R
The Shelby GT350R is the only vehicle on this list to be considered a sure bet for future success. It is a great vehicle with a 5.2-liter V8 engine that produces 526 horsepower effortlessly.
The vehicle can reach 60 miles per hour in a lightning-fast 3.7 seconds. The Ford Mustang comes in a variety of models, but the Shelby GT350 is the one you want if you want velocity. When it comes to performance on the track, this Mustang is unparalleled.
The Shelby GT350R is a precision instrument carved from a pure block of aggression. It exceeds all expectations for a Mustang by a wide margin. Give it 70 years, and someone will certainly have an amazing Shelby GT350R barn-find experience.
7. Chevrolet Camaro SS
In the Camaro lineup, the Chevrolet Camaro SS is right below the powerful ZL1. It's not quite as swift as its older sibling, but it's far from slow. The Camaro SS is powered by a 6.2-liter V8 engine with 455 horsepower and 455 lb-ft of torque and a six-speed manual transmission with active rev matching.
The optional 10-speed automatic transmission features paddle shifters. For the best performance under the given conditions, the Camaro has adjustable drive modes, including tour, sport, snow/ice, and track. Front and rear high-performance 4-piston Brembo brakes ensure safe stopping.
8. Chevrolet Camaro ZL1 1LE
The drop-top version of the Chevrolet Camaro ZL1 is a hidden gem. The powerful Camaro ZL1 1LE has a 6.2-liter supercharged V8 engine that produces 650 horsepower and 650 lb-ft of torque. Therefore, it will take this Camaro 7.4 seconds to reach 100 mph.
That results in a very quick Camaro, and fast Camaros have historically made great investments. It may have a track bias setup, but it simply makes slicing through corners more enjoyable.
In first gear, the ZL1 1LE will sprint to 60 mph in 3.1 seconds. It's a brilliant performance vehicle with incredible capabilities that will attract a strong following.
9. Chevrolet Camaro Yenko S2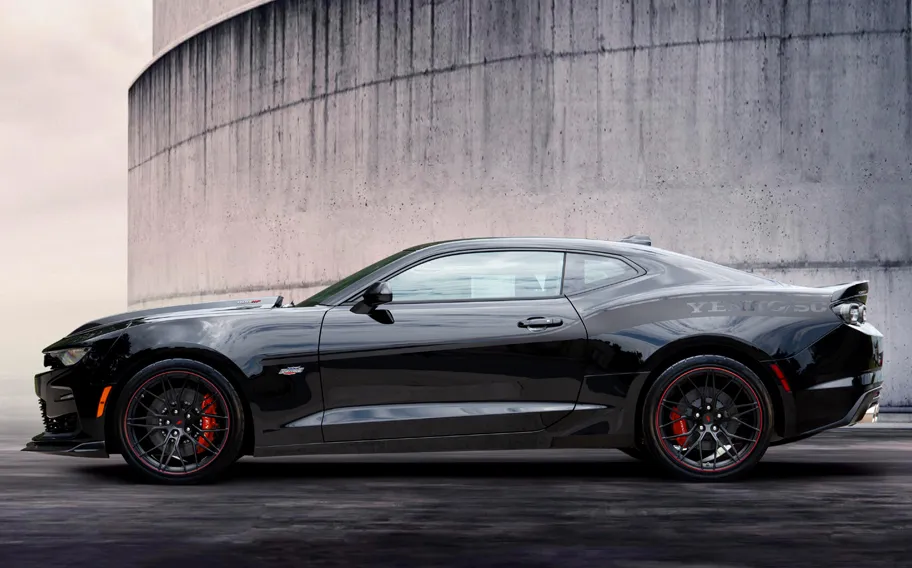 A genuine 1969 Camaro Yenko is like finding a unicorn. There were only 201 produced, and they were quite expensive. As a result, it stands to reason that the 2023 limited edition Yenko Camaro will do the same. In 2023, only 50 of the Yenko Stage I and Stage II Camaros will be built, and you can expect them to come with a hefty price tag.
They will be even rarer than the original because just 50 units are being made. It also boasts impressive bragging rights because of the 1050 horsepower generated by its 6.8-liter V8 supercharged engine.
All of this points to the Yenko being a car that will undoubtedly vanish into collections and only occasionally emerge. They can only be used on tracks; you'll never see one on the road.
10. Chevrolet Camaro Coupe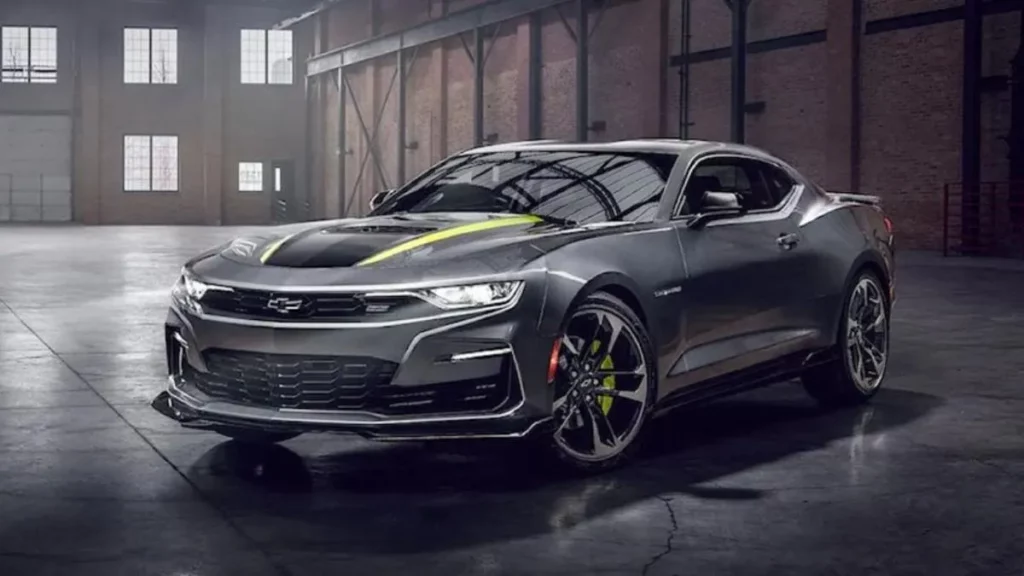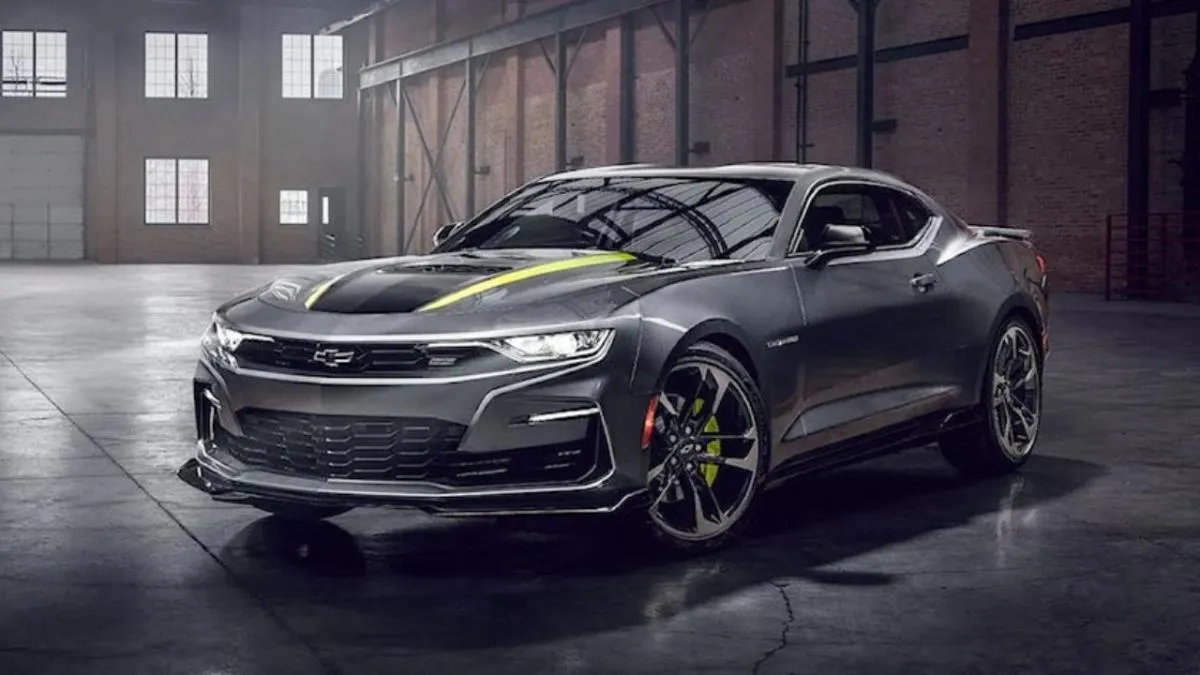 The Chevy Camaro was released in 1966 as a rival to the Ford Mustang. The flame of the long-standing rivalry is still burning more than 50 years later. The Camaro has the advantage of having handling characteristics to match its aggressive appearance.
The Camaro is a vehicle that offers the best of both worlds: it's practical for daily use while still being a complete blast to drive on winding mountain roads. Some optional magnetically operated dampers are available to enhance the ride's overall quality.
Regardless of the powertrain setup, it is a fun car to drive, has a stylish design, and is reasonably priced, especially in the versions with the latest and innovative features.
11. Dodge Challenger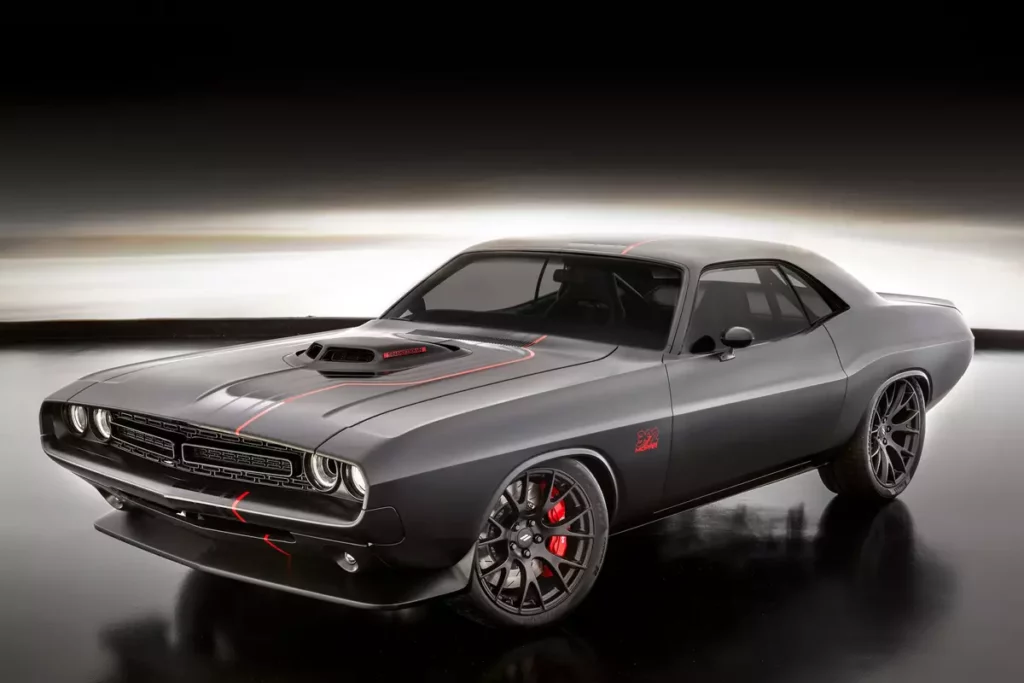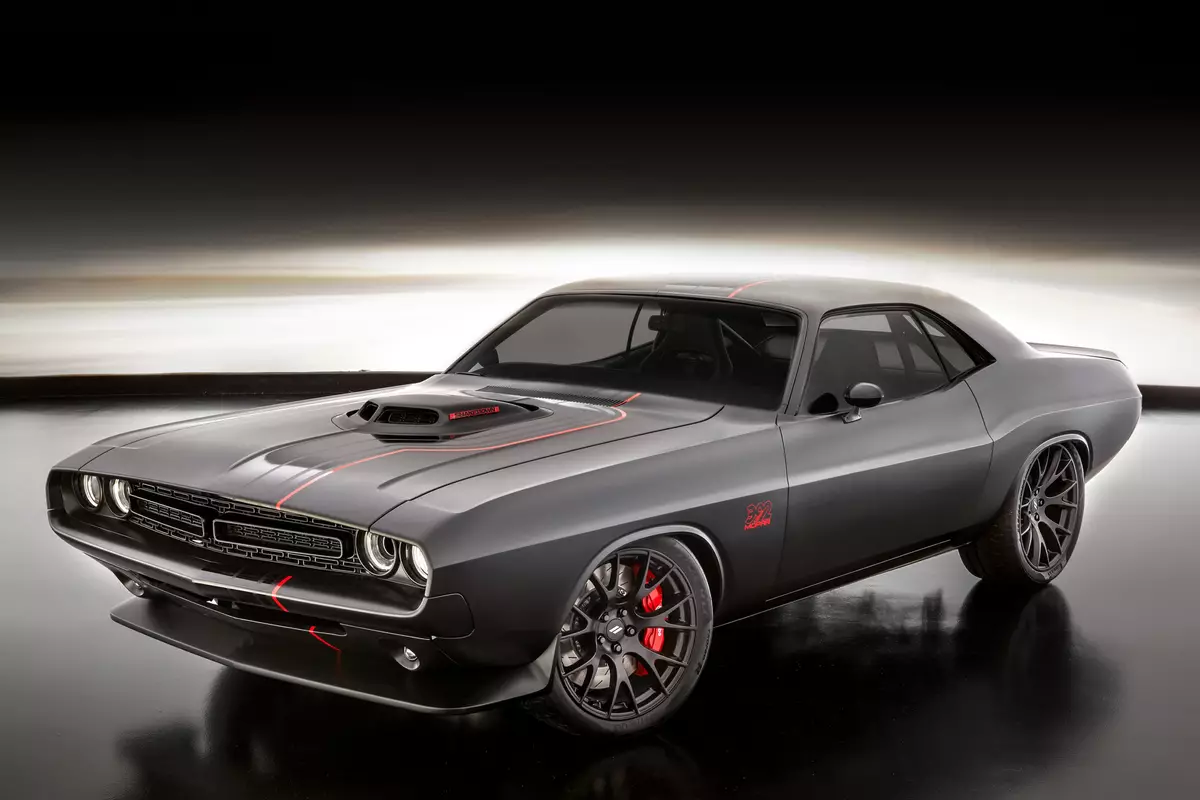 Dodge's big muscle car is a blast to drive, even if it doesn't feel as sharp as the Chevrolet Camaro or Ford Mustang. It is a classic American muscle car with a V8 engine. The 6.4-liter V8 provides ample power at nearly any speed and gear.
This coupe seems like a large, heavy vehicle from the driver's seat. The Challenger doesn't just rely on the power of will. Fortunately, a wide range of V8 engines is available to give this large coupe a high rate of straight-line acceleration.
The ride is quite comfortable, even when choosing models with a sportier chassis. Due to regular upgrades over time, most of today's advanced driving aids are also readily available.
12. Dodge Challenger SRT Demon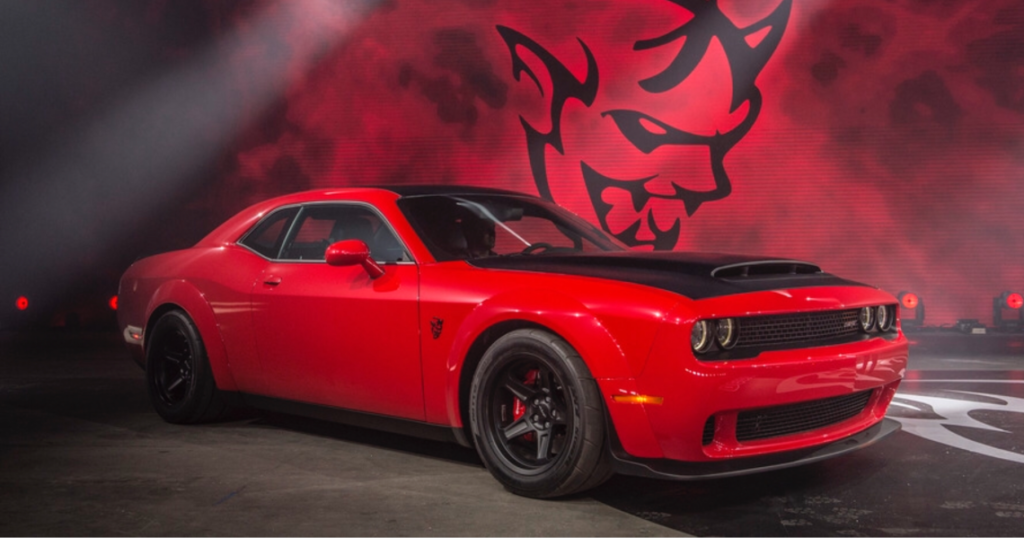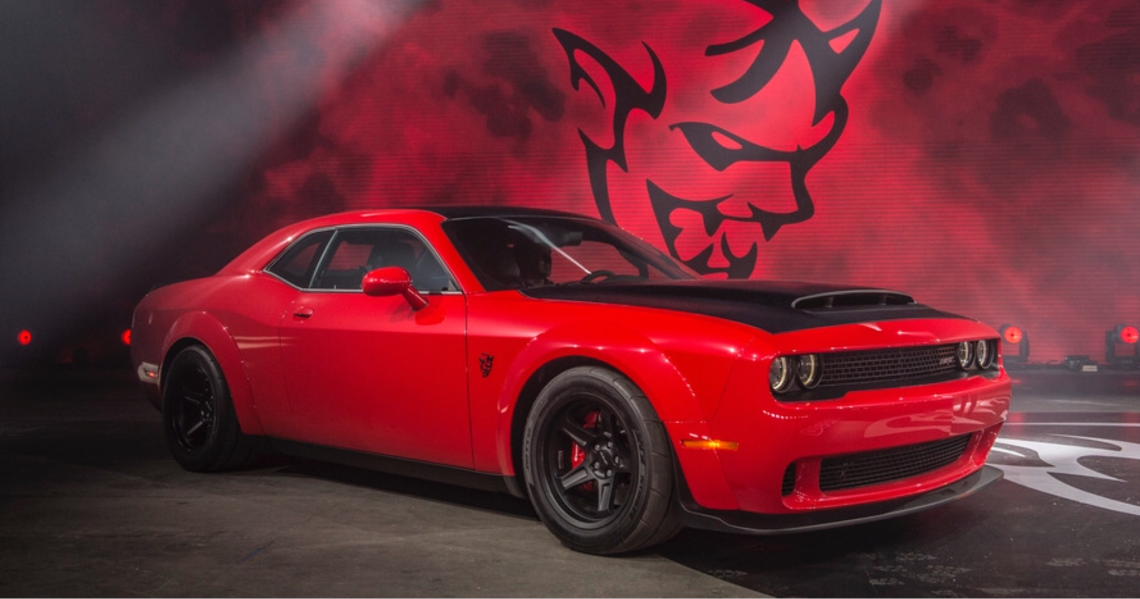 This vehicle lives up to its name and reputation as a demon car. The Challenger SRT Demon is truly driven by a higher force. On race fuel, its engine is rated at 840 horsepower. It is a muscle car that can reach a quarter-mile distance in 9.5 seconds while traveling at 140 mph. That is incredibly fast.
It will accelerate to 60 mph on the open road in 2.1 seconds. With all of that speed, the SRT Demon is a supercar slayer. A car that stands out as an example of how far the muscle car subculture has come. They won't take long to become highly sought-after collector cars.
13. Dodge Challenger SRT Hellcat Redeye
The Dodge Challenger SRT Hellcat Redeye is a new model and the Dodge lineup's most powerful vehicle. The vehicle's 6.2-liter supercharged high-output V8 engine produces 797 horsepower and 707 lb-ft of torque.
It is connected to an automatic transmission with eight speeds. Dodge also upgraded 25 significant parts of the SRT Hellcat Redeye to ensure it is ready for top performance. So, you know it's going to be quick.
It also receives a slightly altered Hellcat logo with a crimson eye. It's a homage to the car's name and lets people know you're in a professional muscle car. The starting price of the Dodge Challenger SRT Hellcat Redeye is $83,909.
14. Dodge Challenger SRT Hellcat Widebody
The Dodge Challenger SRT Hellcat features a widebody configuration. It's the quickest non-Redeye Hellcat model money can buy, albeit barely. A 6.2-liter V8 engine provides the power, producing 717 horsepower and 656 lb-ft of torque.
The SRT Hellcat Widebody takes just 3.6 seconds to reach 60 mph from a standstill and goes up to 196 mph. Although the conventional body is only 0.1 seconds faster, it's still a win-win. Along with having a little bit more speed, the widebody is a more commanding muscle car.
The Challenger's overall width is increased by 3.5 inches with the widebody package's addition of fender flares. The split-five-spoke forged aluminum wheels contribute to the widebody's prominence.
15. Dodge Challenger SRT Hellcat Redeye Widebody
The Dodge Challenger SRT Hellcat Redeye is also available in a widebody configuration. In terms of performance times, the new model takes 3.4 seconds to reach a quarter-mile while traveling at 60 mph.
The Hellcats are the best muscle vehicles available, regardless of their form. The fender flares are the primary distinction between conventional and wide bodies. This adds 3.5 inches to the Challenger's overall width. The base price has also increased by $6,000, making it $75,650.
16. Dodge Charger SRT Hellcat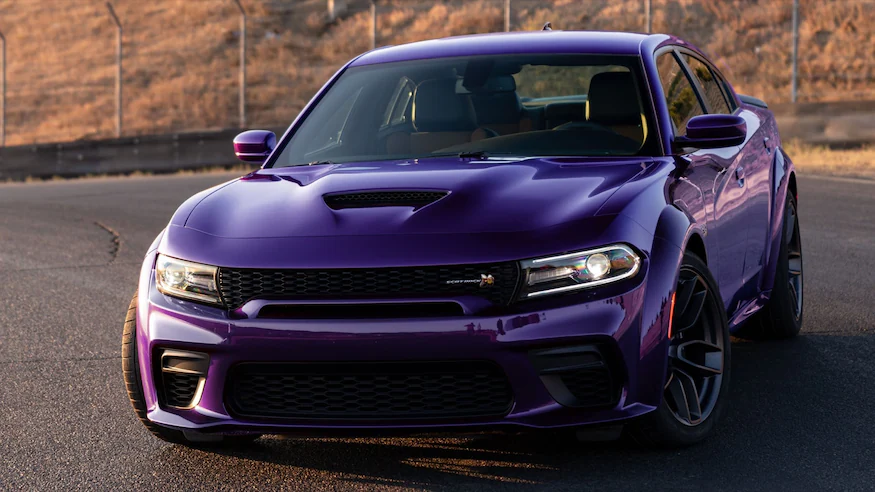 The Dodge Charger SRT Hellcat is unique on this list. The Charger is a sedan, unlike the other muscle cars, which are coupes. It may just as easily burn up the track on the weekend as it can drive the kids to school.
A 6.2-liter V8 supercharger with 707 horsepower and 650 lb-ft of torque provides the drive. This is coupled to a standard eight-speed automatic transmission with paddle shifters. The engine now benefits from a new performance grille with two inlets, allowing fresh air from the outside to be drawn in.
Additionally, it has a torque reserve feature, a line lock, an after-run chiller, and launch assistance. The latest Dodge Charger SRT Hellcat is a fast car and can accelerate from 0 to 60 miles per hour in only 3.4 seconds.
17. Cadillac CT6 Blackwing
The powerful Blackwing engine is a 4.2-liter twin-turbo V8 that can produce up to 550 horsepower when installed in the CT6. It is elegantly refined, incredibly comfortable, and combines luxury with ballistic performance. The CT6 Blackwing could compete with any super sedan made in Germany at the time.
The Cadillac CT6 Blackwing is a vehicle to look for and cherish. Sadly, it was taken off the market before it had a chance to succeed. It's a fantastic piece of technology with great commercial potential.
18. Pontiac G8 GXP
The Pontiac G8 was manufactured by Holden in Australia. But that's what sets it unique from other American-bred muscle cars. Despite its heritage, it is still a Pontiac, and Pontiac is the epitome of all things American.
It had a 6.2-liter LS3 V8 with over 400 horsepower, a modified racing suspension, and massive Brembo brakes in GXP trim. It is a rare vehicle because only 1800 units were manufactured.
Rare typically indicates an increase in value in the future. Additionally, there is a sense of exclusivity surrounding the lineup because the G8 is Pontiac's first full-size vehicle since the Bonneville.
19. Mercedes-AMG C63 S Coupe
Perhaps a high-performance Mercedes-Benz doesn't seem like your typical muscle car. However, it meets many of the prerequisites. The newest Mercedes-AMG C63 Coupe combines an impressive twin-turbocharged V8 engine with a high-end cachet and premium quality.
It produces a large amount of horsepower in its S configuration. A nine-speed automatic transmission transfers it to the rear wheels. The electrified powertrain packs a wallop, and it'll be capable of hitting 60 miles per hour in just 3.0 seconds.
If you need something with a bit more functionality, saloons and estate coupes are available. However, if you don't want to spend any more money, you can choose an earlier C63 AMG with natural aspiration.
20. Lexus RC F
The Lexus RC F is an excellent option if you're looking for a powerful car without losing ease of ownership or reliability. The eye-catching two-door variant was created to be a captivating vehicle to drive. It has a 5.0-liter, naturally aspirated V8 engine that has been expertly built.
The latest RC F's have four cams and 32 valves, allowing them to generate 457 bhp at 7,100 rpm. Even though that is less than some of the competitors in this field, the Lexus can still accelerate from 0 to 62 miles per hour in 4.3 seconds.
The RC F is also well-equipped and exceptional. Some people could be put off by the vehicle's high curb weight and dated infotainment system. But if that's okay with you, you can get vintage models at a very reasonable price.
Conclusion
Although every American muscle car has its own iconic status, some are more efficient than others. We've compiled a list of the top muscle cars of 2023 based on their individual specs.
The ones with the highest average safety ratings from the National Highway Traffic Safety Administration (NHTSA) last the longest, retain their worth the best and are the most reliable ones. The torque and horsepower of the vehicle are also considered.
We've narrowed down the top muscle cars for performance-oriented drivers from a wide range of models and trim levels. If you are interested in buying a muscle car in 2023, this guide may help you choose the one that best suits you.