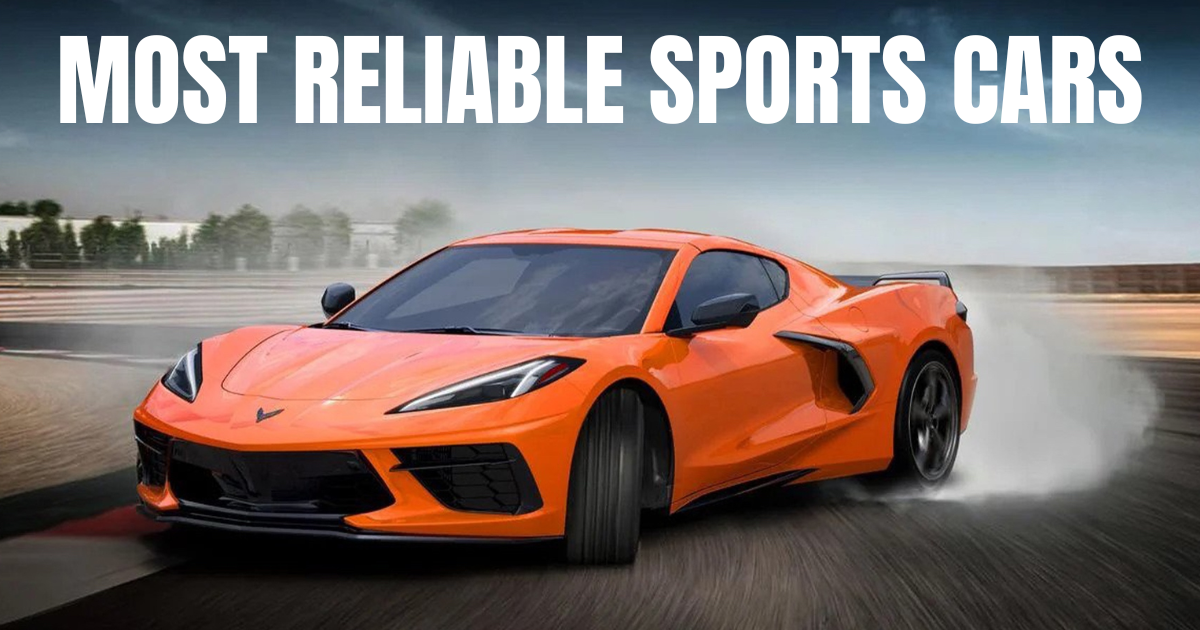 The search for the most reliable sports car is a never-ending pursuit for automotive enthusiasts and thrill-seekers alike. Combining the exhilaration of high-performance driving with the reassurance of long-lasting dependability, a reliable sports car embodies the perfect blend of power and peace of mind.
When seeking to buy any vehicle, reliability is critical, and as a sports car lover, reliability can make or break your automotive experience. Reliability is a significant consideration when purchasing a sports car.
In this article, we have compiled the 15 most reliable sports cars you can buy in 2023. So, without further ado, let's begin.
Chevrolet Camaro
The Chevrolet Camaro is renowned as a reliable sports car that delivers an exhilarating driving experience. Its robust performance and impressive handling make it a favorite among automotive enthusiasts. Its starting price is $27,795.
Equipped with a powerful engine, the Camaro offers varying powertrains, including a 255hp turbocharged four-cylinder, a 355hp V6, and a high-performance 455hp V8 in the top-tier models. These engines provide exceptional acceleration and ample power for thrilling acceleration on the road.
The Camaro's precise steering and agile suspension further enhance its sporty nature, allowing for precise cornering and an engaging ride. With its sleek and muscular design, the Chevrolet Camaro performs exceptionally and turns heads wherever it goes.
Audi TT
The 2023 Audi TT offers a thrilling driving experience without compromising on dependability. Known for its impeccable German engineering, the TT delivers both style and performance. Its starting price is $53,295.
Under the hood, it boasts a range of engine options, including a turbocharged 2.0-liter four-cylinder engine that produces 228 horsepower in the base model and goes up to 400 horsepower in the high-performance TT RS variant.
With its responsive handling and precise steering, the TT offers a dynamic and engaging ride, making it a joy to drive on both highways and twisty roads. Its sleek and aerodynamic design exudes a sense of sportiness, while the well-appointed interior provides comfort and modern technology.
Ford Mustang
The Ford Mustang 2023 is a driving legend in the United States and one of the most famous cars in the world. Its starting price is $32,515.
Except for the four-cylinder EcoBoost models, which are slower but use less gas, most Mustangs today have 5.0-litre V-8 engines with 480 horsepower that can get the car from 0 to 60 mph in less than four seconds.
According to the EPA, with a turbo four-cylinder and 10-speed automatic, the Ford Mustang achieved 21 mpg in the city and 32 mpg on the highway.
Subaru BRZ
The Subaru BRZ 2023 is a well-crafted vehicle that demonstrates that you don't have to pay a fortune to acquire a comfortable sports car. A 2.4-liter four-cylinder engine with 228 horsepower offers adequate acceleration and an exciting driving experience.
The 2+2 fastback coupe, which starts at 'only' $29,615, comes with a slew of technological and comfort features, including a leather-wrapped steering wheel, dual-zone temperature control, push-button start, an 8-inch infotainment touchscreen, and more.
For $32,115, you can choose the Limited trim, which includes heated front seats and simulated suede and leather interior. The BRZ also sports a well-balanced chassis and rear-wheel drive, allowing excellent handling and agility.
FIAT 214 Spider
The latest FIAT 124 Spider is a stylish, reliable sports car with an enjoyable driving experience. Built on a solid foundation, the 124 Spider offers a blend of Italian design and dependability.
Powered by a turbocharged 1.4-liter four-cylinder engine, it produces 160 horsepower, providing lively acceleration and responsive performance. The 124 Spider's agile handling and precise steering contribute to its nimble nature, allowing for confident maneuvering on straightaways and winding roads.
Its sleek and timeless design pays homage to the classic roadsters of the past, turning heads wherever it goes. The 124 Spider features a comfortable, well-crafted interior with modern technology and supportive seats. Its starting price is $26,885.
BMW Z4
A BMW sports vehicle should be robust and comfortable, and the 2023 Z4 does not disappoint. It has a quiet and appealing interior, partly due to the now standard M Sport suspension, designed to absorb road irregularities.
The base sDrive30i has a 255-hp turbocharged 2.0-liter four-cylinder engine, while the M40i has a 382-hp turbocharged 3.0-liter straight-six engine. Those looking for gentler comfort might select the Z4 M40i, which boasts adaptive suspension technology that adjusts the suspension settings based on driving conditions to provide a unique ride and feel. The starting price of the BMW Z4 is $53,795.
Related: 15 MOST Reliable BMW Models | 2023
Toyota GR86
Toyota GR86 is one of the most affordable sports cars, starting at $29,495. A 228-hp flat-four with ample mid-range power, a six-speed manual transmission is standard (and is the sole option), but a six-speed automatic transmission is also offered.
The GR86's lightweight construction and well-balanced chassis contribute to its agile and responsive nature, allowing for precise cornering and an enjoyable driving experience. With its sleek and athletic design, the GR86 exudes a sporty presence on the road.
Inside the cabin, the GR86 offers a driver-focused cockpit with modern technology and comfortable seating. The Toyota GR86 is ideal for those seeking a reliable, fun-to-drive sports car that brings excitement and peace of mind.
Related: German Cars vs Japanese Cars – Are German Cars Reliable?
Porsche 718 Cayman
The Porsche 718 Cayman is praised for its ability to give entertainment. Many drivers will appreciate spending time behind the wheel of this vehicle thanks to its well-balanced suspension, 300-hp turbo-four, comfy front seats with heating capabilities, and dual-zone automatic temperature control, which should keep passengers comfortable.
Regarding reliability, Porsche has a strong reputation for building durable and long-lasting vehicles. The 718 Cayman is crafted with meticulous attention to detail and high-quality materials, ensuring its reliability over time.
Porsche also offers a comprehensive warranty program, providing peace of mind to owners and further bolstering the car's reputation for dependability. Its starting price is $69,950.
Chevrolet Corvette
The 2023 Chevrolet Corvette is a comfortable-riding sports vehicle that looks excellent, performs well and has a lovely exhaust tone. Its starting price is $65,895.
According to various reviews, a 490-hp mid-mounted 6.2-liter V8 engine, generous power-adjustable seats, a power-adjustable and leather-wrapped steering wheel, leather upholstery, and numerous upscale features give this vehicle an exciting driving experience.
Lexus LC
Although the 2023 LC isn't expected to outperform a Mercedes in terms of convenience and tech features, it's sufficiently comfy.
It has a well-crafted cabin, a road-friendly suspension that absorbs bumps and cracks, and a powerful V8 engine with 471 horsepower. Its price starts at $98,850.
Power-adjustable front seats, heated and ventilated front seats, leather upholstery, dual-zone automatic temperature control, a 10.3-inch infotainment touchscreen, a 12-speaker audio system, and other features are included.
Porsche 911
The 2023 Porsche 911 is an iconic sports car that has long been celebrated for its exceptional performance and timeless design. A 3.0-liter flat-six-cylinder engine with two turbochargers is in the back of the 911.
The standard Carrera has 379 horsepower, the S has 443 horsepower, and the GTS has 473 horsepower. Its price starts at $107,550.
Inside the cabin, the 911 offers a well-crafted and driver-focused environment, combining luxury and sportiness. Comfortable seating and advanced features create a worthy driving experience.
Nissan Z
The Nissan Z 2023 is a fantastic sports vehicle with an unforgettable driving experience and is renowned for its dependability. This iconic vehicle is powered by a robust engine, most notably the 3.0-liter twin-turbo V6 in the latest generation.
This powerplant churns out an impressive 400 horsepower, providing thrilling acceleration and impressive performance on the road. The Nissan Z features a responsive and precise steering system and a well-tuned suspension, resulting in excellent handling and agility.
With its reputation for reliability, the Nissan Z offers both exhilarating performance and peace of mind for sports car enthusiasts seeking a thrilling and dependable driving experience. Its starting price is $42,085.
Related: 14 Best Honda Sports Car Of All Times
Dodge Challenger
The Dodge Challenger 2023 isn't just a regular muscle car with much power under the hood. It also makes for a surprisingly comfy ride.
Even though most sports cars have backseats that are either very small or don't exist at all, the Dodge Challenger has a cabin that is surprisingly big and can easily fit up to five people.
Standard models have V-6 engines with 305 horsepower, while the top-level trim has a boosted V-8 engine with 797 horsepower. If that quick V-6 sounds too much of a drag, you should go with the V-8. Its price starts at $32,695.
Related: German VS American Cars | History, Top Models, Pros & Cons
Mazda MX-5 Miata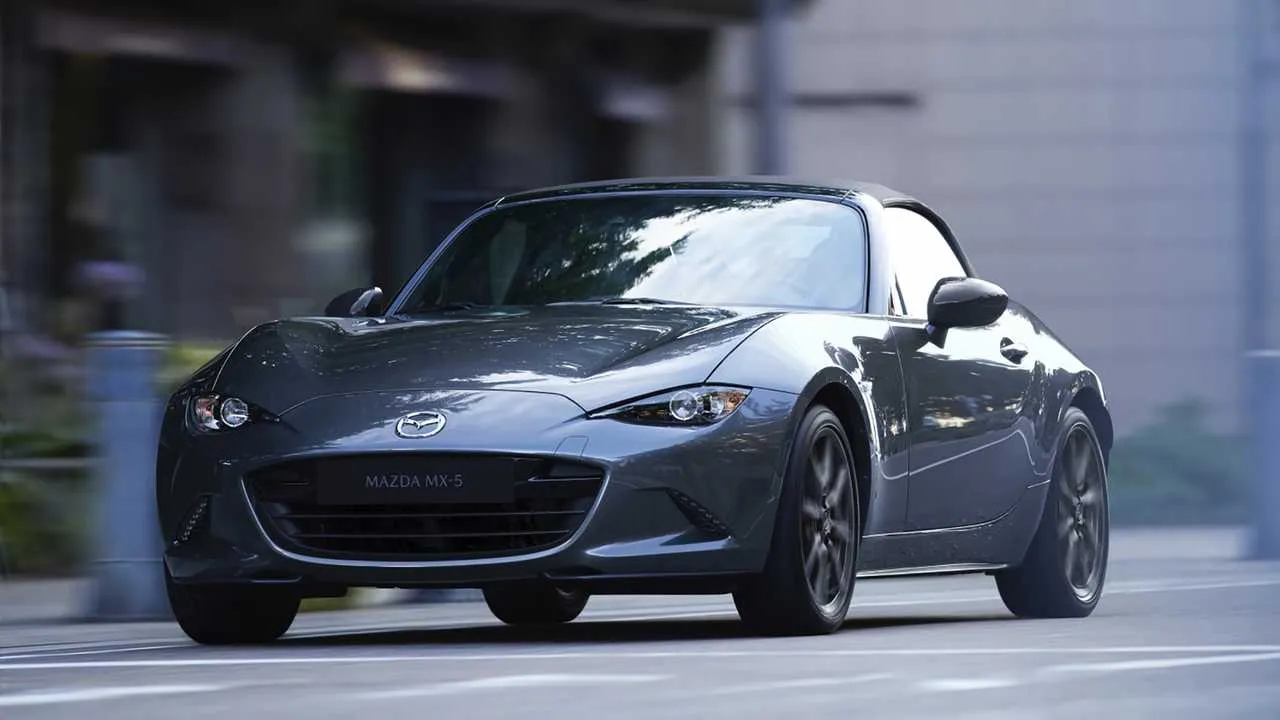 Regarding Japanese sports cars, the Mazda Miata 2023 is a wonder. The two-seat roadster is one of the best choices in its class thanks to its tight handling, well-fitted cabin, and fun, but not too aggressive, 2.0-liter, four-cylinder engine, which makes 181 horsepower.
The EPA says the 2.0-liter engine gets up to 26 mpg in the city and 35 mpg on the highway, and an RF Club model with a hard top got 37 mpg. Both models had a six-speed manual gearbox. Its starting price is $29,215.
Lexus RC
Lexus 2023 has always been a symbol of dependability in the luxury automotive industry, and the 2023 RC is regarded as one of the most reliable Lexus models available. This luxurious little car has a smooth and pleasant ride, high-quality materials, and high equipment and comfort.
And, with 241 horsepower available from its turbocharged four-cylinder engine, the 2023 Lexus RC has enough power to please most drivers – though performance-minded fanatics may find the car less enjoyable to drive.
Related: Conquer the Road in Style with the Best 11 Lexus Models
Fortunately, Lexus provides strong extra engines that boost the RC's performance. Its price starts from $45,470.
The Bottom Line
Several options stand out in the sports car segment when considering the most reliable cars to buy in 2023. These vehicles deliver exhilarating performance and offer a track record of dependability.
The Porsche 911, Chevrolet Corvette, Mazda MX-5 Miata, and BMW Z4 are among the top choices known for their reliability, precise handling, and luxurious features.
While these cars may vary in pricing and specific features, their reputation for dependability makes them appealing options for sports car enthusiasts seeking a reliable and thrilling driving experience in 2023.
Out of these 15 most reliable cars to buy in 2023, Let us know which one you would prefer to buy!