Over the past ten years, the auto industry has changed, and SUVs and pickup trucks are now in the lead. Family sedans, minivans, and coupes have all suffered sales drops as consumers favor the bigger cars. This makes it difficult for customers looking for a quick two-seat vehicle, but the good news is that there are still many excellent options available.
The two-seat cars also come in four-seat versions; however, they provide less space for people who don't need seating for a family. If you want a car that puts driving fun above all else, it's hard to beat a two-seater sports car. But which one should you choose? Here, we've compiled a list of the top 15 two-seat vehicles available in 2023.
Top 15 2-Seat Cars in 2023
1. 2023 Audi TT Roadster:
The Audi TT is a long-standing model that combines agile driving with a plush interior and comfortable seating. In the 2023 TT, Audi offers two exciting powertrain options. The standard engine is a 2.0-liter turbocharged four-cylinder with 228 horsepower and 258 pound-feet of torque.
An upgraded 2.0-liter turbo-four engine produces 288 horsepower and 280 pound-feet of torque in the TTS. For the 2023 model year, the more powerful TT RS has been discontinued.
Both of the TT's engines deliver satisfying power for this roadster, and the included all-wheel drive confidently transmits that power to the pavement. The seven-speed dual-clutch automatic gearbox executes shifts quickly and precisely, helping to maintain the engines' proper power bands.
2. 2023 BMW Z4: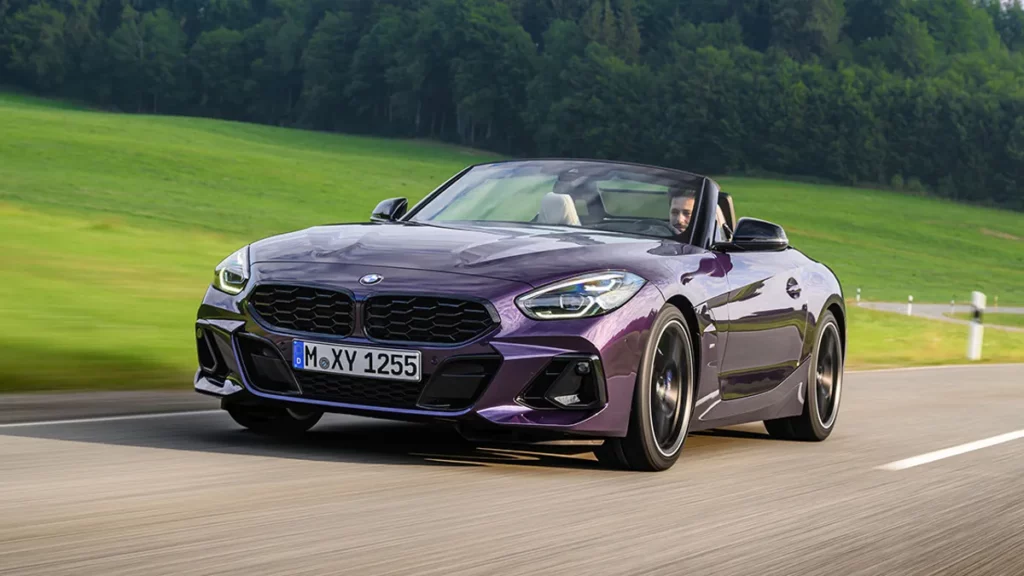 The Toyota Supra's drivetrain and chassis are based on those of the BMW Z4. Although it's not the most exhilarating BMW to drive, the Z4 offers a luxurious cabin and a pleasant driving experience. BMW has enhanced the entry-level driving experience for 2023 by making the M Sport package standard.
The suspension, aerodynamics, and seating have all been optimized for performance. In 2023, BMW is offering two engine options for the Z4. The standard engine is a turbocharged 2.0-liter four-cylinder that produces 255 horsepower and 295 pound-feet of torque.
An optional 3.0-liter inline-six turbocharger generates 382 horsepower and 369 pound-feet of torque. Both come with a rear-wheel drive system and an eight-speed automatic transmission.
3. 2023 Mazda MX-5 Miata:
Mazda Miata is always the right choice when in doubt. The venerable roadster has been available for decades and is still one of the most affordable high-performance vehicles on the market.
The sporty Miata is equipped with a 2.0-liter four-cylinder engine that makes 181 horsepower and 151 pound-feet of torque. It comes with a six-speed manual transmission, and an automatic transmission with six speeds is also available. You can only get it with rear-wheel drive.
Despite being tiny, the Miata's power output is sufficient for its size. The Miata's small size also makes for an unforgettable open-air driving experience. The Miata's cockpit is compact but well-made, and the most recent Miata versions come with a stylish hard-top option.
4. 2023 Porsche 911 GT3:
Every single 911 that Porsche produces is immediately purchased. The car's renowned performance lineage certainly plays a role in this, but the tremendous degree of personalization and performance offered by each model also contributes significantly.
For the 911, Porsche provides a mind-boggling array of powerplant options, ranging from a twin-turbo flat-six with 379 horsepower to a larger twin-turbo flat-six with 640 horsepower in the mighty Turbo S. The two-seater GT3 is powered by a 4.0-liter flat-six engine, good for 502 horsepower.
As you might expect, this six-figure sports car provides pounds of thrill. No matter which of the dozens of models you choose, you'll be getting an engine that will have your heart pounding.
5. 2023 Porsche Boxster:
The Porsche Boxster offers open-top roadster excitement along with precise German car handling and thunderous performance. The Boxster elevates the small-car formula with a variety of eager engine options and a high-end cockpit.
The 2.0-liter turbo-four with 300 horsepower is the basic engine, but customers can choose a naturally aspirated six-cylinder with up to 414 horsepower instead. The Boxster Spyder can accelerate from 0 to 60 miles per hour in 3.7 seconds in its fastest configuration.
The car's seven-speed dual-clutch automatic transmission gives precise and quick changes without any drama, and the six-speed manual transmission is sharp and fun to use. Porsche offers a hardtop in the form of the Cayman if a drop-top car isn't your style.
6. 2023 Porsche Cayman:
The 2023 Porsche Cayman has a distinct personality, remarkable acceleration, and engaging handling while being simply a Boxster with a hard top. Five different engines are offered for the Cayman, ranging in power from the base turbo-four with 300 horsepower to the insane GT4 RS with 493 horsepower.
The Cayman offers powerful acceleration in every configuration. The car's basic six-speed manual gearbox provides a thrilling method to operate and feels razor-sharp. The seven-speed dual-clutch automatic can shift between gears fast and smoothly. But regardless of how it's defined, the Cayman is swift: Even the entry-level four-cylinder engine achieves zero to 60 mph in only 4.9 seconds.
7. 2023 Audi R8: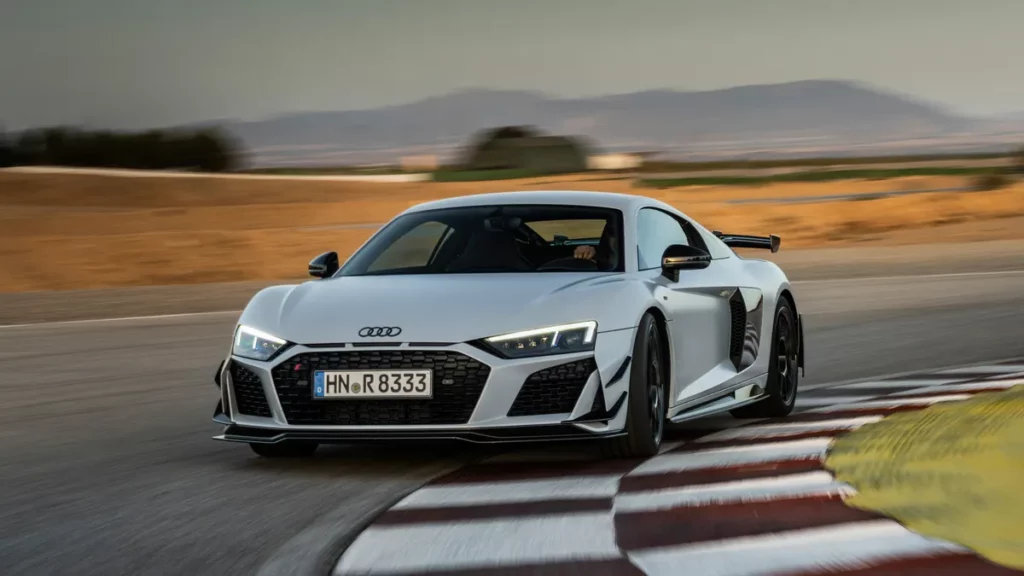 The 2023 Audi R8 is a supercar that offers astounding performance and a rakish appearance at a more affordable price than many of its competitors in that supercar class. Sadly, that's about to end because the R8 will be dropped after the 2023 model year.
The 5.2-liter V10 engine that powers the R8 produces 562 horsepower and 406 pound-feet of torque. A more powerful version generates 602 horsepower. Both are available with either rear-wheel drive or all-wheel drive with a seven-speed dual-clutch automatic transmission.
The single-year R8 GT adds to its more potent engine with a slew of lightweight parts and performance chassis upgrades. While the base model can accelerate from 0-60 mph in roughly 3.5 seconds, the performance-oriented GT trim can do the same in 3.1.
8. 2023 Chevrolet Corvette:
Chevrolet officially unveiled the midengine eighth-generation Corvette in 2020, following several years of media and enthusiast speculation. The vehicle has a luxurious cabin, supercar-beating performance, and a distinctive style.
The 6.2-liter V8 engine in the Corvette generates 490 horsepower and 465 pound-feet of torque. Although it is not as impressive as the records set by Dodge's Hemi-powered muscle cars, the 'Vette can sprint from 0-60 mph in just 2.9 seconds.
Its mid-engine design also provides it with incredible cornering and handling characteristics, and the entire interior has a high-end feel. Chevrolet has raised the stakes for 2023 by introducing the Corvette Z06 ($105,300) with 670 horsepower. It can accelerate from 0-60 mph in under 2.6 seconds.
9. 2023 Nissan Z:
After a two-year absence, Nissan has brought back the Z, but this time as a more refined performance coupe. The 370Z is no longer identified by a number; it is now simply identified as "Z." It has a 3.0-liter twin-turbo V6 engine, which is smaller than the engine in the last car, which is why the numbers have been taken out of the name.
This new engine produces 400 horsepower and 350 pound-feet of torque, which are sent to the rear wheels via a six-speed manual or nine-speed automatic transmission. For an additional $50,990, you can get the Z Performance with a manual transmission and SynchroRev Match to help with downshifts.
The Z has an efficient cockpit with well-placed controls and simple seating arrangements for passengers. The Z has contemporary features, including automated climate control and an easy-to-use touchscreen infotainment system with Apple CarPlay and Android Auto.
Related: 14 Best Honda Sports Car Of All Times
10. 2023 Toyota GR Supra:
The Toyota GR Supra borrows heavily from the BMW Z4, right down to sharing the same under-the-hood machinery. The standard turbo-four generates 255 hp, while the turbocharged inline-six generates 382 hp. Comparatively, the Z4 is a pleasant and entertaining cruiser, while the GR Supra is a dedicated corner-carving machine with perfectly tuned handling.
Both powerplants connect to an eight-speed automatic transmission that features a manual tap-shift option and sends torque to the vehicle's rear wheels. Toyota has finally realized the need for a six-speed manual transmission in the BMW drivetrain for 2023.
11. 2023 Jaguar F-Type:
The Jaguar F-Type is not as obviously dynamic as its scary-looking front end might suggest, but it is fast and a lot of fun. Although other cars offer better handling, Jaguar eliminated all engines except for supercharged V8s in 2022. The basic V8 generates 444 horsepower and can accelerate from zero to sixty in 4.4 seconds.
The V8 in the F-Type R makes 575 horsepower, which lets it do the same sprint in just 3.5 seconds. The F-Type boasts a wraparound cockpit that completely encloses the driver and passenger. Both of them are seated low, and the driver's right hand appears to be elevated from the center console controls.
The hand grip that comes with it tells you that there is fun to be had. Power-adjustable seats and leather upholstery come standard. There is an option for a heated steering wheel and heated-and-ventilated seats.
12. 2022 Acura NSX:
As far as second acts go, it's really difficult to follow up on something like the original Acura NSX. The second-generation NSX debuted as a 2017 model, and it was completely different from its predecessor. It was the first production vehicle to include a hybrid drivetrain.
As is the case with many high-end supercars, the second-gen NSX hasn't changed much over the years. However, the new Type S has received some of the most significant upgrades to the vehicle since its introduction. The hybrid engine now has 600 hp and 492 lb-ft of torque.
This is because the boost pressure was raised, and the battery capacity was increased by 20 percent. Acura's Super-Handling All-Wheel-Drive (SH-AWD) distributes power to an all-wheel-drive system, while a quick-shifting nine-speed dual-clutch transmission controls combustion power.
13. 2023 Aston Martin Vantage Coupe:
Launched for the first time in 2018, the Aston Martin Vantage remains mostly intact for 2023, making it one of the most visually stunning sports coupes on the market. The 4.0-liter twin-turbo V8 engine comes from Mercedes-AMG. In the base Vantage, it makes 503 hp and 505 lb-ft of power, and in the F1 Edition, it makes 527 hp.
With a curb weight of about 3,400 pounds, the Vantage Coupe moves very quickly. It can go from 0-60 mph in about 3.5 seconds and reach a top speed of 195 mph. With its engine behind the front axle and its transaxle between the rear wheels, the Vantage Coupe has a perfect 50/50 weight distribution for quick but controlled handling.
Related: What Makes Aston Martin So Expensive?
14. 2023 BMW 3.0 CSL:
The BMW 3.0 CSL was unveiled in November of 2022, although a release date has not yet been set. If you can afford the exorbitant price, it won't be simple at all to acquire a 3.0 CSL with only 50 units being produced. The engine in the BMW 3.0 CSL now produces an astonishing 552 horsepower and 406 lb-ft of torque, making it the most potent straight-six mill ever found in a road-legal BMW M vehicle.
The 3.0 CSL follows BMW tradition by solely sending power to the rear wheels and includes a six-speed manual transmission. This gearbox has a shift assistant that uses a connection speed control to keep the clutch from slipping after a downshift when stopping for a turn. However, this feature can be disabled if needed.
15. 2023 Lotus Emira:
The two-seater Lotus Emira combines exotic styling with everyday usability. In comparison to other supercars, the Emira is a bargain for a two-seater vehicle that looks and performs like a much more expensive model. The Emira's 3.5L supercharged V6 generates 360 horsepower and 310 lb-ft torque. It can accelerate from 0-60 in 4.3 s at a top speed of 180 mph.
The Emira 2023 will include an optional inline 4-cylinder engine. The Emira's aerodynamic package and driver-centric layout make it optimal for both high-speed cornering and top-end acceleration. If you desire an even more immersive driving experience, you can choose a 6-speed manual transmission.
Related: 17 Best Street Race Cars | 2023 Updated List
Frequently Asked Questions
Which is the most affordable 2-seater car?
If you're set on something smaller, the Mazda Miata or Nissan 370Z might be more your style. The former will set you back about $33,000, and the latter begins at about $30,000.
Which is the fastest two-seater car?
The Porsche 911 Turbo S is the fastest 2-person coupe currently on the market. It can go from 0-60 mph in just 2.6 seconds.
Which is the most reliable 2-seater car?
Although many sports vehicles fail to achieve high reliable ratings, there are some of them that you can trust. The Audi R8, Porsche Cayman, and Chevrolet Corvette are a few of the top models.
Conclusion
Two-seater cars are a great option for people who do not need enough room for a whole family. If you can get by with fewer seats and doors, you can get a car with sharp driving, sporty features, and an attractive look.
With so many great 2-seater cars on the market, it's easy to see why you might choose a 2-seater racing car with just enough room for two. All of these 2 seater vehicles let you enjoy the open road while cruising through the countryside or go on a day trip to the city and flaunt your personal flair.