Small electric cars are a great innovation to the world of cars and have come with eye-catching designs and the most reliable features. These battery-powered vehicles have reduced the sales of vehicles with internal-combustion engines.
New small electric cars are unveiled, and now it is your choice to choose the one among them according to your need. You will learn amazing things about them, like their speed, battery power, and many more.
List Of Top Small Cars Electric
Most people are looking for the best small electric cars that they can run on the road and get a better driving experience. Let's move toward the list of the best small electric cars.
1- Mini Electric
When the F56 generation of Mini first appeared in 2014, an all-electric variant was not even on the horizon, yet here we are. This is the Mini you'll want to see, sit in, and drive if you're set on going electric but still want a Mini.
The brand has fulfilled its objective to produce a three-door vehicle indistinguishable from its internal combustion engine counterparts. The Mini Electric is slightly less convincing as a compact electric car since more compelling options surround it.
You may find a far more exciting vehicle with the same or more excellent range for a lower price elsewhere. And here you thought a Mini couldn't be topped in personality!
2- GMW ORA Funky Cat
The inside of the Chinese-backed GMW ORA's Funky Cat is just as sleek and modern as the vehicle's outside. Its baseline equipment is so impressive that it rivals many more costly and barebones versions.
It's not a fun car to drive and has a little trunk. The Funky Cat can go 193 miles, making it fast enough for short city trips. Plus, there are longer-range variants with batteries that can go up to 263 miles.
3- Fiat 500
The newest generation of the Fiat 500 is only available as an electric vehicle, but the base model's 118-mile range appears relatively low compared to the other vehicles here.
However, that is with the "City Range" 24 kWh battery; upgrading to the "Long Range" 42 kWh unit would increase your range to a much healthier 199 miles.
If you choose the second, you'll receive a more potent motor producing 116bhp and a 0-62mph pace of about nine seconds as a bonus. Most city drivers will like the 500's acceleration in the first part of the race, which is where it excels.
It drives and feels like a 500 should, and the inside is sleek and plasticky. That is, in a positive sense. Powerful 85kW charging capabilities allow you a 30-mile top-off in only five minutes and an 80% charge in as little as 35 minutes.
4- Peugeot e-208
The competition of Peugeot e-208 with other cars gives its buyers a tough decision to make. The e-208 can travel 225-mile range thanks to its 50kWh battery, the e-208 still has a lot going for it.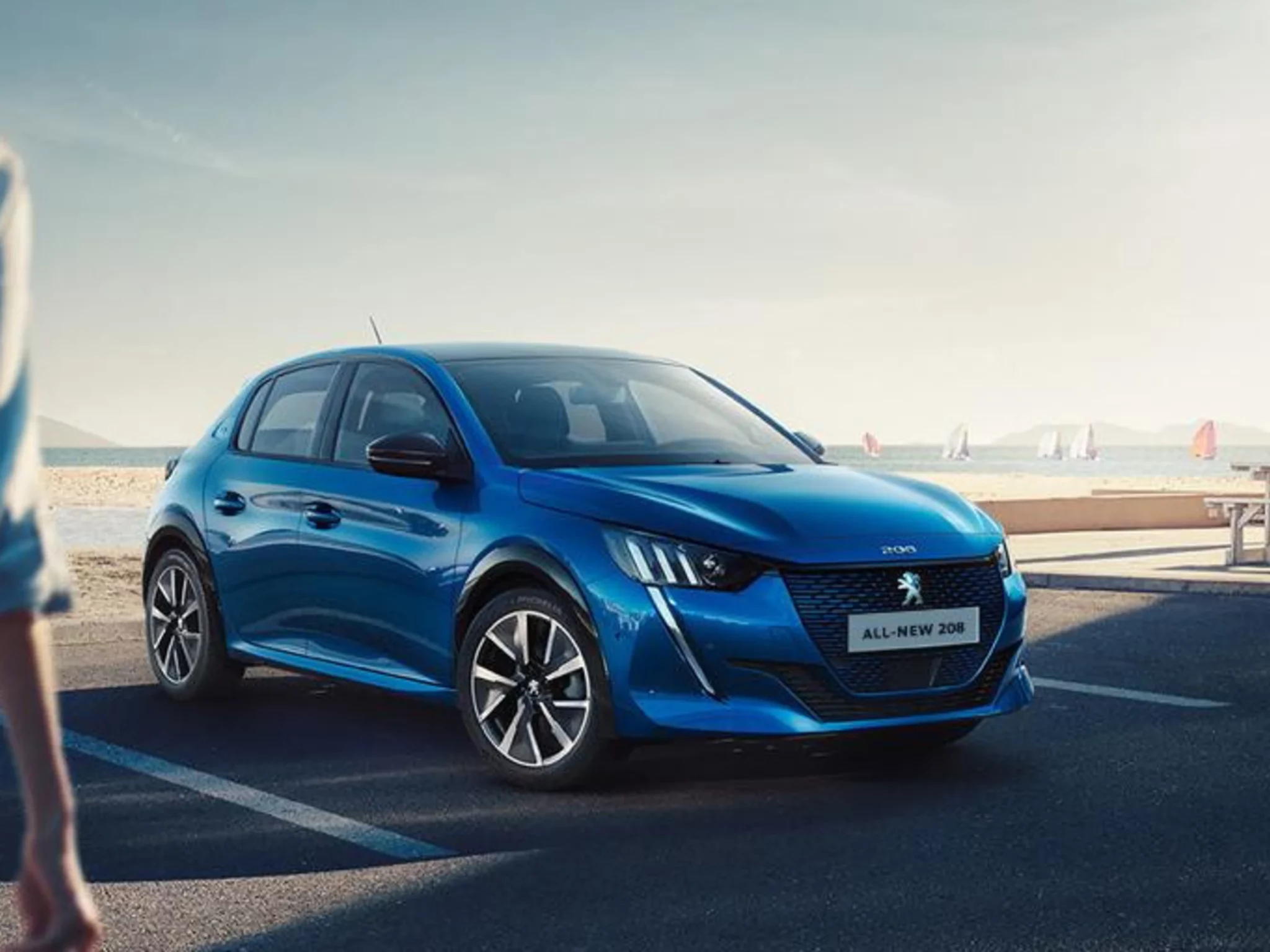 Firstly, it has a much more fashionable appearance both inside and out, and the interior is outfitted with high-quality materials to entice customers seeking a more upscale driving experience.
The e-208 can be charged at the rate of six miles per minute on a 100 kW charger, and it can accelerate from zero to sixty-two miles per hour with a 136 hp motor powering the front wheels in 8.1 seconds.
5- Cupra Born
The capacious Cupra Born, spun off as its electric-only brand, holds its own against stiff competition from the inside, and also, its outside is effective.
The Cupra Born has strong credentials in the compact electric car market due to its streamlined infotainment offering and severe comfort, especially on lengthy travels, of which the Born is comfortably competent.
6- Renault Zoe
One of our favorite little electric vehicles is the Renault Zoe. A second-generation version of a custom electric vehicle. It has an excellent battery pack; the most recent battery pack ranges from 245 miles.
The newest Clio's cutting-edge technology has made its way inside, and used models of the previous generation are selling for less than they were when they were new. But the current Zoe generation's dismal performance leaves a bad taste in the mouth.
7- Vauxhall Corsa-e
The first electric Corsa is an excellent option if you're looking for a little electric car. For those looking to buy a compact electric vehicle, Vauxhall has beaten out the Ford Fiesta and Volkswagen Polo by a long shot.
The Corsa-e borrows heavily from the Peugeot e-208, including the latter's 50 kWh battery, 209-mile e-range, and quick charging time of as low as 30 minutes at a public station and little over seven hours at home. Importantly, Vauxhall often offers excellent financing options, making it more affordable than its French competitor.
8- Honda E
And therein lies the Honda E's intriguing mystery. Some may look past the low(ish) available range and the price more significant than other city EVs because of its endearing small size, charming face, and adequately cool inside.
The car has enough acceleration and is one of the best-handling compact electric vehicles available, with a turning radius that is ideal for zipping around town. Indeed, it appeals to us. A lot.
9- BWM i3
The BMW i3 is a fantastic compact electric vehicle. The quirky electric hatchback sales dropped by 70 percent in the United States, proving that the i3 is no longer popular due to increased competition in the electric vehicle market.
BMW, though, is committed to extending the production run of its pioneering mass-produced emission-free car. The zippy hatch is still offered in either the i3 or the i3s trim, with the latter accelerating to 60 mph in under seven seconds.
Despite the i3's range-extending two-cylinder gasoline engine, it falls short of competing for small full-electric vehicles. Although it is still a historical product for BMW, the impending release of two further BMW I models and the presence of formidable competitors have made the i3 a less compelling purchase.
10- Renault Twizy
Looking for the tiniest of little cars? If you're looking for an electric city car, go no further than the Renault Twizy, which is more of a quadricycle than a conventional vehicle yet is nevertheless entirely at home in the city.
The Twizy combines elements of a bicycle and a city vehicle, making it ideal for nimbly zipping around town. However, its limited functionality and 62-mile range should be kept in mind. This an unexpected option to think about if money is tight and you're flexible.
11- Volkswagen ID.3
Volkswagen's introduction of the all-electric ID.3 was supposed to usher in a new era for the German automaker and establish it as a forerunner in "mobility solutions."
The ID.3 has been well-received because of its over a 350-mile range, generous interior, and outstanding performance.
12- VW E-up
If you take a regular Volkswagen Up and make it electric, you'll have one of the best and easiest ways to enter the EV industry.
It's unintimidating and straightforward and has a pleasant driving experience. Its compact dimensions make it a joy to maneuver in urban areas without overwhelming even the most tech-phobic drivers. Volkswagen now boasts a respectable 159-mile electric range thanks to a battery size of 33kWh.
13- Chevrolet Bolt EV
General Motors' Chevrolet Bolt EV was one of the fantastic mass-market electric vehicles (EVs) to enter the fray during the fierce competition for EV market dominance.
The future of the least expensive electric car in America, which has seen its share of controversy in recent years, seems brighter in 2023.
This subcompact hatchback competes with other electric cars like the Mini Cooper SE, which use newer electric platforms and have more power and range than the vehicle's 200 horsepower and 259 miles of range.
New model year price reductions make the Bolt EV an even better deal. This enjoyable subcompact demonstrates an inexpensive EV is possible without sacrificing safety or comfort.
Conclusion
Ultimately, these are the best pickups of small electric cars that will provide great comfort to their users. Small electric cars will provide you with a great driving experience on your daily road trips with your family.
All these cars are worth buying if you are into small cars; however, you should always consider looking at the specs of each car and if it satisfies your needs.
FAQs
Why should we choose these small electric cars?
When it comes to small electric vehicles, then there is excellent competition available among them. The quick acceleration, affordable price, and excellent power make them worth buying.
They also provide a better driving experience, and you will enjoy a long drive with your partner with great comfort.
What is the top used small electric cars to purchase?
Fiat 500 has made itself dominant among the other small electric cars. It has excellent battery power and gets recharged quickly in a few minutes. The users have found this small car effective for the city and long ranges.
If you are going to a car racing competition, have this one; it will never disappoint you, and you will come as a champion.