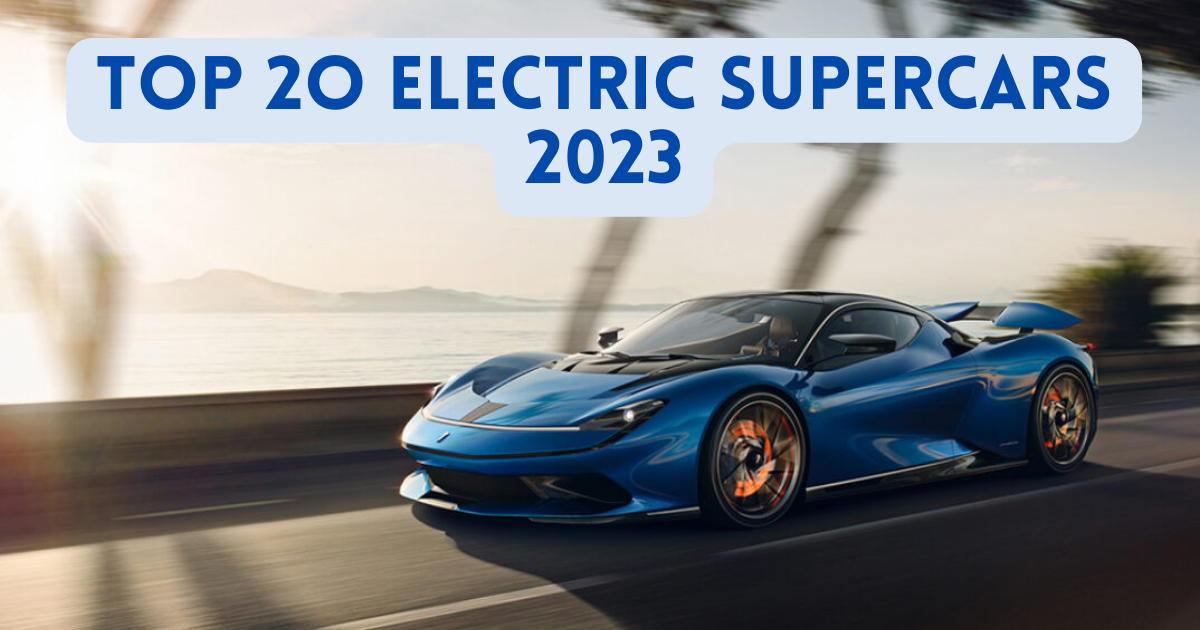 The supercar is a mainstay of bedroom wall posters; it is the vehicle that many of us aspire to drive and buy one day. Electric supercars are now a reality, breaking all records for speed, acceleration, and beauty. Tesla is leading the way, proving that it is possible and that EVs do not have to be dull and slow.
Even supercar manufacturers are now producing all-electric vehicles. Electric vehicles have much more torque and power than gasoline vehicles; best of all, they emit no pollution. Modern-day electric supercars offer thrilling performance, an enjoyable driving experience, and jaw-droppingly stunning aesthetics.
High-end electric vehicles are so prevalent that they outperform the majority of models from the combustion engine industry. Whether you're looking to invest in new electric supercars or are just a supercar lover, you'll get a detailed analysis of the top electric supercars of 2023 right here.
Top 20 Best Supercars in 2023
Let's have a look at the top 20 electric supercars of 2023:
1. Aspark Owl: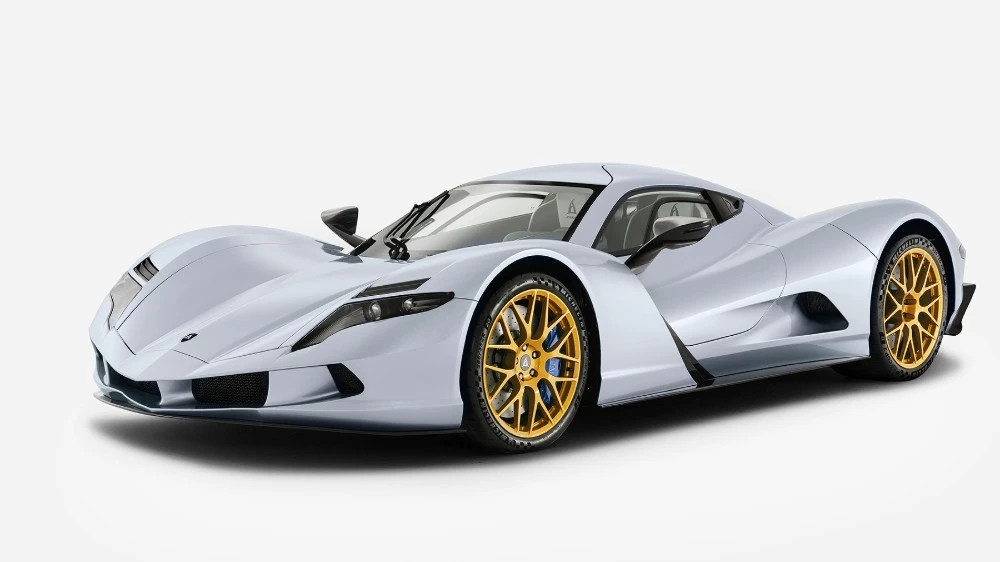 The Aspark Owl is one of the craziest electric supercars in appearance. The Owl has incredibly dramatic aesthetics, is electrifying, and is said to be blisteringly swift. The first all-Japanese electric supercar aspires to accelerate the fastest as well, reaching 186 mph in just 10.6 seconds.
Two electric motors power all four wheels connected to a carbon fiber monocoque via a carbon fiber body. Although they only want to produce 50 units, and the price will most likely include the word "million," as a Japanese pioneer in alternative fuels, it will undoubtedly outperform your neighbor's Toyota Prius.
2. Pininfarina Battista:
After creating designs for more than 100 Ferraris, Pininfarina is now putting its legendary name on a personal electric supercar. The carbon fiber Battista is not only breathtakingly attractive but also incredibly quick. It is driven by four electric motors with a combined horsepower of 1,900.
According to Pininfarina's own estimates, the Battista will reach 186 mph in 12 seconds. Sure, there is an incredible surplus of performance, but it is all housed in a carbon-fiber shell that is aesthetically pleasing in a classic way.
It is made with the finest materials available and offers countless customization options. It implies that every car in the 150-car run will be different. If you have an extra million and a half, it will be well spent here.
3. Tesla Roadster:
The second-generation Tesla Roadster, called "a hardcore smackdown to gasoline cars" by Elon Musk, has a range of over 600 miles. The company calls its upcoming range-topper "the fastest car in the world." It is expected to have a top speed of more than 250 mph and will go from 0 to 60 mph in 1.9 seconds.
A coupe-style variant is depicted in official photos, with seats for four people and a detachable glass roof. So, when can you expect it to arrive in your driveway? Well, it's best not to hang your breath because production delays are just as much a part of the Tesla tale as its insane acceleration and eye-catching PR stunts.
4. Drako GTE:
Designed by two engineers and entrepreneurs in California, the four-seat Drako GTE has a claimed top speed of more than 200 mph and a combined 1,216PS (1,200bhp) and 8,880Nm (6,571 lb-ft) of torque from its four electric motors.
The Nürburgring is a long way from San Jose, but Drako says that the German track inspired the best torque vectoring in the industry. They say that each wheel can change its positive and negative outputs to help the GTE turn with "a feeling almost as if the laws of physics have been exceeded."
With a starting price of $1.25 million and a production run of only 25 units planned, the involvement of legendary racer, restorer, and all-around car expert Bruce Canepa lends credibility to the project.
5. Nio EP9:
The EP9 comes from the Chinese company Nio, whose lineup is mostly made up of precise SUVs and crossovers. The EP9 set a new track record time during testing at Texas' Circuit of Americas, which is better renowned for hosting Formula One races.
It is a lightning-fast, fully-electric supercar that benefits from the company's Formula E Championship experience. After its release, the EP9 set a track record in the Nürburgring Nordschleife EV "ring." with a top speed of 200mph+, it can go from 0 to 60mph in 2.7 seconds and comes with a price tag of $1M.
The EP9 is a fully electric vehicle (EV) that has been meticulously designed and manufactured to provide excellent grip and a driving experience unlike any other EV. When it comes to electric vehicles, this is a first of its kind.
6. Lotus Evija:
The Lotus Evija is marketed as the first-ever fully-electric British supercar and is priced at more than $2,000,000 per unit with a worldwide production cap of only 130 models. But that hasn't prevented people from placing orders for this groundbreaking bit of engineering, which is very much in the Lotus spirit.
The Evija's four electric motors produce 2,000 horsepower. The dramatic structure of the Evija makes extensive use of airflow through huge ducts for improved aerodynamics. The interior design is both minimalist and futuristic.
It weighs just over 3700 pounds and has a carbon-fiber chassis frame. The Evija can go from 0 to 62 mph (0 to 100 kph) in less than 3 seconds. This supercar offers best-in-class performance with a top speed of over 200 mph and a range of more than 250 miles.
7. Porsche Taycan S:
How about a big, four-door electric sedan that serves as a supercar? Bring on Porsche's Taycan S, an elegant explorer of the globe with absolutely unbelievable performance stats. With a top speed of 162 mph, this electric supercar can reach 60 mph in 2.8 seconds.
Two electric motors distribute power to all four wheels for the best all-weather handling. The interior is as finely honed as one would expect from Porsche.
This German-built supercar has a 79.2 kWh battery that enables a range of more than 250 miles, giving it an overall more practical feel. The cabin is also quite well appointed, with features like a 10.9-inch infotainment system.
8. Rimac Nevera:
To many people's surprise, Rimac has emerged as a major player in the electric vehicle revolution, conducting studies and supplying basic parts to major manufacturers like Porsche and Hyundai. The Nevera, Rimac's second custom supercar, has four electric motors that produce 1,914 horsepower and a top speed of about 258 mph.
The Nevera, which has a limited production run of only 150 units, was built at Rimac Automobili in Croatia. The price tag is a whopping $2.14 million. The all-electric Nevera hypercar boasts some remarkable performance figures.
It can reach 100 mph (161 kph) in 4.3 seconds and accelerate from 0 to 62 mph (0-100 kph) in 1.97 seconds. It continues to accelerate with startling speed throughout its full-throttle cycle, reaching 186 mph (300 kph) in 9.3 seconds from a standstill.
9. Hispano Suiza Carmen:
Spanish automaker Hispano Suiza was established in 1904. After being inactive and unknown since 1946, the company finally emerged in 2019 at the Geneva Motor Show with the unveiling of the heritage-inspired Carmen Electric supercar.
The Carmen is an intriguing fusion of the old and new. It was the first automobile exhibited following the revival of the Spanish brand by Damián Mateu's (the cofounder of Hispano Suiza) family. There will only be 19 units produced, each powered by an 80kwh, 700-cell lithium-ion battery pack that can produce 1019 horsepower.
It accelerates to 62 mph in less than 3 seconds and goes up to an electronically capped top speed of 155 mph. The car has a distinctly art-deco look with a few modern design cues scattered throughout.
10. Dendrobium D-1:
The Dendrobium D1 is an over-the-top electric supercar designed for speed that takes inspiration from hidden Le Mans racers. The D1's original concept was actually created in the middle of the 1990s, but it wasn't until 2016 that Williams Advanced Engineering, a renowned racing team, finally put the designs into production.
The car features a one-of-a-kind "Protocellcarbon tub" made entirely of carbon fiber. It prioritizes a low kerb weight, similar to the Lotus Evija. It is not surprising, considering that many of its developers started working on the McLaren F1 development (and sales) team a few years ago.
They say it can go from 0 to 60 in 2.7 seconds, making it a true supercar. The final production model will have a top speed of 200 mph. With that approach and 1,824PS (1,800bhp), the D-1 should perform well at the driver-focused end of the electric supercar range.
11. Tesla Model S Plaid:
As compared to the other electric supercars in this collection, Tesla's Model S Plaid is a little different. It appears to be a standard Model S; however it is actually a huge ferocious wolf disguised as a sheep.
It has a 100kWh battery that provides an incredible 396 miles of range (637km). There was going to be a Model S Plaid+ with a range of 520 miles (836 km), but Tesla CEO Elon Musk cancelled this project.
The Model S Plaid have a top speed of up to 322 km/h (200 mph) and can accelerate from 0 to 100 km/h in just 2.061 seconds. This allows it to keep pace with other supercars. If you want a subtle yet incredibly powerful electric supercar, the Model S Plaid is the way to go.
12. Karma SC2 Supercar:
The Karma SC2 two-seater is one of the crazy electric supercar ideas that came out in 2019. It blew the minds of most gearheads. The SC2, an electric vehicle produced by the California-based Karma Automotive, can reportedly accelerate from 0 to 60 miles per hour in 1.9 seconds due to its 1,100 horsepower and 10,500 ft-lbs of "wheel torque."
This all-wheel-drive vehicle features a 120-kilowatt-hour battery pack that powers a pair of motors, allowing it to go up to 350 miles on a single charge. When the vehicle is parked, one of its unique high-tech features enables the driver to "re-live" the driving experience through adaptive laser projection replays. Now, all we can do is wait.
13. Estrema Fulminea:
Automobili Estrema is an Italian car manufacturer started in Modena by entrepreneur Gianfranco Pizzuto in 2020. Supercar Estrema Fulminea was unveiled to the public for the first time at Blenheim Palace's Salon Privé.
The four electric motors in this setup have a combined output of 2040 horsepower and are powered by 100kWh of electricity. With this, the Fulminea can accelerate from 0 to 200 mph (0 to 320 kph) in less than 10 seconds.
After debuting as a concept, the vehicle's production model is expected to hit the market in the second half of 2023. This vehicle will be the first in the world to use a cutting-edge "hybrid" battery pack that combines solid-state electrolytes, ultracapacitors, and Li-ion cells.
14. MG Cyberster:
The Cyberster is currently a concept vehicle produced by MG, a company known for producing excellent yet reasonably priced electric supercars. The group at the MG Advanced Design Centre in London has created this as their vision of the future.
This two-door, two-seater electric supercar pays homage to the company's heritage by inheriting some stylistic elements from the iconic MGB Roadster. A range of 500 miles (800km) is made possible by Cyberster's smart all-electric construction. It will accelerate from 0 to 62 mph (0 to 100 kph) in less than 3 seconds.
15. Elextra Electric Supercar:
Elextra, a Swiss EV company, debuted its all-electric drivetrain Elextra supercar in 2017. It is a Lambo-like roadster with four doors, four seats, all-wheel drive, and a dual-motor powertrain that generates 680 horsepower.
It has a very generous 373-mile range and can still accelerate from 0 to 60 mph in under 2.3 seconds with a top speed of 155 mph (electronically regulated). Also, despite having a distinctly modern appearance, the car's bodywork incorporates minor details from supercars from decades ago.
The V-shaped wing that hangs from its elongated roofline is a remarkable external feature. The production run will be restricted to 150 cars.
16. Mercedes-Benz SLS AMG Electric Supercar:
The Mercedes-Benz SLS AMG Electric Supercar was the world's first totally electric supercar to be offered for sale when it was made available to the public shortly after its release.
Even though electric supercars have come a long way since this car debuted in early 2019, its four independent motors and 400V Lithium-ion battery still give it some impressive stats. It can complete 0-60 mph runs in under 4 seconds because of the combined 740hp that this produces.
17. Rimac C-Two: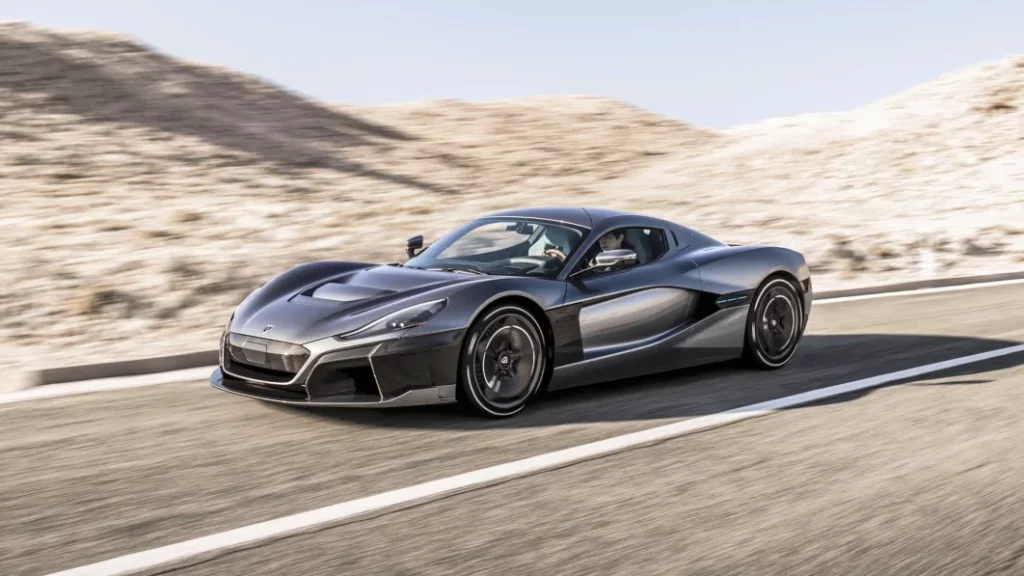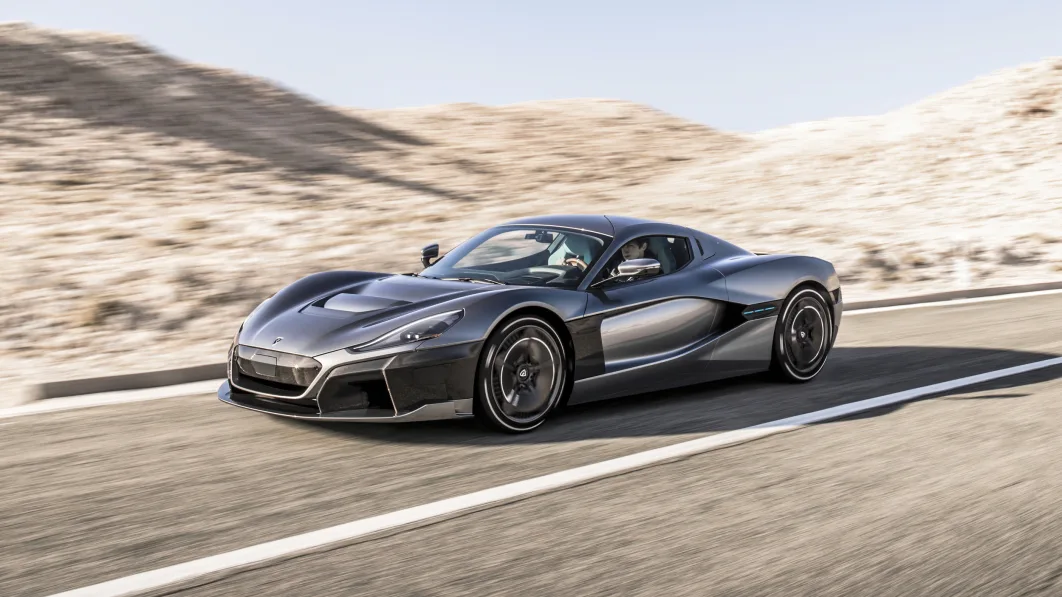 The Rimac C-Two was first marketed as the world's fastest electric supercar. It is an extremely high-performance model based upon a specially created carbon fiber monocoque. The supercar has a massive 120 kWh battery that gives it a 400-mile range.
It also has Level 4 AI technology and a distinctively exotic, low-profile supercar design. The Rimac C-Two can go more than 400 miles on a single charge and has a top speed of 258 mph. When technology and the electric industry advance together, you may hear the name "Rimac" a lot.
18. Audi E-Tron Gran Turismo:
Audi's fully electric, touring-focused E-Tron GT doesn't have the most horsepower (just under 600), but it's a high-speed supercar for its size, going from 0 to 60 miles per hour in less than 3.5 seconds.
The sporty yet spacious cockpit features the most up-to-date and cutting-edge high-technology displays and equipment. The exterior of E-Tron is both futuristic and stylish, making it easy to tell it apart from other Audis while also maintaining the brand's signature look.
19. Aston Martin Rapide E:
You may anticipate that Aston Martin's first electric supercar will be impressive based on the heritage of the company and the performance of its existing cars; however, if Williams Advanced Engineering is involved in its production, you can expect that it will be a world-beater.
Without sacrificing the vehicle's core performance specifications, this touring-ready model offers a tonne of style and comfort. Rapide E can go from 0 to 60 mph in less than 4 seconds while producing 602 horsepower.
20. Ariel P40:
While the UK-based automaker Ariel is well-known for their incredibly light, high-performance open-wheel vehicles like the Atom and Nomad, which are road legal, its largest project to date, the Ariel P40, will see them enter the supercar realm.
It is an all-electric supercar with a 42 kWh battery pack and a range of 120 miles that weighs 3527 lbs. But, it will have a 120,000 rpm turbine range extender for charging the battery, so range anxiety won't be an issue.
The P40 will have a closed cockpit and only seat two people, unlike the Ariel cars. It will produce 1,180 horsepower and 1,327 lb-ft of torque due to four electric motors. Performance-wise, the P40 can accelerate from 0 to 62 mph in 3.8 seconds and has a top speed of 155 mph.
Conclusion
These exotic, all-electric supercars pack a punch in terms of both power and torque and travel at lightning speeds. In addition to the expected level of performance, they also boast a variety of never-before-seen high-tech features.
While some are at the production stage and others are still in the prototype stage, many are merely concepts with impressive spec sheets. These electric supercars appear superior to the current generation of high-performance EVs, and we can't wait to see them on the market.