Source: Inside EVs
Want to reduce your carbon footprint or save money by forgoing expensive gas? At this point, buying an electric vehicle would be a good idea.
Don't worry; modern electric vehicles are different from the small, costly, and short-range models of the past. Several manufacturers provide reasonably priced, long-range Electric Vehicles in various sizes, from the four-door Hyundai Ioniq 5 to the two-door Mini Cooper Electic.
Range varies, but according to the EPA cycle, these affordable EVs can go at least 100 miles on a single charge and may even exceed 200 miles.
Although many customers would be hesitant to pay $26,000 or more for a new automobile, EVs will undoubtedly result in lower overall ownership costs. No matter where you reside, buying gas is more expensive than charging an EV at home, and electric vehicles are also far more efficient.
In addition, EVs require minimal maintenance and nearly no fluid changes compared to their gas-powered cars. This article will look at cheap electric cars to buy in 2023. Without further ado, let's begin.
Kia EV6 | $50,025
Source: Car And Driver
The brand-new Kia EV6  is high-end, roomy, and loaded with features. Despite having lesser cargo space and a more challenging ride than the Ioniq 5, the EV6 is sportier in design and performance. The Kia EV 6 has an estimated 310 miles of driving range.
The inside of the EV6 is quiet, stylish, and driver-focused, with high-quality materials and roomy seating for five passengers. Two adults or three children can comfortably fit in the second row.
Standard features include heated front seats, a 12.3-inch touch screen, Android Auto, Apple CarPlay, wireless device charging, and several active driver aid technologies.
Ford Mustang Mach-E | $47,795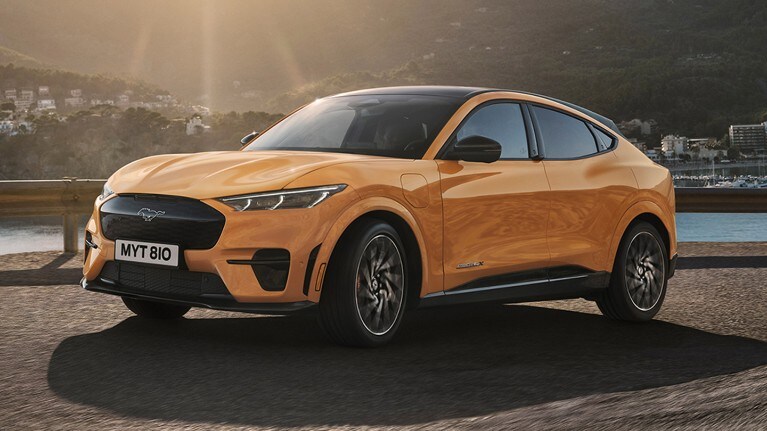 Source: Ford UK
The Ford Mustang Mach-E is a four-door electric crossover with quick acceleration, sure-footed handling, a comfortable ride, and an elegant interior. Also, it has a track record of receiving excellent crash test ratings. Its sensitive brakes are the only noticeable drawback.
Due to its high-end components and soft-touch surfaces, the Mach-E may be mistaken for a luxury crossover. It has spacious cargo space, and five adults can sit comfortably. Ford claims that the Mustang Mach-E can go more than 300 miles, and the GT Performance model accelerated to 60 mph on our test track in 3.7 seconds.
Standard features include synthetic leather upholstery, a user-friendly 15.5-inch touch screen, wireless device charging, wireless Android Auto, and Apple CarPlay.
Subaru Solterra | $46,220
Source: Car And Driver
Subaru's first all-electric vehicle is the Solterra. The Solterra boasts an estimated driving range of 222–228 miles, several standard driver assistance features, and some cool off-road maneuvers.
All-wheel drive is standard on the Solterra, offering a calm and comfortable ride. Yet, it won't thrill you like many electric SUVs because it only has 215 horsepower.
This Subaru SUV has a competitive luggage room and can comfortably accommodate five passengers. Although the cottage is elegant and well-built, you won't be wowed by it.
8-inch touch screen, wireless Apple CarPlay, Android Auto, and heated front seats are all standard features. Every safety feature is also included as a standard.
Toyota bZ4x | $43,335
Source: Top Gear
The brand-new Toyota bZ4x has an average performance and offers 252 miles of driving on a single charge. The bZ4X comes in two trim levels, XLE and Limited. Both can be bought with either a single motor and front-wheel drive or two motors and all-wheel drive.
The bZ4x is less glamorous than most competitors but will do the job without a hitch. It boasts a smooth ride and a little over 200 horsepower. The contemporary cabin has space for five guests and high-quality furnishings. For the class, cargo space is below average.
A functional 12.3-inch touch screen, wireless device charging, and wireless Android Auto and Apple CarPlay are notable standard features. Several active safety measures are also included as standard.
Tesla Model 3 | $42,990
Source: Tesla
The Tesla Model 3 has excellent safety ratings, strong acceleration, quick handling, and a roomy cabin, but it lacks Android Auto and Apple CarPlay. The Model 3's more than 300 miles of range make it ideal for city driving and long road journeys thanks to Tesla's worldwide fast-charging network.
The Model 3 has significant freight capacity and can accommodate five passengers in two rows. Although taller passengers might want to spend little time in the second row, all seats can accommodate adults.
One of the most minimalist interiors currently on the market is that of the Model 3. A 15-inch touch screen is used to operate features, which is distracting to use while driving.
Kia Niro EV | $40,875
Source: Car And Driver
The Kia Niro EV is nearly identical to the standard Niro hybrid, except its electric powertrain replaces the gas engine. A 64.8-kWh battery provides up to 253 miles of range, and according to Kia, when connected to a DC fast charger, it can be charged from 10 to 80 percent in around 45 minutes.
The Niro EV offers a luxurious interior with room for five people. Although the back seats are barely large enough for two adults to fit comfortably, taller people should have no trouble fitting in either row.
Several driver assistance systems, heated front seats, a power liftgate, a 10.25-inch touch screen, wireless device charging, wireless Apple CarPlay, and wireless Android Auto are all included as standard equipment.
Hyundai Ioniq 5 | $42,785
Source: Car And Driver
The Hyundai Ioniq 5 crossover has strong engines, exceptional efficiency, fun-to-drive handling, and much utility. Its basic design and environmentally friendly materials create a serene and cozy cabin. The long-range variants give 303 miles, while the standard model has a limited range.
The Ioniq 5 has two rows that can each hold five adults comfortably. It also provides an ample amount of cargo room and very user-friendly technology.
Standard features include a 12.3-inch touchscreen, Android Auto, Apple CarPlay, heated front seats, a rear-seat reminder, and an extensive range of cutting-edge safety technologies.
Volkswagen ID.4 | $40,290
Source: Top Gear
The Volkswagen ID.4 is the answer if you're searching for a reasonably priced electric SUV that blends in with many of today's upscale gas-powered SUVs. It has an average performance but is otherwise well-rounded, secure, and spacious.
Although the ID.4 features a luxurious interior with five plush seats, its infotainment system and interior controls could be more user-friendly. The configuration you select determines horsepower and range. However, the maximum range on a single charge is around 275 miles.
The ID.4 boasts a 10-inch touch screen, wireless device charging, Apple CarPlay, Android Auto, heated front seats, and active safety features.
Hyundai Kona Electric | $36,000
Source: Motor Trend
The Hyundai Kona Electric isn't a specially designed electric vehicle; it's almost identical to the gas-powered Kona and has an electric powertrain. Despite its modest cost, it boasts a wide range and many standard features.
The Kona Electric, a front-wheel-drive vehicle with a single motor, accelerates quickly and handles well. Although it may fit five people, adults cannot comfortably sit in the back seats. For a subcompact crossover, there needs to be more room for cargo. However, it gives a range of 300 miles per charge.
The Kona has heated front seats, an 8-inch touch screen that is easy to use, Android Auto, Apple CarPlay, and a wide range of active safety features.
Mini Cooper Electric | $30,895
Source: Motor Trend
Except for its more responsive and efficient powertrain, the Cooper Electric is nearly identical to the average gas-powered Cooper. It's a pleasure to drive because of its compact size, strong acceleration, and agile handling.
The interior of the Mini Cooper has classic and luxurious materials. However, the second row is confined, with little room for storage behind the seats. According to the EPA, the Mini Electric has a combined MPGe rating of 110.
The Cooper Electric includes heated front seats, an 8.8-inch display, Apple CarPlay, and synthetic leather upholstery as standard equipment. The feature list noticeably needs Android Auto.
Nissan Leaf | $29,135
Source: Carwow
You can purchase a 2023 Nissan Leaf for $29,135. This price gets you the base Leaf S, which has a 147-hp electric motor in the front and a 40-kWh battery pack. With this setup, the little Leaf has a 149-mile driving range, more than the EPA-rated ranges of more expensive EVs.
The Leaf SV Plus, which costs an additional $8,000 and has a 62.0 kWh battery pack and a 214-hp electric motor, is available for those who want a more extended driving range. Therefore, the Leaf SV Plus is estimated to travel 212 miles on a single charge.
Chevrolet Bolt EUV | $27,495
Source: Edmunds
The Chevrolet Bolt EUV is a relatively new electric SUV built on the same chassis as the Chevrolet Bolt EV, which has undergone a complete makeover. It has a luxurious cabin, quick acceleration, and agile handling and is remarkably reasonably priced for an electric SUV. The ride is composed yet firm.
The Bolt EUV offers much cargo space and can accommodate five people in two rows of comfy seating. It has a front-wheel drive system with a 200-horsepower single-motor powertrain. According to the EPA, it has a range of 259 miles on a single charge.
This Chevy electric crossover comes with wireless Apple CarPlay and Android Auto, a comprehensive array of active safety systems, and a user-friendly 10.2-inch touchscreen. This Chevy offers the SuperCruise system, which is only partially automated, at the lowest price.
Ambient lighting comes standard on the Chevy Bolt EUV, and more upholstery options that the Bolt EV lacks. The price of the Chevy Bolt EUV starts from $27,495, and EV starts from $26,500.
The Bottom Line
In conclusion, electric vehicles are no longer expensive luxuries. With more affordable choices on the market, owning an electric vehicle is becoming more accessible to a wider spectrum of people.
In 2023, consumers will have a selection of affordable electric vehicles, ranging in price from the high-end Polestar 2 to the more affordable Kia Niro EV.
In addition to lowering carbon emissions, electric cars are significantly less expensive than conventional gas-powered vehicles. Electric automobiles are a wise investment for the future because they require no maintenance and have lower energy expenses.
Out of these 12 cheap electric cars, let us know which one you prefer to buy!