The market is experiencing a quick influx of new electric vehicles, making the search for the best EV SUV both thrilling and challenging. A lot is expected from this segment. Customers are probably searching for a vehicle with lots of room for both passengers and cargo, as well as one with a long-range and quick charging time in case they occasionally take long trips.
Electric SUVs are the best in their class due to their cutting-edge features. Some stand out for their unique appearance (one has wacky sheet metal inspired by the '80s), and others impress with their swift acceleration and fast battery charge. Have a look at these top 10 electric SUVs of 2023 to select the one that suits your needs perfectly.
Top Rated Electric SUVs in 2023
1. 2023 Hyundai Ioniq 5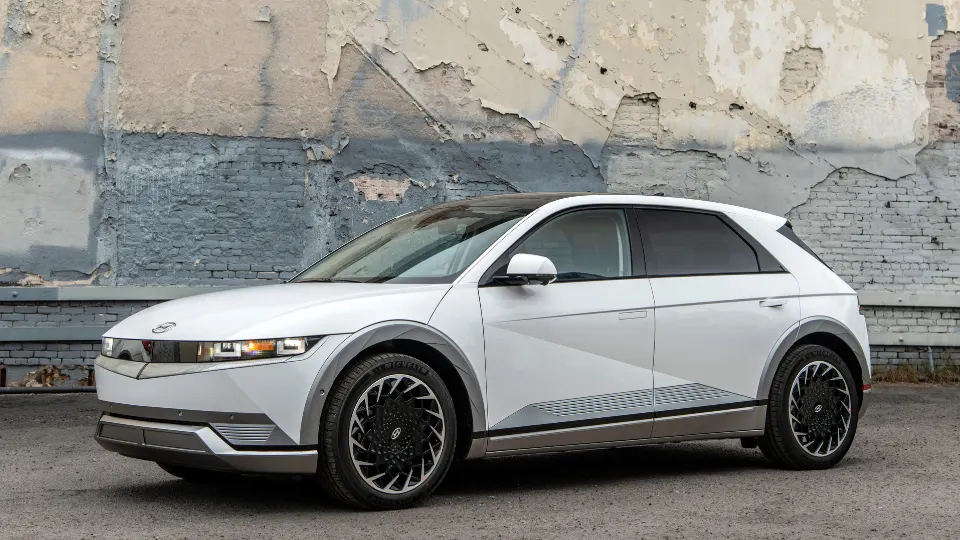 | | |
| --- | --- |
| Price Range: | $41,450-$56,500 |
| Power: | 168-320 hp |
| EPA Range: | 220-303 mi (354 – 487 km) |
| EPA Fuel Economy: | 113-132/90-98/101-114 mpg-e |
Hyundai's first entirely electric car, the Ioniq 5, is a hit by all measures. It is winning the race by outperforming a huge and tough competition. Its eye-catching design turns heads, and its inside is filled with smart details like a legrest and a reclining driver's seat for ultimate comfort when waiting at the charging station. Fortunately, the Ioniq 5 can charge its battery from 10 to 80 percent at the strongest stations in less than 20 minutes, so the wait shouldn't be too long.
Pros:
Futuristic style
Lightning-quick charging
High-end features and impression
Cons:
Rides can be shaky.
Heavy-screen interior
Quite expensive
2. 2023 Kia EV6
| | |
| --- | --- |
| Price Range: | $48,700-$61,600 |
| Power: | 225-576 hp |
| EPA Range: | 206-310 mi (331 – 498 km) |
| EPA Fuel Economy: | 85-134/74-101/79-117 mpg-e |
Given that both the Hyundai Ioniq 5 and the 2023 Kia EV6 share an exclusive electric platform, it should come as no surprise that the Kia is rated as the best EV SUV. The Kia EV6 is the most thrilling car the company has produced since the Stinger Sport sedan.
It boasts a futuristic style both inside and out, lightning-fast charging, and excellent handling capabilities. The base model Wind, with an EPA range rating of 310 miles (498 kilometers), is the first in the EV6's wide selection. Moreover, the EV6 GT is among the fastest, taking just 3.2 seconds to go from 0 to 60 mph (96 kph).
Pros:
Modern external architecture
Rapid recharging ability
The new GT variant offers incredible performance.
Cons:
Sunroof-equipped vehicles have limited headroom.
There is an odd button arrangement inside.
3. 2023 Tesla Model Y
| | |
| --- | --- |
| Price Range: | $53,490-$56,990 |
| Power: | 384-456 hp |
| EPA Range: | 303-330 mi (487 – 531 km) |
| EPA Fuel Economy: | 115-127/106-117/111-122 mpg-e |
Basically an SUV variant of Tesla's well-liked Model 3 sedan, the Model Y is a compact, electric SUV with a long-range and reliable rapid charging. The Model Y comes in three-row, five-seat, or seven-seat configurations, with the back seat only suitable for short people. There are two trim levels available, with the long-range model having a range of roughly 330 miles (531 kilometers).
The EPA claims that the Model Y Performance can travel slightly more than 300 miles (531 kilometers) between charges and can accelerate from 0 to 60 mph (96 kph) in under 3.5 seconds. Access to Tesla's vast and trustworthy network of Supercharger charging stations is another important feature that shouldn't be disregarded.
Pros:
Quick acceleration
Network access for superchargers
Beautiful interior design
Cons:
It can become hot under the glass canopy.
Quality control issues
Unreliable full Self-Driving System
4. 2023 Genesis GV60
| | |
| --- | --- |
| Price Range: | $59,290-$68,290 |
| Power: | 314-429 hp |
| EPA Range: | 235-248 mi (378 – 399 km) |
| EPA Fuel Economy: | 97-103/82-86/90-96 mpg-e |
The Genesis GV60 deserves to be on this list without the need for a crystal ball. If you are thinking of owning a GV60, you'll be captivated by the crystal globe that spins to expose the gear selector every time you start the car. It has a ton of high-tech features like a fingerprint sensor to start the vehicle without a key and facial recognition to unlock the doors.
The top-tier GV60 Performance AWD has a Boost mode that momentarily increases the AWD powertrain's output from 429 to 483 horsepower, allowing it to reach 60 mph (96 kph) in 3.6 seconds. A second slower and with 314 horsepower, the more modest basic model GV60 Advanced AWD has an EPA-rated range of 246 miles (395 kilometers) [as opposed to 235 miles (378 kilometers) for the Performance AWD].
Pros:
Pleasant to look at and drive
immediately charges and picks up speed
Quirky but useful interior accents
Cons:
Some of the inside finishes feel cheap.
Not accessible in all states
Certain trims could have a greater range.
5. 2023 BMW iX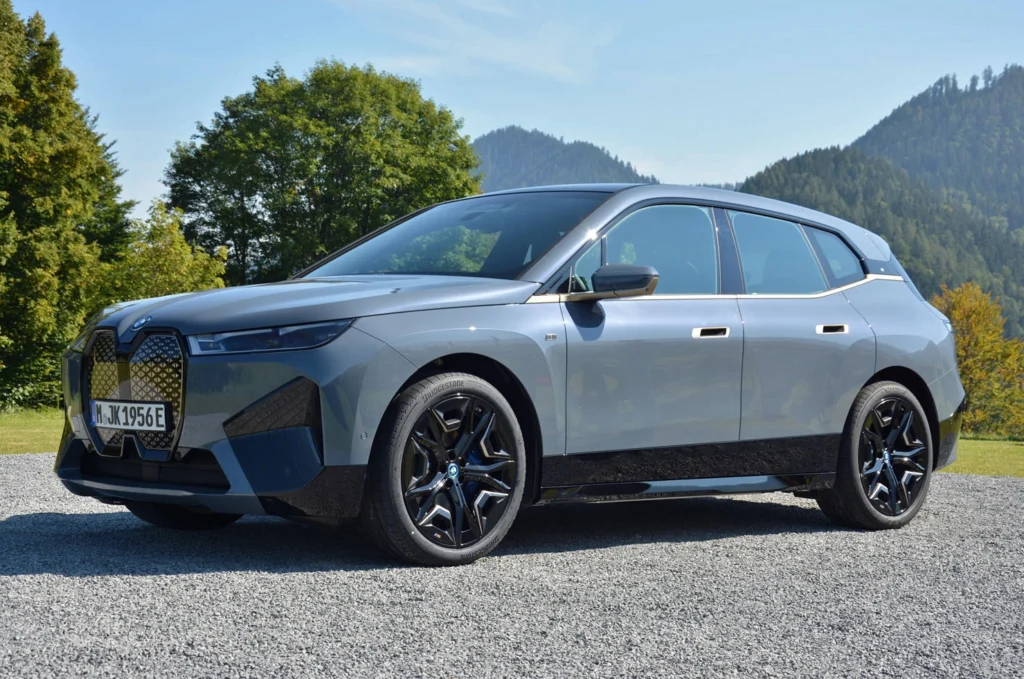 | | |
| --- | --- |
| Price Range: | $84,100-$108,900 |
| Power: | 516-611 hp |
| EPA Range: | 274–324 mi (440 -521 km) |
| EPA Fuel Economy: | 76-86/80-87/77-86 city/hwy/comb mpg-e |
Although the BMW iX and the X5 are similar in size, that is where the similarities end. The BMW iX is an example of the automaker's electrification goals, as it was designed and constructed entirely on electric power.
The iX is available in two trim levels: the iX xDrive50 and the iX M60. These stand out for a number of reasons, including their bold exterior appearance and body composition, which are primarily composed of carbon fiber. Both are incredibly fast; the former can reach 60 mph (96 kph) in 4.0 seconds, while the latter can do it in only 3.2 seconds. The BMW iX is a great vehicle with a well-equipped interior, a respectable range, and quick charging capabilities.
Pros:
Stunning interior components
More than 300 miles of range
Strong emphasis on sustainability
Cons:
Conservative exterior design
Minivan-like control
Uncomfortable hexagonal steering wheel
6. 2023 Cadillac Lyriq
| | |
| --- | --- |
| Price Range: | $58,795-$63,795 |
| Power: | 340 hp |
| EPA Range: | 312 mi (502 km) |
| EPA Fuel Economy: | 97/82/89 city/hwy/comb mpg-e |
The 2023 Lyriq is a fantastic EV SUV that combines future stylistic cues with classic Cadillac styling elements. It's the brand's first electric car with five seats that luxuriates its occupants with an interior full of unique details and eye-catching technology, such as a striking 33-inch (83 cm) display that serves as both the infotainment screen and instrument panel. It can travel slightly more than 300 miles (482 kilometers) between charges and rides well. Though there are a few minor fit and finish concerns, Cadillac's electric future seems bright with the Lyriq.
Pros:
Concept car design
Smooth, opulent ride quality
Amazing layout of the cabin
Cons:
Unreliable entertainment system
It is difficult to unlock doors.
Fragile charge port cover
7. 2023 Ford Mustang Mach-E
With its long, all-electric range, aggressive driving characteristics, roomy and luxurious cabin, and plenty of standard amenities, the 2023 Ford Mustang Mach-E is sure to leave an impression. The 2023 Mustang Mach-E has received a few upgrades from Ford. There is now an additional 13 miles (20 kilometers) of range for premium vehicles with the Extended Range battery pack and all-wheel drive (compared to just 3 miles with rear-wheel drive). Additionally, the California Route 1 variant no longer comes with rear-wheel drive.
Pros:
Quick acceleration
Long driving range
Comfortable handling
Spacious and elegant interior
Cons:
Sensitive brakes
High Cost
8. 2023 Chevrolet Bolt EUV
The 2023 Chevrolet Bolt EUV is fun to drive, has a good range, and has a fair amount of room. It also comes at a price that is easy on the wallet. The Bolt EUV's well-tuned regenerative braking system enables seamless one-pedal driving, and it accelerates quickly and silently. The suspension does an excellent job of absorbing road vibrations, and it feels agile around corners. Although the cabin isn't very fancy, there is enough room in both rows for adults to sit comfortably. The infotainment screen is big and user-friendly, and the cargo room is of decent size.
Pros:
Low starting price
A decent 247 miles on electricity alone
Fun to travel
The cabin is roomy and fully equipped.
Cons:
All-wheel drive is unavailable.
9. 2023 Hyundai Kona Electric
With its affordable beginning price, generous array of standard features, and engaging performance, the 2023 Hyundai Kona Electric draws buyers. If you don't require a lot of interior or cargo space, this electric crossover is perfect for your daily commute. Its driving range is similar to the rest of the electric SUV class, and its powerful drivetrain and skilled handling make it an enjoyable vehicle to drive.
This Hyundai also comes with a lot of great features, such as active safety features and an easy-to-use entertainment system. Although the Kona's interior is decent enough, it is not a luxurious car. The majority of this EV's drawbacks stem from its small size: The cargo space is below average for the class, and the second row is quite small.
Pros:
Rapid acceleration and athletic handling
outstanding MPGe scores
An easy-to-use entertainment system
Cons:
Second-row seats are cramped.
Compact cargo compartment
10. 2023 Volkswagen ID. 4
The 2023 Volkswagen ID.4 is a big electric vehicle that has a smooth ride and a lot of space for stuff. However, driving it isn't very exciting; the infotainment system is hard to use, and the base model has a short range. It has excellent crash test ratings by IIHS, a large cargo hold, two rows of generous seats, and a broad list of features.
It drives nicely and accelerates swiftly as well. However, this EV's range and efficiency are average when compared to more capable competitors, and its absence of physical buttons and confusing infotainment system make cabin controls challenging.
Pros:
Standardized Active Safety and Entertainment Options
Affordable entry-level cost for the category
Stability and ease of control
Maximum possible cargo capacity
Cons:
Limited driving range for the base model
Overuse of touch screens
Frequently Asked Questions
What is the best electric SUV in 2023?
According to cars.usnews.com, the 2023 Kia EV6 is the greatest electric SUV, with an overall rating of 8.7 out of 10.
What is the most affordable electric SUV in 2023?
The 2023 Chevrolet Bolt EUV is the most reasonably priced electric SUV, starting at $27,200.
Which electric SUV has the best fuel efficiency in 2023?
When compared to other electric SUVs, the base 2023 Hyundai Kona Electric offers the best MPG ratings (134/city and 106/highway).
Conclusion
Do you want to get the best electric SUV but are getting confused due to the wide range of options? We have made it easy for you. In this blog, we have narrowed down the top 10 electric SUVs of 2023. This list features EVs with fantastic styling, impressive performance, and groundbreaking tech. Now you can compare the features of all the best electric SUVs and choose the one that perfectly suits your needs.