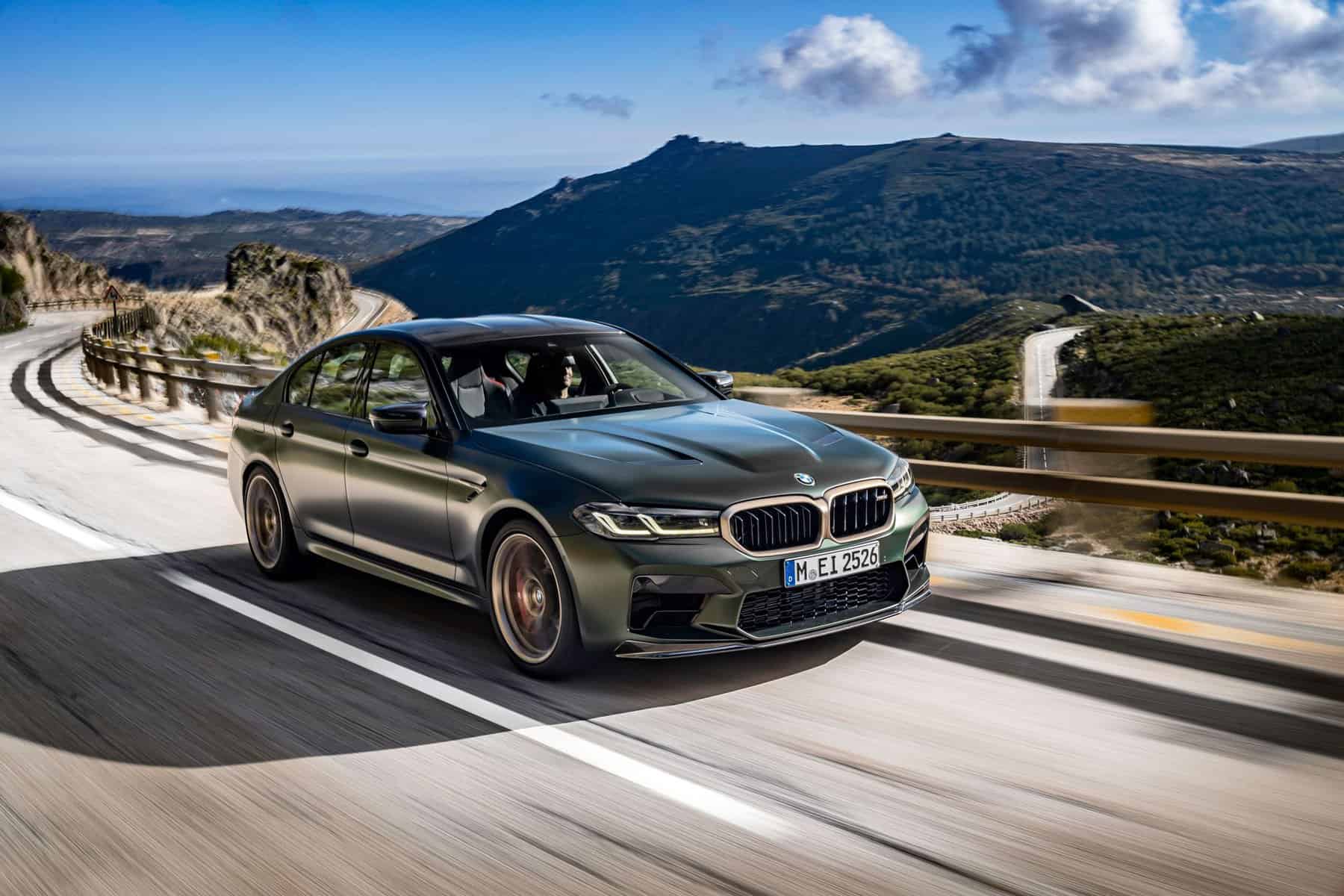 If you dream of fast and powerful cars, V8 cars are here to fulfill your desires. These are considered the muscles of American cars and also have a massive place in the market. With the advent of new technology, they have been upgraded and developed to provide better fuel efficiency and handling, with more features added to each vehicle.
You have to look at the car itself and consider its power, the technology, and how comfortable it is for passengers. That's why we put together this list for your convenience.
Top Best V8 Cars 2023
Here we have short-listed some powerful V8 cars of 2023 that are unique in their power and efficiency and provide a better driving experience.
1- Chevrolet Corvette Stingray
This new generation of Corvette is available in a unique mid-engined configuration with acceleration that can keep up with the likes of a Lamborghini, making it a valid value for a V8 American supercar. With its 495 horsepower, the Corvette can reach 60 mph in 3.5 seconds and has a peak speed of 194 mph.
Hardened critics have been blown away by this current edition of an absolute all-American classic, which looks like Italian supercars twice the price. The handling is rumored to be up to par with the power, so why not give it a try for yourself?
2- Ferrari F8
Europeans have created their ideal V8 in the form of the Ferrari F8. And it's shaping up to be rather attractive. The Ferrari has a twin-turbocharged V8 engine that generates 720PS, allowing it to sprint from 0 to 62 mph in 2.9 seconds and reach a staggering peak speed of 211 mph.
Ferrari is so confident that you will use all 8000 of the F8's rpm that they limit torque electronically at low revs. Unlike the rumbling given by other V8 alternatives, the F8's V8 produces a high-pitched scream because of its flat-plane crank.
Being a Ferrari, it goes without saying that the rest of the vehicle is top-notch quality. You don't need to be a driving god to explore its extremely high limits thanks to its gorgeous appearance and a set of F1-inspired technology.
3- Lamborghini Urus
Everyone understands that the concept of a Lamborghini SUV is entirely ridiculous. More than 20,000 of the V8-powered Urus have found new homes in the four years after its unveiling to widespread astonishment, making it the fastest-selling Lamborghini ever.
The design takes cues from the manufacturer's flashy supercars but scales them way up. People will hear the twin-turbocharged V8 and know you're on your way, while the form, often in a bright shade of orange or yellow, will stick with them long after the sweet sound of the engine has faded away.
It can reach 60 miles per hour in only 3.6 seconds and has a top speed of a rather horrifying 189 miles per hour. What, a Lambo for the grocery store and drop-offs at school? Done.
4- McLaren Senna
It's a hefty investment, but it's money well spent. To suggest that the Senna, so-called McLaren's most excellent Formula One driver, is a worthy tribute to the great Ayrton Senna would be an understatement.
McLaren and the Instituto Ayrton Senna, which owns the rights to the Senna name, insist this is the only vehicle that will ever bear the driver's name. Wow, that's one sweet ride.
Powered by a mid-mounted 4.0-liter V8 that generates 789 horsepower, the McLaren 720S can reach a top speed of 208 miles per hour and 60 miles per hour in under 2.8 seconds. The exquisitely built inside is the icing on the cake if the stunning exterior isn't enough to sway your decision.
5- Ford Mustang V8
The current Mustang is an incredible value compared to other V8 vehicles. It also has a rich history reflected in its design, which pays homage to the original Mustang from 1965 and the Mustang made famous by Steve McQueen in the film Bullitt.
The newest front-mounted V8 generates 450 horsepower, allowing a peak speed of 155 mph and a sprint from zero to sixty in 4.8 seconds. This is the kind of performance you'd expect from an American muscle vehicle.
As a bonus, the sound is entrancing. You might go to the Ford dealership searching for a pleasant journey and get a gleeful V8 Mustang.
6- Porsche Panamera
The Porsche Panamera Turbo S is the most sporty V8 car you can buy, yet it fits well with a family. It has a twin-turbocharged 4.0-liter V8 that generates 630PS and can propel the vehicle from 0 to 62 mph in only 3.1 seconds.
Few vehicles can match the Panamera's agility and responsiveness on a winding rural road, thanks to its standard four-wheel drive and exceptional handling.
The Panamera, on the other hand, incorporates all these features together with a technologically advanced, extremely plush cabin that can seat four adults and features a sizable trunk.
7- Mercedes-AMG C63 S Estate
Are you hoping to have your V8 and eat it, too? Then perhaps the Mercedes-AMG C 63 Estate is the best vehicle for you to drive. You can fit four adults comfortably, and your dog will think it's Christmas morning when it sees the trunk size.
To be fair, you'll probably have similar thoughts. The C 63 S has a 4.0-liter V8 engine with dual turbochargers, which pumps out 503 horsepower, and an exhaust note that makes a power ballad from the '80s seem like a synthesized love song from the '00s.
It's impossible to read this and not feel an enormous sense of joy. The Mercedes has a harsh acceleration, traveling from 0 to 60 mph in 4.0 seconds and continuing to accelerate until the peak speed is reached.
While the C 63 is a practical estate vehicle, it doesn't handle one. It features a firm grip, stopping power, and many driving modes that allow you to return to a relaxing highway cruiser quickly.
8- Range Rover Sport SVR
With its unique take on the V8 theme, the Range Rover Sport SVR is undoubtedly one of the best all-around options available. It's refined, functional, and frighteningly fast on the road, yet it can still draw up its skirt and handle the rough things for which Land Rover is known.
The SVR's 0-62 mph time is 4.3 seconds, and it can reach its highest speed of 176 mph thanks to its supercharged 567 PS 5.0-liter V8 engine.
Naturally, it also has fantastic sound quality, thanks to the exhaust system's ability to go from being subdued to being loud and raucous with the push of a button. Also, the SVR's suspension and steering have been fine-tuned to make it handle better than a large SUV normally would.
A luxurious interior with room for four, a large trunk, and many off-road settings mean the SVR can handle everything from rock crawling to wading are all included.
9- Bentley Flying Spur
The Bentley Supersaloon having v8 engine is so massive it probably won't fit in a two-car garage. It seems like it would be better at home snaking its way up one of your tree-lined rural driveways.
We were pleasantly surprised that the Flying Spur drove far more athletically than we had anticipated during our brief time behind the wheel. Despite the deteriorating road conditions, the Flying Spur can deliver the smooth ride.
10- Lexus LC
The Lexus LC500's design has an array of curves and creases that give it an appearance more at home in a car showroom than on the road.
The Lexus's exotic appearance is matched by its exotic sound and performance, thanks to its 471 PS 5.0-liter V8 engine, which allows it to accelerate from 0 to 62 mph in 4.4 seconds and reach a peak speed of 168 mph.
The Lexus is a fun car to drive whenever the whim strikes, but it's also a wonderful option for long road trips because of how relaxing it is inside. Its standard 10-speed automatic transmission keeps the engine from even revving when cruising.
The LC500's interior is just as luxurious as its exterior, thanks to the enclosed driving position, leather upholstery, and sculpted metal door handles.
11- Jaguar F-Type
In the 1960s, Jaguar released the E-type, the spiritual successor to the F-type, quickly becoming one of the most beautiful V8s on the market.
It may have drawn inspiration from a timeless work, but its performance is everything from timeless. The F-Type R features a supercharged 5.0-liter V8 with 575 horsepower, allowing it to accelerate from zero to sixty-two miles per hour in 3.7 seconds and reach a peak speed of 186 miles per hour.
But the primary four-wheel drive prevents any erratic floatiness. While the F-Type may not be as precise in corners as a Porsche 911, it retains the responsiveness and poise of a sports vehicle while still being pleasant to drive for extended periods.
Jaguar dispensed with rear seats to achieve the characteristic long-bonnet, short-body design, but the hatchback-style trunk is surprisingly helpful.
12- Ferrari SF90 Stradale
The Ferrari SF90 Stradale is the Italian equivalent of the American muscle vehicle and has been dubbed a production supercar. A more refined one with softer edges.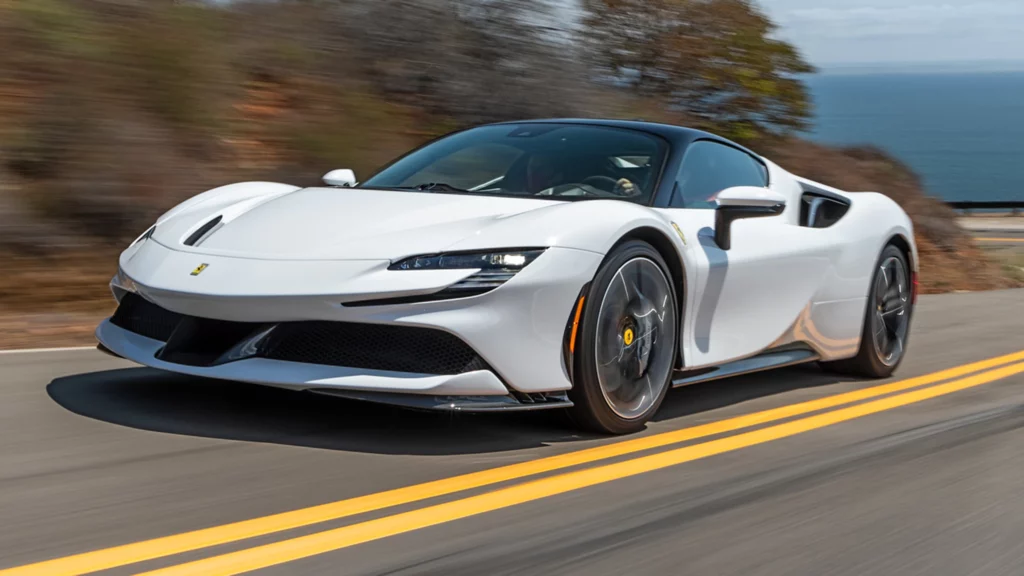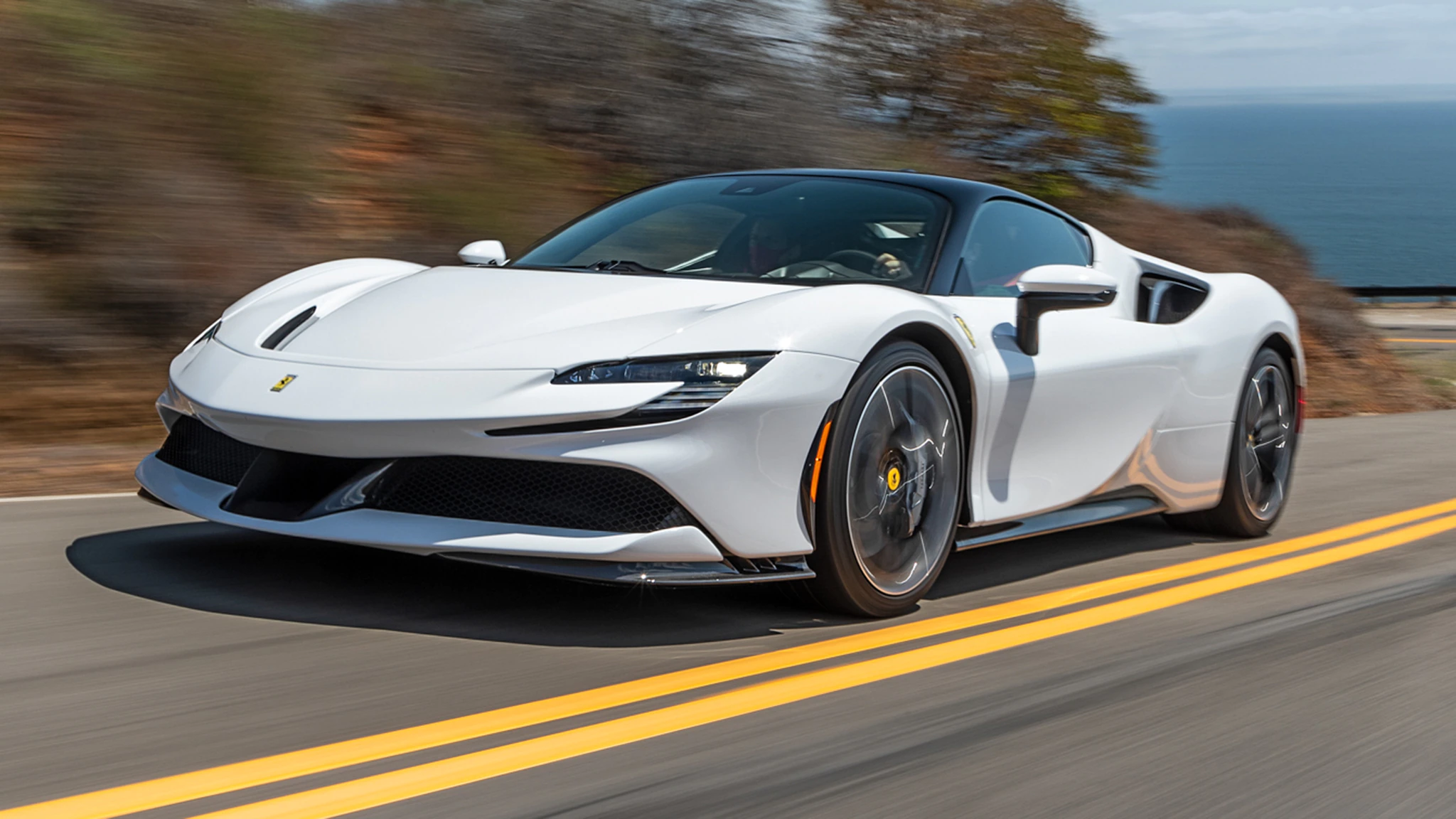 However, it is purebred regarding power, with a 4.0-liter twin-turbo V8 capable of producing at least 769 horsepower.
13- BMW M8 Competition Coupe
BMW's newest M series cars are available as both coupes and convertibles. There is some debate as to whether or not the M8 is the most significant M model ever made. Thanks to its powerful engine, this vehicle can reach 60 miles per hour in under three seconds.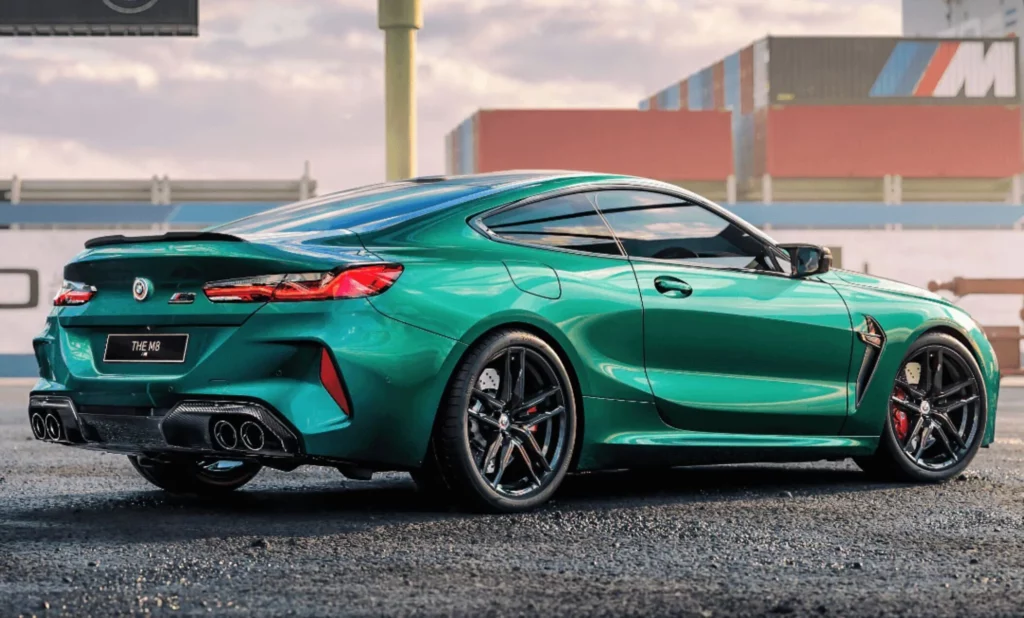 The 4.4-liter V8 engine and eight-speed M gearbox under the hood of this beauty are good for 617 horsepower. It's bursting at the seams with cutting-edge features like the ability to fine-tune the M suspension, Active M Differential, and Integrated Brake Systems, all at the push of a button.
14- Audi RS6 Avant
The Audi RS6 is a safe bet if you're in the market for a high-performance station wagon. After starting with a regular Audi A6 Avant, they give it a more aggressive look inside and out and install a 4.0-liter twin-turbo V8 under the hood to produce 591 horsepower.
It's a performance that explodes. The RS6 can go from 0 to 62 mph in 3.6 seconds, and its peak speed is 174 mph if you get the Dynamic Pack. While the RS6 has a lion's roar, it is far more manageable than its intimidating reputation would suggest.
Its standard quattro four-wheel drive transfers power to the road with minimal effort, while its all-wheel steering and large brakes make it seem surprisingly agile.
There are no weak spots, either external or internal. Unique RS graphics and sports seats complement the attractive touchscreens. In addition to comfortable seating for four, a large trunk is included.
15- Dodge Challenger Hellcat Redeye
You haven't seen a muscle vehicle until you've driven the Dodge Challenger Hellcat Redeye. This classic American features a 6.2-liter HEMI supercharged V8 that generates 797 horsepower, making it a top contender for "most thrilling automobile ever produced." It has maintained its roots and timeless appeal while gaining modern performance upgrades.
Conclusion
Here are our best pickups for v8 cars. There's nothing quite like the incredible rumble of a V8, the scent of gasoline in your nose, or the screaming of tires when you take a sharp turn.
These cars offer a lot, like excellent horsepower and their top speed to reach at destination in a few minutes. But it seems like the electric car will take its place in the future.
FAQs
Which v8 automobile is the cheapest?
The Ford Mustang is the least expensive V8 in 2023. The current generation Mustang is the first to be manufactured in right-hand drive. All the great features that made this American muscle vehicle famous are still present.
The car's laid-back character and potent 5.0-litre V8 make it an excellent choice for lengthy drives. Although it lacks the Porsche's deft handling, the new Mustang's independent rear suspension allows for better cornering than ever before.
Which v8 engine is the most reliable?
It's hard to give a universal answer to this one. Interested in a V8 that can't be topped for its high-pitched scream at high RPM? Then a Ferrari with a flat-plane crankshaft is what you need to attempt.
Would you like your automobile to have a natural rumbling that builds to a clap of artillery-like thunder when accelerating? So maybe you'd enjoy a Chevrolet Corvette powered by an LS engine. A V8 should be seen and not heard, right? The Bentley Mulsanne offers a powerful V8 engine.
Will we never longer see v8 vehicles?
Yes. V8 engines are notoriously dirty and thirsty for fuel. Therefore, they may be among the first to go extinct in the not-too-distant future, along with other combustion engines. There's no better time than now to buy that V8 automobile you've always wanted.