The BMW 5 Series is widely recognized as one of the world's best-selling midsize luxurious sedans. It has introduced several innovations throughout its five-decade existence, making it a popular choice for those in the market for a used luxury vehicle. However, not all BMW 5 Series vehicles are the same.
In this post, we will discuss the worst model years for the BMW 5 Series you should avoid, the most typical issues with that year's cars, and the best used BMW 5 Series.
BMW 5 Series years to avoid include 2004, 2006, 2007, 2008, and 2011; they are considered the worst. The best years for BMW 5 Series are 2012, 2013, 2015, 2019-2023. This result was concluded from trustworthy sources such as NHTSA, Edmund, JD Power, and Kelley Blue Book.
BMW 5 Series Years to Avoid
Let's examine which BMW 5 Series cars are the worst bets for used automobile shoppers. Here's the list of the worst BMW 5-series years to avoid:
2004 BMW 5 Series
2006 BMW 5 Series
2007 BMW 5 Series
2008 BMW 5 Series
2011 BMW 5 Series
5. Worst Year: 2007 BMW 5 Series (3.70 Rating)
The 2007 BMW 5 Series is one of the BMW model years you should avoid. It is over 15 years old and still encounters mechanical and electrical faults. Some drivers also complain about its battery depletion. It is also more expensive than its competitors. Moreover, the iDrive system is also notorious more than it is worth.
Common Problems:
TPMS Failure
Defective airbags
Defective seatbelts
Reviews, Ratings, Recalls & Complaints:
4. Worst Year: 2004 BMW 5 Series (3.58 Rating)
The BMW E60 5-Series debuted in the U.S. market for the 2004 model year. The BMW 545i from the 2004 model year featured the N62, which has a history of being expensive to maintain and prone to difficulties, even though the base and mid-level versions retained very reliable engines from the previous generation.
The Micro Power Module (MPM) in the trunk of the first few generation E60s was particularly vulnerable to water damage and so caused several electrical issues.
Common Problems:
Excessive oil consumption
Oil leakage
Coolant leakage
Valve stem seals
Reviews, Ratings, Recalls & Complaints:
3. Worst Year: 2011 BMW 5 Series (3.56 Rating)
The BMW F10 5-Series debuted in the U.S. market for the 2011 model year. Despite having the improved N55 engine, early models still had many of the same problems as the N54.
For instance, when it came out, the N55 had the same high-pressure fuel pump as the N54, which caused the same problems with limp mode and difficulty starting as with the prior version.
Until it was modified in later 2014 models, the 550i's turbocharged N63 V8 engine was plagued by reports of turbo failures, oil consumption, and fuel injector troubles.
Common Problems:
Water pump failure
Fuel pump failure
Oil leakages
Reviews, Ratings, Recalls & Complaints:
2. Worst Year: 2008 BMW 5 Series (3.41 Rating)
BMW's N54 turbocharged inline-6 engine powered the 535i for the first time in 2008. The N54 is highly effective and adjustable. However, it suffers from numerous known faults that can be costly to address. In this model, the engine is another problematic component. Some drivers also report problematic cooling systems in the 2008 BMW 5 Series.
Common Problems:
Turbo defects
Oil leakage
High-pressure fuel pump failure
Coolant leakage
Water pump failure
Hydraulic tailgate failure
Reviews, Ratings, Recalls & Complaints:
1. Worst Year: 2006 BMW 5 Series (3.26 Rating)
If you want to purchase a used BMW, you should avoid the 2006 BMW 5 Series. This model year's engine had several problems, including difficulties with the fuel injectors and ignition coils.
The suspension system of the BMW 5 Series from 2006 was the source of one of the most major problems. Several drivers have reported experiencing issues with the rear suspension of their vehicle, which may result in poor handling and even cause accidents.
Micro Power Module (MPM) in the car's trunk tended to get flooded, causing great electrical trouble throughout the vehicle.
It is also common to notice random warnings on the dashboard or accessories, such as the doors, windows, and lights not working because of a weak battery or a wiring issue in the vehicle.
Common Problems:
Overheating
Broken head bolts
The engine won't start.
Weak battery
Reviews, Ratings, Recalls & Complaints:
BMW 5 Series Years to Buy As Used
Some of the best used BMW 5 Series years to buy are:
2012 BMW 5 Series
2013 BMW 5 Series
2015 BMW 5 Series
2019 BMW 5 Series
2020 BMW 5 Series
2021 BMW 5 Series
2022 BMW 5 Series
2023 BMW 5 Series
8. Best Year: 2021 BMW 5 Series (4.20 Rating)
The seventh generation (G30) of the BMW 5-Series received a facelift beginning with the 2021 model year.
This modernized model has been fitted with brand-new headlights, taillights, and a front grille. In addition, the screen size was increased to 12.3 inches, and the 540i model received a 48V mild hybrid system as an upgrade.
Some choices and features were changed for later model years, but otherwise, these cars are virtually identical to the 2020 models in every other respect. The seventh generation of the BMW 5-Series is known for its reputation for reliability, sophisticated appearance, luxurious amenities, and comfortable ride.
Reviews, Ratings, Recalls & Complaints:
7. Best Year: 2020 BMW 5 Series (4.23 Rating)
Even though the 2020 BMW 5-Series lacks the LCI stylistic upgrades, it is typically offered for several thousand dollars less than the facelifted 2021 model.
Additionally, 2020 was the year that the 530e plug-in hybrid received an improved battery pack of 12 kWh, which increased its electric range to up to 21 miles. The 9 kWh battery in the older models could barely power them for about 15 kilometers.
The power of the 2020 M550i has also been increased, going from 456 to 513 horsepower. A digital gauge display, navigation integrated into the dashboard, and keyless passive entry are some new standard features.
Reviews, Ratings, Recalls & Complaints:
6. Best Year: 2012 BMW 5 Series (4.23 Rating)
Most automotive writers have said that the 2012 BMW 5-Series offers a satisfying balance of athletic performance and comfort but does not have a lot of legroom in the back seats or trunk capacity. Nonetheless, when you purchase this model, you will receive fantastic fuel economy with the standard engine.
According to cars.us news, when compared against other vehicles in the same year and the same class, the 2012 BMW 5-Series ranked #6. With the eight-speed automatic, it achieves excellent EPA ratings of up to 22 mpg in the city and 34 mpg on the highway.
It provides three available engines in 2012, including a 240-horsepower turbocharged 2.0-litre I-4 engine, a 300-horsepower twin-turbo 3.0-litre I-6 engine, and a 400-horsepower twin-turbo 4.4-litre V-8 engine.
Reviews, Ratings, Recalls & Complaints:
5. Best Year: 2013 BMW 5 Series (4.34 Rating)
The 2013 BMW 5 Series, which can be purchased as either a sedan or a hatchback, is an excellent choice for a used premium midsize automobile. It has a powerful engine, ample space inside, and simple operating features. Despite these virtues, BMW is less reliable than leading competitors such as the Lexus GS 2013, especially regarding performance.
The IIHS awarded the best score to the 2013 BMW 5 Series for its safety. The Moderate Overlap Front Test, Side Impact Test, Rear Crash Protection Test, and Roof Strength Test were the areas in which it performed exceptionally well.
Reviews, Ratings, Recalls & Complaints:
4. Best Year: 2019 BMW 5 Series (4.40 Rating)
The 2019 BMW 5-Series is one of the best midsize luxury cars. It got the award of fourth-best Midsize Premium Car from J.D. Power. Although the 2019 BMW 5-Series is missing many significant changes found on newer models, this was the first year that Apple CarPlay was included as standard equipment on all trim levels.
Many driver aids have also become the norm in terms of equipment, such as keeping an eye out for blind spots, alert for departure from the lane, warnings for potential collisions in front, detection of pedestrian traffic, etc.
In contrast to some of the powertrains found in the older E60 and F10 models, the B48 engine found in the 530i and the B58 engine found in the 540i both have excellent reputations regarding dependability.
Reviews, Ratings, Recalls & Complaints:
3. Best Year: 2015 BMW 5 Series (4.50 Rating)
The number of reported issues with the F10 5-Series N20 engine dropped dramatically after 2015 when new timing chain guides were introduced. Because of numerous applause, this model year got the number 1 place in Midsize Premium Cars.
Even though BMW fixed the N20's timing chain problems in January 2015, some 2015 528i models built before then may experience failures in the future. BMW's N55- and turbo V8-powered 535i and 550i models saw significant improvements for the 2015 model year.
The 2015 BMW 5-Series retains the revised exterior design and the new diesel engine option that debuted for the 2014 model year.
Reviews, Ratings, Recalls & Complaints:
2. Best Year: 2022 BMW 5 Series (4.53 Rating)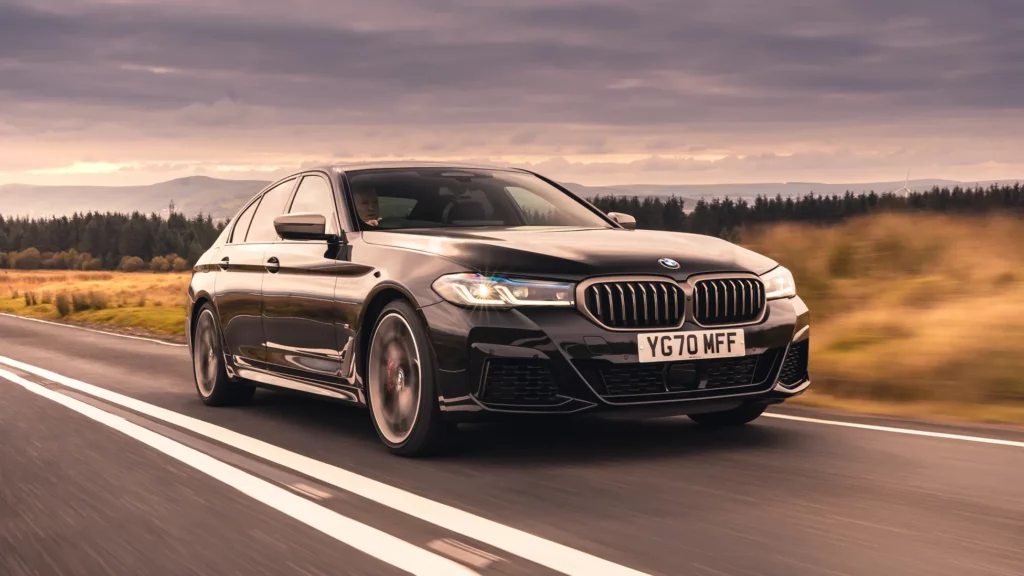 Rather than being the Ultimate Driving Machine, the 2022 BMW 5 Series is a luxurious cruiser. The 2022 BMW 5 Series is again the Upper Midsize Premium Car winner for the year.
The 2022 5 Series excels at providing a roomy cabin with high-quality materials. However, the cabin is less luxurious than a Mercedes-Benz E-Class or an Audi A6. Although the current version of BMW's iDrive infotainment system is available in other BMW models, it is not yet available in the 5 Series.
There are four engine choices for the 2022 BMW 5 Series. Each has an automated transmission with eight gears. The 2022 5 Series is among the few good hybrid options in the midsize luxury sedan segment you can buy.
Related: 15 MOST Reliable Audi Models | 2023
Reviews, Ratings, Recalls & Complaints:
1. Best Year: 2023 BMW 5 Series (4.61 Rating)
Among luxury vehicles, the 2023 BMW 5 Series is among the best. It can confidently navigate winding roads and doesn't freak out over bumps. The base engine is a four-cylinder with 248 horsepower, which is efficient and quick, while the optional V8 with 600 horsepower is the most powerful option.
The 2023 BMW 5 Series is the Number 1 best Upper Midsize Premium Car. It also ranked #2 in Luxury Midsize Cars for 2023 from cars.us news.
This year's 2023 BMW 5 Series model lineup includes eight trim levels. The 530e xDrive level is the best option because it has excellent gas mileage, all-wheel drive, a spacious trunk, and the model's pleasant cabin.
It is well-known for its strong engines, sporty yet comfortable ride, simple and intuitive interface, and spacious interior.
Reviews, Ratings, Recalls & Complaints:
Common BMW 5 Series Problems
Now that we've covered the BMW 5 Series models to avoid and to buy. Let's examine the most often reported issues with those vehicles.
Engine Problems
Engine problems are a regular complaint with the BMW 5 Series variants. Many drivers complained about mechanical issues, most commonly excessive oil consumption, engine overheating, and complete engine failure.
The timing chain, valve cover gasket, fuel injectors, and fuel pump were common culprits in engines having these problems.
Issues with Electricity
The electrical systems of multiple BMW 5 Series cars needed to be revised. Several motorists complained of car electronics issues, including the radio and the satellite navigation system.
The climate control system in some models was also problematic, leading to broken air conditioning. Faulty electrical parts, such as the car's battery, alternator, or sensors, were a common root cause of these problems.
Transmission Issues
Transmission is another frequent area of failure in the BMW above 5 Series vehicles. Transmission issues, including hard shifting, slipping gears, and complete failure, were frequently cited by drivers.
If you want a stress-free ride, watch for transmission issues, especially in vehicles powered by V8 motors. Refrain from dismissing problems with shifting gears or sluggish performance.
Weak Suspension
Suspension problems also plagued some of the BMW 5 Series vehicles. As numerous motorists observe, rear suspension issues can reduce vehicle control and increase the risk of collisions.
Faulty suspension parts, especially the rear shock absorbers and control arms, were frequently to blame for these problems.
Ineffective Cooling Systems
There is always the risk of malfunctioning components in the cooling system, such as the water pump or the thermostat. Keep your BMW 5 Series well-maintained to avoid expensive repairs and increase its reliability for a long time and many more kilometers.
FAQs
Is the BMW 5 Series Reliable?
Depending on the year, the 5 Series is known for its high reliability and solid construction. The 5 Series has an above-average reliability rating in Consumer Reports' assessments. However, there may be issues with the 2004, 2006, 2007, 2008, and 2011 5 Series models.
Is the BMW 5 Series Expensive To Maintain?
BMW 5 Series are usually expensive to maintain. It has an annual repair cost of $977, considered a poor ownership cost. Some BMW models may require more frequent maintenance than others, which might drive up the cost of parts and repairs.
BMW 5 Series Vs. BMW 3 Series: Which One is Better?
The 5 Series is a larger and more luxurious version of the 3 Series. The 5 Series may have more cutting-edge technologies and amenities, but the 3 Series is known for its sporty performance and handling.
Conclusion
The 5 Series, like other BMWs, is widely regarded as a solid and reliable car. They are well-known for their speed, agility, and high-end amenities. However, they are still subject to breakdowns and potential repair needs.
You can also check the NHTSA and IIHS databases for further research to see which BMW 5 series model years are unsafe. Vehicles with low reliability ratings or a high recall rate may not be as safe as others on the road.
If you put in the time and effort, you will definitely find a BMW 5 Series that is affordable, dependable, and fun to drive.