Subaru Crosstrek has been a best-seller since it first hit the market in 2013. Towing capacity, gas mileage, and engine reliability all make this SUV a top pick. But which years should you invest in, and which years should you avoid?
Subaru Crosstrek years to avoid include 2013, 2014, 2018, and 2019; they are considered the worst. The best years for Subaru Crosstrek include 2015, 2016, 2017, 2020-2023. This result was concluded from trustworthy sources such as NHTSA, Edmund, JD Power, and Kelley Blue Book.
Subaru Crosstrek Years To Avoid
The Subaru Crosstrek, like most automobiles, has received some criticism throughout the years. The following models should be avoided at all costs…
4. Worst Year: 2014 Subaru Crosstrek (3.83 Rating)
The 2014 Subaru Crosstrek improved over the previous year's model, but it still has some major flaws, which deemed its presence here.
This SUV's automatic transmission tends to act erratically, resulting in pauses between gear changes. Even while it's not a major problem, it takes the fun out of driving this SUV. If not addressed, sudden acceleration is a severe safety issue that can lead to catastrophic collisions.
High oil consumption and problems with the wheel bearings were additional problems for 2014 vehicles. These two issues were there in 2013, but Subaru clearly did nothing to address them.
Reviews, Ratings, Recalls & Complaints:
3. Worst Year: 2013 Subaru Crosstrek (3.81 Rating)
The Crosstrek debuted for the first time in 2013. Most professionals in the field will advise against purchasing a brand-new model in its first year since this has most of the issues. In 2013, Subarus were powered by Boxer engines, which were notorious for their excessive oil consumption.
Some drivers were involved in accidents because the 2013 Subaru Crosstrek frequently experienced engine stalling. There have been many reports of broken brake lights as well.
Rust and paint corrosion, Eyesight system failure, and rodent infestation have also been reported as other mechanical issues.
Reviews, Ratings, Recalls & Complaints:
2. Worst Year: 2018 Subaru Crosstrek (3.67 Rating)
Numerous problems have plagued the 2018 Subaru Crosstrek, the most notable of which is the fragility of the windshields. There were a number of reports to the NHSTA about the windscreen cracking and chipping for no apparent cause.
Despite the fixed windscreen, many other issues were noted by owners. Faulty radios, sloppy rear ends, and other technical issues were only a few of the sources of drivers' stress.
The peeling paint is just one more issue with the exterior. Their suspension was also inadequate, as seen by the frequent slipping of their rear end.
Reviews, Ratings, Recalls & Complaints:
1. Worst Year: 2019 Subaru Crosstrek (3.16 Rating)
The 2019 Subaru Crosstrek has the maximum number of complaints, the most common one being how easily the windscreen cracked and chipped. Many 2019 Crosstrek owners reported getting their windscreens replaced more than once due to how easily they cracked.
Cracked windscreens, lost radio presets, and Starlink failure are some of drivers' most often reported problems. A total of 466,000 Crosstreks were recalled in 2018 and 2019 due to problems with the engine stalling or the rear suspension element detaching too quickly.
The 2019 Subaru Crosstrek is definitely better to avoid!
Reviews, Ratings, Recalls & Complaints:
Best Subaru Crosstrek Years To Buy As Used
The current 2023 model has an above-average reliability rating, making it the most reliable Crosstrek year to date. Model years 2015, 2016, 2017, 2020, 2021, and 2022 are likewise considered to be trustworthy models.
7. Best Year: 2015 Subaru Crosstrek (4.04 Rating)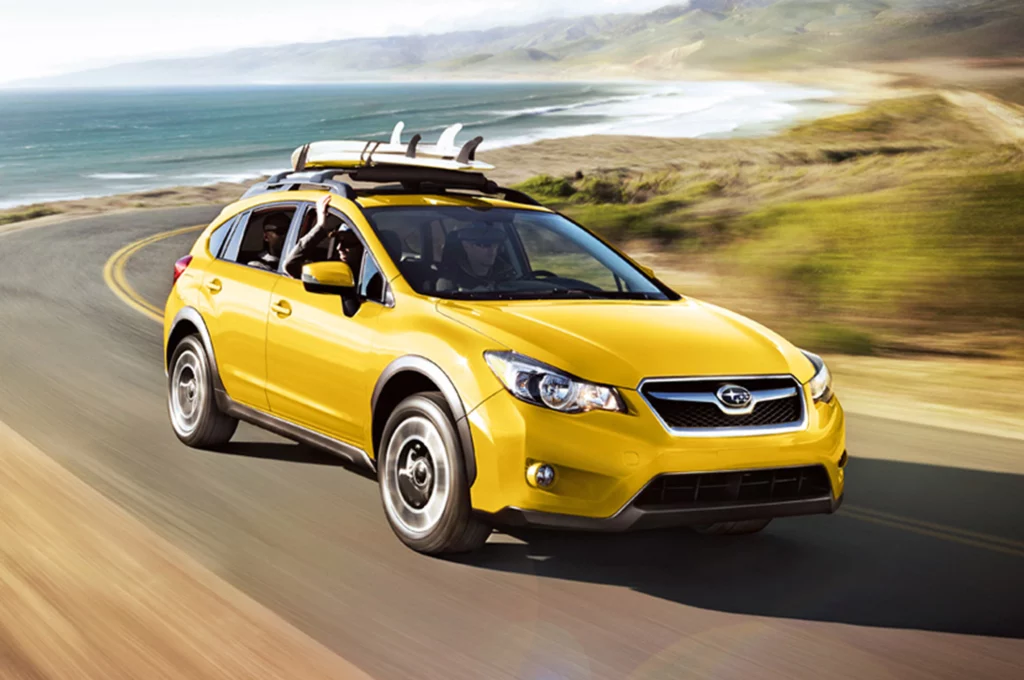 The all-wheel drive became standard on the 2015 Crosstrek, setting it apart from several rivals in the compact SUV class. It was powered by a 2.0-liter four-cylinder engine that generated 148 horsepower and 145 lb-ft of torque when paired with a CVT.
Not only did this sporty SUV perform admirably, but it also boasted excellent fuel economy, getting 26 mpg in the city and 34 mpg on the interstate. The 2015 Crosstrek pleasantly surprised me when I stepped inside its interior with its spacious atmosphere and simple yet functional design.
A 6.2-inch infotainment display and Bluetooth connectivity as standard features complemented the high-quality sound system. If you luckily find its used version, It will definitely be a good decision to buy it.
Reviews, Ratings, Recalls & Complaints:
Related: 19 Best & Worst Subaru Forester Years | 2023 Updated
6. Best Year: 2016 Subaru Crosstrek (4.08 Rating)
The 2016 Subaru Crosstrek's Standard all-wheel drive and high ride height provide decent off-road performance. There is adequate space for adults in both the front and back seats.
This car has all you could want and more. This vehicle is hard to beat with an EPA-estimated 34 miles per gallon, a roomy interior, power accessories, and a premium sound system.
The "XV" that used to come before the name Subaru Crosstrek has been dropped from the 2016 model year model. This model introduces new safety features (blind-spot monitoring, lane-change assist, and rear cross-traffic alert) and Subaru's Starlink telematics suite with emergency services.
Reviews, Ratings, Recalls & Complaints:
5. Best Year: 2017 Subaru Crosstrek (4.13 Rating)
The 2017 Subaru Crosstrek is an excellent choice if you need an all-terrain vehicle that prioritizes safety, reliability, and fuel economy. The suspension was made for any road or trail, so you can go off-road without worrying about getting trapped.
Its sturdy construction and athletic appearance make it ideal for off-road adventures. As a bonus, the Crosstrek is ideal for parents who want to take their children on outdoor excursions without worrying about their safety or reliability.
The 2017 Subaru Crosstrek is a fantastic compact SUV, and it's a great option for those who don't want to break the bank in order to get into this class of vehicle. It's all-wheel drive, so it's great in the snow and other bad weather too.
Reviews, Ratings, Recalls & Complaints:
4. Best Year: 2021 Subaru Crosstrek (4.30 Rating)
The 2021 Crosstrek has a more assertive grille and newer bumper designs up front, but it still has an outdoorsy vibe. In addition to these tweaks, there is also a Sport edition available, which is equipped with a more potent 2.5-liter engine.
This model was equipped with an all-wheel-drive system and a modern appearance, making it an excellent choice for winter driving. The interior space was also praised for being exceptional for a hatchback of its size.
Related: 12 Best & Worst Subaru Outback Years | 2023 Updated
Reviews, Ratings, Recalls & Complaints:
3. Best Year: 2020 Subaru Crosstrek (4.33 Rating)
The 2020 Subaru Crosstrek is more efficient than the 2021 Crosstrek due to its high reliability. Under the hood of the 2020 Crosstrek is a powerful 2.0-liter four-cylinder engine that can produce 152 horsepower and 145 lb-ft of torque.
The CVT is an optional extra that can provide even more refined acceleration than the standard six-speed manual. The 2020 Crosstrek comes standard with Subaru's EyeSight driver assistance technology to help keep passengers secure. Adaptive cruise control, lane departure warning, and forward collision warning are just some of the safety features that can be found in modern vehicles.
In addition, for more safety on the road, the higher models have technologies like blind-spot monitoring, rear cross-traffic alert, and reverse automatic braking.
Reviews, Ratings, Recalls & Complaints:
2. Best Year: 2022 Subaru Crosstrek (4.46 Rating)
Although the 2022 Crosstrek has garnered slightly better evaluations than the 2021 model year, no reports of improvements have been reported. All-wheel drive is standard on the 2022 model, keeping with the adventurous theme.
The cabin is peaceful and does not let in too much outside noise, making for a pleasant driving experience. The seats have plenty of head and legroom, making them suitable for even those with long legs.
Furthermore, the inside layout is well thought out, making accessing frequently used features like the air conditioner and radio simple. The plug-in hybrid powertrain is a welcoming option for those concerned about gas mileage.
Reviews, Ratings, Recalls & Complaints:
1. Best Year: 2023 Subaru Crosstrek (4.50 Rating)
The 2023 Crosstrek is an excellent option if you value cutting-edge technology and cutting-edge safety features. This model year successfully won the #1 Cheapest Hybrid SUV from Kelley Blue Book.
Because a new generation's first model typically has more issues, we would conclude that 2023, the generation's final model, is a safer option than the upcoming 2024 model.
The 2023 Crosstrek adds a Special Edition model, which is essentially a more powerful Premium grade. A special Desert Khaki paint job, alloy wheels, and dark grey exterior trim are also available for this model.
Reviews, Ratings, Recalls & Complaints:
Common Subaru Crosstrek Problems
Despite the Subaru Crosstrek's reputation for reliability, there are a few problems that every customer has to know about before making a purchase. Here's the list of frequently observed problems.
FAQs
Is Subaru Crosstrek A Good Car?
Subaru Crosstrek has always been famous for its excellent long road trips, good fuel economy, safety, and comfort. A lot of car experts are praising its expected 2024 edition due to how well the current generation is performing. Overall, Subaru Crosstrek is a good car to invest in.
What is The Life Expectancy Of Subaru Crosstrek?
Taking good care of your Subaru Crosstrek should last well over 200,000 miles before replacing significant components or investing heavily in maintenance. Subaru Crosstreks are reliable and durable enough to survive up to 13 years.
Is Subaru Crosstrek Hybrid Worth It?
Although Subaru Crosstrek Hybrid performs admirably off-road and receives excellent safety ratings, the Crosstrek Hybrid is let down by its short electric range, steep price tag, and relatively small cabin.
Overall, the hybrid version of Crosstrek provides excellent fuel efficiency, a remarkable level of ride comfort, and acceptable handling, making driving on winding roads a pleasure.
Conclusion
Overall, the Crosstrek has distinct advantages that draw drivers' interest worldwide. Although there are common problems, but with consistent upkeep and prompt repairs, you can stay ahead of them.
It is clear that this car had a lot of issues in 2019, as seen by the 238 problems reported at NHTSA. 2019 is the worst Subaru Crosstrek year. However, The best model years to buy Subaru Crosstrek are the 2023, 2022, 2020, and 2021 versions.