Drifting is a thrilling and adrenaline-inducing sport that requires aptitude, accuracy, and the right vehicle. However, getting into drifting may be pricey, especially if you need to acquire a car specifically for the activity. Thankfully, several readily accessible, reasonably priced drift vehicles provide good performance and handling without breaking the budget.
These inexpensive drift vehicles might not be as fast or showy as their expensive counterparts. Still, they are ideal for amateurs or enthusiasts on a tight budget who want to enjoy the excitement of drifting without spending a fortune.
Plenty of options are available for the best cheap drift car, but we've narrowed it down to the most reliable and cost-effective options. These affordable drift cars can help you start the sport without breaking the bank.
Qualities to Consider While Buying a Drift Car
Even though we know the driver makes the difference, we cannot deny that drifting requires a specific vehicle. But contrary to popular belief, you don't need a Japanese street vehicle as the foundation for your new drift build.
You could improve any automobile to make it a drift missile if you wanted to. Finding a car that can accomplish this straight out of the box, with little effort required, is the key here. If you want to get your automobile sideways easily, search for the following four features.
#1 Rear Wheel Drive
Any automobile that is drifting will have rear-wheel drive if you look at it closely. You'll need power at the rear wheels to make the back end slide. We are not claiming that a front-wheel-drive vehicle cannot slide. Simply put, it wouldn't qualify as a drift. Snap oversteer is the technical word for sliding an FWD vehicle. An automobile can also be ideal for drifting without having rear-wheel drive.
#2 Low-Pressure Differential
A differential's primary function is to allow your wheels to rotate independently. However, it cannot manage how much power is applied to each wheel. This becomes an issue if both wheels have varying amounts of traction.
For instance, if you accelerate when one of your wheels is on a piece of ice, it will spin independently of the other wheel. Through the distribution of torque to both of your wheels, independent of their level of traction, a limited-slip differential cancels out this impact.
A drift automobile has to do this because it can only slide if both of its rear wheels lose traction at once. The term "slip" describes the variation in wheel speed between the inside and outer wheels, not traction.
#3 Manual Switching
You can drive without a clutch if you have power and go fast enough. "Power oversteer" is the term for this. However, you'll have much more control over your drift if you have a clutch and manual transmission. The only way for low-powered vehicles to lose traction on a dry surface is to clutch-kick the back end out. It gets simpler to drift without engaging the clutch the more power your engine produces.
#4 Power
Power is important when purchasing a drift vehicle since it directly influences its performance on the track. Faster acceleration and greater peak speeds can result from increased power output, which opens the door to more stunning drifts.
Balancing power with other elements, including weight, suspension, and tires, is crucial to maintain ideal performance. The best power setting will ultimately rely on the driver's experience and the vehicle's intended purpose.
Cheap Drift Car Essentials
We know you are eager to start looking at and examining the cars available. Still, we urge you to consider some of these crucial factors when determining your budget to maximize the potential of your future vehicles. Here are some fundamental elements to ensure your drifting experience lives up to your expectations before you get too carried away looking at automobiles.
Coilovers
Any drift car must have adjustable coil overs. Starting and maintaining a drift is simpler because of its adjustable ride height and suspension stiffness.
Locking Differential
Drift must be maintained by both wheels on the back axle spinning at the same speed, which is ensured by a locking differential. A locking differential is a common car improvement because it helps boost traction and control in off-road or low-traction situations.
Harness
While drifting, a racing harness will keep you firmly in place and prevent you from moving about. Cheap harnesses are available online or at your neighborhood car parts store.
Tires
Choosing the right pair of tires for a drift vehicle is essential. Since drifting includes a lot of sliding, tires must maintain traction with a strong grip and a soft texture. Several reasonably priced alternatives are on the market, and some drifters even utilize old tires to reduce costs.
Bucket Seats
A strong pair of bucket seats will support you and hold you securely in place through rapid spins and slides. Find secondhand racing seats online or at your neighborhood auto parts store to save money.
Roll Cage
Adding a roll cage may make your automobile safer while giving it more structural stability. It aids in more uniformly distributing the forces of an accident, reducing harm to the driver and the vehicle. You may purchase pre-built roll cages or have one customized for your vehicle.
Replacement Exhaust
By upgrading its exhaust system, your automobile may sound more aggressive and have more horsepower and torque. You can purchase an inexpensive exhaust system online or at your neighborhood auto parts store and install it yourself with some simple equipment.
Hydraulic Handbrake
Using a hydraulic handbrake while retaining the throttle allows you to lock up your back wheels, which is necessary to start a drift.
List of Best Cheap Drift Cars
Looking for a cheap drift car that won't break the bank? Here are our few best options to consider:
1. Lexus SC300
The Lexus SC300 is an underappreciated drifting treasure with Supra internals, opulent equipment, and a great appearance. Despite not being the 2JZ-GTE engine found in the highest-spec MKIV Supra, the 3.0-liter 2JZ-GE inline-six's 225 horsepower and 210 lb-ft (29 kg-m) torque rating make it just as powerful.
The MKIV Supra and the SC300 shared an engine and other components, including the transmission, brakes, and subframes. Because the Supra is one of the market's most well-known modified drift cars, the SC300 may benefit from the Supra's aftermarket components. You won't have a hard time finding aftermarket components for your drift vehicle, from bolt-on modifications like headers and exhaust tweaks to intercoolers and coil overs.
However, the SC300 has an advantage over the Supra since it is very luxurious and has superb handling. So, it is a cheap car worth looking for if you want a drift vehicle to go to the track and the club. In our test drive, SC300 offers Supra-like drifting capability for as little as $2,240 for high-mileage cars, while immaculate models cost approximately $26,750.
2. Mazda RX-8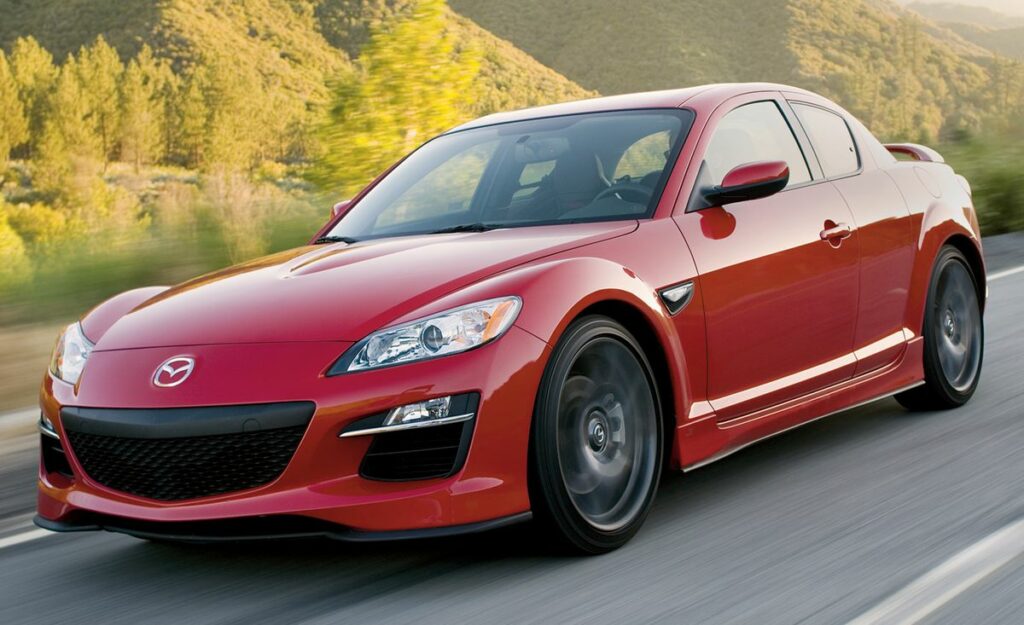 The Mazda RX-7 is becoming increasingly expensive, but you can make the RX-8 into a drifting rocket similar to the RX-7 for a more affordable price. Only a few vehicles can match the RX-8's amazing rotary power, 9,000 rpm (150 Hz) scream, and superb drifting chassis.
The perfect sideways-driving monster for any aspiring drifter is created by adding a front-mounted engine, rear-wheel drive design, and a standard limited-slip differential. The RX-8, which weighs only 3,050 lb (1,383.78 kg), has exceptional handling because of its almost 50:50 weight distribution and low center of gravity.
If you have worries about rotary maintenance, the entire package is a great candidate for an engine replacement. Few drift vehicles on the market provide an equivalent or better value for your money than the RX-8, which can be purchased for as little as $2,100 for high-mileage 2004 versions.
3. Nissan 350Z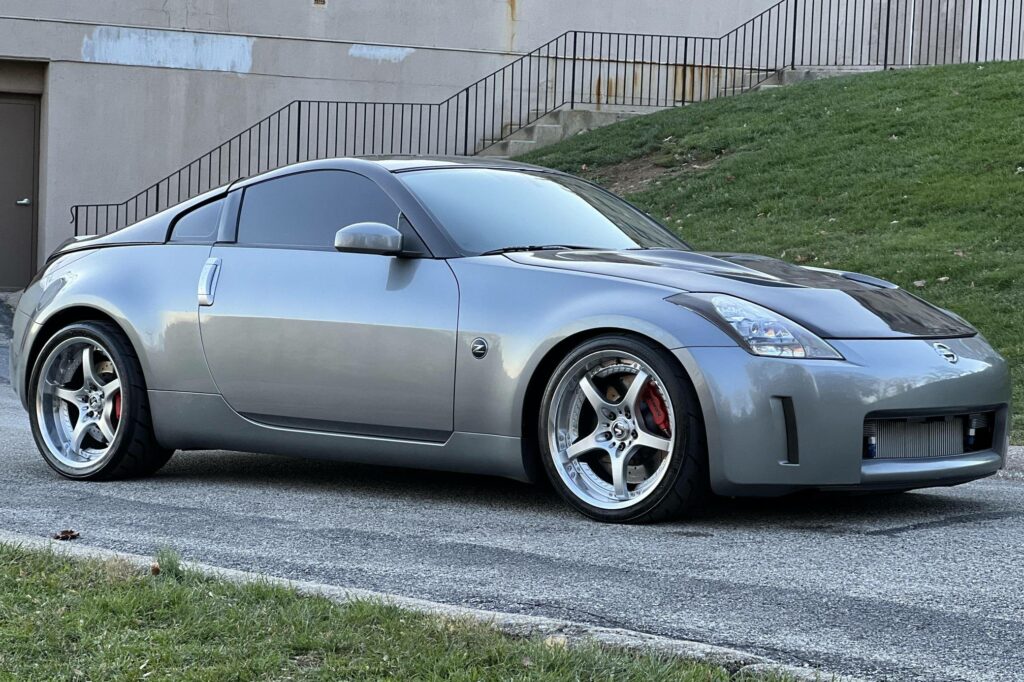 The Nissan 350Z is a well-liked option among auto enthusiasts due to its low cost and rear-wheel drive configuration, which makes it an excellent base for drifting. It is a well-liked option for people wishing to get into drifting without breaking the budget because of its potent 3.5-liter V6 engine, in the Nissan 350Z delivers up to 300 horsepower and 260 lb-ft (35.7 kg-m) of torque, balancing power, and agility for an exhilarating driving experience.
We like that it can be converted into a capable drift vehicle with lots of fun and excitement on the track with simple modifications like coil overs, sway bars, and a limited-slip differential. Since the release of the 350Z, people have been able to get more power out of the V6.
The 350Z is a fantastic affordable drift vehicle that can be modified over time. Everything from forced induction kits to suspension and steering improvements is available. It would be difficult to find another vehicle that can go from moderate to wild so rapidly for less than $15,000.
4. Merkur XR4Ti Turbo
From 1985 through 1989, the Merkur XR4Ti was marketed in America as the German-made XR4Ti, essentially a Ford Sierra RS replica. So the high-performance Sierra RS, a vehicle created especially to compete in Europe's Group A racing, inspired the XR4Ti's sporty ergonomics.
The lightweight, long wheelbase, independently adjustable rear suspension, balanced chassis, and excellent power-to-weight ratio of the XR4Ti make it a superb choice for drifting. The 2.3-liter inline-four turbocharged engine in the XR4Ti produced 200 lb-ft (27.62 kg-m) of torque and 175 horsepower. The five-speed manual transmission it included made it the ideal combination for a drift vehicle that burns rubber.
Despite the XR4Ti's rarity, drifters and tuners typically ignore them, making it reasonably inexpensive and simple to find one. Examples with many miles on them are dirt cheap, costing approximately $2,240, while XR4Tis in good condition may sell for about $26,750.
5. Toyota Chaser JZX100
On our list, Toyota Chaser JZX100 is another excellent starting drift vehicle. It boasts a sturdy chassis that will last a lifetime and a 1JZ-GE engine that produces decent starting power. It is a rear-wheel-drive, lightweight sports automobile well-liked by motoring fans.
The engine has an outstanding output of about 280 horsepower and 268 lb-ft (36.7 kg-m) of torque. This engine is a favorite among people looking for an exciting driving experience because of its reputation for smooth power distribution and powerful acceleration. The Chaser delivers a balanced and enjoyable driving experience, typical of Japanese sports sedans of the era, whether negotiating tight turns or cruising along the broad road.
We appreciate it is inexpensive, simple to locate, and in decent condition, and many modifications are available. A larger turbo, an intercooler, and new headers are just a few improvements that might make this car incredibly fast. A bargain at roughly $12,000+ might last you for years because it is dependable.
6. BMW E36 325i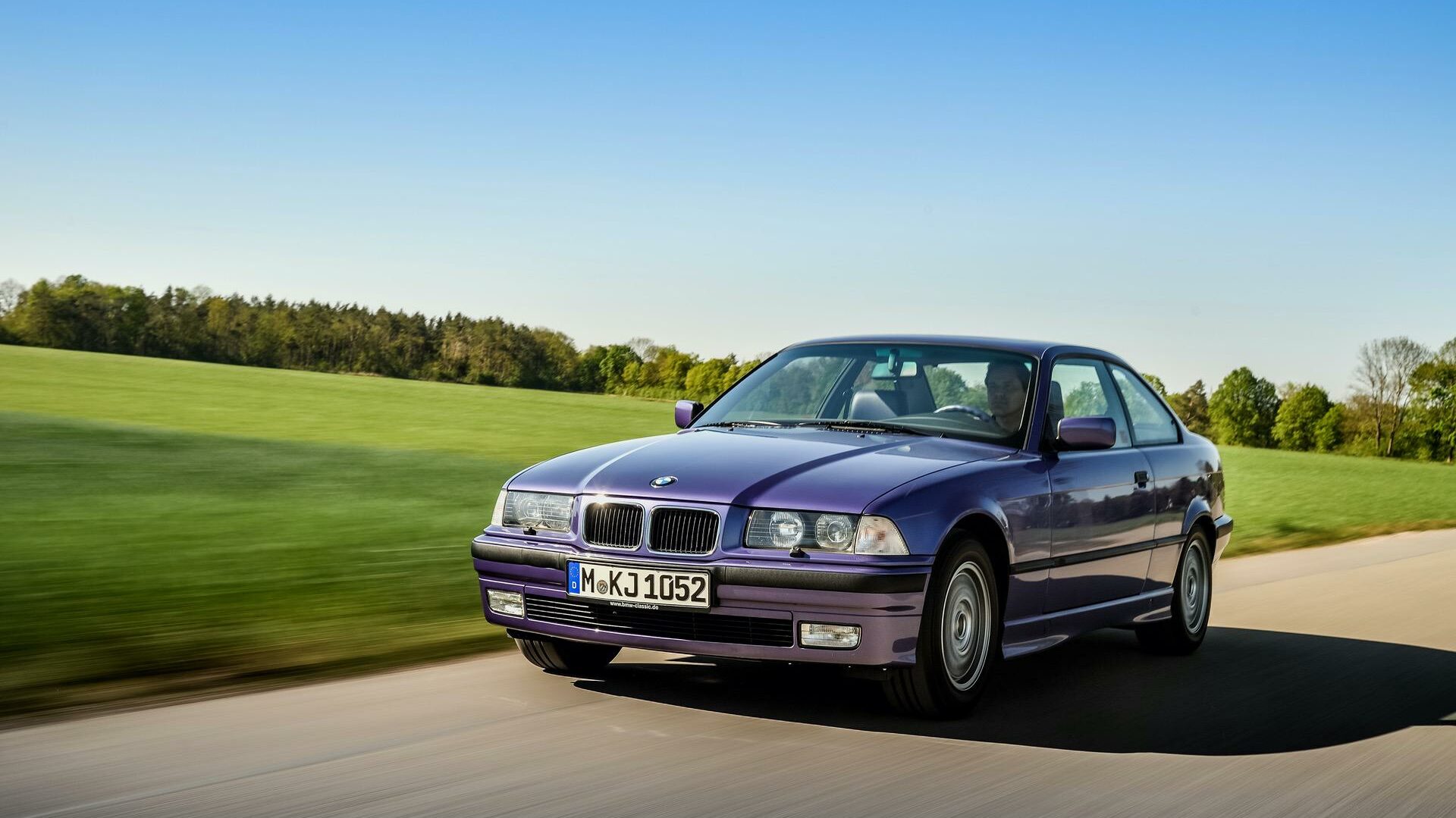 BMW E36s are among the top cars for drifting; when upgraded, they truly shine. Unbelievably, one of the greatest drift vehicles under $10,000 is an old BMW E36. Get a good home welding kit, weld the differential, improve the shock mounts, and you're ready to go.
The 2.5-liter inline six-cylinder engine in the BMW E36 325i can generate up to 189 horsepower, giving it enough power and torque for an enjoyable driving experience. This car's weight distribution is very close to 50:50, making it equally predictable in a slide as in a straight line. This results in a reliable drift missile when you add a screaming inline 6.
They have depreciated quite nicely because more than a million E36s were sold. We suggest that depending on the pricing, E30s and E46s are as good—and in some situations, much better—as each other.
7. Nissan 300ZX Twin Turbo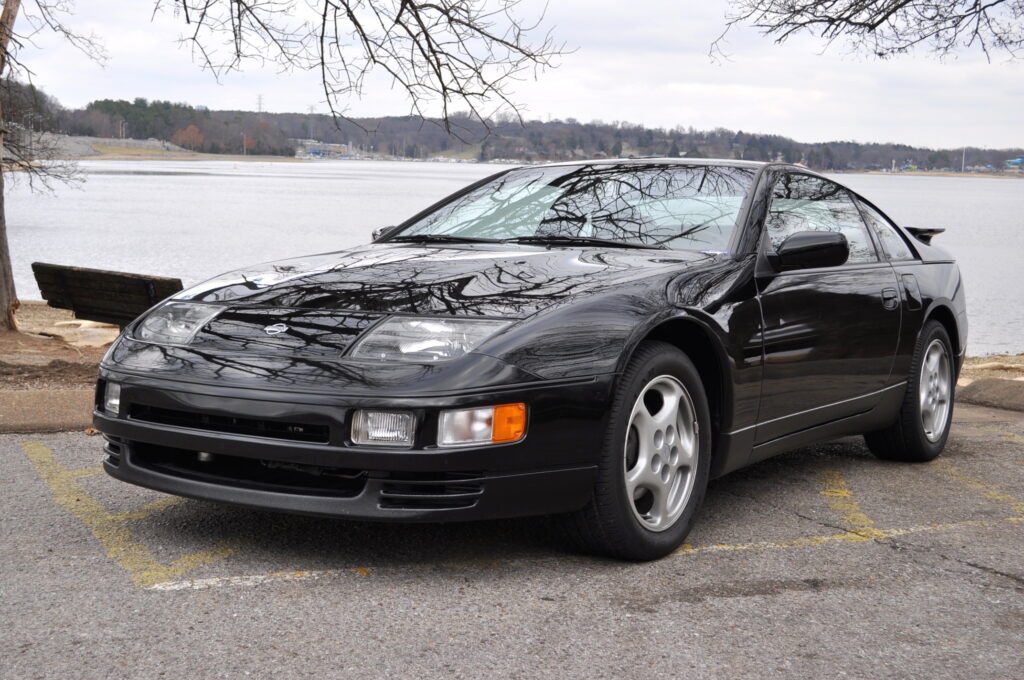 The 300ZX offers excellent value for the money. It isn't on the hit list for most drifters, but damn, don't they look gorgeous when going sideways. Its influence was so great that Lamborghini felt compelled to use some of its design elements in the Diablo.
The 3.0-liter V6 engine in the Nissan 300ZX Twin Turbo generates up to 300 horsepower and 283 lb-ft (39.07 kg-m) of torque, making for an exhilarating driving experience with rapid acceleration and high peak speeds.
Its long, tourer-like proportions make it simple to regulate your drift angle, and the twin-turbo forced induction system gives it more than enough power to lose traction. However, in our observations, it doesn't feel as fast and light as a conventional drift vehicle. While some fans enjoy this characteristic, others don't. It can be purchased as low as $12,500.
8. Mazda RX-7 FC Turbo II
The Mazda RX-7 is now a household brand in the drift community. It has a small displacement rotary engine with a passion for redlining, which is the perfect combination for sliding sideways. It also looks amazing.
The Mazda RX-7 FC Turbo II has a 1.3-liter rotary engine that can generate up to 200 horsepower and 195 lb-ft (26.9 kg-m) of torque. Its high-revving engine and snappy handling offer a distinctive and thrilling driving experience. Despite its shortcomings, rotary engines continue to be adored and supported by vehicle enthusiasts. Although maintaining them is a lot of labor, it is worth it.
The fact that they can rev to their maximum capacity without tiring out makes them drift-friendly. Even Mazda advises idling this engine at its maximum rpm range to remove carbon buildup. Fortunately, unlike some other JDM legends, the value of the FC RX-7 hasn't skyrocketed (yet). For less than $10,000, one may find a fourth-generation FC RX-7.
Related: 17 Best Street Race Cars | 2023 Updated List
9. Mazda Miata
Another great option for cheap budget buyers on our list is the Mazda Miata, which has an equally consistent power output as the BMW E36 325i mentioned earlier in the list and is simple to work on. It is a wonderful experience to drift with these cars with your pals on racing tracks.
With its exceptional handling and balance, the 1.8-liter inline four-cylinder engine of the Mazda Miata generates up to 142 horsepower and 125 lb-ft (17.3 kg-m) of torque, making for a light and agile driving experience.
The standard engine won't likely be sufficient for major competitive events and doesn't have the best drifting capability. Thus, installing an LS3 engine is the ideal alternative. The LS3 from GM costs $9,250, while a used Miata costs $10,000 on the used vehicle market. The Mazda Miata is another excellent choice since it is lightweight and has a small turning circle, which facilitates drifting in bends.
FAQs
What do you mean by a cheap drift car?
A vehicle that is inexpensive and capable of drifting is called a cheap drift car. Usually, they are older or entry-level vehicles that are inexpensive to buy and may be customized for drifting.
Can Low-Cost Cars Drift?
You will unavoidably break items when you first start drifting. In light of this, your best option is to get a low-cost RWD vehicle with strong aftermarket support. In this manner, it will be simple for you to locate old components, and the maintenance expense won't be as high. A pure sports automobile is the last thing you need for drifting. Today's professional drifters begin with the simplest, most affordable drift vehicle.
What changes are required for a budget drift car?
An affordable drift car's modifications will vary depending on the particular car and the driver's preferences. In general, upgrades to the suspension system, a limited-slip differential, larger and stickier tires, and a roll cage for safety are all improvements. For some automobiles, it may also be required to make engine upgrades, such as turbocharging or switching to a more potent engine.
Can a cheap drift car be utilized for regular transportation?
An inexpensive drift vehicle can be used for regular driving, but it might not be the best option. As a result of their loud exhaust and rigid suspension, many drift vehicles can be uncomfortable or unpleasant to drive regularly. The dependability or fuel efficiency of the vehicle could also be compromised by the modifications required for drifting.
Is drifting permitted?
Drifting on public highways is prohibited and risky. Drifting is permitted only in a controlled setting, like a racetrack or specialized facility. Safety measures and monitoring are required in these environments to avoid accidents and injuries.
Conclusion
In conclusion, drifting is a fascinating sport that demands skill, precision, and the right vehicle, but it may be pricey, especially if you need a unique automobile. However, there are some affordable, high-performing drift vehicles. Drift cars should have rear-wheel drive, low-pressure differential, manual transmission, and power.
Consider coil overs, locking differential, harness, tires, bucket seats, roll cage, new exhaust, and hydraulic handbrake. We find many options, such as Lexus SC300, Nissan 350Z, Mazda RX-7, and BMW E36, which are affordable drift vehicles. Drifting is fun and affordable with the right car, safety gear, and instruction.