Performance car manufacturers have long been drawn to the quest for peak speed, and this fascination persists even as the automotive industry enters the electric age. The "normal" sports cars and supercars just don't cut it. Therefore, multi-million-pound hypercars keep pushing the limits of what's possible in terms of speed.
In the previous century, the quest to create the quickest car had seen autos grow slightly quicker than horses, reaching speeds of well over 100 mph in around two decades. In the 1950s, Aston Martin's DB4 GT surpassed 150 mph, while in the 1980s, the Ferrari F40 surpassed 200 mph.
Getting cars to run faster than that made it increasingly difficult, but then renowned racing company McLaren showed up and destroyed everyone. In 1998, the legendary McLaren F1 surpassed 240 miles per hour, significantly faster than anything else.
Even when Bugatti's spectacular Veyron arrived on the market in 2005, its highest speed was "only" 13 mph higher than the McLaren, at 253 mph. When others rested on their laurels, Bugatti released the 267 mph Veyron Super Sport in 2010.
Since then, several automobiles (some from firms you may have never heard of) have claimed to be even faster. The Veyron was swapped out for the even quicker Chiron by Bugatti, and the goal was changed to a beautiful round number: 300 mph.
With a Chiron Super Sport 300+ that had undergone minor modifications, Bugatti could surpass 300 mph in 2019, although the final production model was only capable of 271 mph. Bugatti believes that the production model will reach that magical number. Still, it will only permit customers to push their vehicles to their limits while closely supervised on its test track.
It is unclear whether anyone will ever be able to purchase a car that can reach 300 mph straight out of the factory due to growing public safety concerns and the safe speed limits of tires and other components.
So let's start with the 30 fastest production cars sorted from the slowest to the fastest:
30. Porsche 918 Spyder – 218 mph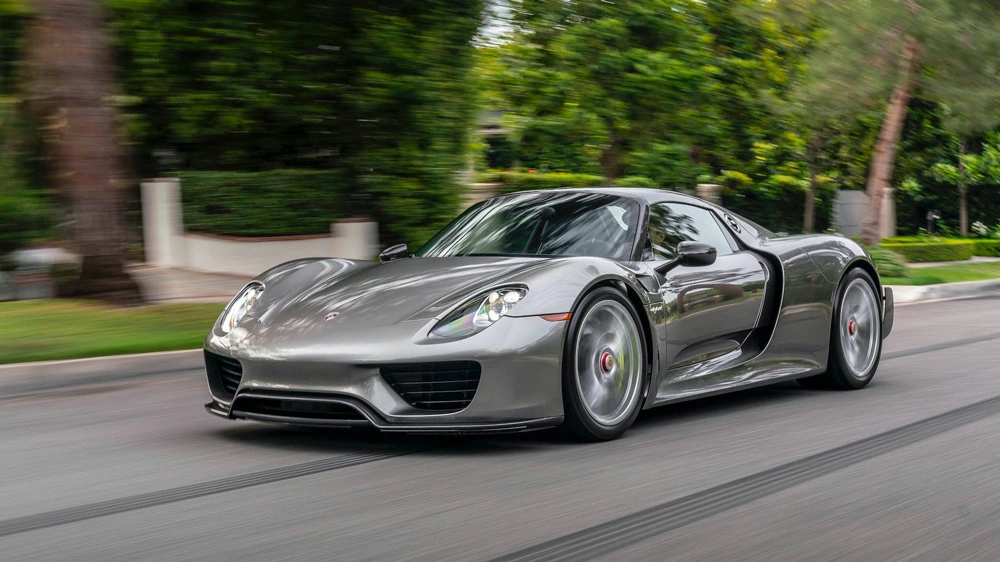 Porsche slightly exaggerated the top speed of their 918 models when it stated that it was 214 mph. In 2018, a 918 Spyder was clocked at 218.4 miles per hour. It is still the Stuttgart brand's fastest production vehicle. It is powered by a hybrid system that combines a normally aspirated 4.6-liter V-8 engine with twin electric motors to provide an additional 282 horsepower for 875 horsepower and an astounding 944 ft-lbs of torque.
In addition to its impressive performance, the Porsche 918 Spyder also featured advanced technologies such as active aerodynamics and a hybrid powertrain that could be charged via a plug-in port or regenerative braking.
The car had a lightweight carbon fiber body and a high-performance suspension system that could be adjusted to suit different driving conditions. The interior was luxurious and well-appointed, with high-quality materials such as leather and carbon fiber used throughout. Only 918 examples of the 918 Spyder were produced, making it a rare and highly desirable collector's item.
29. Aston Martin One-77 – 220 mph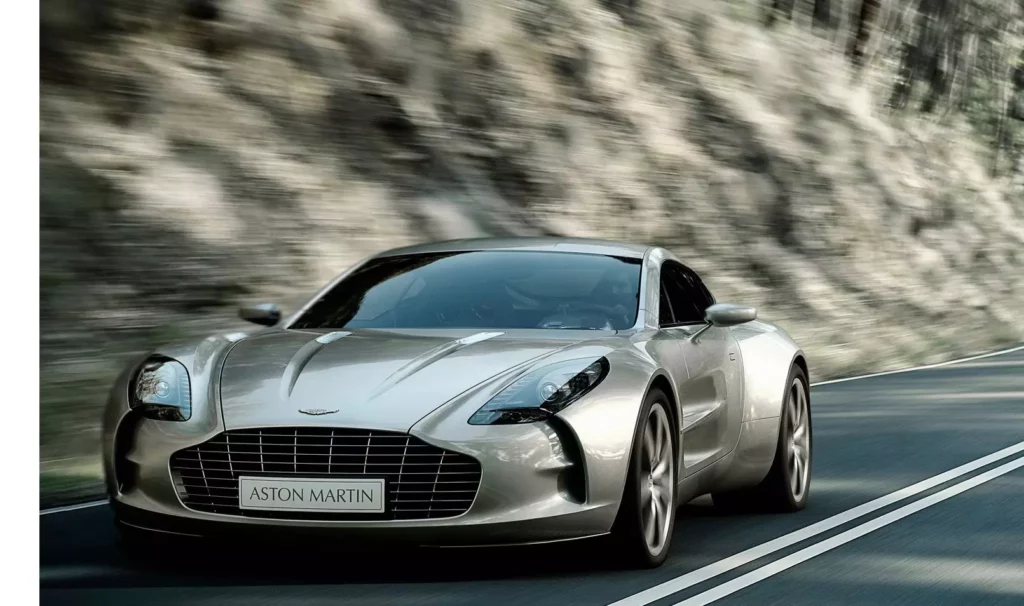 This Aston Martin limited-edition coupe was limited to 77 units, but after an accident in Asia, only 76 remain. Under the lengthy hood is a 7.3-liter Cosworth V-12 engine with 750 horsepower and 553 lb-ft of torque.
This accelerates the aluminum and carbon-fiber chassis from zero to sixty miles per hour in 3.5 seconds. A series of tests by Aston showed that its steed was capable of 220 mph back in 2009.
The Aston Martin One-77 also featured a striking design inspired by the brand's racing heritage. The car had a lightweight carbon fiber body and a unique active aerodynamic system that could adjust the car's downforce based on driving conditions.
The interior was luxurious and customizable, with high-quality materials such as leather and Alcantara used throughout. The One-77 represented the pinnacle of Aston Martin's engineering and design capabilities at the time of its production, and it remains a highly sought-after collector's item.
28. Lamborghini Aventador LP 780-4 Ultimae – 221 mph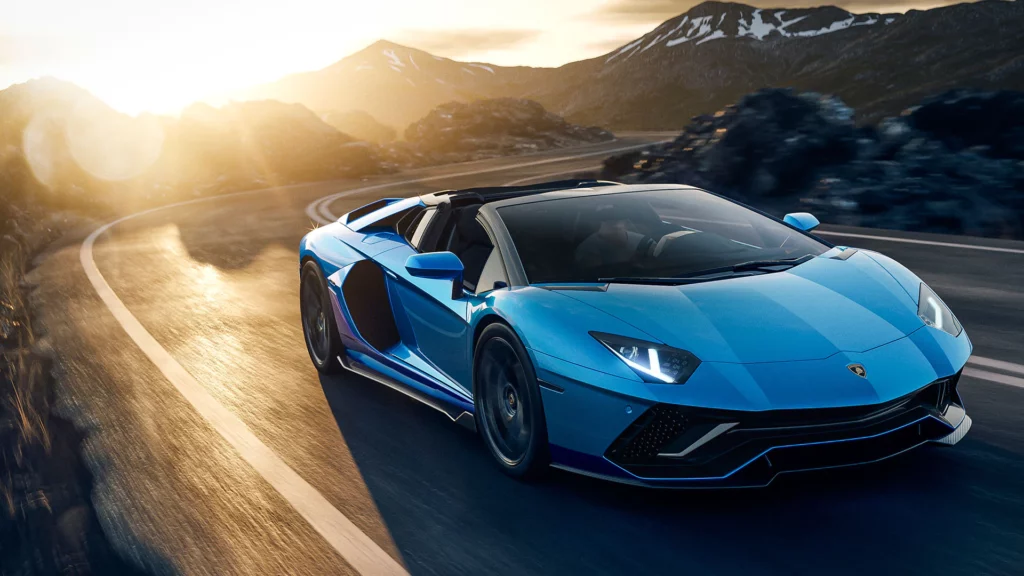 As the name "Ultimae" suggests, Lamborghini's newest Aventador is the most potent version of an already impressive supercar chassis that came out in 2011. The naturally aspirated 6.5-liter V-12 in the original has changed over the years.
It now makes up to 769 hp and 531 ft-lbs of torque, compared to the LP 700-4's 690 hp and 509 ft-lbs of torque. The Ultimate has a more understated exterior with less aggressive aerodynamics than the more track-focused SVJ.
It also has an all-wheel drive and an ancient single-clutch automated seven-speed transmission.
Still, it can go from 0 to 60 mph in 2.8 seconds and reach a top speed of 221 mph. Overall, the supercapacitor-hybrid Sian has more power, and Lamborghini has said it wants to move quickly to fully electric supercars.
Still, the Ultimate will be the most powerful Aventador ever made, using only internal combustion.
27. Ferrari Enzo – 221 mph
The Ferrari Enzo, one of the few naturally aspirated vehicles on this list, is powered by a 6.0-liter V12 that generates 651 horsepower. Only 399 Enzos were produced for sale, and as usual, they were all sold by invitation to existing customers. One more Enzo was constructed, but it was handed to the Vatican for charity.
Strangely, while possessing much more horsepower, Enzo's replacement, the LaFerrari, can only achieve a similar top speed. In contrast, the LaFerrari accelerates from zero to 62 mph in 2.4 seconds, while the Enzo requires 3.2 seconds.
26. Zenvo ST1 – 233 mph
Zenvo Automotive, a firm based in Denmark, is responsible for constructing the ST1 sports car. The only machine used in the production process is a CNC router. Everything else is done by hand.
This high-performance vehicle is driven by an LS7 V8 engine capable of producing 1,430 Nm of torque and 1,089 horsepower. It can accelerate from 0 to 62 miles per hour in three seconds and from 0 to 124 miles per hour in 8.9 seconds.
It has leather racing seats, an adjustable steering wheel, satellite navigation, and keyless entry, among other features. The car has a max speed of 233 miles per hour, which is impressive.
25. Ruf CTR3 – 233 mph
German automaker Ruf Automobile is responsible for developing the mid-engined sports car, the CTR3. It is driven by a twin-turbocharged engine that is 3.7 liters in capacity, producing 889 Nm of torque and a power output of 691 horsepower.
The vehicle was produced between the years 2007 and 2012. This model of automobile was produced in only 31 total units.
24. Huayra Pagani – 238 mph
The Huayra is the game-changing Zonda's successor and was created by Italian speed demon Horacio Pagani. It is named after the Quechua wind god Huayra-tata and boasts 720 horsepower from a twin-turbocharged Mercedes-AMG V-12.
You can drive from zero to 60 mph in under 2.8 seconds thanks to a seven-speed single-clutch transmission that distributes power while making chunky, whiplash-inducing shifts.
One of the critical features of the Huayra Pagani was its advanced active aerodynamic system, which used flaps and air channels to adjust the car's downforce and drag based on driving conditions. The car also featured an advanced suspension system that could be adjusted to suit different driving styles and conditions.
The interior was luxurious and well-appointed, with high-quality leather and carbon fiber used throughout. The Huayra Pagani was produced in limited numbers, with only 100 examples, making it a rare and highly sought-after collector's item.
23. Ultima Evolution – 240 mph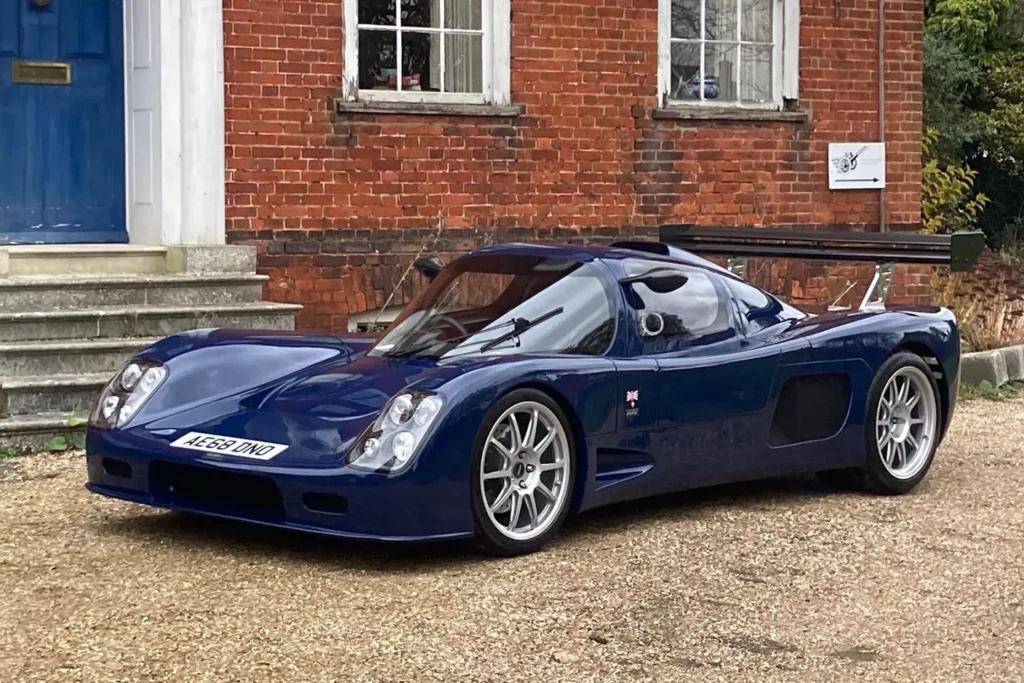 Ultima Sports, a company based in the United Kingdom, produces a sports automobile called the Evolution. It can accelerate from 0 to 60 miles per hour in a breath-taking of 2.3 seconds, from 0 to 100 miles per hour in 4.9 seconds, and from 0 to 150 miles per hour in only 8.9 seconds.
The Ultima Evolution is a highly customizable car, allowing buyers to choose from various options, including engine upgrades, braking systems, and interior trim materials.
22. McLaren F1 – 240.14 mph
Since it came out in 1993, the McLaren F1 has been one of the fastest cars in the world. Also, it's one of the most wanted. Any F1 made between 1993 and 1998, like this 1995 McLaren F1 road car, will sell for top dollar today. At Gooding & Company's Pebble Beach Auction in August 2021, it sold for a record $20.465 million.
It would take too long to list all of the "firsts" that McLaren brought to road cars with the F1, but suffice it to say that the British company blew everyone else away at the time. Only 64 road car versions have ever been made, so only a few lucky people can drive one.
21. Lykan HyperSport by W Motors – 245 mph
The United Arab Emirates-based sports vehicle manufacturer W Motors created the Lykan HyperSport. With the collaboration of Italian and Lebanese engineers, the company was founded in Lebanon in 2012.
A 3.7-liter twin-turbocharged engine that produces 780 horsepower and 960 Nm of torque powers the Lykan HyperSport. The back wheels receive power from the engine, positioned in the middle of the rear axle. Also, the sports car has a 0-62 mph time of just 2.8 seconds.
Interestingly, this is the first automobile in the world with diamond headlights. The titanium LED blades in the front lights have 440 diamonds on them. A holographic display with interactive motion control is present in the vehicle.
20. Twin-turbo Saleen S7 – 248 mph
Saleen's debut vehicle was the S7 supercar, which attracted much attention when unveiled in 2000 despite not being based on an existing model. A revised Twin-Turbo variant with 750 horsepower and a top speed of 248 mph came out shortly after. Saleen offered a racing package that raised the power output to 1,000 horsepower, bringing the peak speed to 260 mph.
The S7's popularity has declined. However, we might see more of Saleen's supercar if the company can revive it and assert a top speed comparable to Bugatti, Hennessey, or SSC. There was the retro-chic Saleen S5S Raptor Concept that was unveiled in 2008 but was never produced.
19. Koenigsegg CCXR – 249 mph
The Koenigsegg CCXR is an "environmentally friendly" variant of the CCX. The same 4.7-liter twin-supercharged V8 engine powers it as the CCX; it has been upgraded to run on E85 gasoline, increasing its horsepower output from 795 to 1,044.
Although the Koenigsegg CCR broke the record for top speed on a circular track in 2005, the revised CCXR boasts a superior engine, aerodynamics, and everything else. We would love to see the Swedish company test this on the Volkswagen test track, the same track where the Veyron was evaluated.
18. Orca SC7 – 249 mph
Rene Beck is the founder of the sports vehicle manufacturing company Orca Engineering, which is located in Liechtenstein. Orca Engineering constructed the SC7. Because it is constructed out of ultra-light materials, it barely weighs 850 kilograms (1,874 pounds).
It was only possible to produce a total of seven of these autos. This Swiss supercar has an engine that can produce 850 horsepower and 738 foot-pounds of torque. This automobile can reach a maximum speed of 249 miles per hour.
17. Aspark Owl – 249 mph
The Japanese automaker Aspark created the battery-operated automobile known as the Owl. The acceleration time for this electric hypercar is 1.69 seconds for 0-60 mph, 1.9 seconds for 0-62 mph, and 10.6 seconds for 0-186 mph. 4 electric motors with a combined 1,985 horsepower and 2,000 Nm of torque enable this. The supercar's top speed is 249 mph as well.
Moreover, the car has the fastest acceleration time of any production vehicle globally. The sports car is slowed down by 10-piston calipers up front and 4-piston calipers at the rear of its carbon-ceramic brake discs. This road-legal vehicle features a 64 kWh lithium-ion battery with a 280-mile range. In addition, it has a double wishbone suspension, which offers exceptional handling for quick acceleration.
16. Lotec Sirius – 250 mph
Back in 2001, Kurt Lotterschmid was the one responsible for the design of the Lotec Sirius. He was a man with an unrivaled enthusiasm for speedy automobiles, and in 1983, the German Group C2 Championship was named in his honor.
The vehicle can reach its maximum speed of 250 miles per hour and accelerate from 0 to 62 miles per hour in 3.8 seconds. And complete, it took three years. This high-performance vehicle features a carbon fiber body on a tubular steel frame.
15. McLaren Speedtail – 250 mph
The rear-wheel-drive Speedtail has a hybrid powertrain with 1,035 horsepower, and its aerodynamic design and light carbon fiber body are engineered explicitly for its top speed of 250 mph. This staggering statistic from McLaren states that it will only take 12.8 seconds to accelerate from a complete standstill to 186 mph.
In addition to its impressive performance, the Speedtail features a distinctive, aerodynamic, and visually striking design. The car has a streamlined shape with a long tail that helps to reduce drag and increase stability at high speeds.
The interior is equally impressive, with a minimalist and futuristic design incorporating high-quality materials such as leather, carbon fiber, and titanium. Only 106 examples of the Speedtail were produced, each tailored to its owner's specifications, making it a rare and highly sought-after collector's item.
14. Aston Martin Valkyrie – 250 mph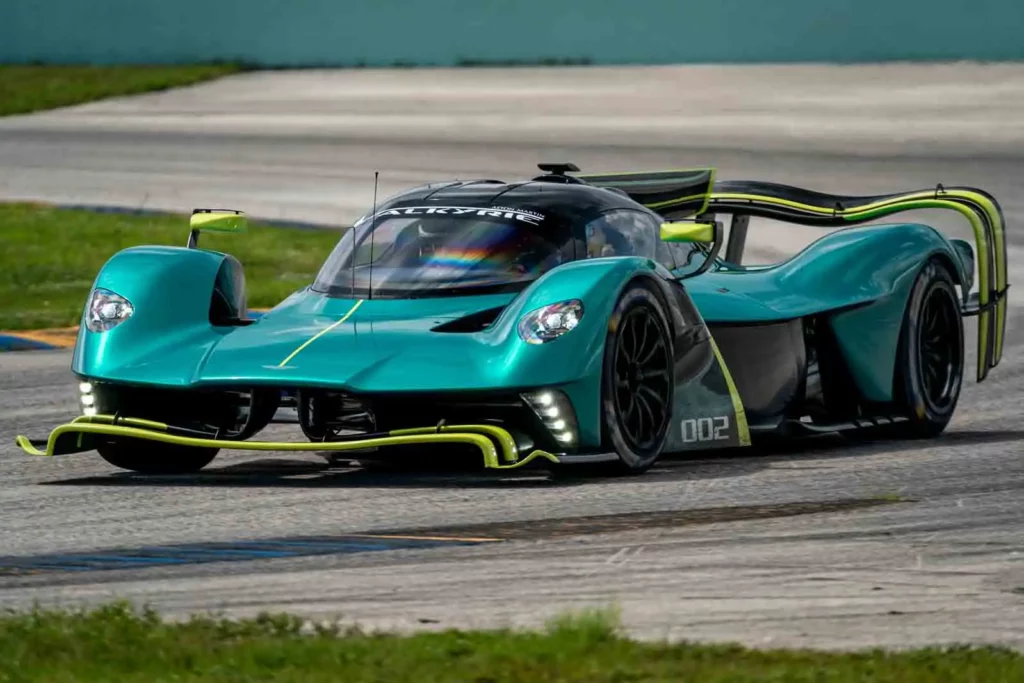 The Aston Martin Valkyrie has been in the works for a long time. It was first shown as a concept in 2016. The fact that the first customer car wasn't delivered until early 2022 shows how complex the technical problems were that the company had to solve.
The Valkyrie is Aston's idea of the ultimate road car. It has a 6.5-liter Cosworth V12 engine can rev to a fantastic 11,000rpm and make 1160PS. The Valkyrie weighs about 1130kg, slightly more than a Ford Fiesta, but it makes more than 1PS for every kilogram.
Even though its body is shaped chiefly for downforce, Aston says the track-focused AMR Pro version can go faster than 250 mph. The stripped-down cabin is based on those of Le Mans Prototype race cars, but it looks like it can fit two adults.
13. 9ff GT9 – 255 mph
The high-performance sports car known as the Porsche 911 GT3 inspired the creation of the GT9, which was produced by the German business 9ff. In 2008, it was consistently ranked as one of the fastest vehicles in the world.
The vehicle has a top speed of 255 miles per hour and can accelerate from 0 to 60 miles per hour in 5.2 seconds. The 9ff GT9 was built in limited numbers, with only a handful of examples produced. The car featured a lightweight carbon fiber body and a high-performance suspension system for extreme speeds. The interior was sparse and focused on performance, with lightweight racing seats and a roll cage.
12. Bugatti Veyron Grand Sport Vitesse – 255 mph
This Bugatti supercar includes an 8-liter W16-cylinder engine with 1,200 horsepower and a 0-60 mph of 2.6 seconds. The driver-friendly cabin of the Grand Sport Vitesse is constructed mainly of magnesium, aluminum, and carbon fiber and is composed primarily of these materials.

The vehicle's maximum speed is 255 mph, although it is electronically limited to 233 mph. The builder of the Veyron Grand Sport Vitesse created a roof spoiler that reduces wind noise inside the vehicle. It is one of the fastest production roadsters in the world.
11. SSC Ultimate Aero TT– 256.1 mph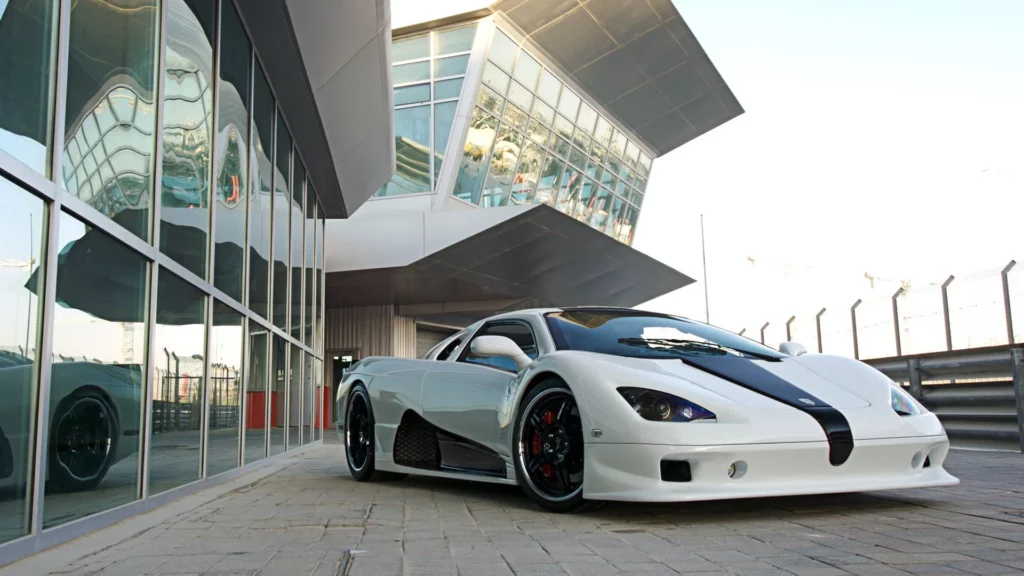 SSC The 2007 Ultimate Aero TT in North America has a Guinness Book of World Records–verified top speed of 256.18 mph. This record has since been beaten, and its successor, the SSC Tuatara, now holds it.
Nonetheless, this does not detract from this carbon-fiber-only behemoth. A twin-turbocharged V-8 engine in the Corvette C5R produces over 1,100 horsepower and 1,094 lb-ft of torque. The land rocket accelerates to 60 mph in 2.7 seconds, and it's stopping power is enhanced by dual air brakes that deploy from the rear wings.
10. Rimac C_Two – 258 mph
The Rimac C_Two is an impressive all-electric hypercar designed to push the boundaries of what is possible in terms of speed and performance. With a top speed of 258 miles per hour (412 kilometers per hour), it is one of the fastest production cars in the world.
This speed is made possible by its four electric motors, which provide a total power output of 1,888 horsepower, allowing the car to accelerate from 0 to 60 miles per hour in just 1.85 seconds. The Rimac C_Two also features advanced aerodynamics, a lightweight carbon fiber body, and cutting-edge technology, making it a truly remarkable feat of engineering.
9. Rimac Nevera – 258mph
The Rimac Nevera is trying to disprove the idea that electric cars are only fast below a certain speed. The Croatian company, which owns a controlling stake in Bugatti and Porsche, says that its electric hypercar can reach a top speed of 258 mph, making it as fast as the fastest gasoline-powered cars.
The Nevera has four electric motors that power each wheel, giving it a total of 1900PS. It can go from 0 to 62 mph in less than two seconds and go the quarter mile in 8.6 seconds.
There's more technical innovation in the Nevera than just raw speed, with highly clever torque vectoring and a chunky 120kWh battery, which is claimed to give a range of 340 miles.
8. Fahlke Larea GT1 S12 – 267 mph
The Larea GT1 S12 is produced by the German firm Fahlke. It has a 7.2-liter V8 engine that generates 1,600 Nm of torque and 1,242 horsepower. Despite its massive engine, the automobile weighs only 900 kg (1,984 pounds).
According to the manufacturer, this street-legal racer can hit 100 km/h in two seconds and 200 km/h in five seconds from a complete stop. This German creation is believed to have a top speed of 267 mph.
The monocoque chassis and body panels were fabricated with extensive usage of carbon fiber. And the vehicle sports Brembo carbon brakes with 4-piston rear and 6-piston front calipers.
7. Venom GT by Hennessey – 278 mph
It's safe to say that the Hennessey hypercar from Texas is a great vehicle. The Koenigsegg Agera R held the record for the fastest-accelerating production car in the world. Still, the Venom GT broke it by accelerating from zero to 186 mph in 13.63 seconds while powered by a twin-turbo 7.0-liter V8 delivering a massive 1,244 horsepower.
This monster can accelerate from a standstill to 100 mph in 5.6 seconds (a world record) and reach 200 mph in just 14.51 seconds (also a world record). Hennessey claims the Venom GT can reach a top speed of 278 mph if given more space.
All eyes are currently focused on the Venom F5 Revolution from Hennessey, which has the power to change the game on this list.
6. Koenigsegg Agera RS – 278 mph
This speedy vehicle made its debut at the Geneva Auto Show in 2011. The critical community and the fan community both praised it highly. This automobile was limited to only 25 production units. The sports car combines the best features of the Agera S and the Agera R.
In 2017, it set a new record as the world's fastest-production automobile. It runs on a 5-liter V8 engine that produces 1,176 horsepower and 940 lb-ft of torque. In less than 2.9 seconds, the car reaches 60 mph, and in 7 seconds, it reaches 124 mph.
5. Czinger 21 C– 281 mph
The Czinger 21C is a hypercar making waves in the automotive industry for its incredible performance and futuristic design. This car features a hybrid powertrain consisting of a mid-mounted 2.88-liter V8 engine and two electric motors, delivering a combined output of 1,250 horsepower.
With a top speed of 281 mph (452 km/h) and a 0-60 mph (0-97 km/h) time of just 1.9 seconds, the Czinger 21C is one of the fastest production cars on the planet. The 21C's unique design includes a central driver's seat flanked by two passenger seats, with a carbon fiber monocoque chassis and active aerodynamics for optimal performance.
Only 80 units of the Czinger 21C will be produced, making it an ultra-exclusive hypercar that combines cutting-edge technology and bespoke craftsmanship.
4. Tuatara SSC – 282.9 mph
SSC's Tuatara has been in the news, at least since 2011. The Tuatara, created by American supercar manufacturer SSC, beat and blasted away the next fastest supercar on the list and is scoring fourth place in our list of 30 top fastest production cars.
The SSC Tuatara set a new world record for the fastest production vehicle on October 10, 2020, with an average performance of 316.11 mph and the distinction of becoming the first production car to surpass the 500 km/h barrier. Nevertheless, it seems that the record wasn't officially recognized, so they returned and performed another run in January 2021, officially snagging the record at 282.9 mph.
The SSC Tuatara is propelled by a twin-turbocharged 5.9-liter V8 that can generate 1,350 horsepower when running on 91-octane fuel and 1,750 horsepower when utilizing E85 fuel.
3. Koenigsegg Jesko –300 mph
The Jesko is a mid-engine sports automobile produced by the Swedish automaker Koenigsegg. The car is named after the company's founder's father, Jesko von Koenigsegg. The manufacturer claims the car has a top speed of more than 300 mph.
It is standing at the beautiful third place on our list, ranking it among the first three top fastest production cars lists today.
The sports car has a 5-liter V8 engine that produces 1,280 horsepower on regular petrol and 1,600 horsepower, and 1,500 Nm of torque on E85 biofuel. Also, it has a cutting-edge Lite Speed gearbox with seven multi-disc clutches and nine forward gears in a small package.
This supercar's carbon fiber monocoque is its main structural component. The automobile has green accents because Jesko von Koenigsegg enjoyed horse racing, and riders typically wore green and white.
2. Bugatti Chiron Super Sport – 304.7 mph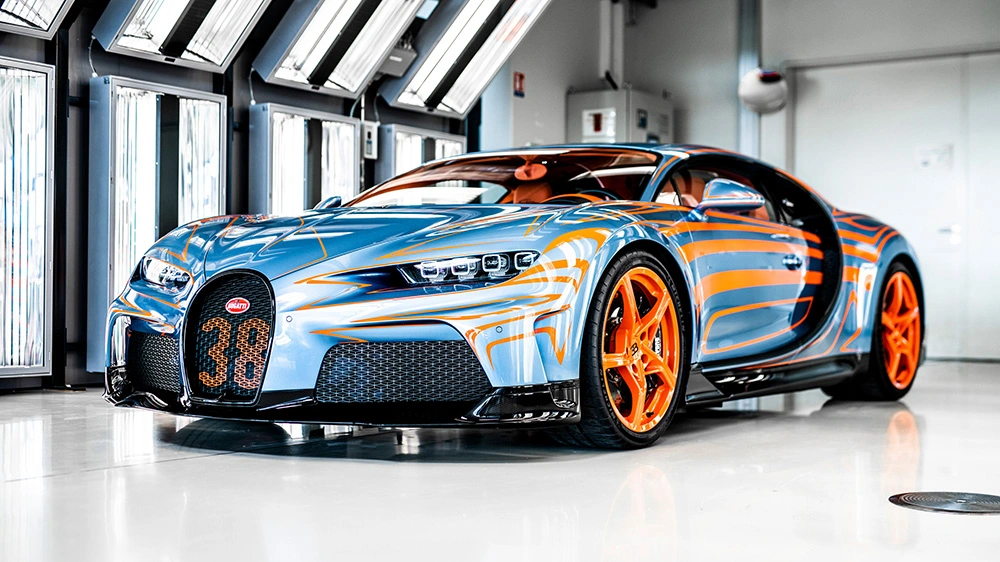 The famous Bugatti Chiron Super Sport is coming second on our list of fastest-production vehicles. Nothing like the Bugatti's when it comes to top speed.
Bugatti takes the top rank for the world's fastest supercar. A modified 8.0-liter, quad-turbocharged Chiron Super Sport with 1,600 horsepower was driven around the Ehra-Lessien track by driver Andy Wallace in 2019.
The changes included a 10-inch body extension, a 10-inch body drop, a new rear aero kit, and a new exhaust system. The real heroes were the Michelin Pilot Sport Cup 2 tires, which were x-rayed before installation to verify perfect structural integrity.
1. Bugatti Bolide – 311 mph
Here comes the champion of today's list of the top 30 fastest-production cars. Bugatti's Bolide stands at the number one place, making the family proud.
Bugatti's Bolide, influenced by the Vision Le Man's idea created by the Molsheim company, blends its fantasy X-themed design language with the brand's ground-breaking W-16 engine plant to produce an estimated top speed of more than 311 mph.
The Bolide, powered by a lightweight monocoque made of titanium and carbon fiber, provides a sci-fi look that compliments what are claimed to be otherworldly performance figures. The advertised specifications include a zero-to-60 mph speed of fewer than 2 seconds.
FAQs
Which car has the highest top speed in the world as of 2023?
The Bugatti Bolide is the fastest production car in the world, with a top speed of 311 mph.
Which car has the world's fastest acceleration?
The Aspark Owl electric hypercar is the fastest accelerating production car in the world, with a claimed 0-60 mph (0-97 km/h) time of just 1.7 seconds.
What is the fastest anyone has gone in a car?
Though not a conventional car, the fastest anyone has ever gone in a car was achieved by Andy Green, a Royal Air Force pilot, who drove the ThrustSSC (SuperSonic Car) on October 15, 1997. The ThrustSSC set the current land speed record of 763.035 mph (1,227.986 km/h) in the Black Rock Desert in Nevada, USA.
The ThrustSSC was powered by two Rolls-Royce Spey turbofan engines and was designed to break the sound barrier on land. To this date, no vehicle has broken the ThrustSSC's record, although several vehicles have attempted to do so.
How is the top speed of any car calculated?
The automobile runs its first test at the selected location. Ideally, VW's Ehra-Lessien test track in Northern Germany. This track has an uninterrupted straight for 5.6 miles, which is so long that due to the curvature of the Earth, you can't see the other end!
Because weather, elevation, and other factors may affect measurements, the automobile does another top-speed run in the opposite direction. Two runs are averaged. If a car hits 220.7 mph in one direction and 219.1 in the other, its top speed is 219.9.