The GMC Sierra is a top-selling pickup, but is there any model that needs to be avoided due to reliability and performance issues? Definitely, Yes. Just like any other car, the GMC Sierra also has many admirable qualities, but knowing its downside is likewise essential.
This article will discuss the worst model years of the GMC Sierra, the most typical issues with those years, and the best years to buy a used Sierra.
The GMC Sierra comes in a number of different models: the 1500, the 1500 Hybrid, the 2500, and the 3500. For this article, we will only be covering the fundamentals of the Sierra design by making the 1500 GMC Sierra a benchmark. Due to architectural similarities, much of what we'll be looking at will also apply to those variants.
Now that we have that out of the way, let's dive in and take a deeper look at the GMC Sierra model years to avoid and the best GMC Sierra model to buy used over a brand new one.
GMC Sierra years to avoid include 2003, 2004, 2005, 2014, 2015, 2017, 2019, and 2020; they are considered the worst. The best years for GMC Sierra are 2007, 2008, 2009, 2012, 2013, 2018, 2021, 2022, 2023. This result was concluded from trustworthy sources such as NHTSA, Edmund, JD Power, and Kelley Blue Book.
Which GMC Sierra Years To Avoid
Some years of the GMC Sierra are not recommended for buying due to low-reliability ratings and numerous problems reported by owners. Here's the list of the top 8 worst GMC Sierra years to avoid.
2003 GMC Sierra
2004 GMC Sierra
2005 GMC Sierra
2014 GMC Sierra
2015 GMC Sierra
2017 GMC Sierra
2019 GMC Sierra
2020 GMC Sierra
8. Worst Year: 2020 GMC Sierra (3.99 Rating)
If a 2020 GMC Sierra is nearly brand new, why wouldn't you buy one? Because it's usually not a good idea to buy into a new generation in its first two years. To manufacturers, rushing a new product to market is more important than making it perfect.
According to research, a 2020 Sierra has a 28.6% risk of requiring major engine repairs. With ten recalls, just like the 2019 model, it's evident the manufacturer hasn't made a trustworthy truck.
The poor quality of the model's information system is its most common defect. Moreover, Class Action Sued Filed Against General Motors Over Infotainment System for 2020 and 2019 Vehicles. As for the backup camera, some owners say it's excessively bright.
Reviews, Ratings, Recalls & Complaints:
7. Worst Year: 2017 GMC Sierra (3.91 Rating)
The 2017 GMC Sierra isn't the best pickup in the brand's portfolio due to shaky transmission, engine issues, noisy brakes, and a cheaply made cabin. Multiple 2017 Sierra owners have reported rough idling.
There have been over 80 complaints only about the 2017 Sierra's brakes on NHTSA. It has been reported that the brakes create an odd noise, don't work properly, or get quite firm.
Some drivers have complained about the tires' low road grip and excessive oil consumption. Moreover, When it's boiling outside, the climate control is slow and doesn't do a good job of cooling the cabinet.
Reviews, Ratings, Recalls & Complaints:
6. Worst Year: 2019 GMC Sierra (3.76 Rating)
The 2019 GMC Sierra is the first model of the latest fifth generation. However, that's not to say it's a masterpiece; it isn't. Even though it is a new model, the 2019 GMC Sierra has already drawn a number of customer complaints.
Multiple issues with the Sierra 1500's brakes were reported in 2019. These issues included the service trailer brake system not working, the brake assist not working, and the traction control not working.
Some of the most typical problems with this model year are old-fashioned interiors, dead batteries, faulty sensor readings, check engine light on, and hard-shifting. For this model, a class action suit against the infotainment system is also called.
Reviews, Ratings, Recalls & Complaints:
5. Worst Year: 2003 GMC Sierra (3.61 Rating)
The 2003 GMC Sierra has a variety of problems that hampered its performance on the road. To begin, even on paved streets and highways, the truck's automatic transmission has a rough shifting sensation, and the ride is not pleasant.
Many motorists also found the vehicle to be annoyingly noisy due to howling winds after the speed reached 45 mph. In addition, 2003 GMC Sierra drivers frequently had to correct their tires because of tire unevenness.
Not only can the bumper and brake lines on this Sierra rust out before their time, but problems with the airbags and seatbelts are also rather prevalent.
Reviews, Ratings, Recalls & Complaints:
4. Worst Year: 2005 GMC Sierra (3.59 Rating)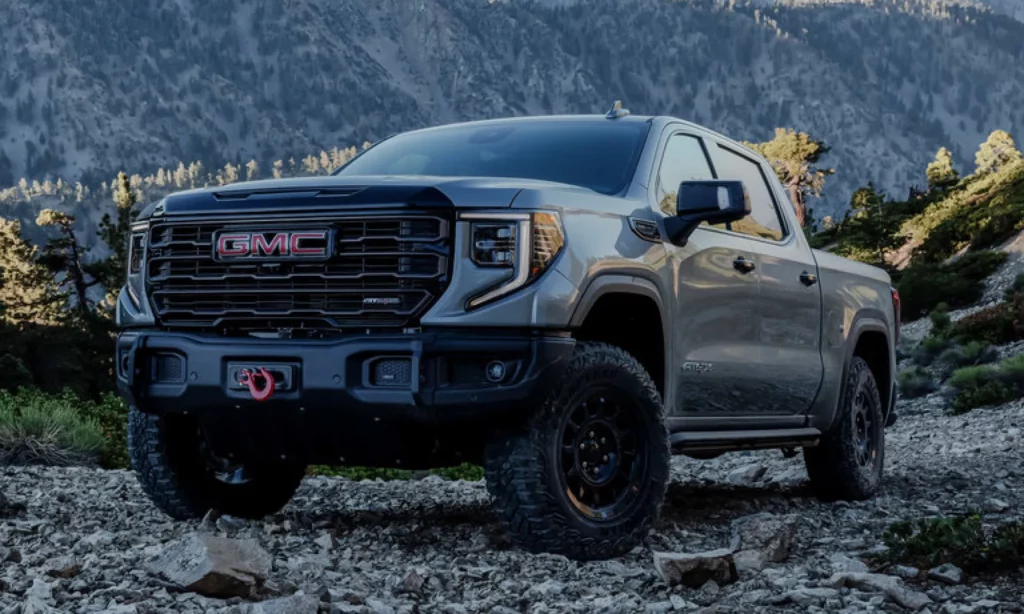 The 2005 GMC Sierra has been deemed as one of the worst vehicles ever produced by the company. Multiple complaints and recalls due to poor performance are the primary reasons for its unreliability.
This model had performance and quality faults, making users nervous behind the wheel. Several problems with the model's engine power have been reported. The interior materials are also of poor quality.
The IIHS also reports low marks for rear crash projection and head restraint. Avoid driving this car if at all possible.
Reviews, Ratings, Recalls & Complaints:
3. Worst Year: 2004 GMC Sierra (3.54 Rating)
The majority of people who complained about their 2004 GMC Sierra reported issues with various car parts. Air conditioning and heating issues, including inadequate airflow and temperature regulation, stood out as the most common complaint shared by many Sierras this year.
There were many issues with the 2004 Sierra's interior electronic components, especially the sound. Several drivers have complained that the audio system in their vehicle is unresponsive or has ceased working entirely.
However, there are a number of less frequent faults with the Sierra this model year that purchasers should be aware of. These include transmission loss and steering issues caused by wheels that have become misaligned.
Reviews, Ratings, Recalls & Complaints:
2. Worst Year: 2015 GMC Sierra (3.07 Rating)
Many customers purchased the 2015 Sierra in the expectation that GMC had fixed the problems that plagued the 2014 model. Unfortunately, the headlights on the 2015 Sierra have received numerous complaints from drivers.
Aside from that, defective air conditioning is the most commonly cited problem. The broken condenser is the root of the issue with the air conditioner. A new condenser costs homeowners an average of $1,310.
However, this year's model was notorious for having far more flaws than usual, including those that hadn't been seen before. The '4WD Service Light' frequently activating without cause was the most frequent issue.
A gasoline gauge that gives erroneous readings is another well-known problem with this Sierra model. Fixing this requires replacing the fuel pump, which is expensive.
The transmission is another common issue with the 2015 GMC Sierra. Transmission replacement or rebuilding would have cost thousands of dollars if the fault hadn't been discovered while the manufacturer's warranty still covered the majority of owners.
Related: GMC Acadia Years To Avoid | Top 16 Best & Worst Models 2023
Reviews, Ratings, Recalls & Complaints:
1. Worst Year: 2014 GMC Sierra (2.91 Rating)
The 2014 GMC Sierra 1500 has the most reported problems, as compiled by the Car Complaints, making the the worst model ever. About a third of the reports mention that the headlights are so dim that it's hard to see the road. On top of that, even switching out the bulbs did not fix the situation.
Several 2014 Sierra owners have complained about the vehicle's high oil consumption. While the majority of owners were unable to discover a lasting solution, others were left with no choice but to change the engine.
The 2014 GMC Sierra 1500 has numerous issues with its lights, air conditioning and heating, interior, electrical, braking system, engine, and more. Most notably, the NHTSA received an astounding 130 reports of only brake-related issues.
In every respect, this is the worst year of production for this pickup truck.
Reviews, Ratings, Recalls & Complaints:
GMC Sierra Years To Buy Used
Since there aren't a ton of variations on the GMC Sierra, every year that we didn't specifically mention as being unreliable is a good bet. However, Here's a rundown of the most reliable GMC Sierra years.
2007 GMC Sierra
2008 GMC Sierra
2009 GMC Sierra
2012 GMC Sierra
2013 GMC Sierra
2018 GMC Sierra
2021 GMC Sierra
2022 GMC Sierra
2023 GMC Sierra
9. Best Year: 2008 GMC Sierra (4.01 Rating)
The 2008 GMC Sierra, the final model year on this list, is an excellent choice. For those who enjoy driving trucks of this type, the used market is a great place to look. It even made it to third place in the Large Light Duty Pickup category.
This Sierra is a full-size half-ton pickup. Standard cab, extended cab, and crew cab are the three available configurations.
The Sierra 1500 is offered with a selection of five distinct powertrain options. The base model is powered by a Vortec 4.3-liter V6 that generates 195 hp and 260 lb-ft of torque.
Related: 10 Trucks Type | Usage, Size, & Models
Reviews, Ratings, Recalls & Complaints:
8. Best Year: 2009 GMC Sierra (4.07 Rating)
The 2009 GMC Sierra is another solid choice. This model is well-respected for its rugged build and capable performance across a variety of terrains. It is the second-best Large Light Duty Pickup of the year.
Buying a 2009 GMC Sierra should give you a dependable workhorse for many years to come. According to customer feedback, the truck's hauling capacity, smooth ride, and robust engines are all winners.
It has received fewer complaints and has a proven track record of performance. Full-time 4WD systems and large payload capacities are offered on these well-rounded pickups.
Reviews, Ratings, Recalls & Complaints:
7. Best Year: 2021 GMC Sierra (4.08 Rating)
Getting the position of Number 1 Best "Large Light Duty Pickup", the 2021 GMC Sierra is one the most reliable options. The 2021 GMC Sierra 1500 finished at #4 in 2021 Full-Size Pickup Trucks from Cars.UsNews by getting a 7.8 out of 10 score.
The 2021 Sierra's superiority over other pickups is shown by its NHTSA crash test rating of 4.6 (out of 5). The GMC's owners can relax whenever they step behind the wheel.
Owner reviews often lauded the car's smooth ride, excellent gas mileage, attractive design, agile handling, and responsive controls. However, EPA Fuel economy estimates range from 17 MPG in the city to 21 MPG on the interstate.
The bed in the model home is really functional and helpful. In addition to its spacious interior, this vehicle's numerous tie-down locations and smart bed steps make transporting bulky objects both secure and convenient.
Reviews, Ratings, Recalls & Complaints:
6. Best Year: 2018 GMC Sierra (4.10 Rating)
The 2018 GMC Sierra is a popular choice among customers searching for a versatile work truck. First, it comes in a variety of trim levels, allowing you to pick the one that best suits your needs.
Second, the GMC Sierra drives like a car, even though it is a truck. The ride quality is excellent, and you won't feel too confined even over bumpy terrain, all thanks to the vehicle's stiff suspension.
Finally, the truck's three engines deliver respectable outputs in terms of both horsepower and torque, and it gets respectable mileage.
Reviews, Ratings, Recalls & Complaints:
5. Best Year: 2013 GMC Sierra (4.13 Rating)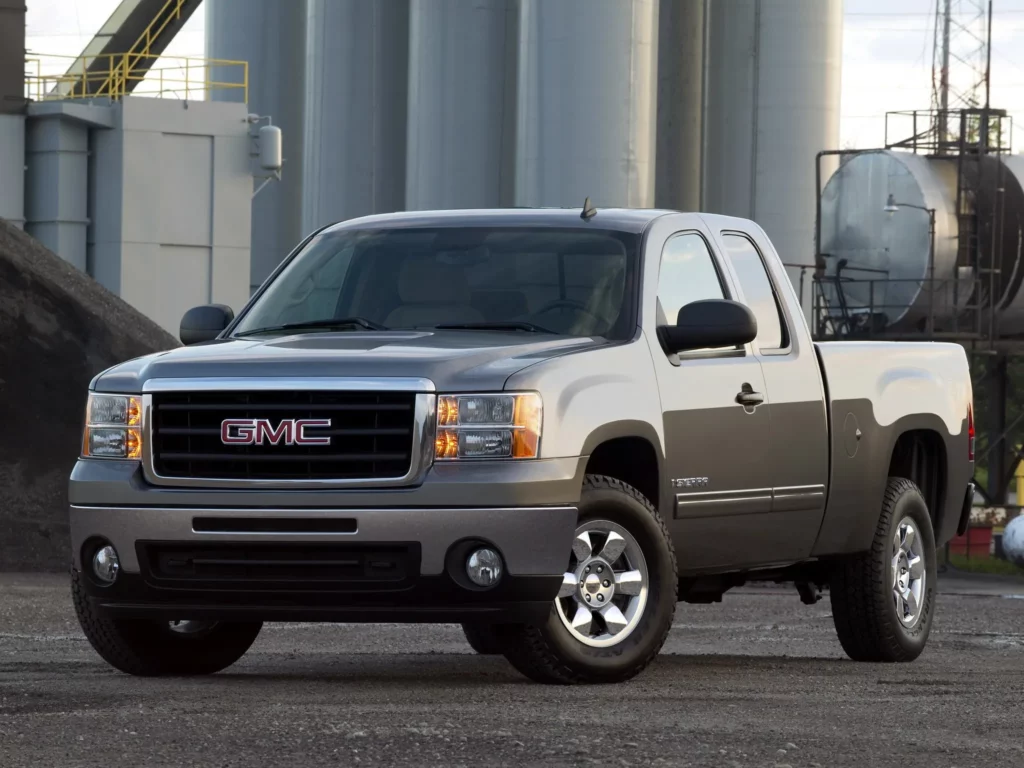 You can trust that the 2013 Sierra 1500 will hold up well over time. Crew Cab, Standard Cab, and Extended Cab body styles are all offered in this model.
Work Truck (WT), SL, SLE, XFE, SLT, and Denali are the six available trim levels. Furthermore, You can choose from two potent V8 engines, plush seats, and a quiet cabin in this model.
The Flex-fuel (FFV) 6.2-liter V8 engine is the most potent option, producing 403 horsepower while still returning 14 MPG on the highway.
Reviews, Ratings, Recalls & Complaints:
4. Best Year: 2007 GMC Sierra (4.14 Rating)
The 2007 GMC Sierra is one of the most dependable Sierra models, and it received a perfect score of 8.7 out of 10 from cars.usnews.com and 4.7 out of 5.0 from Edmunds. If you can buy this model in the used market, it can be proven to be an affordable model.
Even with the heavy-duty towing package, the ride quality is refined and quiet, the interior has superb fit and finish, the seats are comfy even on long trips, and the list of safety features is extensive.
The 2007 GMC Sierra 1500 HD can tow up to 10,300 pounds when properly equipped. These numbers are on par with or better than those of rival 1500-series trucks.
Reviews, Ratings, Recalls & Complaints:
3. Best Year: 2012 GMC Sierra (4.21 Rating)
This 2012 GMC Sierra is perfect for you and your family if you value a peaceful and quiet drive and a high level of comfort. It received a perfect score of 5 from J.D. Power for dependability. Similarly, the U.S. News Second gave this truck an extraordinary grade of 8.9 out of 10 for its overall quality.
The 2012 GMC Sierra's well-designed, high-end cabin and creature amenities at higher trim levels make it feel modern even ten years after its introduction.
This pickup is perfect for those who care about the environment, as it gets 22 mpg on the interstate and 15 mpg in the city. It also scores quite highly in crash tests, making it one of the safest vehicles in its category.
Reviews, Ratings, Recalls & Complaints:
2. Best Year: 2022 GMC Sierra (4.41 Rating)
It's one of the newest GMC Sierra models, and it's a great all-around pickup since it combines capability, comfort, and functionality. The 2022 GMC Sierra is a ruggedly beautiful pickup truck with a wide range of available powertrains and innovative cargo-bed arrangements.
If you're in the market for a fuel-efficient workhorse, the accessible turbodiesel is a solid choice. Luxury and adventure seekers alike may find a truck to suit their needs with the brand-new Denali and off-road-focused AT4 trims.
An improved entertainment system and other standard driver aids will make driving more entertaining and safe in 2022.
Reviews, Ratings, Recalls & Complaints:
1. Best Year: 2023 GMC Sierra (4.45 Rating)
There are numerous excellent pickups available from GMC Sierra, but the 2023 model year is the most dependable. There are several reasons why the 2023 GMC Sierra deserves this award. According to J.D. Power, it is the best Large Light Duty Pickup available today.
The Sierra 2023 is a competent full-size pickup. It has a variety of powerful engine choices, can tow over 13,000 pounds in the right configuration, rides smoothly, and has a roomy interior.
The Pro, SLE, Elevation, SLT, AT4, AT4X, Denali, and Denali Ultimate are the eight available trim levels for the 2023 GMC Sierra 1500. The AT4 package now comes with additional paint and wheel options in addition to the usual safety features.
The EPA estimates that a Sierra equipped with the powerful V8 and 4WD will achieve 17 mpg in mixed driving conditions.
Reviews, Ratings, Recalls & Complaints:
Common GMC Sierra Problems
Some customers have reported these issues, which are among the most common ones they've had with their Sierra.
Faulty Speedometer Readings
The speedometer in some GMC Sierras, especially the 2005 model year, has been known to fail. Unfortunately, the most common form of this issue is not only that the speedometer ceases to function; rather, it is that the speedometer no longer provides an accurate reading. That could lead to dangerous speeding or losing control on a curve.
Faulty Fuel-Level Sensor
A fuel level sensor communicates with the engine computer to provide information. Due to not knowing the precise amount of gas present at all times, problems such as stalling and running out of gas while driving can arise if this sensor fails.
Electrical Problems
Unfortunately, the Sierra's electrical problems aren't limited to the speedometer. The GMC Sierra also frequently experiences faults such as malfunctioning dashboard gauges, burned-out inside lighting, and unpredictable locking and unlocking.
Issues with the Heater
This may be just another electrical problem, but it deserves reporting nonetheless. The Sierra's heater can be switched on at any time, even in the middle of summer.
Engine Knocking
Most auto enthusiasts will agree that engine knocks are a much more significant issue. Unfortunately, internal engine knocks can be just as challenging to diagnose, and both the diagnosis and the repair can be costly.
FAQs
Is The GMC Sierra A Reliable Pickup Truck?
The GMC Sierra is ranked third among full-size trucks and has a reliability rating of 3.5 out of 5.0.
If you need a pickup that can haul a lot of weight even in off-road terrain and carry a lot of passengers comfortably, the GMC Sierra is a fantastic option.
Some models are considered reliable since they typically have fewer issues and require fewer significant repairs. It is better to look for the best GMC Sierra years to avoid costly repairs.
How Much Does It Cost To Maintain A GMC Sierra?
Although the GMC Sierra is more expensive to maintain than the ordinary pickup truck, it is still rather inexpensive. Over ten years, the price of maintaining a GMC Sierra is $8,948.
How Long Will a Sierra Lasts?
A GMC Sierra may be driven safely for between 200,000 and 300,000 miles with regular maintenance. Considering that the average American drives 14,000 miles per year, your Sierra should last you anywhere from 14 to 20 years.
Which is Better: the GMC Sierra Or the Chevy Silverado?
GMC Sierra is widely recognized as the more luxurious truck option when compared to the Chevy Silverado in terms of comfort and quality. However, Silverado is less expensive than Sierra, despite the fact that they share many similarities and nearly identical features.
Conclusion
It's not always easy to tell if you're making the right choice when you're shopping for a new truck. Fortunately, I've already done the groundwork.
By analyzing ratings and reviews from several sources, I can confidently tell which GMC Sierra is generally reliable. Using that information, I created a list of the best and worst years of the GMC Sierra's production and ranked them accordingly.
If you don't want to spend a lot of money addressing problems, it's best to stay away from the problematic GMC Sierra models.