The Nissan Maxima debuted in 1981; it is now in its eighth generation. There have been a wide variety of Nissan Maxima models available to buyers from 1981 until 2023. This is why it is necessary to look at which year deserves a recommendation and which deserves disapproval.
Nissan Maxima is among the most reliable automobiles available. However, not all models are created equal, so I'll discuss the best and worst years of the Nissan Maxima and its common problems in this article.
Nissan Maxima's years to avoid include 2004-2006, 2009, 2010, and 2017; they are considered the worst. The best years for Nissan Maxima include 2011, 2014, 2018-2023. This result was concluded from trustworthy sources such as NHTSA, Edmund, JD Power, and Kelley Blue Book.
Nissan Maxima Years To Avoid
Due to their numerous shortcomings and problems, the below-mentioned models are universally disliked. Avoid these models unless you like headaches.
6. Worst Year: 2010 Nissan Maxima (4.18 Rating)
Although the Nissan Maxima 2010 did not suffer from the transmission difficulties that plagued earlier models, it did come with its own set of faults and challenges that needed to be resolved. Most complaints about this year's model centered around the vehicle's handling, electrical system, and transmission.
The steering lock issue was the most serious and costly issue. Because of this problem, the car won't start. Over $1,500 was spent to fix this issue.
Related: Nissan Transmission Warranty | Complete Guide
Reviews, Ratings, Recalls & Complaints:
5. Worst Year: 2009 Nissan Maxima (4.11 Rating)
For the 2009 model year, Maxima introduced its seventh generation; as for the debut model and its shortcomings, you should avoid it at all costs. This model had a few issues, most of which involved the car's electrical system. The vehicle's steering and interior amenities are also defective.
As a result of issues with the car's electrical system, the driver was unable to turn over. Another concern is a battery that is constantly being drained and the fire issue.
In this year's model, many customers complained about the dashboard melting. Moreover, one Maxima 2009 model was recalled due to a suspension problem where strut insulators were the source of the trouble.
Reviews, Ratings, Recalls & Complaints:
4. Worst Year: 2017 Nissan Maxima (3.85 Rating)
Although the 2017 Maxima is very famous for its reliability, we can not deny its faults. Its build quality has been the subject of the most criticism. Several customers have complained that the inner molding and quarter panels readily peel off. Some customers complained about water getting inside the vehicle due to faulty seals.
Problems with the engine are another frequently voiced concern. Typically, the Check Engine light would come on, and the engine would randomly stall. These vehicles' need for premium fuel is another major negative point. It's also odd that the 2017 Maxima, a midsize sedan, doesn't come with all-wheel drive.
Reviews, Ratings, Recalls & Complaints:
3. Worst Year: 2006 Nissan Maxima (3.66 Rating)
The 2006 Nissan Maxima improved in terms of driving and handling, although it still had the same problems as the 2005 and 2004 models. This model had poor center-stack ergonomics, was not as crisp and maneuverable as its competitors, and used plastic materials in several interior components, contributing to a low-quality feel.
The engine and transmission problems were both expensive to fix unless they occurred while the vehicles were still under warranty. In addition, the lumbar support system's writing harness would occasionally become pinched.
Reviews, Ratings, Recalls & Complaints:
2. Worst Year: 2005 Nissan Maxima (3.54 Rating)
The 2005 Nissan Maxima had a minor improvement over the 2004 model, but there are no major changes to report otherwise. Despite fewer transmission problems than the 2004 model year, the complaints were still unacceptably high.
Vehicle jerkiness and jolting has been recurring complaint from owners. Over $4000 was typically spent on replacing the transmission. The centered stack and ergonomics of this architecture were also problematic. The interior accessories were the third most problematic feature of this model.
Many buyers were concerned that the engine was too loud this year. Problems with the motor mounts and premature timing chain guide damage were also reported. Some owners reported a frightening wailing noise and the illumination of the "check engine" symbol.
The child seat latch and the front assembly power adjustment are the most prevalent recalls for the 2005 Nissan Maxima.
Reviews, Ratings, Recalls & Complaints:
1. Worst Year: 2004 Nissan Maxima (3.31 Rating)
For average repair costs and total miles driven before needing service, 2004 models rank at the top of the worst models. CarComplaints labeled the 2004 model year as "Avoid Like the Plague" and titled it "Worst Model Year," which says a lot.
The 2004 Nissan Maxima is a completely revised model of the car line with respectable specs for its transmission and engine but only for paper. Unfortunately, the flood of complaints directed at this model gave the entire brand an unfavorable reputation.
More than a thousand complaints were lodged by regular owners of the 2004 Nissan Maxima. The vehicle's transmission was the most common source of failure, followed by the engine. Third place went to issues with the paint and the body. The sunroof assembly and the power adjust feature were both big recalls for this specific Maxima model.
Reviews, Ratings, Recalls & Complaints:
Nissan Maxima Years To Buy As Used
Generally, any Nissan Maxima produced after 2011 is likely to be outstanding, but the following years precisely have been considered the best.
8. Best Year: 2018 Nissan Maxima (4.19 Rating)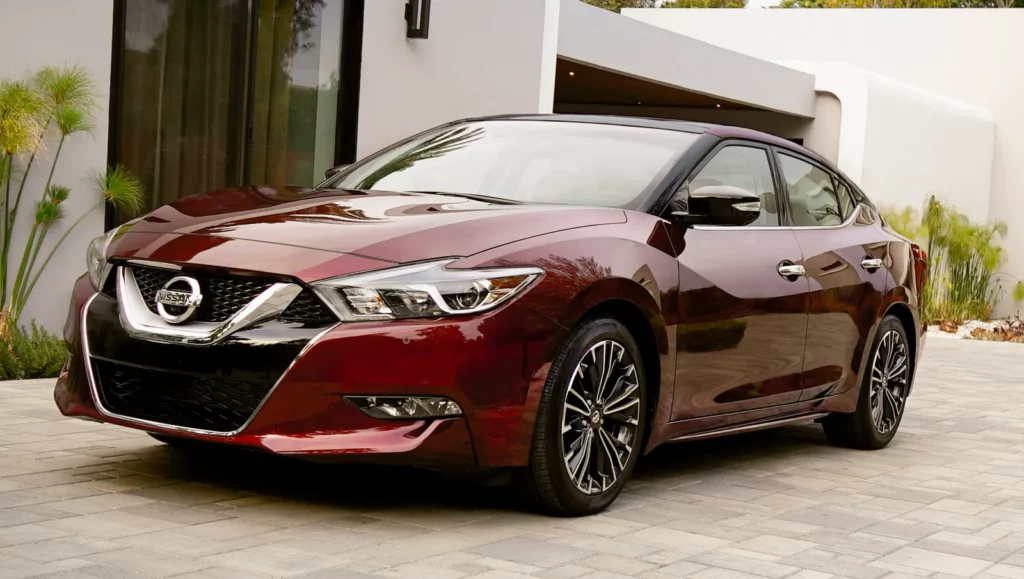 With only one complaint regarding Maxima's drivetrain in 2018, 2018 was another successful year for Nissan's flagship sedan. Although braking issues are rare, when they do occur, recalls are issued and paid for by the manufacturer.
The 2018 Maxima was a competent vehicle, but it didn't quite measure up to the high standards of the latest models. Instead, it received a 3.5 out of a possible 5.0 score from repairpal. But that's still quite impressive compared to most other years' models.
Many buyers found this Maxima to be a delight to own. They were incredibly impressed with its advanced safety functions and cutting-edge technology. Many passengers said they liked the cabin's plush furnishings and high-quality construction.
Reviews, Ratings, Recalls & Complaints:
7. Best Year: 2011 Nissan Maxima (4.31 Rating)
You may be surprised by our choice of this model year, but very few vehicles from this year have experienced transmission problems. By now, those problematic automobiles have been repaired so you can get a superb Maxima for around $7,500.
The 2011 model year is a stylish, spacious, and sporty vehicle. The 3.5-liter V6 engine produces 290 horsepower, and if you get a variant with a sport-tuned suspension, you'll have a great time behind the wheel.
Despite their "coupe" appearance from the outside, the interiors of these automobiles are quite roomy and attractive. In general, the Nissan Maxima from the 2011 model year is a good buy because it is inexpensive, reliable, and pleasant to ride.
Reviews, Ratings, Recalls & Complaints:
6. Best Year: 2014 Nissan Maxima (4.33 Rating)
As the seventh-generation Maxima ends with the 2014 model year, several problems have been resolved. After evaluating 420,000 automobiles, CR awarded this year an ideal score for reliability.
There is literally nothing to criticize about this year. It gets decent gas mileage for a huge car, impresses behind the wheel, and has more cutting-edge features than in past years. The 2014 Maxima is a fantastic option for those who want a new car but only have $10,000 to $11,000 to spend.
Related: 14 Best & Worst Nissan Altima Years | 2023 Updated
Reviews, Ratings, Recalls & Complaints:
5. Best Year: 2019 Nissan Maxima (4.36 Rating)
The 2019 Nissan Maxima was yet another successful model for the company and its loyal customer base. The safety rating for this model was 9.8 out of 10, while it received an 8.0 from the critics.
The automobile's cabin was ranked as the second most important element. That suggests the car's occupants enjoyed their time behind the wheel and used the car's amenities well. Buyers highly regarded numerous features of the 2019 Maxima.
They really liked the entertainment options and cutting-edge technology. They were also grateful for the safety features that kept them safe.
Reviews, Ratings, Recalls & Complaints:
4. Best Year: 2020 Nissan Maxima (4.39 Rating)
The 2020 Nissan Maxima deserves the spot on this list since it has only one recall and few complaints. Even while this is true for a wide range of Nissan Maxima models, the 2020 model stands out thanks to numerous cutting-edge updates and enhancements.
You'll notice right away while driving that this automobile has incredible acceleration and a satisfying level of responsiveness. The car's dramatic look and potent V6 engine win rave passenger reviews. More proactive safety features, like a CVT, have been built into this model.
Reviews, Ratings, Recalls & Complaints:
3. Best Year: 2022 Nissan Maxima (4.54 Rating)
The 2022 Maxima received a 9.3 from J.D. Power regarding quality and reliability and a 9.3 for safety, making it a safe model to purchase. This model is ranked as #1 in Large Cars. As a result, you can buy one of these cars with a good amount of confidence.
Customers were particularly impressed by its potent powertrain. Numerous car owners have noticed the engine in the 2022 Maxima version is powerful, the ride is comfortable, and the gas pedal is responsive.
Owners have complimented the vehicle's stunning infotainment system and the sophisticated cabin design. Among the many great things about the current year's model is that it was named the "Best Cars for Teenagers" by U.S. News.
Buying one of these vehicles for yourself or your teen won't be a mistake.
Reviews, Ratings, Recalls & Complaints:
2. Best Year: 2021 Nissan Maxima (4.56 Rating)
After the success of the 2020 Nissan Maxima, expectations were high for the 2021 model, and it successfully beat the previous and the next outstanding 2020 and 2022 Maximas. It is a decent automobile, deserving of its position as the runner-up.
This year, the Nissan Maxima celebrates its 40th anniversary with a special edition that comes in three distinct trim levels. However, apart from that, not much else has altered. Improvements have been made, but they are rather minor. However, its infotainment system was a hot topic of discussion from critics.
Reviews, Ratings, Recalls & Complaints:
1. Best Year: 2023 Nissan Maxima (4.58 Rating)
The 2023 Maxima is only half a year old, but old enough for reports about its engines and transmissions to appear on the necessary sites. Nonetheless, there aren't any complaints or recalls from owners about this Nissan. This is encouraging information that will lead us to purchase a 2023 Maxima.
The 2023 Nissan Maxima is ranked among the best full-size cars from the latest car models. Kelley's blue book ranked it as the #5 Best Full-Size Cars. It starts at an MSRP of $38,340 and features a powerful V6 engine, an attractive exterior, and advanced safety equipment as standard.
Moreover, the 2023 Nissan Maxima can reach 133 mph in under 5.8 seconds.
Reviews, Ratings, Recalls & Complaints:
Common Nissan Maxima Problems
The Nissan Maxima has proven to be one of the most reliable sedans on the market. Every potential customer, however, should be aware that it has certain major flaws.
Defective Tatka Airbag
Nissan's Maxima, specifically the fifth-generation Maxima (2000-2003), was one of many long-running cars plagued by faulty Takata airbags. Twenty-seven people worldwide lost their lives when the Takata airbag inflators exploded or sprayed metal particles after being deployed.
Transmission Issues
Maxima sedan owners from 2004-2006 experienced slippage and overheated transmissions. Symptoms of transmission damage due to this problem include jerky gear changes, slow acceleration, and hesitations.
Faulty Automated Emergency Braking (AEB)
Flawed automated emergency braking (AEB) plagued Maximas of the seventh and eighth generations, causing them to brake rapidly despite any obstacles. Multiple lawsuits arose because of this situation.
Defective Timing Chain
Numerous Nissan vehicles, including the Maxima, have premature timing chain failure issues. It has been observed that the Nissan timing chain is either too weak and prone to stretching or too sharp.
FAQs
1. Is Nissan Maxima A Good Car?
A Nissan Maxima is a good car. With a Reliability Rating of 3.5 out of 5, the Nissan Maxima ranks 9 on the top 12 full-size cars list.
2. How Long Will Nissan Maxima Last?
If you're in the market for a long-term, reliable car, the Maxima is hard to match, with a lifespan of between 100,000 and 200,000 miles (10 and 13 years).
3. Is It Expensive To Maintain Nissan Maxima?
The Nissan Maxima has lower maintenance costs than competing vehicles of a similar age and body style. You can expect to spend about $540 annually on maintenance and repairs on your Nissan Maxima.
Conclusion
Nissan's Maxima first appeared on the market forty years ago. Since then, it has consistently ranked among Nissan's best-selling models. Out of those 40 years, only the models (2004-2006, 2009, 2010, and 2017) should be avoided. By avoiding them, you may ensure yourself a reliable, pleasurable-to-drive vehicle.