If you've picked up a car magazine in the last two decades, you're probably familiar with WeatherTech and its widespread popularity. But then you see pictures of Husky Liners that look just as wonderful but are available at a slightly lower price. But which one is the better investment?
Even though the two companies are strong competitors, they are ahead of most car floor mat makers in that they use different tools and technologies. It is very difficult to choose between them. But their small differences can help you choose the right one for you.
The WeatherTech DigitalFit mats are made of a thermoplastic that is surprisingly very hard. On the other hand, Husky's WeatherBeaters are made of a tough rubberized thermoplastic, while the X-act shapes are made of a more flexible elastomeric rubber. Both will do a great job of keeping your carpet clean and safe.
Husky vs. Weathertech: What are the Key Differences?
| | | |
| --- | --- | --- |
| Parameters | WeatherTech | Husky |
| Material | High-density tri-extruded (HDTE) and Thermoplastic Elastomer (TPE) | Thermoplastic Rubber and elastomers |
| Weight | Heavier | Lighter |
| Construction | Robust and powerful core, rigid gripping surface | Robust, gripping surface with higher edges |
| Design | Advanced surface channels, more flexible | Raised edges, diamond-plate patterns & grooves |
| Price | More expensive | Cheaper |
| Warranty | Limited | Lifetime |
Materials Used In The Mats
WeatherTech Floor Liners: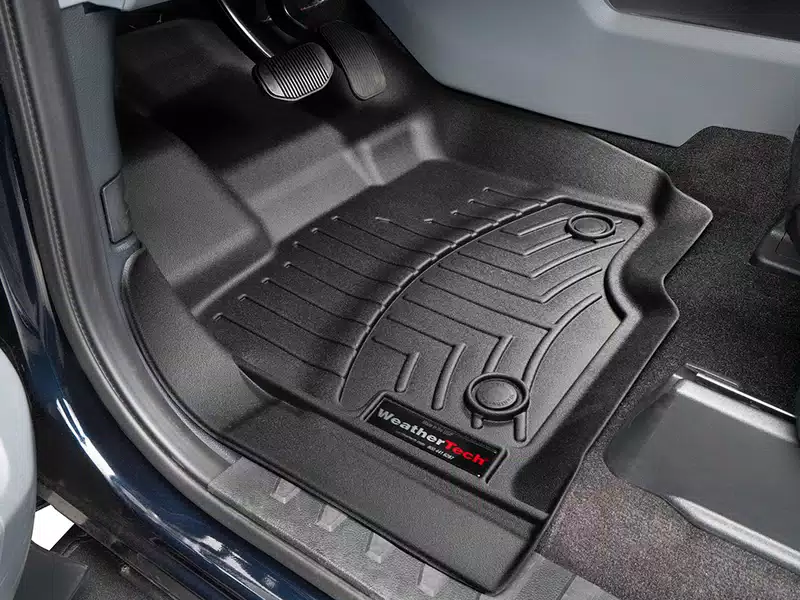 WeatherTech floor mats are made of Heavy Duty Tri-Extruded (HDTE) material. This mat has a strong, solid core due to the robust thermoplastic material. It also makes a binding surface that makes the mat stick tightly to the floorboard. The strong grip makes it easier to protect against uncontrolled movements and slipping.
The DigitalFit mat's material is designed to withstand even the harshest climates. So, whether it's summertime heat or wintertime snow or rain, your car's carpet or floor is properly protected. These mats are extremely strong and resistant to stains, impacts, chemicals, and dirt. The thermoplastic material in DigitalFit mats keeps them from having any smell.
Husky Liners Floor Mats:
Husky Liners mats have been available on the market since the 1970s. The material used to make X-Act Contour floor mats is a unique elastomeric compound. This material has a rubbery feel and appearance and is highly flexible. Like WeatherTech, Husky WeatherBeater floor mats are made of durable rubber.
They are constructed of premium, robust, rubberized thermoplastic material. These two Husky mats provide adequate traction against slipping due to their rubberized surface. The mats' great flexibility prevents them from breaking or cracking. They are also resistant to corrosives and high temperatures.
Design and Construction
WeatherTech Floor Liners:
A WeatherTech floor mat contains multi-level surface channels that are highly sophisticated and ridged. These steer any spill away from your feet. The mat's raised grooves and a deep reservoir system beneath them work together to trap liquids and solids until you can clean the area. Additionally, these ridges serve as an anti-slip device. Therefore, you don't need to be concerned about unintentional slides that can affect how you grasp the gas pedal.
WeatherTech mats are elevated to cushion your feet so you may enjoy long journeys in comfort. Installation of the mats is simple. The mat is measured (mapped) using a digital laser beam scanner so that it fits perfectly onto the floor of your car.
Husky Liners Floor Mats:
Husky Liners feature a Form-Fit construction. The raised, form-fitting edges exactly match the car floorboard's shape and contours. Your floor seems clean and smooth as a result. These raised mat edges collect spills and dirt in a lower reservoir region. They stop them from getting on your floor or carpet.
The mat's furrows catch and direct the spills away from your feet. Dirt and spills stay there until it's time to clean. They are tough and boast diamond-plate designs. This keeps your feet off the ground so they don't get dirty or wet. The bottom of Husky mats has patented 'Stay-Put' nibs or studs. These prevent your mat from shifting, sliding, or making any other undesirable mat motions.
Husky Liners mats can be cut to any size. To ensure that the mat matches your floorboard contours precisely, they use 3D modeling and laser beam measuring (mapping) technologies.
Pros and Cons:
WeatherTech Floor Liners
Pros:
Classy: High-density tri-extruded thermoplastic material gives WeatherTech a refined and attractive appearance.
Simple installation: A custom-fit laser-beam installation fits the mat into your car or truck very well, giving it a neat look.
Variety of colors: Available in a range of colors to help you find the perfect fit for your car's interior.
Simple to clean: You can simply spray off or dump the dirt off these mats.
All-weather: WeatherTech mats protect the vehicle all year round.
No odor: Compared to Husky's flexible elastomeric material, strong thermoplastic material generates less odor.
Adaptability: These floor mats are adaptable to a wide variety of vehicles.
Warranty: These liners have a three-year warranty.
Cons:
WeatherTech liners are very expensive.
When wet, the durable thermoplastic can become a bit slippery in areas without ridges.
If the sides curl, good luck getting them to sit flat.
Husky Liners Floor Mats
Pros:
Soft and elastic: Husky mats are flexible and soft because of the rubberized thermoplastic or elastomeric material.
Strong and attractive: The flexible, soft, elastomeric, or thermoplastic rubber offers both durability and aesthetic appeal.
Cheap: Compared to WeatherTech mats, Husky's WeatherBeater is more affordable.
Easy to clean: You may carry the mat about like a tray and dump the dirt into a trash can, or you can use a hose to shower the area.
Simple installation: With little to no trimming, mats are laser-sized to fit perfectly on your floor.
Warranty: Husky mats have a lifetime limited warranty. Just be careful to safeguard your mat from harm and harsh chemicals that could void your guarantee.
All weather: These all-weather floor mats can be used in any weather conditions.
Cons:
Husky Liners mats rarely support more recent car models.
Spikes could harm the carpeting underneath. The spikes on the raised edges have the potential to scuff the plastic of the rim.
The price of the X-Act Contour mat is very high.
In hot temperatures, elastomeric rubber floor mats can release unpleasant smells.
Additionally, the edges can develop tenacious curls.
FAQs
Husky vs. Weathertech: Which one is better?
Despite having modest features, WeatherTech is a more upscale and durable mat. WeatherTech mats can fit a larger variety of vehicles than Husky's can.
How well do Husky mats perform?
Husky floor mats are premium floor mats that provide the most protection for the money. They may be made to fit precisely around any floorboard curve. You can choose from a huge variety of colors as well.
Are Husky Liners Produced by WeatherTech?
Husky Liners are manufactured by Husky Liners, Inc. in Kansas. WeatherTech is an Illinois-based business that creates WeatherTech floor mats.
Conclusion
Both companies have a good selection of floor mats to protect the carpet and flooring in your car, but which one you choose will depend on which one fits the size of your car. Both Husky and Weathertech have benefits and drawbacks, so it's important to consider all the options before choosing one.
We believe Husky Liners provide comparable functionality and quality to WeatherTech at a more affordable price. Therefore, Husky Liners would likely be our choice due to the price advantage.