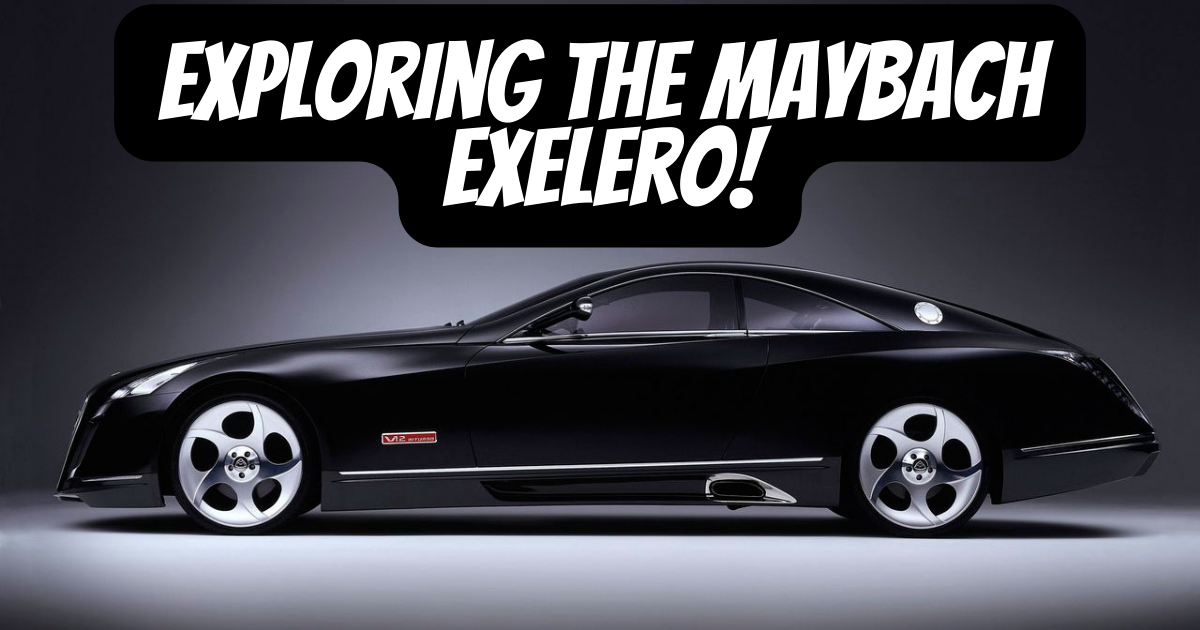 Some cars are made to be driven, while others are built to make a statement. The Maybach Exelero falls firmly into the latter category. Mercedes-Maybach created the concept vehicle to test a unique type of tire, but the German automaker spared no expense. The final design of the Exelero was created by a team of four students from Pforzheim University of Applied Sciences' Transportation Design School.
The Maybach Exelero was developed by Stola (now a division of Blutec) and Daimler Chrysler as a one-off high-performance sports car. It was revealed at the Tempodrom in Berlin in 2005.
The car's unique design and incredible performance quickly captured the attention of automotive enthusiasts worldwide. This one-of-a-kind supercar is a breathtaking combination of engineering prowess, luxury, and raw power. Its sleek lines, muscular stance, and blistering performance leave you breathless.
Let's delve into the fascinating story of the Maybach Exelero, exploring its design, performance, and enduring legacy.
Exelero History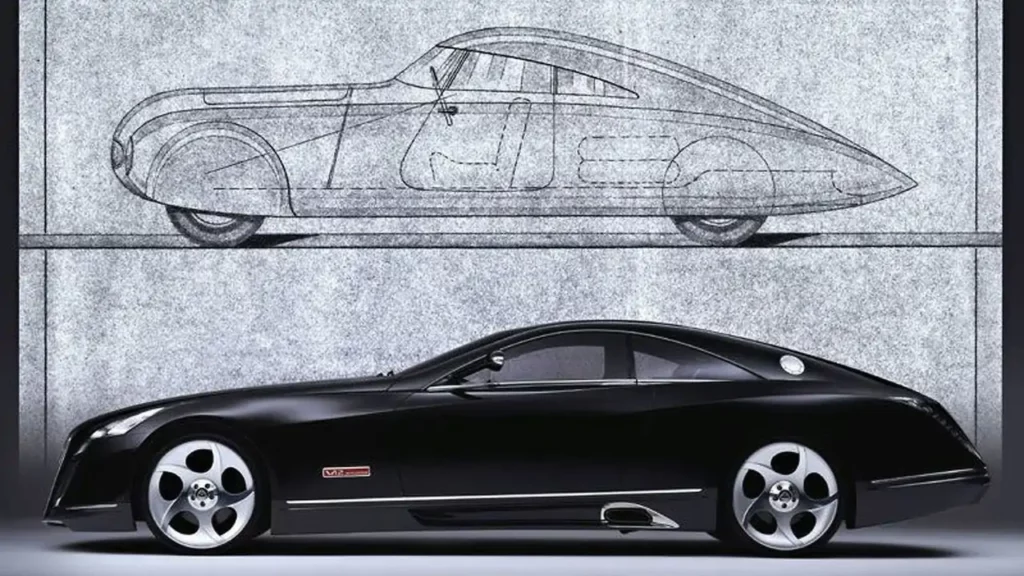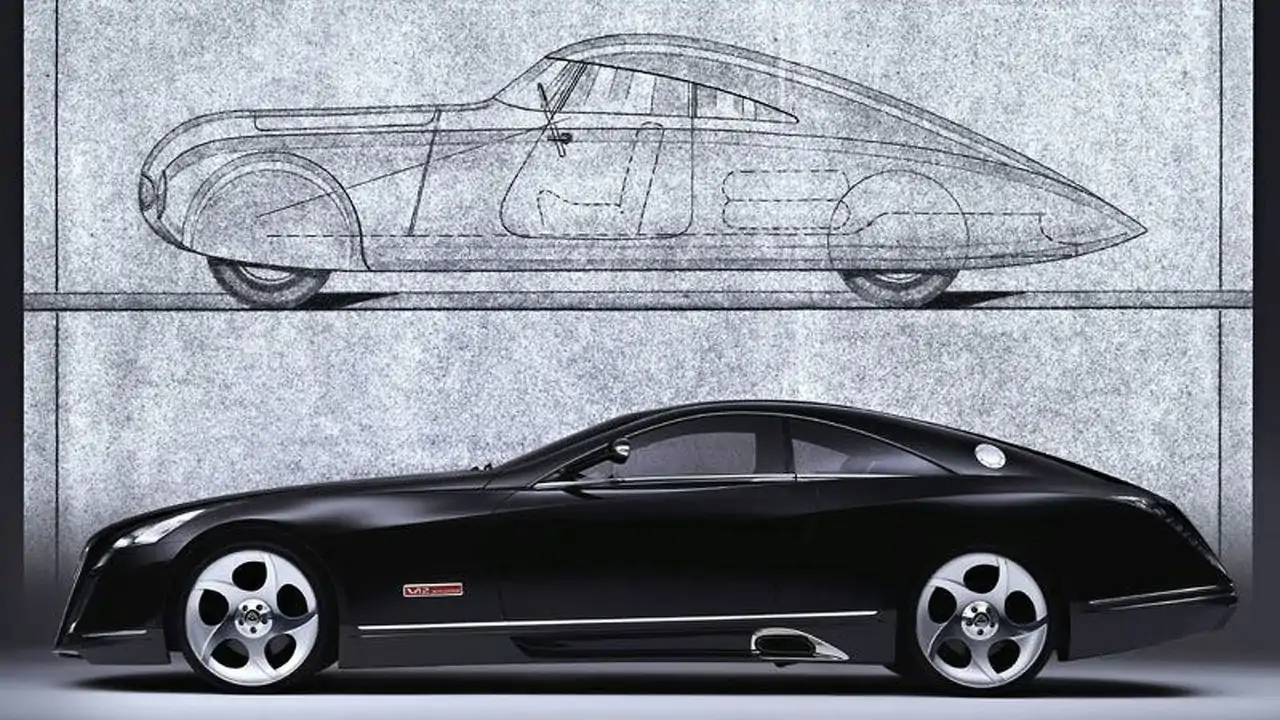 In 2003, Fulda, the German division of Goodyear Tires, informed Mercedes that it would like to test its newest, largest tires on a high-speed, heavy car. It did almost the same thing in 1938, and Maybach made a beautiful car called the W38 that could quickly go 125 mph. But, the 21st-century successor had to be very heavy and strong to put modern rubber through the toughest tests possible.
Mercedes could have easily completed the project by bolting the tires on an existing S55 AMG. Instead, it assigned the task to its ultra-luxurious Maybach subsidiary to revive the spirit of its 1930s streamlined racing.
To the surprise of many, four Pforzheim Design Academy students were assigned the task of designing the most expensive Maybach automobile. After nine months, Fredrik Burchhardt's design was the best among the student's submissions. The result was the one-off, 2.6-tonne Exelero, which was unveiled in Berlin on the 11th of May 2005.
Exelero Ownership History
After serving its purpose, Maybach put the Exelero up for sale. It changed hands a few times throughout the years. It was initially purchased for $5,000,000 by diamond tycoon Andre Action Diakite Jackson, who gave it to Jay-Z for the "Lost One" music video.
It was later purchased by European entrepreneur Arnaud Massartic for an undisclosed sum and resold in 2011 for $8,000,000. The rapper Birdman announced that he would be the one to buy it, although it is unclear whether he did so. As a result, this exchange went viral.
Since then, it is believed to be in the possession of Frank Rickert, the man behind Mechatronik, a Mercedes-Benz tuner. The Maybach Exelero hasn't been seen much lately; its most recent appearance was in an episode of Supercar Blondie's YouTube channel.
Exelero Engine And Performance
The twin-turbo V12 engine that powers the Exelero is mounted at a 60-degree angle and was produced by the long-gone Maybach company, which is now a part of Daimler AG's Mercedes-Benz division. There are 3 valves per cylinder, and the compression ratio is 9.2:1. The engine generates 752 ft-lbs (1,020 Nm) of torque at 2500 rpm and 700 PS (690 hp; 515 kW) of power at 5000 rpm.
The engine is mated to a five-speed automatic transmission that delivers power to the rear wheels. The engine is a masterpiece of engineering, delivering power and efficiency, making the Maybach Exelero an exceptional luxury sports car.
Specifications of Maybach Exelero:
| | |
| --- | --- |
| Production | 2005 |
| Class | Sports car |
| Engine | 5.9 L Twin-turbocharged V12 engine |
| Transmission | 5G-Tronic automatic transmission |
| Power | 700 PS (690 hp; 515 kW) @ 5000 Rpm |
| Torque | 752 ft-lb (1,020 N⋅m) of torque @ 2500 Rpm |
| Manufacturer | Stola in collaboration with Daimler Chrysler |
| Dimensions | 229.7 in (5,834.4 mm) X 83.5 in (2,120.9 mm) X 54.2 in (1,376.7 mm) (L X W X H) |
| Weight | 2,660 kg (5,864 lb) |
| Top Speed | 218 mph |
Exelero Wheels: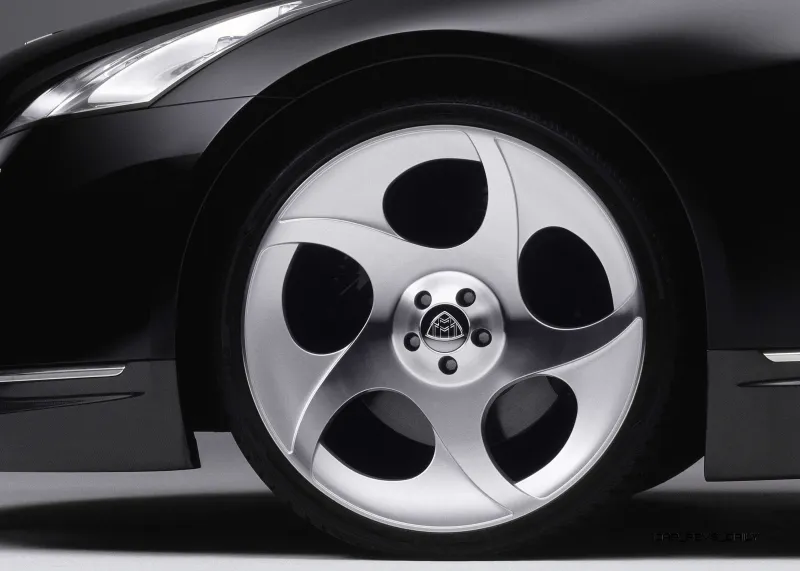 As we have discussed earlier, the Exelero was built around its wheels. The Exelero was manufactured at Fulda's request to test high-speed tires. These tires, known as Fulda Carat Exelero, were designed to keep their exquisite appearance even at extremely high speeds. The 23-inch alloy wheels of the Maybach Exelero are made of aluminum.
The wheels feature a unique turbine-style design with a polished aluminum finish and are wrapped in high-performance tires. The company produced the tires with the codes of 315/25 ZR 23. In addition to having ABS, the vehicle has vented disc brakes at the front and rear.
Exelero Performance and Aerodynamics:
The Maybach Exelero is a high-performance luxury sports car that can accelerate from 0 to 60 mph in just 4.4 seconds and reach a top speed of 218 mph (351 km/h), making it one of the fastest luxury sports cars ever produced.
The Exelero's sleek and aerodynamic body design is also optimized for performance, with features like an extended rear end, a low-slung front spoiler, and a rear diffuser that help to reduce aerodynamic drag and increase downforce. Maybach Exelero's aerodynamic design plays a crucial role in its exceptional performance, allowing the car to achieve impressive speeds and handle with precision and stability.
Maybach Exelero Design
Exelero Interiors:
The Maybach Exelero offers a sophisticated and luxurious interior. The car features premium materials, advanced technology, and custom-designed elements. The Exelero's interior is mainly made of glossy black carbon fiber, red and dark leather, neoprene, and aluminum accents. The Exelero features sports seats with red seatbelt harnesses.
The car's door panels feature an intricate diamond-stitch pattern that is reminiscent of classic luxury cars, and the car's seats are embroidered with the Exelero logo. The Exelero's interior is designed to provide comfort and convenience for the driver and passengers, with features like leather upholstery, heated and ventilated seats, automatic climate control, and a state-of-the-art audio system.
Exelero Exteriors:
The Maybach Exelero is a stunning and distinctive vehicle instantly recognizable on the road. The car features a sleek, aerodynamic body design that is sporty and elegant, with a long and low profile emphasizing its performance capabilities. Exterior features of the Exelero include a tall hood, chrome grill, and fuel cap.
The car's front end features a low-slung spoiler and a prominent Maybach grille flanked by sleek and narrow headlights. The car's flared wheel arches and sculpted side panels give it a muscular and aggressive stance, while the long, sloping roofline gives it a sense of speed and agility.
Frequently Asked Questions:
Here are some frequently asked questions about Maybach Exelero:
How many Maybach Exeleros exist?
Only one Maybach Exelero was produced, making it an exclusive and rare car.
Who owns Maybach Exelero now?
The Maybach Exelero is believed to be owned by Frank Rickert, the founder of Mercedes-Benz's tuner, Mechatronik.
How much does the Maybach Exelero cost?
The Maybach Exelero is estimated to have cost around $8 million.
Why is Maybach Exelero so expensive?
The Maybach Exelero is so expensive due to its unique design, high performance, and exclusivity as a one-off concept car explicitly built for Fulda Tires.
What inspired the design of the Maybach Exelero?
The Maybach Exelero's design was inspired by the Maybach SW 38, a luxury car from the 1930s.
How long did it take to build the Maybach Exelero?
It took around three years to design and build the Maybach Exelero, with work beginning in 2003 and the car being unveiled in 2005.
Has the Maybach Exelero ever been featured in a movie or TV show?
Yes, the Maybach Exelero has appeared in several movies and TV shows, including "Fast & Furious 6" and "Supercar Superbuild."
How many people can the Maybach Exelero seat?
The Maybach Exelero is a two-seater car with seating for the driver and one passenger.
Can the Maybach Exelero be driven on public roads?
Yes, the Maybach Exelero is a street-legal car that can be driven on public roads. However, due to its high price and limited production, it is very rare to see one on the road.
Conclusion
The Maybach Exelero was an instant hit when it was unveiled in Berlin in 2005. Interestingly, even 17 years later, this vehicle is still a symbol of privilege and prestige. It's important to remember that Exelero's price has gone up in recent years due to its growing demand and rarity.
Since only one Maybach Exelero was ever produced, it is undoubtedly one of the world's rarest cars. Hopefully, Fulda, a Goodyear-owned company, and Maybach will team up once more to create another eye-catching vehicle so they can test their new set of tires.