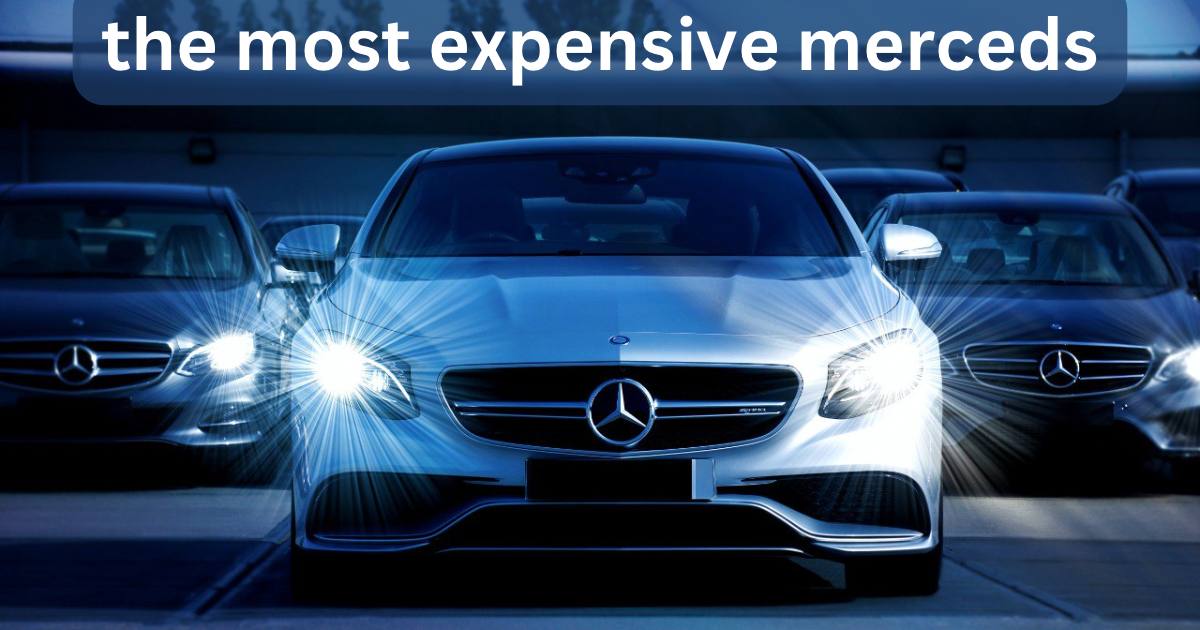 Mercedes has been making cars since 1901, and its legacy is filled with high-end luxury cars. Every Mercedes-Benz has a star in the shape of a triangle to show that it is more than just a box on wheels. For more than a century, Mercedes-Benz vehicles have been regarded as high-end collectibles, much like a fine vintage wine.
It wasn't a simple process, though. Mercedes-Benz has spent decades perfecting a wide variety of high-quality vehicles, but the ones below are something truly magnificent but also extremely expensive. Each one is a collector's dream.
Even if you can't buy one of the 15 most expensive Mercedes in the world, you still can enjoy reading about their features and stories. Let's start with the cheapest and work our way up to the most expensive.
15- Mercedes-Benz AMG Vision Gran Turismo, 2013: $1.5 Million
The lightweight Mercedes-AMG Vision Gran Turismo is made from an aluminum spaceframe and carbon fiber, the material of choice in motor racing. The AMG V8 biturbo engine provides a lightning-fast reaction to the slightest throttle input. It has a maximum torque of 800 Nm and produces 430 kW (577 BHP).
It weighs in at a paltry 2.43 Kg per horsepower. Anyone may experience incredible performance thanks to the AMG SPEEDSHIFT DCT 7-speed sports transmission.
Consider the car's sound. AMG's engine noise experts created this mighty howl. The engine scream and exhaust note are tuned to evoke the racetrack's adrenaline rush. You'll need about 1.5 million dollars to buy this unique masterpiece.
14- Mercedes-Benz Maybach G650 Landaulet, 2018: $1.8 Millions
This extremely rare all-terrain vehicle, of which only 99 will ever be produced, is designed to satisfy the needs of customers who seek the highest standards thanks to its exceptional V12 engine, portal axles, electric fabric top, and exclusive equipment specification in the rear compartment.
The G 650 Landaulet's 5.3-meter length, 3.4-meter wheelbase, 2.2-meter height, nearly half a meter of ground clearance, and wide, comfortable seating for four exceed expectations. A luxury chauffeur saloon and off-road vehicle, this outgoing G-Class is unique.
A fixed roof protects the front passenger and driver, while the backseat passengers may enjoy a panoramic view of the sky owing to an electrically powered large folding top. Single seats at the back have great views. Electric glass dividers can separate the driver's cabin from the back seat.
The glass's transparency can also be changed. If you are interested in buying this one-of-a-kind vehicle, you should be prepared to spend up to 1.8 million dollars.
13- Mercedes-AMG One, 2022: $2.8 Million
Incredible efficiency took straight to the streets. The Mercedes-AMG ONE epitomizes the purest expression of sports car driving. This hypercar has an electronically limited top speed of 352 Km per hour and can accelerate from 0 to 200 Km per hour in 7.0 seconds or from 0 to 300 Km per hour in 15.6 seconds, respectively.
The ONE's efficiency is just as remarkable as its unparalleled power and handling. The regenerative braking system recovers up to 80% of the energy used in braking, and the EQ Power+ hybrid drive system provides a wide range of driving modes, from fully electric to extremely sporty. The price of the vehicle is estimated to be around $2.8 Million.
12- Mercedes-McLaren SLR Stirling Moss, 2009: $4.35 Million
The Mercedes-Benz SLR Stirling Moss is a one-of-a-kind driving experience that satisfies all five senses thanks to its seamless fusion of breathtaking aesthetics and cutting-edge technology. This high-end antique car was produced in a small run of only 75 units, making it ideal for competitive drivers and collectors.
With its roof removed, the Stirling Moss version of the modern classic supercar seems even more powerful than the standard SLR McLaren's 5.5-liter V8-powered 641 BHP. With a 200-kilogram weight loss, the power-to-weight ratio is improved, leading to increased performance.
The latest price for the Mercedes-McLaren SLR Stirling Moss was a staggering $4 million and $35 thousand, as reported by Fox 4.
11- Sports Tourer Mercedes-Benz 1928: $5.395
The oldest Mercedes cars tend to be one of the most expensive. Mercedes-Benz was founded in 1926, and the 1928 Mercedes-Benz Type S Sports Tourer is one of the finest and most expensive vehicles in the brand's history. In 2021, Bonhams received $5.395 million for a restored Mercedes-Benz Type S Sports Tourer from 1928.
The elongated chassis in the shape of a coach and the sweeping fenders are sure to please fans of vintage vehicles. It's aesthetically somewhere between Art Deco and an industrial look. This vehicle's rotors are made of copper, while the exhaust pipes are made of bronze.
The car's history, more than its excellent technical specs, is what makes it so stunning. It had been bought and delivered to London from Dresden. Eventually, it made its way into the hands of a number of British visitors intent on seeing as much of their home country as possible.
In 1964, the father of the present owner bought the property after it had changed hands three times in the United States. The final owner put a lot of miles on the Type S and was the primary driver for its final years.
10- Roadster Mercedes-Benz 500K 1935- $5.92 Million
The Mercedes-Benz 500K Special Roadster first appeared in 1934 at the Berlin motor show, followed by the Mercedes-Benz 380 by a year in production. The Mercedes 500k had a larger and more powerful engine than the Mercedes 380, but the two had the same autonomous suspension setup: a dual wishbone front axle and a double-joint swing axle at the back with differing wheel locations, compression springs, and brakes.
Additionally, it was one of the few 1930s road cars capable of 100 mph. This roadster has always been quite expensive because of its sleek appearance and impressive supercharged speed (up to 110 mph or 177 km/h).
It debuted in 1935, but its value today far exceeds what people paid for it back then. In 2016, this Mercedes-Benz fetched $5.92 million at auction.
9-Alloy Gullwing Mercedes-Benz 300 SL 1955: $6.825 Million
This 1955 Mercedes-Benz 300 SL Alloy Gullwing is an excellent representation of what is widely regarded as the world's first true supercar. The 300 SL has a 3.0L NSL engine, an alloy body, and numerous factory options, such as a sport suspension.
The car's body panels are composed of lightweight aluminum, and all of the windows are made of shatterproof plexiglass instead of steel or glass. This model's high-speed rear axle and suspension are tuned to provide optimal control when the driver is pushing the vehicle to its limits.
Le Mans, the Carrera Panamericana, the Mille Miglia, and the Liège-Rome-Liège were just a few of the races won by Mercedes in the 1950s thanks to the rarer, lighter, alloy versions of the 300 SL. Mercedes only manufactured 24 of the alloy variants whereas 1,371 of the ordinary steel models.
8- Mercedes-Maybach Exelero, 2005: $8 Million
The Maybach Exelero, which was produced by the German luxury automaker Maybach, is one of the most costly vehicles ever. It has a price tag of $8 million and a top speed of 351 kilometers per hour. The vehicle's top speed during testing was 218.38 miles per hour.
Maybach Exelero, which is produced on special order, weighs 3 tons; The twin-turbo has a 12-cylinder, 700-horsepower engine. It can accelerate up to 351 km and reach 100 km/h in 4.4 seconds. This wonderful engine consumes 8 liters of gasoline in 2 kilometers.
This vehicle appeared in the 2006 music video "Lost One" by Jay-Z. Dr. Andre Action Diakite Jackson is the sole owner of this particular model of vehicle.
7- Mercedes-Benz 680 S Torpedo, 1928: $8.25 Million
Mercedes-Benz 680S Torpedo Roadster, 1928. An early example of the premium vehicle. The Mercedes-Benz 680 S Torpedo was a high-end vehicle with a body built by Paris' Carrosserie J. Saoutchik and featuring a lizard skin and purpleheart wood inside as well as long frame rails that wrap around both axles.
Located further back for optimal weight distribution, the S Torpedo's 6,789 CC dual-carburetted six-cylinder engine generates 180 horsepower. The locations of the remaining two of the three short windshield S Torpedo are unknown.
The S Torpedo was awarded the top prize. Paul Russell and his team of restorers did an excellent job. Finding 200 lizard skins from South East Asia, casting a new alloy with identical properties for the body, and re-engraving the coachbuilder's nameplates were all part of the restoration process.
RM Sotheby's sold a 1928 Mercedes-Benz 680S Torpedo Roadster at auction for $8.25 million in 2013. The car was 85 years old, but it only had 30,000 kilometers and two owners, so the price was reasonable.
6- Mercedes-Benz SLR McLaren 999 Red Gold Dream, 2011, $9 Million
There is no denying the visually arresting appearance of the Mercedes-Benz SLR McLaren 999 Red Gold Dream. Approximately 100 kilos of downforce are provided at 350 kilometers per hour by the SLR's new front spoiler, which features 128 LEDs as daytime running lights.
SLR AMG prioritized power by increasing the output of the V8 supercharged engine under the hood from 650 horsepower to a minimum of 900 and a maximum of 1,000.
Ueli Anliker's Mercedes SLR McLaren 999 Red Gold Dream may not be the only outstanding SLR project, but it is undeniably a masterpiece. This artistic masterwork is today worth close to 9 million dollars, according to recent estimates.
5- Mercedes-Benz 540k Special Roadster, 1937:
$9.9 Million
Few could order the 1936 Mercedes-Benz 540K Special Roadster. When it was released, this car was the height of automotive engineering and design. The 540K Special Roadster's beauty hasn't changed since its production.
The Mercedes-Benz roadster's coach-built chassis hides the spare tire. Each roadster was custom-built for the buyer. 1936 Mercedes-Benz 540K Special Roadsters are rare. Many were destroyed in WWII.
Nonetheless, one of these high-end roadsters made it, and on August 20, 2022, it was auctioned for $9.9 million.
4- MERCEDES BENZ CLK GTR AMG, 1998: $10 Million
This CLK GTR was sold brand new to Hermann-Dieter Eschmann in Germany in 1997, and it was the ninth one produced, as reported by Gooding & Company. In 2005, it changed hands for the first time, eventually making its way to the Seattle-based Cheval Trust.
This V12-powered beast may be over twenty years old, but it looks like it just rolled out of the showroom, as it has only logged 1,442 kilometers in its entire existence. The engine has a 6.9-liter displacement and generates 450 kilowatts (kW) and 775 Newton-meters (Nm) of torque. Because it only has rear-wheel drive, it can reach 100 km/h in about 3.8 seconds.
3- Mercedes-Benz 540K Special Roadster, 1936: $11.7 Million
This Special Roadster, owned by a German Baroness, sold for the highest price of any vehicle at the 2012 Pebble Beach auctions. Before her death in 1989, she kept this car in a garage in Connecticut, where it remained for the next four decades. The new owners gave it a full restoration once they brought it out.
Pigskin upholstery, a Telefunken radio, and other custom touches decorate the car's interior. The 540K is painted black on the outside and has the von Krieger family emblem painstakingly painted on the driver's door.
2- Mercedes-Benz W196, 1954: $29.6 million
This 1954 model had a unique blend of top performance and luxury that set it apart from all other vehicles in its class, even the most expensive Porsche models. In 1955, Juan Manuel Fangio won the French Grand Prix in a German car for the first time since World War II.
This amazing piece of machinery has become one of the world's most sought-after valuable antiques, selling for $29.65 million in 2013. You won't find such a rare motorsport artifact among other Mercedes vehicles.
1- The Mercedes-Benz 300 SLR Uhlenhaut Coupe, 1955: $143M
Finally, we come to the champion of the list, the most expensive car in the all world. Only two racing prototype 300 SLR Uhlenhaut Coupes were ever made, and they were nicknamed "The Red" and "The Blue" after their respective interior colors.
The W196S 300 SLR Uhlenhaut Coupé has a top speed of 186 mph (300 km/h), a curb weight of 1986 lbs (901 kgs), and a fuel consumption of 40 liters/100km (7 mpg UK, 6 mpg US (Average)). The engine is an Inline 8-cylinder petrol unit with the code M196S.
The engine produces a maximum of 310 PS (306 bhp – 228 kW) and 317 Nm (233 lb-ft) of torque. It has rear-wheel drive and a 5-speed manual transmission.
Conclusion
These cars are the most expensive cars ever produced by Mercedes. They were highly priced for their rarity, luxurious premium quality, or for a memorable historical event that will never be forgotten.
Tell us in the comments section below which car do you love the most?