Porsche is an iconic automaker known for its reliable automobiles. The Porsche Boxster is a stylish convertible that has proven to be a fan favorite for the company.
The Boxster is your best bet if you're looking for a cheap and reliable Porsche. However, not all Porsche Boxsters from all years will provide adequate performance, so you should avoid these years.
Porsche Boxster's years to avoid include 1999, 2000, 2001, 2002, 2003, and 2013; they are considered the worst. The best years for Porsche Boxster include 2012, 2016, 2021-2023. This result was concluded from trustworthy sources such as NHTSA, Edmund, JD Power, and Kelley Blue Book.
Porsche Boxster Generations
Before moving on to the best and worst Porsche Boxsters years, Let's discuss a little bit about its history. Porsche Boxsters have evolved over four distinct generations. Keep reading to learn more about every generation.
First-Generation Boxster (1997-2004)
After receiving widespread criticism for being little more than a glorified Volkswagen in the 1970s, Porsche redoubled its efforts by introducing the first Boxster in 1997.
The original Boxster had a brand-new engine layout, just like the 911. This six-cylinder engine produces 201 horsepower and marks Porsche's first application of water cooling and upgraded engine management. Porsche upgraded the Boxster S for 2000, increasing power to 250 hp and torque to 225 lb-ft. The base Boxster also received an 8 percent increase in power.
Second-Generation Boxster (2005-2012)
Similar to the previous model year, the 987-generation Porsche Boxster is available as a two-door convertible. This new generation of Porsche is more attractive, faster, agile, and aesthetically pleasing than its predecessors in every way.
The second-generation Boxster debuted for the 2005 model year with updated headlamps and wider air intakes, taking more design inspiration from the 911. A new manual transmission, upgraded brakes and handling, and expanded side windows were also introduced. The modification also included the engine, with the standard Boxster now producing 240 horsepower and the Boxster S producing 280.
Third-generation Boxster (2013-2016)
In 2013, Porsche debuted a refreshed Boxster, a two-door convertible with a more powerful exterior. However, a larger engine (2.7 or 3.4 liters) boosts power to 261 or 311 horsepower. It's faster, has a more powerful engine and modern interior, and weighs far less than its competitors.
In 2014, Porsche released the Boxster GTS, which features an improved suspension configuration over the previous generation of Boxsters.
Fourth-Generation Boxster (2017-Present)
In 2017, Porsche rebranded the Boxster as the 718 Boxster and switched from a six- to a four-cylinder turbocharged engine. The fourth-generation Boxster has two new engines and a more aggressive exterior. The base model and the Boxster S feature new engines with 296 and 345 horsepower, respectively, and can be had with either a six-speed manual or seven-speed dual-clutch PDK transmission.
Porsche Boxster Years To Avoid
Now, moving on to the worst years, it's always helpful to know which years to avoid when exploring alternatives and hunting for a truly fantastic ride.
These are the least reliable years, so you might wish to avoid them:
1999 Porsche Boxster
2000 Porsche Boxster
2001 Porsche Boxster
2002 Porsche Boxster
2003 Porsche Boxster
2005 Porsche Boxster
6. Worst Year: 2005 Porsche Boxster (3.92 Rating)
There are many engine issues with the 2005 model year. Users have reported issues with the engine, creating excessive noise and oil spilling from the fuel line and engine. Moreover, shaft bearing failure and persistent electrical problems also make this model year unreliable.
Common Problems:
Intermediate shaft bearing failure
Electrical problems
Reviews, Ratings, Recalls & Complaints:
5. Worst Year: 2002 Porsche Boxster (3.29 Rating)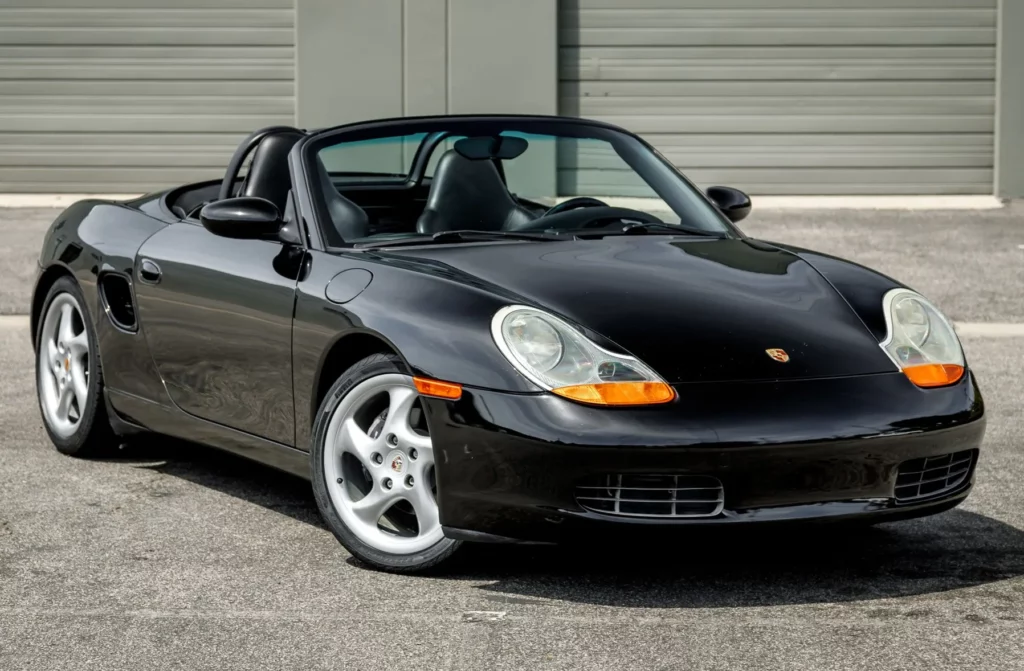 The 2002 Porsche Boxster has coolant leaks and cam tensioner issues, which trigger the car's "check engine" warning. Others stated that their carpets were wet because the cabriolet tops leaked. The flooding also brought on multiple electrical problems.
There's also the IMS bearing problem, where the original intermediate shaft bearing fails at 55,000 miles, and the average cost for fixing this problem is $1,800. In addition to this, broken wires and oil starvation, which can result in an entirely destroyed engine, are also very typical complaints.
Common Problems:
IMS Failure
Broken cables
Oil starvation
Reviews, Ratings, Recalls & Complaints:
4. Worst Year: 2000 Porsche Boxster (3.24 Rating)
Due to IMS issues, the year 2000 Porsche Boxster is also not recommended. In this year, metal fragments from a broken IMS can get into the engine and cause the car to stop working. It will cost you between $15,000 and $20,000 to fix the problem.
Furthermore, Many people said their cars made too much noise and smoked too much. In addition, The vehicle is also releasing blue and white smoke due to the oil separator failing. 2000 Porsche Boxster cars also face many issues with faulty water drainage systems.
Common Problems:
Engine failure
The alarm control unit goes wet
Loss of engine power
Reviews, Ratings, Recalls & Complaints:
3. Worst Year: 1999 Porsche Boxster (3.24 Rating)
The primary issue with this year is its engine; it is may be due to being one of the early manufacturing models. The engine in a 1999 Porsche Boxster has issues that make it stall or refuse to start. Some consumers claimed the problem started before the ten-thousand-mile mark which is noteworthy.
The engine timing on the 1999 Porsche Boxster is also notoriously problematic. Valves opening and closing during engine operation can cause several complications. Furthermore, pistons rising and falling in the cylinder, creating sparks, was another issue with this model year.
Common Problems:
The clutch wears out at low miles.
Engine failure
Reviews, Ratings, Recalls & Complaints:
2. Worst Year: 2001 Porsche Boxster (3.19 Rating)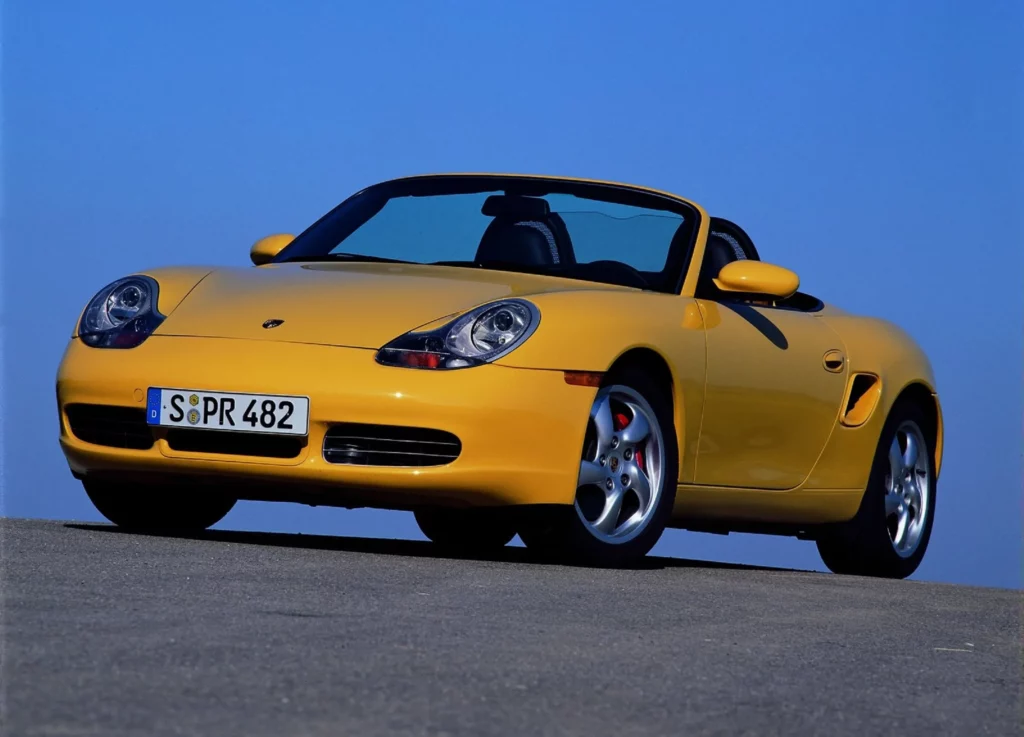 Many 2001 Porsche Boxster owners had oil leakage due to a complaint about the rear main seal (RMS). Users have reported an unusual amount of noise coming from the shaft area and frequent engine failure.
Both the cabriolet top and a micro switch in the 2001 Porsche Boxster are defective; thus, neither the door handle nor the cabriolet top latch will roll down the power window. Additionally, the door will occasionally go down independently, even if you don't touch it.
Common Problems:
Intermediate shaft failure
Leaking oil
The engine won't shut off
Reviews, Ratings, Recalls & Complaints:
1. Worst Year: 2003 Porsche Boxster (3.00 Rating)
The 2003 Porsche Boxster belongs to 1st generation, and due to widespread complaints, it is considered the worst model in the entire Boxster lineup. The 2003 Porsche Boxster is plagued with the most number of complaints and recalls than any other year's model. The most common complaints involved the engine and the IMS bearing.
Moreover, several Porsche Boxster owners have voiced frustration over electrical issues like burned-out headlights and broken air conditioners. The problem even extends to the car's ignition keys that do not turn.
Common Problems:
Intermediate shaft bearing failure
Rattling noise in the engine
The ignition key doesn't turn.
Reviews, Ratings, Recalls & Complaints:
Porsche Boxster Years To Buy
After thorough research, we've compiled this list of reliable Porsche Boxter years to show you the safest bets.
6. Best Year: 2012 Porsche Boxster (4.64 Rating)
The third-generation Porsche Boxster debuted in 2012, and it is a two-door convertible with a rugged exterior that became popular. The car is reasonably priced, comes with a choice of two powerful engines, and drives superbly.
The 2012 Porsche Boxster comes in four different trim levels, each of which is excellent in its own right. However, the Porsche Boxster and Porsche Boxster S are the two trims that truly shine. Both the base Porsche Boxster and the Boxster S come with 255-horsepower flat-six engines.
Reviews, Ratings, Recalls & Complaints:
5. Best Year: 2016 Porsche Boxster (4.72 Rating)
There was no better year than 2016 for the Porsche Boxster among the third generation. The 2016 Porsche Boxster is one of the most exciting, affordable vehicles you can buy.
The 2016 Porsche Boxster is a two-seat convertible available in five trim versions (basic, Black Edition, S, GTS, and Spyder) that correspond largely to the engine tuning. A 2.7-liter six-cylinder engine producing 265 hp and 207 lb-ft of torque is standard equipment in the 2016 Porsche Boxster.
The Black Edition is based on the basic Boxster and comes standard with the most sought-after features. The Spyder contains a 911 Carrera S engine, making it the most potent Boxster ever produced.
Reviews, Ratings, Recalls & Complaints:
4. Best Year: 2023 Porsche Boxster (4.92 Rating)
The 2023 Porsche 718 Boxster is a great open-top sports vehicle with various powertrain configurations and response times. The vehicle gets 21/27 mpg in terms of fuel economy. It is ranked as #2 in Best Luxury Convertibles from Kelley Blue Book.
The Boxster is available in 3 engines, with a turbocharged 2.0-litre four-cylinder producing 300 horsepower, a turbocharged 2.5-litre four-cylinder producing 350 horsepower in the S model, or a flat-six producing 394 horsepower in the GTS 4.0.
It's a beautiful car that could easily be ranked first, but its expensive price, limited cargo space, and loud four-cylinder engines hold it back.
Reviews, Ratings, Recalls & Complaints:
3. Best Year: 2020 Porsche 718 Boxster (4.97 Rating)
The 2020 Porsche 718 Boxster is a work of art, but not everyone will see its value compared to the all-new 2020 Chevrolet Corvette. We love how the roof of the 2020 Boxster can be opened or closed in a matter of 10 seconds.
Three turbocharged four-cylinder engines provide 300, 350, and 365 horsepower, respectively, in the Boxster: a 2.0-liter in the base model, a 2.5-liter in the S, and a 2.5-liter in the GTS.
The EPA estimates that the base Boxster will achieve 21 mpg in the city and 28 mpg on the highway with its turbo 2.0-liter flat-four engine and six-speed manual gearbox.
In 2020, Porsche will release a new 718 model. The brand-new Boxster T, like its sibling, the Cayman, is a car built with enthusiasts in mind.
Reviews, Ratings, Recalls & Complaints:
2. Best Year: 2021 Porsche 718 Boxster (4.97 Rating)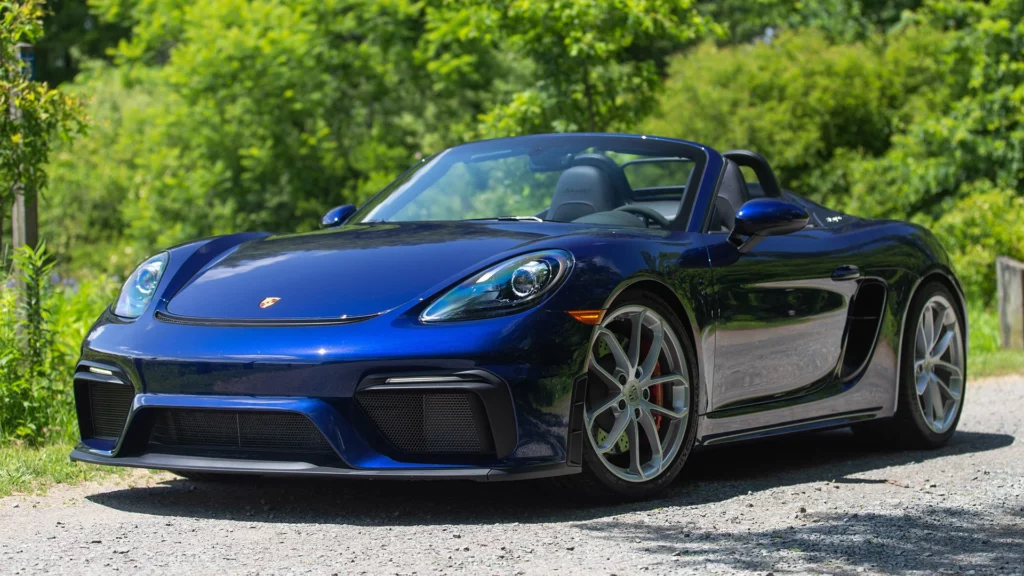 Boxter celebrates the model's 25th birthday with the limited-edition 718 Boxster. The 2021 718 Boxster GTS 4.0 debuted with a 4.0-liter six-cylinder engine producing 394 horsepower, and its Spyder model was made available with an automated gearbox for the first time.
Boxster, Boxster T, Boxster S, Boxster GTS 4.0, Boxster 25 Years, and Boxster Spyder are the six available trim options for the 2021 718 Boxster Roadster. All have a six-speed manual gearbox and rear-wheel drive.
The new GTS 4.0 released this year is the best option. It's less pricey than the Spyder and features the standard Porsche cylinders.
Reviews, Ratings, Recalls & Complaints:
1. Best Year: 2022 Porsche 718 Boxster (4.97 Rating)
Porsche may have released a new 2023 Boxter, but it's not quite as good as the 2022 model. Car & Driver deemed it worthy of their 10 Best awards because of its sharp handling and vibrant vibe. The pricing of this vehicle is lower than that of the 2023 Boxter while still providing buyers with cutting-edge amenities.
While most convertibles offer a charming way to experience the open road, the 2022 Porsche 718 Boxster raises the bar with its thrilling handling and quick turbocharged engines. Like the 2020 and 2021 models, the Boxster has three engine options.
For 2022, the Boxster is offered in two additional colors: Shark Blue and Frozenberry Metallic. Leather floor mats and key covers are only two of the new leather accessories offered by Porsche.
Reviews, Ratings, Recalls & Complaints:
Common Porsche Boxster Problems
The Porsche Boxster is not a reliable vehicle and frequently needs expensive maintenance. Despite its renown for style and performance, there are a few issues you should know about the Boxster's dependability:
Leaky Oil Separator
It has been reported that at roughly 80,000 miles, the oil separator on Boxsters manufactured between 2007 and 2010 begins to leak. The high oil consumption and exhaust fumes frustrated the vehicle's owners. When the exhaust fumes got too heavy, some drivers had to pull over.
Defective Airbag Warning Lights
Bugged airbag warning lights were present in Boxsters manufactured between 2007 and 2010. Poor seat belt buckles, malfunctioning air bag modules, and lousy wiring contributed to this widely documented problem.
Defective Ignition Switch
Several models of the Boxster experienced electrical issues due to malfunctioning ignition switches. The ignition not turning to the run position is only one of several symptoms that might occur from a faulty switch.
Dead Batteries
Boxster owners have reported that their vehicles' batteries died after only 1-3 weeks. This problem would arise in a brand-new car and necessitate a jumpstart.
FAQs
Should You Invest In A Used Porsche Boxster?
There are some problematic years for the Porsche Boxster but also some fantastic ones. Since this car has been on sale for almost 25 years, it must have good qualities. When you pick the right year, it will give you sporty roadster sensations for less than the price of a Porsche 911.
What is the Average Lifespan of a Porsche Boxster Engine?
With regular maintenance, the engine of a Porsche Boxster can last up to 250,000 kilometers.
What is the Price of a Porsche Boxster?
The standard price for a 2023 Boxster is $65,500 to $103,400. Depending on the configuration you select, the base price of a 2022 Porsche Boxster is between $62,600 and $98,300. Depending on the configuration, a 2021 Porsche Boxster can range from $62,000 to $140,000.
Wrap Up
Porsche makes some of the greatest-performing sports cars available, with the Boxster being particularly well-liked. However, popularity does not guarantee quality, and therefore, there are some Porsche Boxster model years that you should avoid. And for this, you'll find all the answers in this article.