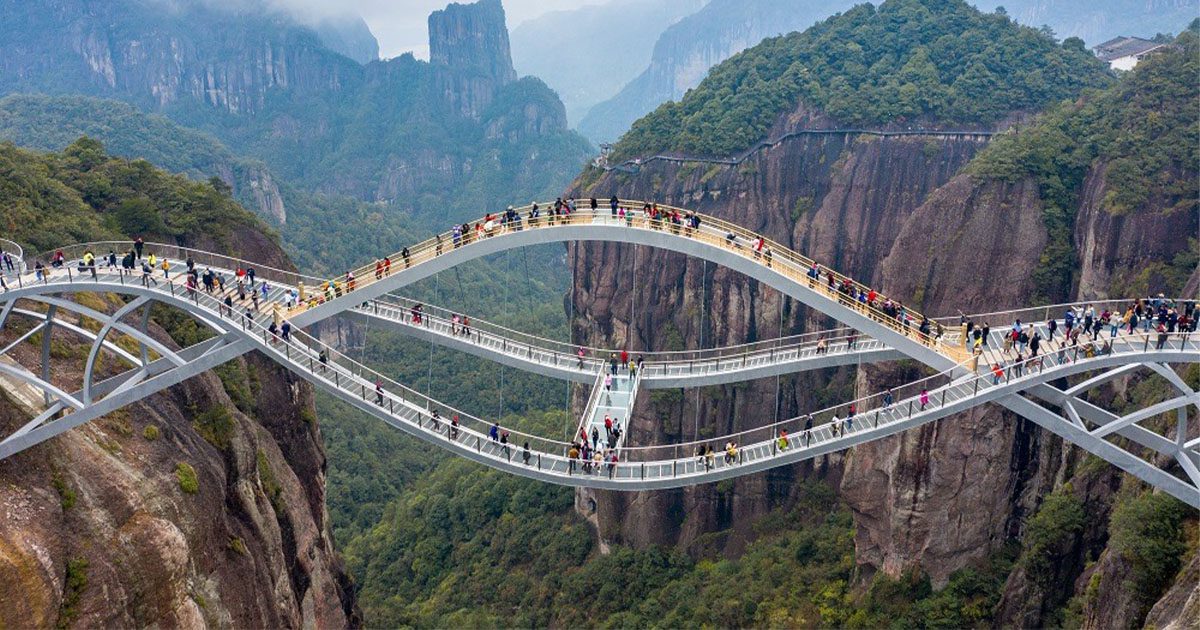 Since it is too amazing to be real, images of a bending, glass-bottomed bridge in China have gone viral. The Ruyi bridge in Zhejiang province looks more like it belongs in the movie Avatar than it does on Earth. Still, China is notorious for building some pretty cool bridges.
Don't get confused between Ruyi bridge and Ruyi island, which is an under-construction artificial island in China, as described in Wikipedia.
Initially the wonky walkways is about 140m above the ground, and the glass-bottomed structure, which is 1,400 feet long and suspended 1,000 feet above ground level was first opened in 2016. This architectural and engineering wonder was eventually proven to be true by Snopes, a myth-busting website, after much oohing and aahing.
Since September 2020, the unbelievable bridge has been open to the public. But it didn't seem to get much coverage outside of China until former Canadian astronaut Chris Hadfield shared a mystical video of it on Twitter in November 2020. By that time, it had already attracted over 200,000 visitors.
I'd want better handrails.

(Ruyi Bridge at Shenxianju, Taizhou, Zhejiang, China) pic.twitter.com/EcctD6Dkbo

— Chris Hadfield (@Cmdr_Hadfield) November 29, 2020
This curving piece of architecture was designed by He Yunchang, a steel structure specialist at the China Metal Structure Association, according to the official Zhejiang province website. He Yunchang was also involved in constructing several other notable buildings, including Beijing's "Bird's Nest," which was built in conjunction with the 2008 Olympic Games.
Ruyi Bridge, which spans the Shenxianju Valley's 100-meter divide, is 140 meters high. It's made up of three wavy bridges, each of which has a glass deck that only the most daring visitors will try to walk through.
Linking two cliffs of the #ShenxianjuScenicSpot in Taizhou, #Zhejiang, the 100-meter long Ruyi Bridge resembles a huge eye of the sky from a distance and perfectly blends into the picturesque surroundings. No wonder it has recently become a huge hit! 👍👍 pic.twitter.com/n3so6DMzHq

— Zhejiang, China (@izhejiang) March 30, 2021
The official Zhejiang Shenxianju Scenic Area explained on the local site Weibo (in Mandarin) in a rough translation "The rigid and soft form blends seamlessly with the fairy house's natural surroundings, like a jade ruyi in the sky and a fairy draped silk. When viewed from afar, the painting resembles a screen, and it is full of action in the mountains, as well as elegance and good fortune."
The bridge's architecture seems to have been influenced by the "ruyi" shape, which is curved and in Chinese folklore, represents strength and good fortune.
It's a stunning bridge that joins the ranks of China's many other mind-bending bridges, including the glass bridge in Guangdong province, the Grand Canyon Skywalk in Zhangjiajie, and the Tianmen skywalk. Glass is definitely a trend in China, and why not? It allows for easier observation and an immersive feel — but it's not for the faint of heart.
One of the most stunning bridges is the one passing through water in the Netherlands, Veluwemeer Aqueduct.