The Subaru Legacy is a practical sedan that offers high levels of comfort, quick acceleration, and ample interior space. The Subaru Legacy is not only the flagship model but also one of the most reliable options available from the company.
The Subaru Legacy is one of the longest-running lineups by the Japanese automaker. Many drivers consider the Legacy as a good, drama-free car that excels in safety features. However, if reliability is your top priority, you may want to avoid certain years.
In this article, we'll review some of the worst model years for the Subaru Legacy to avoid and those that are good choices for used buyers.
Subaru Legacy years to avoid include 2009, 2010, 2011, 2014, 2015, and 2020; they are considered the worst. The best years for Subaru Legacy include 2017-2023. This result was concluded from trustworthy sources such as NHTSA, Edmund, JD Power, and Kelley Blue Book.
Subaru Legacy Years To Avoid
The Subaru Legacy has been on the market for a long time, and its design hasn't changed much. It's hard to locate a Subaru Legacy model year with significant reliability problems. However, there are a few model years that you should think twice about purchasing used.
6. Worst Year: 2020 Subaru Legacy (3.88 Rating)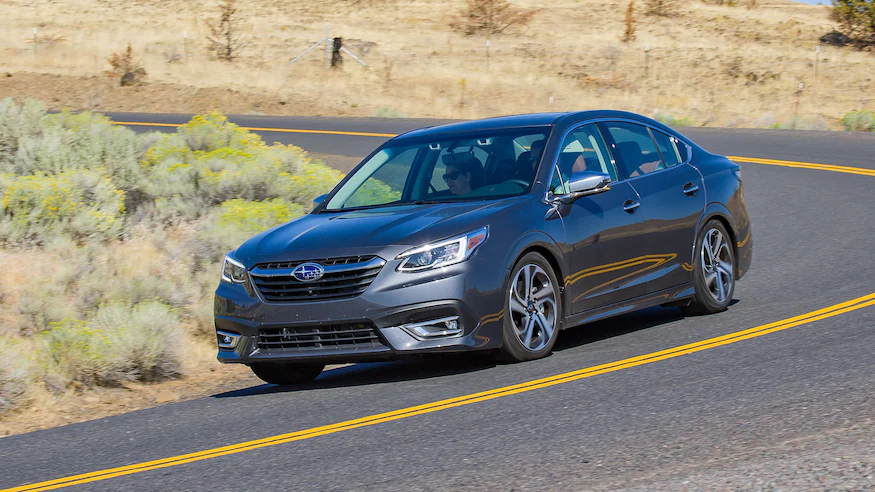 You might be surprised to learn that the newest Legacy model is also the worst, but after only three years on the market, numerous owners have voiced their displeasure with the vehicle, which has already been recalled five times.
According to Consumer Reports, the 2020 Legacy has a 3 out of 5 reliability rating, which is below average for this type of car. The most common complaint about this model is a dead battery and a windshield cracked for no reason.
Reviews, Ratings, Recalls & Complaints:
5. Worst Year: 2014 Subaru Legacy (3.83 Rating)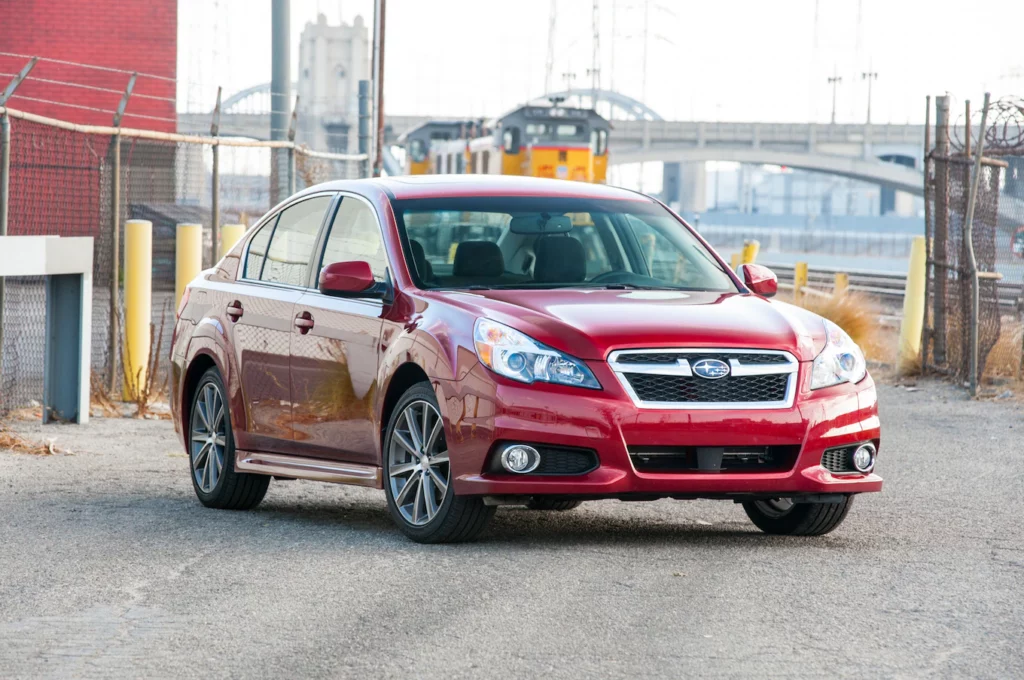 If you're looking for a used Subaru Legacy, there are plenty of reliable options, but you should avoid 2014. The recall rate was high, and owners were unsatisfied with this model. The 2014 Legacy wasn't a green pick or even a suggested pick.
It was necessary to improve owner satisfaction in driving pleasure, comfort, value, and aesthetics in 2014 Legacy. Many drivers face hesitation while accelerating this car.
Electronic braking parking was another major drawback of the 2014 Subaru Legacy. Nonetheless, Subaru was awarded a perfect score of five stars for safety by the National Highway Traffic Safety Administration.
Reviews, Ratings, Recalls & Complaints:
4. Worst Year: 2015 Subaru Legacy (3.71 Rating)
According to data compiled by CarComplaints.com, the 2015 Subaru Legacy is among the worst model years of this car. However, it should be noted that the 2015 Legacy was deemed "Awesome" by the website itself.
The 2015 Legacy's loud wind noise is the primary source of customer dissatisfaction. Wind noise from the little triangle window becomes audible after 40 miles of driving. This problem, which appears at 950 miles, annoys the driver.
Another significant issue is the burning odor from the engine, which starts to become noticeable at about 650 miles. Some 2015 Legacy drivers have reported smelling burnt oil while driving. According to one user, there was a safety and mechanical danger because water had flooded the whole engine bay.
Reviews, Ratings, Recalls & Complaints:
3. Worst Year: 2009 Subaru Legacy (3.60 Rating)
The 2009 Subaru Legacy, in the opinion of the experts at CarComplaints, is again the worst model year in the whole Legacy sedan series. There are fewer complaints this year compared to previous years, yet the ultimate automotive concern, engine failure, persists.
Engine failure was a common complaint among 2009 Legacy owners, and the fact that it occurred anytime made things worse. The automobile was making jarring noises and shaking violently just before it stopped. When the engine finally gives out at the relatively modest mileage of 75,000, it costs a whopping $5,000 to replace it.
The leaking of the head gasket is another issue that has plagued this Legacy year. This is another costly repair since the entire engine must be removed to fix the head gasket. This problem normally arises at about 140k miles, and the cost to fix it is around $1,600.
There may be fewer troubles with the 2009 Legacy, but it's more expensive to repair, and its problems manifest at lower mileage.
Reviews, Ratings, Recalls & Complaints:
2. Worst Year: 2010 Subaru Legacy (3.07 Rating)
Even though the Legacy improved significantly after the 2009 model, there are still some issues with the 2010 model.
The defective headlights are probably the most noticeable problem with the 2010 Subaru Legacy. While it's inevitable that bulbs would burn out, owners of the 2010 Legacy have found the problem to be especially severe and frequent bulb replacement to be both costly and inconvenient.
The CVT transmission technology began experiencing problems beginning with the 2010 Legacy, another major concern. The Legacy begins to shiver, tremble, and eventually stall when the driver accelerates or brakes rapidly. However, numerous owners reported this problem after the warranty expired, resulting in repair costs of around $2,000.
Reviews, Ratings, Recalls & Complaints:
1. Worst Year: 2011 Subaru Legacy (3.04 Rating)
In response to customer complaints about the 2010 model's reliability, Subaru has released the 2011 Legacy to overcome the problems, but unfortunately, this model is the worst of all.
The frustrating problem of headlights suddenly failing to work has returned. The headlights on the 2011 Legacy have reportedly burned out early for many owners. Others said they lasted only three weeks, while others said they lasted six months. This is a highly unusual occurrence since headlight bulbs often endure for many years.
The 2011 Legacy also experienced transmission problems. Despite a marked decrease, several customers still felt disappointed by the CVT transmission. It is worth highlighting because the cost to fix it may reach $7,600.
Reviews, Ratings, Recalls & Complaints:
Subaru Legacy Years To Buy As Used
The Subaru Legacy line is an excellent choice for pre-owned vehicle purchases. However, if you're looking for the best Legacy versions, here are our recommendations:
6. Best Year: 2019 Subaru Legacy (3.99 Rating)
Subaru's 2019 Legacy continues its tradition of offering reasonable pricing and various safety features. The 2019 Subaru Legacy has superior safety features to its competitors because of its superior build quality and design. In addition, The exterior features a unique style that emphasizes passenger comfort and load capacity.
EyeSight Driver Assist Technology, which incorporates adaptive cruise control, lane-departure warning, lane-keeping assist, and automated emergency braking, was standard on all vehicle trim levels.
It also has all-wheel drive, so you can quickly drive over any terrain. This means you can take it wherever without worrying about how it will handle on roads with bumps and other irregularities.
Reviews, Ratings, Recalls & Complaints:
5. Best Year: 2017 Subaru Legacy (3.99 Rating)
The 2017 Subaru Legacy is again one of the best sedans to buy as used. J.D. Power says it is the third-best midsize car of the year. The Legacy received the maximum possible rating of five stars in the frontal and side-impact categories of government crash testing.
Most people don't give the 2017 Subaru Legacy enough consideration. The Honda Accord, Toyota Camry, and Ford Fusion are more popular and debatable alternatives in the midsize car class, where it struggles to compete.
In 2017, Subaru introduced a new Legacy Sport trim level with its own look and interior materials. In addition, the EyeSight Driver Assist Technology package now includes a brand-new feature called Reverse Automatic Braking.
Reviews, Ratings, Recalls & Complaints:
4. Best Year: 2018 Subaru Legacy (4.05 Rating)
The Subaru Legacy is a decent used midsize car, but there are far better options out there. But it doesn't mean you can't buy it if you want to. It has a lot of cool extras that will make your time behind the wheel more enjoyable.
The 2018 Subaru Legacy boasts numerous benefits, like a spacious interior, supportive seats, all-wheel drive as standard, an intuitive infotainment system, excellent crash test ratings, and more. In addition, the 2018 Legacy is a continuation of a generation that debuted for the 2015 model year.
After minor revisions for 2016 and 2017, Subaru refreshed the Legacy for 2018, making it a more adaptable choice than before. For 2018, Subaru made exterior and interior improvements to the Legacy, including a larger standard touchscreen (6.5 inches, up from 6.2 inches) and revised suspension. The vehicle's dynamics are improved as a result.
Reviews, Ratings, Recalls & Complaints:
3. Best Year: 2021 Subaru Legacy (4.36 Rating)
The 2021 Subaru Legacy returns to its position as the best family sedan car. J.D. Power ranked it as the fifth-best midsize car.
The 2021 Subaru Legacy is a redesigned version of the brand's popular midsize sedan, which entered its seventh generation recently. Subaru's midsize Legacy is positioned above the small Impreza and shares many mechanical components with the company's crossover SUV, the Outback.
A rear-seat alert system, adaptive headlights, and seat belt warning signs have all been added to all model levels. You can rest assured that every Legacy, including the 2021 Subaru Legacy, includes cutting-edge driving aids.
Reviews, Ratings, Recalls & Complaints:
2. Best Year: 2022 Subaru Legacy (4.41 Rating)
To make the Subaru Legacy more competitive for the 2022 model year without dramatically increasing the price, the Japanese automaker made several subtle but major modifications to the vehicle.
The upper-level Premium trim includes back ventilation, while the lower-level Sport trim includes a power moonroof, blind-spot recognition, reverse automatic braking, and rear cross-traffic warning.
These upgrades come at a small cost, which is why some trim levels keep the same prices as last year. Nonetheless, getting the most recent model year with all these fantastic improvements is well worth the money.
Reviews, Ratings, Recalls & Complaints:
1. Best Year: 2023 Subaru Legacy (4.46 Rating)
The seventh-generation Subaru Legacy maintains the brand's commitment to the midsize sedan segment with the 2023 model. The five-seater receives a makeover and some upgraded features and technologies for 2023.
Standard all-wheel drive and a flat-four engine set the 2023 Legacy apart from the Honda Accord and Toyota Camry it competes with. The IIHS named it the Best Pick for safety, and it gets 27/35 mpg on the highway.
The 2023 model of Subaru's family sedan features a new front fascia, grille, and headlights. The bumper and headlights are also redesigned. The Sport trim level was upgraded with a 260-horsepower turbocharged 2.4-liter four-cylinder engine, a red stripe in the grille, and gray mirror caps.
The Touring XT trim level includes a new wide-angle camera to increase the visibility of the EyeSight system, and automated emergency steering has been added to the list of possible driver-assistance systems.
Reviews, Ratings, Recalls & Complaints:
Common Subaru Legacy Problems
The Legacy is reliable, much like other Subaru cars. However, there are a few known Legacy reliability issues that prospective buyers should be aware of:
Excessive Oil Consumption:
Multiple Legacy production years have had issues with excessive oil consumption. Some owners complained that they had to add oil after only two thousand to five thousand miles. Some people's consumption rates increase throughout the winter.
Broken Headlights:
Headlights were frequently failing on 2010 and 2011 Legacy vehicles. Several car owners reported that their vehicles' headlights burned out in less than a year. Frustratingly, this has happened even though these lights are meant to last for years.
Failed Oxygen Sensors:
Oxygen sensor failure is a common problem with Legacy vehicles manufactured between 2000 and 2006. The warning light on the dashboard will also come on as a result. Symptoms of a malfunctioning oxygen sensor include decreased gas mileage and engine misfires.
Infotainment Issues:
Recent Legacy cars, especially the 2018 model year, have been plagued by infotainment troubles. After turning off the vehicle's engine, the infotainment display reportedly would not turn off or would freeze.
FAQs
Q1: Is the Subaru Legacy reliable?
A: Generally speaking, a Subaru Legacy has a reliability rating of 4.0 out of 5, making it a fairly reliable vehicle. All generations and years of the Legacy have received ordinary to slightly above-average reliability ratings.
Q2: Which one is better: the Subaru Legacy or the Subaru Outback?
A: The Subaru Outback has received far more positive feedback from its owners than the Subaru Legacy. Although the two versions differ vastly, you can't go wrong with anyone. The Legacy is also a respectable automobile.
Related: Subaru Outback Vs. Forester | A Detailed Comparison!
Q3: Is the Subaru Legacy expensive to maintain?
A: The Subaru Legacy doesn't have a higher ownership cost than similar vehicles. Estimated costs for servicing and repairing a Subaru Legacy over its first 10 years of life are $6,073, as reported by caredge.com. During that time, a Legacy also has a 17.73% risk of needing significant maintenance.
Wrap Up
Ultimately, the Subaru Legacy is one of the most reliable cars available, with relatively few complaints from satisfied customers. However, a few troublesome model years might destroy your ownership experience. These are the 2009, 2010, 2011, 2014, 2015, and 2020 models. Besides that, we recommend this car safely!