The Suzuki Samurai was a fun 4×4 that arrived in the U.S. in 1986 and outsold the Jeep Wrangler initially. American off-roaders had a lot of fun with this subcompact trail toy, but it had a poor reputation for being unstable and dangerous. Bad press caused sales to drop, and it disappeared from the U.S. market within ten years.
Most people don't know that the Samurai was actually a Suzuki Jimny, an off-road compact SUV developed in the early 1970s. Crazy enough, it is still produced and distributed in around 200 countries. These amazing and affordable 4x4s are available pretty much everywhere except the United States.
Sadly, there are no intentions to bring the Jimny or Samurai back to the United States. Although Jimnys can be purchased in Mexico, they are not U.S. street legal, and transporting them across the border is costly, defeating the point of a cheap 4×4. Even though we can't get a Jimny in our country, we can still honor the legacy of one of the greatest vehicles of all time.
Origin of Suzuki Samurai
Back in the late 1960s, a Japanese carmaker called the Hope Motor Company began producing what we now call golf carts but were actually three-wheeled super-sub-compact vehicles. They had the crazy idea to make a car with not only four wheels but also four-wheel drive. The outcome was the HopeStar ON360, a 359cc two-stroke engine with 21 horsepower.
Suzuki was so impressed that they acquired the entire Hope firm and gave this ground-breaking new car the name LJ10 (Light Jeep 10), which was introduced to the public in 1970. The first version of the Jimny was called a "kei car," which in Japan means the smallest passenger car that can legally drive on the highway.
The HopeStar ON360 didn't sell at all initially, and less than 20 were made. But when it was rebranded as a LJ10, it became an instant hit, which caught Suzuki by surprise. It moved 5,000 automobiles on its home ground in its first year, surpassing the rival Mitsubishi Jeep. The LJ10 was extraordinary because it was made by hand only in its first year. But because it was so popular, Suzuki switched to a real assembly line.
It was not allowed to have the spare tire installed on the back like a Jeep since that would have made the car longer than three meters, denying it the benefits of tax reductions and other advantages of being a kei car. Suzuki made the vehicle a three-seater by installing the spare in the cab to address this problem. Eventually, they resolved this issue and increased the horsepower and performance of the Jimny in the first generation model, which was produced in 1980.
Samurai Came to the USA
The first Suzuki Samurai JL model was introduced in America in 1985 and sold a good number of units. The base price was $6,200, with the fully loaded model costing about $7,500. Sales of Suzuki trucks soon increased from 1,200 to 8,000 per month, with a total of 47,000 units sold.
The Samurai was offered as a hardtop or convertible and used a 1.3-liter, four-cylinder engine with 63 horsepower. The four-wheel-drive community liked its simple, practical design and easy engine swaps and suspension adjustments.
In 1990, a new 1.3 liter, 66 horsepower four-cylinder engine with a throttle body was launched. The car was equipped with a part-time four-wheel-drive system but had the option of a 5-speed manual gearbox.
Suzuki Samurai: Power, Performance, and Price
| | |
| --- | --- |
| Engine | 1.3-liter four-cylinder engine |
| Engine Output | 63 horsepower, 73 lb-ft of torque |
| Transmission | Five-speed manual |
| 0-60 Time | 16.9 seconds |
| Top Speed | 65 mph (104 kph) |
| Price | $6,200 |
A Brief Overview of Generational Changes
Let's take a brief look at everything that has changed in the Samurai over the years to help buyers make the best decision.
In 1988, the Samurai was tuned to be used better on American roads. The updated design featured a wider anti-sway bar to reduce body roll and softer suspension settings. It had a new aluminum radiator, a redesigned valve cover, and bigger U-joint flanges in the transfer case. It also had a lower fifth gear that raised the engine's RPM and power on the highway.
The 1985 model also got a new dashboard, steering wheel, and seats that were more comfy. The shifter knobs were made of rubber as well.
In 1990, the list of upgrades included throttle body fuel injection, a horsepower boost from 64 to 66 horsepower, improved engine tractability, and enhanced off-road and on-road performance. The engine's displacement decreased to 1298cc (70 cubic inches) from 1324cc (81 cubic inches). A new sealed transfer case and gearbox bearings were installed, and two spider gears were removed.
In 1991, two-wheel-drive JA and JS versions were introduced to the American market. The JS had a soft top and two-seater back seats, but the JA didn't have either.
From 1992 to 1993, the Samurai didn't go through any big changes. Instead, Suzuki eliminated the JS model entirely and made a little design modification by centering the "S" on the grille.
By 1994, the only model left in production was a four-wheel drive JL (model). This year, the rear seat was completely removed from all remaining Samurais, and a canvas top and a high-mounted stop lamp were added.
In 1995, the Samurai had their last year. The issue involving Consumer Reports led the manufacturer to remove the vehicle from the US market.
Consumer Union Lawsuit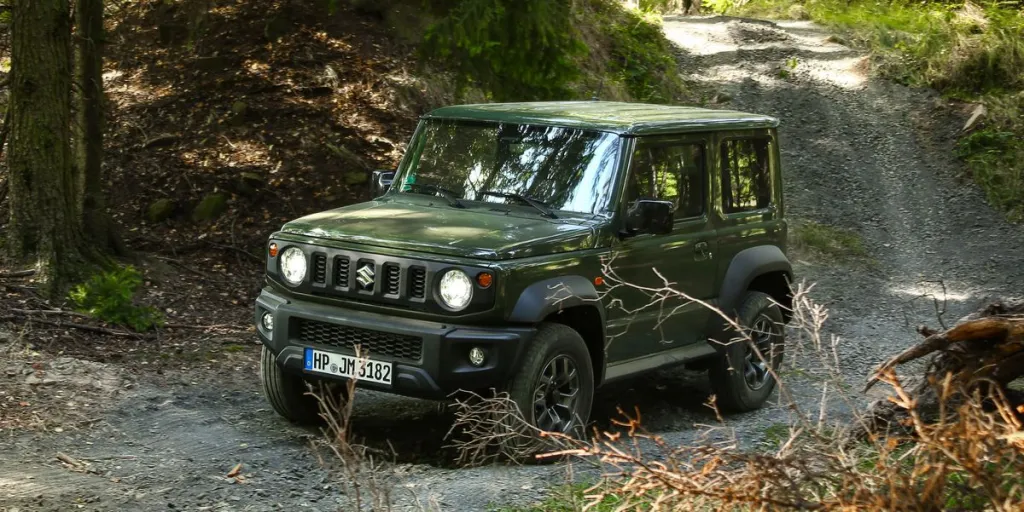 In 1998, Consumer Reports made the decision to do some testing. They discovered that the Samurai underwent an unacceptable rollover during the short course avoidance maneuver (also known as the Consumer Union Short Course Double Lane Change, or CUSC) while making a sharp curve.
Although the evidence was there to back the assertion, CR distorted the truth to make it appear like the car was completely unreliable in this regard. Suzuki took issue with CU (Consumer Union)'s stance on the situation and decided to sue.
As Consumer Reports was and still is considered a reliable source of information, it damaged the Samurai's reputation and led to its termination. This case was resolved in 2004 in an out-of-court settlement.
Record Achieved by Samurai
When Gonzalo Bravo and Eduardo Canales of Chile drove their modified 1986 Suzuki Samurai up the Ojos del Salado volcano to a height of 21,942 feet (6687 m) in 2007, they set the record for the highest altitude reached by a four-wheel vehicle.
A Jeep Wrangler established the previous record of 21,804 feet (6,645 m); the Jeep team put a notice that declared, "Jeep parking only—all others don't make it up here, anyway." Canales and Bravo carried the sign back down with them. In 2020, a Unimog climbed the same volcano and set a new record by ascending 21,962 feet (6,694 m).
Suzuki Samurai: A Complete Buying Guide
The Suzuki Samurai's exceptional off-road capabilities have made it a highly sought-after collectible. However, many have been customized, making it hard to find one in its original form. Pick a Samurai that hasn't been changed if you can. They are less likely to have been damaged off-road.
On the other side, purchasing a previously modified Samurai can save a significant amount of money compared to doing the modifications yourself. Still, you are at the mercy of the caliber of the changes made by others.
Examine the undercarriage thoroughly. In addition to rust, you should search hard-to-reach areas for dents, scrapes, or mud—all indications that the truck has extensive off-road experience.
Some Samurai owners replaced the 1.3-liter engine with the Sidekick's more potent 1.6-liter fuel-injected engine. The swap doesn't require any changes to the frame or body, but it's not a simple bolt-in replacement and needs a few changes. A bad swap can cause problems down the road (or off the road). It is important to thoroughly examine rules as some states may not allow emissions from a Samurai with a non-stock engine.
It's a swap if you see a Samurai with an automatic gearbox. Every Samurai sold in the US has a manual gearbox.
Problems include oil leaks at the distributor, leaky brake master cylinders, defective transfer-case bushings that lock the case in neutral, brittle plastic interior parts, finicky carburetors, and failing fuel-injected engine-control units (ECMs).
Frequently Asked Questions
Does Suzuki Continue to Produce Samurai?
In a way, yes. Outside of North America, Suzuki continues to sell the Samurai in a number of markets under the name Jimny, and the 4×4 is currently in its fourth generation. The name Samurai is no longer used.
Which Years Did Suzuki Produce The Samurai?
Suzuki started selling the Samurai in Canada and Puerto Rico earlier, and the vehicle was offered in North America from late 1985 and 1995. The Jimny, the model upon which the Samurai was based, was first released in Japan in 1970 and is still manufactured there today.
Is The Suzuki Samurai A Good Car?
The Samurai's enduring appeal and strong resale value can be attributed to its remarkable off-road capabilities and reliability. But as a daily vehicle, it's uncomfortably slow, noisy, and has a harsher ride on 1986–1988 versions. Samurai supporters will debate the Consumer Reports argument, but the Samurai is more likely to flip over in abrupt swerves than most 4x4s.
The Bottom Line
Suzuki had carefully planned Samurai's entry into the US market, but their plans were never realized. But in 2007, the automobile broke the world record for the greatest height reached by a four-wheeled vehicle because it was highly reliable. This company did "fall from grace" because of a lawsuit and damage to its image, but if you want to find and buy one now, there's no reason to worry.