Fifth-wheel enthusiasts know how important it is to get the best truck for towing their fifth wheel. A towing truck serves to take you to various camping destinations. It would determine how comfortable you could get while camping.
A fifth wheel can be quite heavy and big. So, in order to pull fifth-wheel rigs, you will need very powerful and reliable towing trucks. The fifth wheel is located in the truck bed between the cab and the rear axle. This eliminates the truck's central pivot point and shifts the center of gravity to the trailer.
Since the weight is distributed, the fifth wheel may possibly carry more without causing any issues. Therefore, to have a hassle-free camping trip, it is important to choose the ideal truck for towing a 5th wheel.
What is a Fifth Wheel?
The fifth wheel is the hitch or U-shaped coupling component. It enables you to attach your camper to a big towing truck. Fifth wheels are a more fuel-efficient mode of transportation. Whether you want to camp alone or with a large group is up to you.
They utilize space so efficiently. You may customize your layout depending on your travel requirements. You can disconnect it from your truck when you get to your camping location. Then you can tour the area with your truck freely.
How to Tow a Fifth Wheel Using a Truck?
First, check that your truck is capable of towing a fifth wheel. Make sure the fifth-wheel trailer is properly and safely hitched to the truck. The hitch makes it easier to tow a fifth wheel with a truck.
It's important to make wide turns when towing a fifth wheel with a truck. In this way, the car won't hit the barrier or other cars. Drive at a safe distance from the car in front of you.
Keep in mind that it will be more challenging to stop or slow down suddenly due to the extra load you are carrying.
What are the Best Trucks for Towing a Fifth-Wheel?
You should choose a reliable truck regardless of your brand loyalty. There are plenty of reliable pickups on the market. Every year, truck manufacturers compete for a bigger share of the market. Two of their primary goals are to maximize towing and payload capacities.
Here is the list of 7 top fifth-wheel trucks currently present in the market. You can get a detailed overview of their features and choose the one that best suits your requirements.
1- Ford F-450 Super Duty:
In terms of pulling a fifth-wheel trailer, the 2020 Ford F-450 Super Duty is unmatched. This popular Ford F-Series model is a medium-duty vehicle disguised as a pickup truck, complete with a cab and bed.
It has a standard cab, dual rear wheels, and rear-wheel drive. The F-450 Super Duty can tow between 21,000 and 24,000 pounds. It can carry up to around 6,300 kilograms (about 5,400 pounds).
You can travel across larger hills and mountains with the F-450 due to its robust 1,050 lb. ft. of torque. It has a diesel engine and produces 475 horsepower.
Maximum Towing Capacity:
Key Features:
Specially Designed for Carrying Massive Loads
Extraordinary traction
An effective towing platform
The best camera system makes towing significantly safer.
Drawbacks:
Much more expensive than the smaller F-350, F-250 and F-150
Heavy body results in poor MPG
Doesn't fit regular car washing facilities
2- 2020 Ram 3500:
The 2020 Ram 3500 can pull and carry a lot of weight. This truck features a strong engine that is designed for heavy-duty jobs. It's loaded with useful features that'll come in handy while driving.
An LCD screen in its digital rearview mirror displays a live video of what is going on behind the vehicle. Its Adaptive Forward Lighting System is the Best in Class, so you won't have to worry about driving in the dark. It makes it easier to see in the dark.
Because of this feature's intelligence, your speed may be modified automatically in response to changes in the road. It's capable of doing all this while also carrying your fifth wheel.
Maximum Towing Capacity:
Key Features:
High-powered gas and diesel engines
A solid, towable construction
Four-Wheel Drive Option
Drawbacks:
Cramped rear seats with less spacious area
3- GMC Sierra 3500HD:
The GMC Sierra 3500HD is a powerful truck that can manage any task. GMC upgraded the driveshaft and rear axle to increase the vehicle's consistency and durability. Also, you may relax a little bit better knowing that your brakes have been updated.
There has a remarkable payload capacity of up to 4,534 pounds, depending on the type. When properly equipped, the correct model can carry up to 17,200 pounds. You can choose between a gas and diesel engine in the Sierra 3500HD.
The dampers are quite sensitive so that you may ride in comfort. GMC also provides a fifth-wheel hitch kit that includes a hitch platform. Overall, the 2020 GMC Sierra 3500HD is enjoyable to drive on a daily basis, even when not towing.
Maximum Towing Capacity:
23,100 pounds for the 2019 model
35,500 pounds for the 2020 model
Key Features:
Diesel turbo engines are a viable choice.
An innovative towing camera system
Strong and sturdy construction
Powerful ability to slow down
Sufficient space within the cabin
Drawbacks:
Off-road capabilities are limited.
4- Nissan Titan: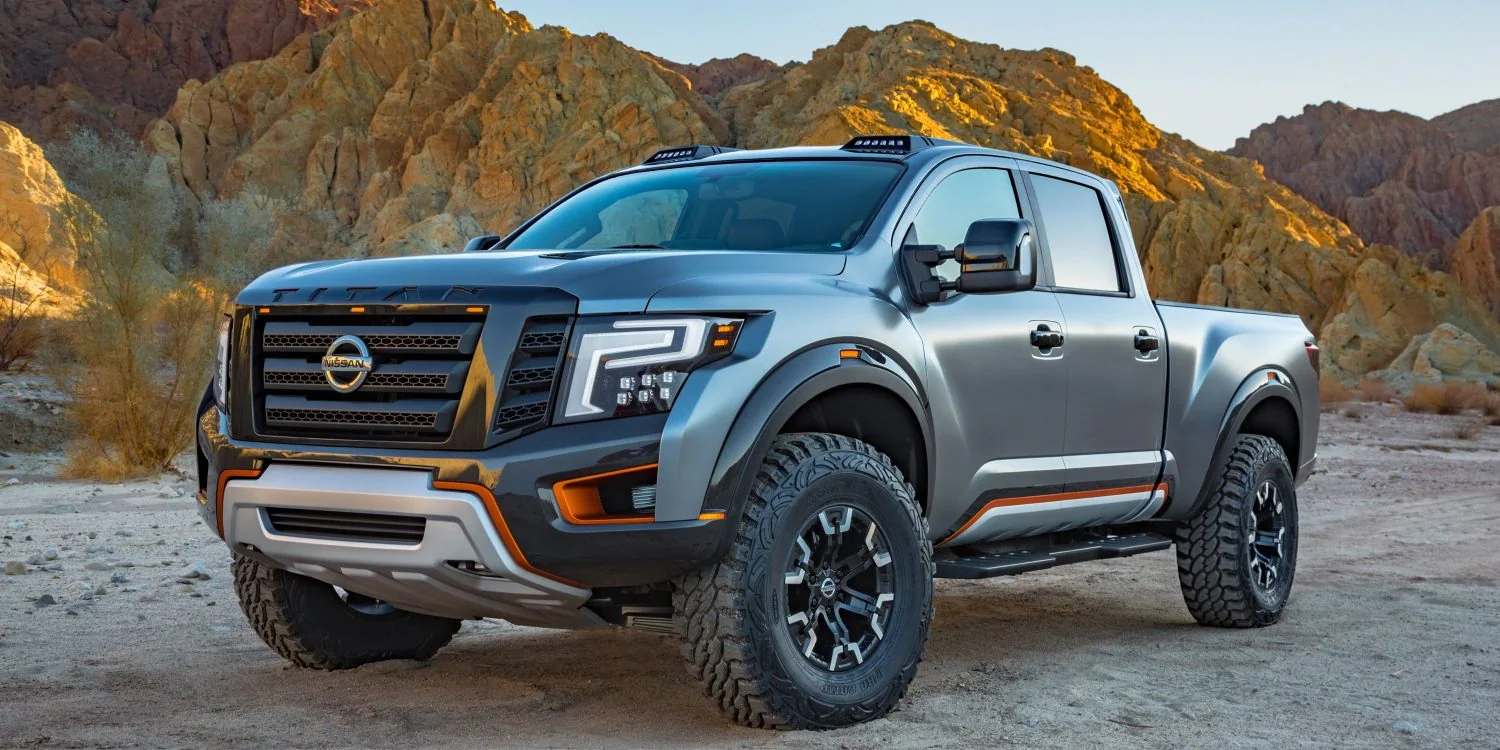 The newest Nissan Titan XD model offers a lot of value even in its package. It claims to have the most horsepower, torque, and safety features of any vehicle in its class. Furthermore, it has the market's largest screen and longest vehicle warranty.
The towing capacity of the Nissan Titan is just right. The towing capacity of up to 10,880 lbs. is suitable for a 5th wheel. There's a built-in gooseneck hitch so that you can attach your trailer immediately.
Maximum Towing Capacity:
Key Features:
A good family-sized daily commuter
Many safety features make long towing trips easier
Excellent off-road capability
Drawbacks:
5- Chevrolet Silverado 2500HD:
The Chevy Silverado 3500HD is another great truck for towing a fifth wheel. Chevy keeps upgrading the Silverado's capability and performance. The Chevy Silverado 3500HD is available with gas and diesel engines.
It is capable of towing 36,000 pounds. It can carry up to 7,442 pounds of cargo in total. Towing capacity is very configuration dependent. A 4.2- or 8-inch screen is in the center cluster of instruments for navigation purposes.
It has advanced safety features such as a stability control system, steering aid, and extra-strong braking.
Maximum Towing Capacity:
13,000 to 14,500 pounds for the 2018 model
18,500 pounds for the 2020 model
Key Features:
Budget-friendly diesel-powered models
Quick speed and ability to navigate the hilly path
Drawbacks:
Quality and design issues inside are subpar.
6- Ford F-150:
The popularity of the Ford F-150 can be attributed to the fact that it can be personalized in a number of ways. Your vehicle may be customized to meet your towing and traveling requirements. Ford claims that the new model is more durable and intelligent.
With a body made of military-grade aluminum alloy, the Ford 150 truck is sturdy. Its steel frame has undergone torture tests to ensure its strength and endurance. It offers the finest in class payload and towing capacity, making it strong while towing your fifth wheel.
You may also use a Ford 150 as a portable generator. The F 150 provides the required power thanks to its Class-Exclusive Pro Power Onboard. Even while your vehicle is parked, you can still utilize it.
Maximum Towing Capacity:
Key Features:
Outstanding off-road capabilities
Along with towing, it can serve as a work vehicle
A variety of choices are available
Powerful drivetrain
Drawbacks:
Limited hauling capacity
The EPA rating for fuel economy is not always accurate
7- Toyota Tundra 2021:
The 2021 Toyota Tundra is our last option for the top trucks capable of pulling a fifth-wheel trailer. It has a 5.7-liter V8 engine that produces 381 hp and 401 lb-ft of torque as standard equipment. With a GCWR of 16,000 lbs, it is appropriate for heavy towing.
Its high-tech safety features include rear cross-traffic alert and front and rear parking sensors. As you tow your fifth wheel, these clever features will assist in keeping you safe on the road.
Maximum Towing Capacity:
Key Features:
Gross Vehicle Weight Rating: 7,000 lbs
Powerful and can tow heavy vehicles easily.
Drawbacks:
It takes a lot of Gas.
Transmission Needs Updating
Buying Guide: Factors to Consider for a Fifth-Wheel Truck
You should keep certain factors in mind before purchasing a fifth-wheel truck. These factors will help you in making a wise purchasing decision. Here is a brief overview of these factors:
Gas vs. Diesel:
The debate over whether to get a gas-powered or diesel-powered vehicle is very common. Gas-powered 5th-wheel vehicles are more accessible, affordable, and fuel-efficient when not towing.
In addition, maintaining and fixing them is easier and less expensive. In addition, gas engines are lighter than diesel engines. Consequently, a gas-powered vehicle will have a greater cargo capacity.
Consider the Power:
Choose a truck with sufficient raw power to pull its weight. Towing your 5th-wheel trailer won't cause it to overheat or break down.
It is important to consider about the truck's dimensions, features, workings, and technology. These features allow for the smooth transmission of power.
Bed Length:
When it comes to pulling a fifth wheel, the length of the bed might be a decisive factor. The turning radius decreases with decreasing bed length.
Sliding hitches are commonly used on short-bed trucks for better handling. Additionally, trucks with longer beds provide more room for storage.
Payload Capacity:
You need a heavier truck if you have a big 5th-wheel trailer. The payload capacity of a vehicle increases with its weight. If you have a small vehicle, keep in mind that your fifth-wheel camper should not weigh more than the truck can support.
Your truck's tires have certain payload specifications. Upgrade your truck's tires if you need a vehicle with a greater cargo capacity.
Towing Capacity:
It's important to know how much weight a vehicle can pull safely and effectively. It is specified in the truck's manual. On average, fifth-wheel trailers weigh between 12,000 and 15,000.
However, many high-end, fully-equipped fifth-wheels weigh more than 20,000 pounds. Check to see if your truck has the capacity to carry that much weight safely.
Dual vs. Single-Rear-Wheel:
Dual trucks have high payload and towing potential. It can carry more weight and improve riding quality at the same time. However, for anything smaller, a single-rear-wheel-drive vehicle will be suitable. Furthermore, they fit easily into regular parking areas.
Ultimately, you can choose the one that best suits your needs. Single rear wheels are suitable for light towing. However, multiple rear wheels are ideal for long rides.